Everest 60th Anniversary Celebrations - day nine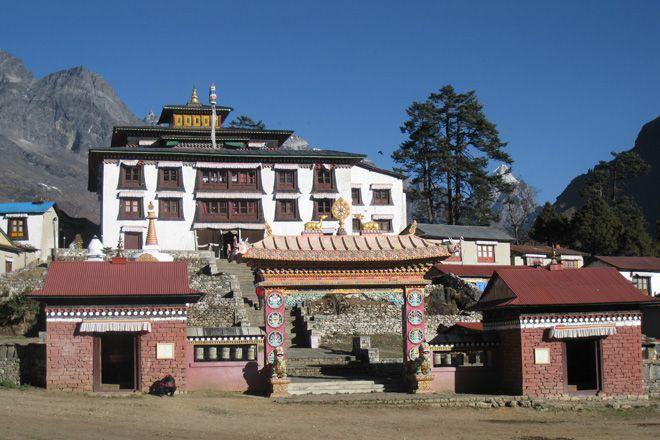 Thyangboche Monastery. Photo courtesy of S Berry
MK on trek to Everest: We've heard news from Tom Whipple, Times Reporter, who is travelling on our Anniversary Trek: "We are at Thyangboche Monastery. The prayer flags are fluttering beside us, the last of the snows are clinging on below us, Everest is towering above us - and Barbara launched a successful mission to find an apple strudel at the German bakery in the village." They also had an encounter with a hairy shrunken Yeti head.
Thyangboche is the location of the main monastery in the Khumbu region. Here, every autumn from the October full moon, Thyangboche Monastery is home to the Mani Rimdu Festival. Lamas (monks) wearing cockaded hats blow Tibetan horns and 'Black Hat' dancers twirl, dispelling evil demons. The three day festival is a celebration of Buddhism, and Sherpa people trek from miles around to attend. We have spaces available on two of our departures which attend the colourful festival. See Everest Base Camp & Gokyo trek and Luxury Lodges of Everest trek for details.
60 years ago: The Expedition party reached Thyangboche on the 26th and 27th March. They used the time between 27th March and the 17th April to acclimatise to the altitude.
Did you know? Oldest person to summit - In 2008, Min Bahadur Serchan broke the record for the oldest person to reach the summit – at 76 years old.