Everest 60th Anniversary Celebrations - day eight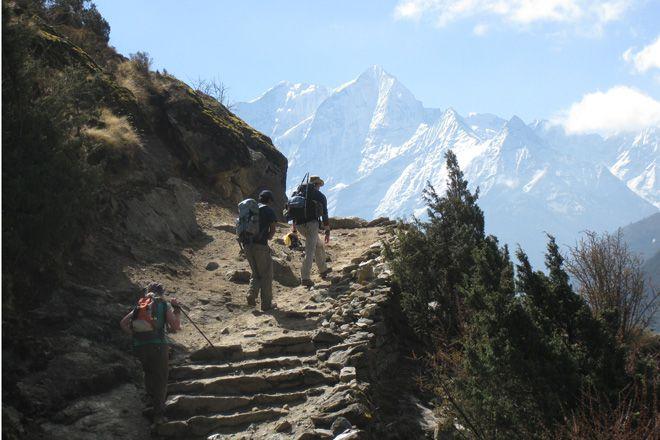 Everest Base Camp Trek. S Berry
MK on trek to Everest:
The group will continue their trek to the village of Khunde, perhaps visiting Thame Monastery before they head off.

60 years ago:
Some of the 'luxury' food that the expedition team ate for breakfast whilst on the mountain included; sardines on biscuits, tinned pineapples and pears, salami and biscuits and honey. Our Everest Base Camp Trek group are more likely to have something warming such as eggs, porridge and toast with jam for their breakfast.
Did you know?
Graham Hoyland, is a self-shooting producer and director of adventure films. He has worked on all seven continents for the BBC, Discovery, Travel Channel and NBC, from the shores of Antarctica to the peaks of the Himalayas, and he was the 15th Briton to climb Mount Everest. He also leads treks for MK! We asked Graham how he felt when he reached the summit:
"I can't remember much. Now it all seems a sort of vivid dream: bright sunlight, a tearing wind, a long flag of ice particles flying downwind of us. A vast drop of two miles into Tibet. We could see across a hundred miles of tightly packed peaks, and we could see the curvature of the earth. Contorted faces shouting soundlessly, lips blue with oxygen starvation. Doctors prove with blood samples that climbers are in the process of dying up there on the summit, but I would say that is where I started to live. As I stumbled down the mountain one thought kept recurring to me. If I, a very average climber, could stand on this summit, how could the legendary George Mallory have failed to do so?"
Later this May, Graham's book, Last Hours on Everest, will be published. It is a detailed reconstruction of what happened during Mallory and Irvine's Everest summit attempt in 1924. For more details see http://malloryeverest.com/.

The mighty Mount Everest is well known as the highest mountain in the world – 8848m / 29,029ft. The 29th May marks the 60th anniversary of the first ascent of Everest. To celebrate this occasion, we will be updating facebook, our blog and our website with news, photos and interesting facts about Everest, so remember to check back soon, or 'like' us on facebook to join in with the celebrations.