Everest 60th Anniversary Celebrations - day 13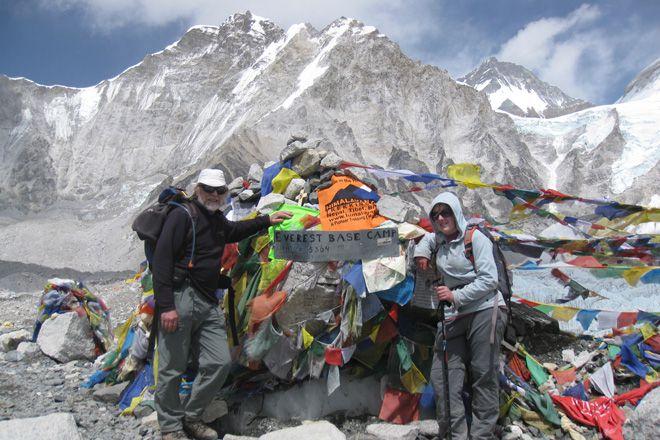 Steve & his daughter, Katie at Everest Base Camp
MK on trek to Everest:
Today the group will reach their goal of Everest Base Camp! Although there are no views of the actual summit of Everest, there are sensational close-up views of the intimidating Khumbu ice-fall and the surrounding scenery of ice seracs and tumbled rocks. As it is the climbing season, the Base Camp will be busy with mountaineering teams, preparing for/returning from their summit attempts.

See more photos of the Everest region:
Here's a photo of our MD, Steve, at Base Camp. Take a look at our facebook albums – Everest Base Camp Trek, Everest Anniversary Trek and Ama Dablam Base Camp, for more images of the Everest region.
60 years ago:
The 1953 Everest Expedition required about 350 porters to carry equipment up to Base Camp, and twenty Sherpa guides to assist with the climb. After the expedition, Sir Edmund Hillary founded the Himalayan Trust, to provide health and education for people in the Everest region.
'To many western eyes, the Everest Region is a place of great beauty and high mountains to be climbed. For the Sherpas and other Nepalese who live there however, life has few privileges. Medicine and education are scarce, bridges and paths are often destroyed and forests upon which they depend are rapidly being depleted. Despite these hardships they are the most warm-hearted people I know. Any help you can provide will be important and gratefully received.' Sir Edmund Hillary.
Mountain Kingdoms and our generous clients have been supporting the Himalayan Trust for over twenty years. To make a donation please visit their website.
The mighty Mount Everest is well known as the highest mountain in the world – 8848m / 29,029ft. The 29th May marks the 60th anniversary of the first ascent of Everest. To celebrate this occasion, we will be updating facebook, our blog and our website with news, photos and interesting facts about Everest, so remember to check back soon, or 'like' us on facebook to join in with the celebrations.