2021 Photo Competition of the Year
Win a £250 Mountain Kingdoms holiday voucher
Even though we can't travel at the moment, we still love to share our travel memories and experiences and what better way to do that than with our Mountain Kingdoms Photo of the Year Competition.
Between now and December, we'll be giving away Mountain Kingdoms Water-to-Go bottles to ten lucky monthly winners and a £250 Mountain Kingdoms holiday voucher to the overall competition winner.
So now's the time to start searching your photos to find your best, most inspiring travel images. To help narrow down your search, we'll set a monthly theme and all you have to do is send us up to three images that reflect the theme and showcase your talents as a great travel photographer. Each month our panel of judges will select their favourite image and the 10 monthly winners will be automatically shortlisted for a chance to win the overall competition prize.
Our theme for March is 'Epic Himalaya'.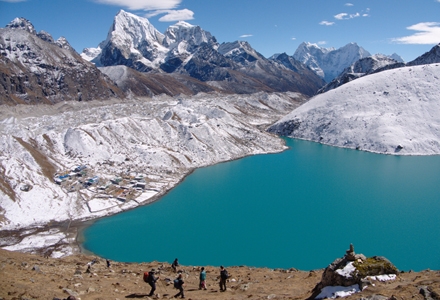 Gokyo Lakes by L Walker
How to enter
Email up to three images each month to harry@mountainkingdoms.com. The images must reflect the monthly theme in order to be considered for judging.
Images must be high resolution, jpg format and must be originals. For further details of image requirements see the Terms & Conditions below.
Images can be taken in any destination (outside of the UK) and on any holiday, regardless of who you travelled with.
Please read the full Terms & Conditions at the bottom of this page before submitting entries. Any entries received will be bound by the terms.
Prizes
10 monthly prizes of a Mountain Kingdoms Water-to-Go bottle. Monthly winners will be shortlisted for the overall competition prize.
A prize of a £250 voucher for the image selected as the overall competition winner. The voucher can be redeemed against any Mountain Kingdoms holiday.
All prize winners will be selected by a panel of Mountain Kingdoms staff and notified by email. Monthly prize winners will be notified within 2 weeks of the end of the previous month. The overall winner will be notified within four weeks of the competition ending on 31st December 2021.
Winning images will be published on our website, our social media platforms and our enewsletters.
Previous winners

From quirky creatures to majestic landscapes and timeless vistas, our previous winners have encapsulated a spirit of fun and adventure and captured the beauty of the amazing world we live in.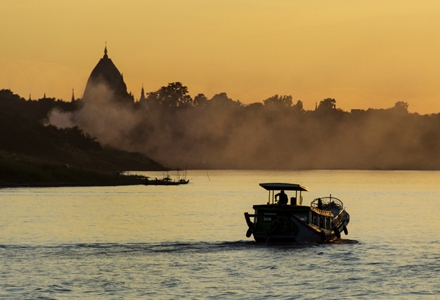 Bagan river sunset by Harrison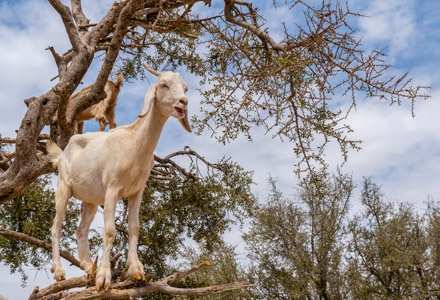 Tree climbing goat by L Cooper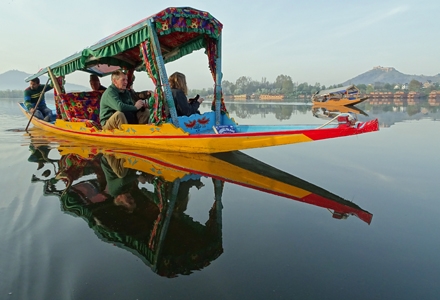 Taxi boat in Kashmir by J Leonard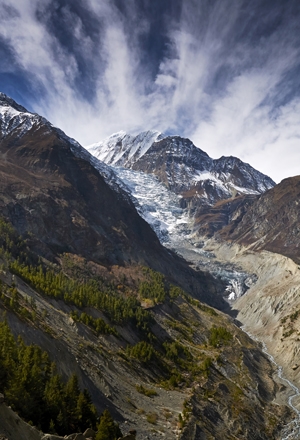 Mount Gangapurna, Annapurna Circuit by T Mason
Terms & Conditions

General entry requirements and competition rules
Entry will be via email only and limited to 3 images per entrant per monthly competition. Images can only be submitted once.
Each monthly winner will be selected from all images submitted during the period, as long as they meet the requirements laid out in these Terms & Conditions.
An overall winner will be selected from the 10 monthly competition winners after the competition closes on the 31st December 2021, 11.59pm.
Copyright remains with the entrant.
The person entering the competition must have taken any images they submit and hold their sole rights.
For all images entered in the competition, Mountain Kingdoms has permission to use the images, free of charge and without prior permission, in any marketing materials including Mountain Kingdoms' website, social media platforms, enewsletters and any printed marketing materials. Mountain Kingdoms will accredit the author whenever possible but cannot guarantee it. Images can also be used to promote the photo competition.
Any personal data required to enter the competition will be used and stored in accordance with Mountain Kingdoms' privacy policy.
Entrants must be 18 years or over.
Images that have previously won the Mountain Kingdoms Photo of the Year Competition cannot be entered.
The competition excludes all employees of Mountain Kingdoms and their families.
By entering the competition, participants will be deemed to have accepted and be bound by these terms and conditions.
Mountain Kingdoms reserves the right to amend these terms and conditions as necessary at any time.
The competition and these terms and conditions will be governed by English law and any disputes will be subject to the exclusive jurisdiction of the courts of England.
Image requirements
Photos must reflect the monthly competition theme. Photos that do not, won't be considered for judging.
Images must be in jpg format.
The image must be the original work of the entrant.
Minor digital adjustments (basic cropping, saturation, levels, colours, curves, contrast, sharpening) are allowed but must remain a faithful representation of the original scene. You cannot add or remove subjects. De-saturated black and white images are allowed.
By entering the competition you confirm that, if a person is a subject in your picture, you have had their permission to take the photo and to submit it to the competition.
Prizes and award of prizes
A monthly prize of a Mountain Kingdoms Water-to-Go bottle will be awarded for the best photo selected from all the valid entries. Entries from previous months will not be considered.
The monthly winners will form a shortlist from which will be selected the overall winner who will receive a £250 voucher towards the cost of a Mountain Kingdoms holiday.
The winners will be chosen by a panel of Mountain Kingdoms' staff.
Mountain Kingdoms will contact all monthly winners by email within 2 weeks of the end of the preceding month. The overall winner will be notified by email within 4 weeks of the end of the competition.
Winners will be announced on Mountain Kingdoms' website, Facebook, Instagram and Twitter pages and in newsletters and other marketing communications.
Prizes are non-transferable and no cash alternatives are available.
The voucher will be redeemable against the value of any Mountain Kingdoms holiday and must be redeemed by 31st December 2022. The voucher can be used in conjunction with a Mountain Kingdoms Loyalty Discount if applicable.
Our Top Five Island Idylls
Whether a balmy tropical island, a remote desert island or even a naughty love island, our imaginations have been captivated by the romance of islands for hundreds of years. And in current times, the dream of an island idyll, distanced from the rest of the world, is even more alluring.
The islands of our imagination though are often very different from reality. By definition an island is a piece of land surrounded by water so can be nothing more than a tiny lump of rock in the middle of a river, or can be the size of an entire country just like our own home, the British Isles. Formed from the great forces of nature and hugely diverse in climate and habitat, they can be barren, inhospitable places or they can team with an immense variety of life, and they can also reveal the development of human cultures and activity over millennia of time.
It was a tough choice but here are our five favourite island idylls along with ideas on how you can discover them for yourself.
The Galapagos Islands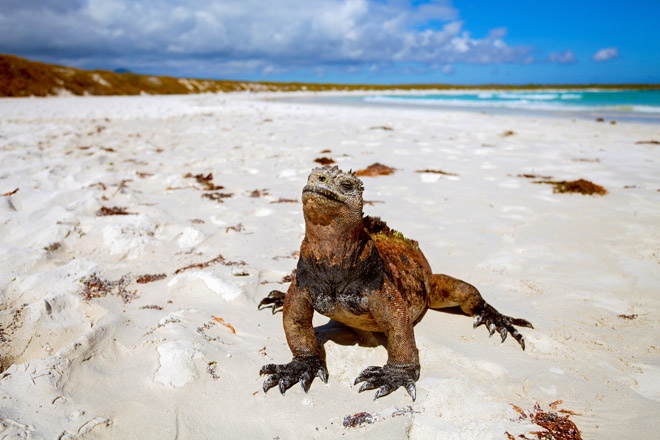 Marine iguana
Lying over 1,000km off the coast of Ecuador, the Galapagos Islands are formed from underwater volcanic eruptions and are home to an incredible abundance of wildlife including a remarkable number of species found nowhere else on Earth. Made famous by Charles Darwin's studies into evolution, over 95% of the species discovered on his historic 1835 voyage are still present on the islands including giant tortoises, blue-footied boobies and marine iguana. An archipelago of six main islands and numerous islets there is huge potential for exploration both on foot and by sea. For a different perspective from the normal island-hopping cruise, we recommend our Gentle Walking Ecuador & Galapagos Safari. By staying in accommodation on a selection of islands you can more thoroughly explore the varying habitats and wildlife as well as gain an understanding of the culture and history of the communities that have made the Galapagos their home.
Easter Island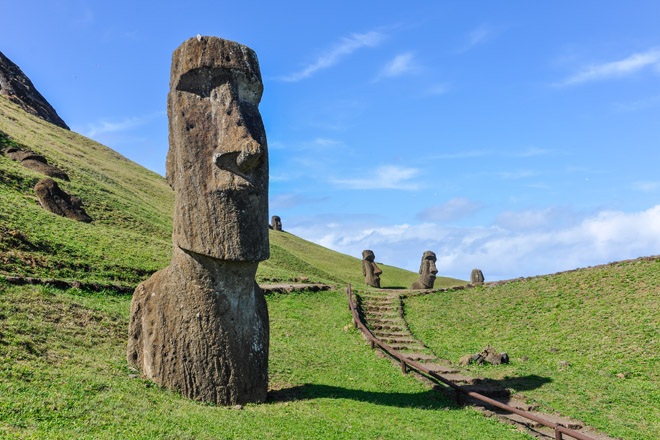 Moai head
Like the Galapagos, Easter Island is an extremely remote volcanic island lying far off the coast of South America. But unlike the Galapagos it is human activity rather than wildlife that has immortalised the island for Easter Island is the place where you will find hundreds of giant statues known as Maoi, that were carved from rock by the ancient inhabitants of the island before they mysteriously died out. The enigmatic moai heads occupy a number of sites on the island, and together with rugged coastal paths and volcanic crater trails, offer an all-round island adventure. To make the most of the long trip to Chile, you can combine the remarkable land of the Moai with the rock pinnacles of Torres del Paine National Park on our Easter Island & Patagonia walking holiday.
Islands of Croatia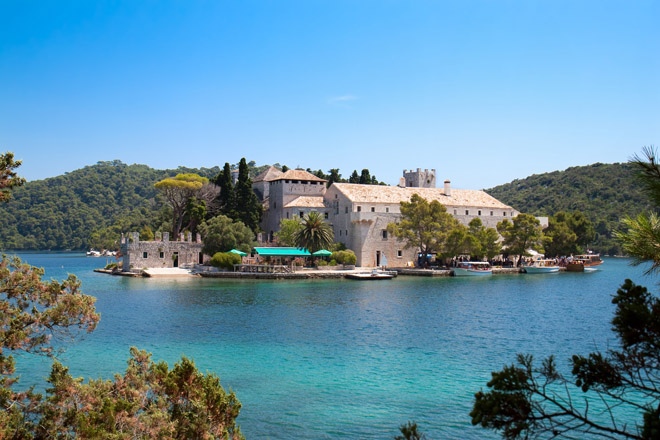 St Marija Monastery, Mljet Island
Much closer to home, Croatia benefits from a stunning 1,100 mile-long coastline studded with over 1,200 enticing islands. Steeped in traditional Mediterranean culture, each island has its own unique character and history, and many are suitable for walking with well-maintained paths and glorious views stretching out over the Adriatic. The multitude of coastal paths and sheltered bays also provide ample opportunity for a refreshing dip. Along with time in the magnificent cities of Dubrovnik and Split, our Gentle Walking Islands of Croatia holiday, visits the islands of Hvar, Mljet and Lopud for the perfect introduction to the idyllic Dalmation Coast.
Reunion Island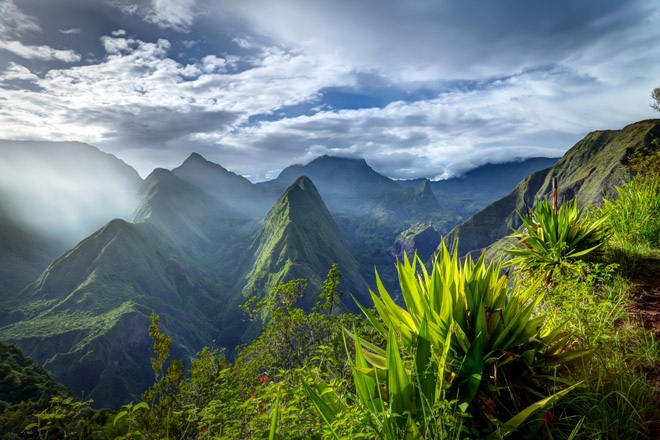 Cirque Mafate
Around 3 million years ago, the Piton des Neiges volcano violently erupted out of the Indian Ocean and formed the tiny island of Reunion. Over time the Piton des Neiges became extinct and gradually eroded into three dramatic cirques - one of which can only be reached today by foot or helicopter. Further eruptions led to the formation of a second volcano, the Piton de la Fournaise, which remains one of the most active volcanoes in the world. Along with its rugged volcanic landscape the island is ringed by sandy beaches whilst the interior is full of waterfalls and pristine, tropical rainforest. Its rugged topography means there are superb opportunities for challenging walking and trekking reaching a high point of over 3,000m on the Ption des Neiges. Our 15 day Three Cirques Trek takes you to the summits of both volcanoes but also includes some well-earned chill-out time on the beach and the chance to absorb the island's unique Creole culture.
Sri Lanka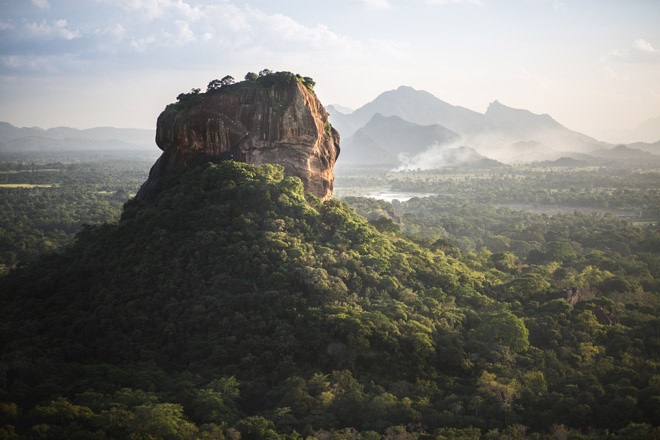 Sigiriya rock fortress
Another Indian Ocean island, slightly smaller in size than Ireland, Sri Lanka boasts an impressive array of natural and man-made wonders. With a documented history spanning some 3,000 years, it has an incredibly rich cultural and religious heritage. Among its many highlights are the World Heritage Site of Anauradhapura, the giant Buddha statues at Polonnaruwa, and the former citadel of Sigiriya - perched atop a towering rock outcrop. Jaffna Fort in the north and Galle Fort in the south, together with the tea plantations of the central highlands, are also evidence of the many foreign influences absorbed by Sri Lanka due to its strategic importance and key role as a trading hub.
Alongside its many cultural highlights, Sri Lanka offers a wonderful diversity of landscapes and wildlife. Trails through tea plantations, lowland jungle, cloud forest and mountain moorland all provide great walking or trekking opportunities. Whilst game drives at Wilpattu or Yala National Parks enable close up viewing of a plethora of exotic animals and birds including leopard. It's also one of the premium destinations in the world to see blue whales. To explore the many treasures of the 'teardrop island' from north to south take a look at our Definitive Cultural Tour. Alternatively, if you prefer something a little more active, try our Gentle Walking Sri Lanka holiday or, get off-the-beaten-track on our Hill Country Heights Trek which includes an ascent of Adam's Peak – the island's highest point.
Our passion for travel
At Mountain Kingdoms we have a real passion for travel and we're constantly seeking out new destinations and experiences in the far flung corners of the world. But each member of the team has somewhere that they're totally smitten with - a special place that soothes the soul and lifts the spirits. This Valentines day, we thought we'd share some of our travel love affairs.
Wild Nepal - Niki, Operations Manager

Niki trekking in the mountains of Wild Nepal

I have travelled to Nepal at least a dozen times - trekking, cycling and climbing giant peaks. But the two places that remain my favourites are Dolpo, near the Tibetan border, and the base camps of Kangchenjunga. They both have the most incredible Himalayan scenery and are long, strenuous, satisfying treks. Just my thing! Approaching the Ghami La, 5,700m, in snow, following the tracks of a snow leopard was a particularly fond memory. More recently, I completed the spectacular trek to Makalu Base Camp which was quite simply one of the best, most spectacular and rewarding treks in the world. Wild Nepal has definitely stolen my heart.
Bhutan – Seraphina, Reservations Manager

Seraphina enjoying the high mountains of Bhutan

I've been lucky enough to travel the world and been to so many amazing places but the country that I have the greatest passion for is Bhutan which I've visited over 7 times now. There are many unique things about Bhutan – the national dress, dzongs, Gross National Happiness, the architecture and the food (chili cheese anyone!) but for me it's the completely unspoilt nature of the high mountains that make it so very special. It's one of the few places that you can find real wilderness and enjoy a 'proper' camping trek, immersed in the spectacular scenery and completely removed from the modern world. The Lingshi Laya Trek is probably the nearest I've come to finding my trekking Nirvana.
Kerala - Linda, Operations Assistant

Linda's favourite view in Kerala
It's a close run thing, but Kerala in Southern India just beats Nepal to be my top travel destination. I first went to Kerala in 2008 and have now been three times in total. I love the warm winter sun, the amazing food, the vibrant colours, the gorgeous tea estate landscapes, the unusual and stylish accommodation and the smiling friendly locals. What more can you ask for? My favourite memory though is watching the sun set over the backwaters with the local fishermen paddling out in their small boats for the night. Kerala is just idyllic and the ideal choice for a romantic holiday.

Southwest USA - Kirsty, Marketing Assistant
Kirsty walking amongst the hoodoos in Bryce Canyon National Park
My travel heart belongs to the national parks of Arizona and Utah in the Southwest of the United States. I've returned many times since first visiting back in 1997 and can never get enough of those sculpted red-rock landscapes, vast blue skies and iconic sights that somehow make you feel you're starring in your very own western movie. The Grand Canyon is undoubtedly the biggest star of the show, but there are numerous supporting actors in the fabulous cast of national parks: Bryce, Zion, Arches, Canyonlands and Monument Valley are just a few of my Oscar winners. And I'm hoping to go back soon to present my awards!
Gangkar Punsum, Bhutan - Steve, Managing Director

Steve with Gangkar Punsum behind
My greatest love (apart from my family) is the mountain of Gangkar Punsum. The highest unclimbed mountain in the world and the highest mountain in Bhutan. I first went there in 1986 when, by a series of extraordinary coincidences, I managed to secure a permit to attempt the first ascent. My friends and I reached very high on the south west ridge before she became angry at our audacity and summoned a storm to blow us off the mountain. I have been back six times since then exploring the valleys and the satellite peaks. Just to be in her presence is to be dumbstruck by her beauty. She allows my admiration from afar but will remain forever inviolate to my touch.
Cambodia - April, Flights Manager

April in Cambodia

I visited in October 2016 and was totally captivated. I found Cambodia such a fascinating country and particularly loved the bustling markets, floating villages and the lovely countryside. The Cambodian people were so friendly and welcoming - we even visited a village school where we got to talk to the children and find out more about each other, it's a really special memory of the country. Oh, and not forgetting the tempting Khmer curries and sweet coffee - another very good reason to return!
Zambia - Jude, Product Manager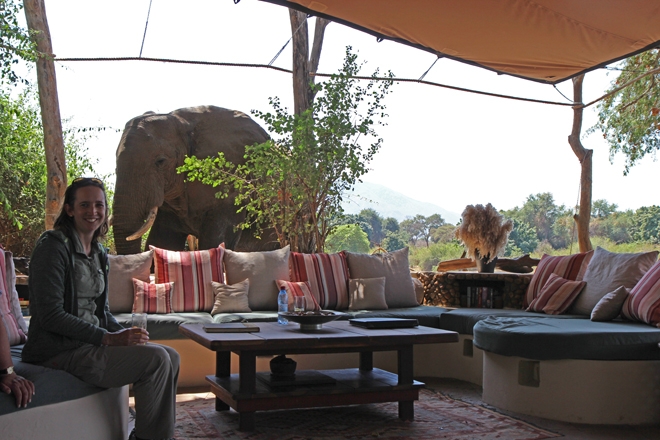 Jude is joined for lunch at Chongwe River Camp
When I travelled to Zambia in 2016, it was the first time I'd done a walking safari and what an incredible experience it was. The indulgent bush camps, the lovey staff and guides and, of course, the amazing wildlife encounters - it was love at first sight, especially with the curious elephants who came into the camps. It's hard to pick a single, special moment though as there were so many, but my absolutely favourite time of the day was at sundown - sipping a G&T, watching the sunset and listening to the mesmerising calls of the wild. A little bit of heaven on earth.
Mount Kilimanjaro - Harry, Operations Manager
Harry on the summit of Kilimanjaro
One of my happiest travel memories was the morning that I made it to the summit of Mount Kilimanjaro in Tanzania. It wasn't just the incredible sense of achievement and awesome sunrise views that made me feel so good, it was also because I was following in the footsteps of my grandfather who climbed Kilimanjaro in 1955 as part of an army expedition. He's very proud that I made it all the way to the top.
Trekking Guide to the Everest Region
Known also as the Solo Khumbu, the towering mountains of the Everest region are unrivalled in their sheer scale and majesty. Most routes in the Everest region lead to Everest Base Camp, however there are side trails to explore and more remote paths to discover as well as challenging trekking peaks to climb. Whatever trail you follow though, you will soon be immersed in the austere beauty of this awe inspiring trekking region.
On the trail to Everest by O Schick
Where is it?
The Everest region is in northeastern Nepal. The largest town of the region is Namche Bazaar and it is also home to the famous Buddhist monastery at Thyangboche where the annual Mani Rimdu festival is held.
How to get there
Virtually all treks in the Khumbu begin with a flight from Kathmandu to the small town of Lukla. The flight takes about 45 minutes and gives glorious views of the Himalaya.
When to go
March and April in the spring and October and November in the autumn are the prime months for trekking in the Everest region. It is also possible to trek to Base Camp in December when the paths are quieter, although it can be pretty chilly at this time of the year. Trails can certainly be busy during the spring and autumn but the warm days, clear views and camaraderie with other trekkers in the tea houses and lodges along the route, make it a great time to trek.
The Mountains of the Everest Region
At 8,848m Mount Everest is, of course, the star of the show and you may be lucky enough to see expeditions preparing for their summit attempts if you trek to Base Camp in the spring. However, this is a region blessed with a multitude of soaring peaks such as Lhotse, Nuptse and Makalu, although it is perhaps Ama Dablam that is the most beautiful of them all. Whichever Everest trek you choose, you will undoubtedly enjoy spectacular views of numerous Himalayan mountains.
The people of the Khumbu
This is the homeland of the Sherpa people who are renowned for their immense fortitude and strength, as well as their wonderfully friendly disposition. They are predominantly Buddhist and earn their income primarily from tourism and climbing expeditions. Sherpa Tenzing Norgay is still the most famous of all Sherpas having successfully summited Everest with Sir Edmund Hillary in 1953.
Treks in the Everest region
A world class trek, with excellent acclimatisation through the heart of Sherpa country to reach the base of Mount Everest. Accommodation is in traditional tea houses or, alternatively, luxury trekking lodges on our Everest Base Camp in Style.
Luxury Lodges to Ama Dablam Base Camp
Using the best lodges in the Khumbu, this trek leads from Lukla through some of the prettiest Sherpa villages and most spectacular mountain scenery, to reach the foot of Ama Dablam.
Everest Base Camp & Gokyo Lakes
This is a longer variant of the classic trek to Everest Base Camp which crosses the Cho La to the dazzling turquoise lakes of Gokyo. There is also an ascent of Gokyo Ri for even more jaw-dropping views.
This is a rare off-the-beaten-track route in the Everest region that goes beyond Everest Base Camp through remote valleys and over high passes with unrivalled mountain scenery from start to finish.
Long Trek to Everest Base Camp

This is the slow, scenic route to Everest, following in the footsteps of the early Everest pioneers who didn't have the benefit of a flight into Lukla. The 18 day trek goes through the heart of Sherpa country, to the summit of Pikey Peak and on to join the main trail to Everest Base Camp.

Although this is Nepal's highest trekking peak it presents a relatively straightforward challenge for the experienced trekker or novice mountaineer. The panoramic views of Himalayan giants from the summit make are just reward for the effort of the climb.
Read our Trekking Guide to the Annapurna Region.
Read our Trekking Guide to Wild Nepal.
Looking back at an epic journey to K2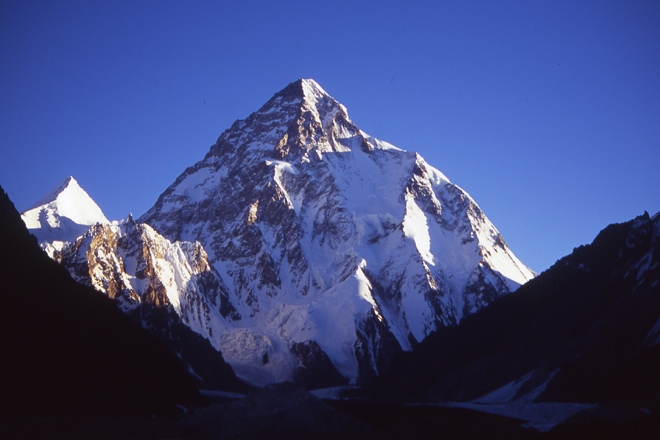 View of K2 from Concordia, J Turner
K2 is the second-tallest mountain on earth, without doubt one of the deadliest to climb, and even the trek to stand beneath it is not for the faint-hearted.
Anyone who loves the mountains and epic climbing tales will be familiar with the dazzling line up of big peaks that pave the way to K2 Base Camp, and back in 2004 I was no exception. I joined Mountain Kingdoms in the spring and jumped at the chance to fly to Pakistan that July as Assistant Leader with a group of 12 clients heading first up toward K2, and then over the icy Gondogoro La (5,938m) and down in the lush Hushe valley.
We had a brief afternoon of sightseeing in hot, sticky Islamabad before heading off early next morning to commence our long two-day journey up the Karakoram Highway. The scenery was spectacular, as was some of the driving as the road became narrower, and the grey Indus River dropped steeply away below us. The mountains banked high above us on either side, strewn with precariously balanced giant boulders and audacious mountain goats.
Eventually, stiff-legged, we reached the dusty fortress town of Skardu and enjoyed pre-trek drinks in the lush garden of our hotel looking out over the lazy curve of the Indus toward the hazy peaks in the distance. Another day on the road, passing heavily-laden apricot trees and dodging landslide debris, brought us to the simple village of Askole, where we met our smiling team of porters and our trek began.
The first days were hot and dusty, but eventually the air cooled and the peaks began to reveal themselves, an impressive who's who of big mountain names: the renowned Trango Towers, commanding Cathedral Peak, lofty Masherbrum and many more.
The undulating ice and rocky route up the glacier was easier underfoot than I had initially expected, despite some scrambling in places, however the trekking became increasingly hard work as we gained height and the air became thinner and thinner. Arriving at Concordia though was sensational, a magnificent mountain amphitheatre and, despite it being well below freezing, I recall sitting outside my tent watching the moon cast shadows on the surrounding peaks long into the night.
Our trek in Pakistan was not without drama, the starkly beautiful landscape was also extremely exacting and three of our group did not continue over the pass. The trip highlight for me though, without doubt, was standing in the 'throne room of the mountain gods' at Concordia with K2 towering above me - I have never felt so small and insignificant as I was there, humbled by the incredible might of the Karakoram Himalaya.
Top 10 Destinations for 2020
Explore our selection of popular travel destinations for 2020. As a new year reveals itself, many of us start planning future pursuits, dreaming of big adventures and setting new and exciting challenges for the year ahead. A new decade can heighten this process – our dreams become bigger and ambitions are discussed in more detail, not for just one year but the next ten.

With this in mind, and for a decade of inspiration, here is an introduction to our top 10 most popular destinations for 2020 – a number of which have remained at the top of the holiday charts for a number of years.
Nepal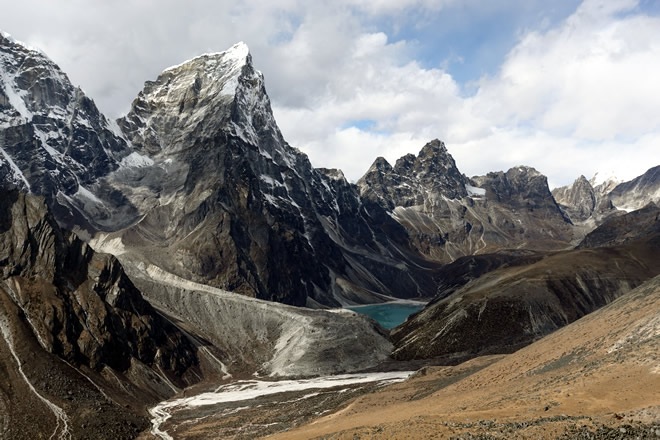 On the trail to Everest Base Camp - Harry Gray
Nepal has captivated the imagination of mountaineers and trekkers since it first opened its doors to the world in the 1950s. Now in 2020, Nepal is focusing on welcoming travellers more than ever.
The Nepalese government declared 2020 as the Visit Nepal Year and have launched a colorful campaign to improve infrastructure, maintain and protect the environment and to enhance wildlife conservation. Interestingly, the official mascot of Visit Nepal Year 2020 is the Yeti and 108 larger than life sculptures will be displayed within and outside the country to celebrate.
From the chaotic charm of its vibrant capital city, Kathmandu, to the towering Himalayan mountains, Nepal is a magnet for the adventurous traveller. Despite its many cultural and spiritual charms, it's undoubtedly the breathtaking scenery and classic mountain treks that are Nepal's most enduring attraction. Lush terraced farmland and river-carved valleys give way to high altitude desert plains, remote mountain passes and the summits of the highest peaks on the planet.
The Everest and Annapurna regions with their iconic mountains, well-worn trails and long-established tea house culture remain the most popular areas to visit, especially as more luxurious trekking lodges and lower altitude trails in the Annapurna foothills make the mountains more accessible for first time trekkers. However, even here it's possible to get off-the-beaten-path and go beyond the classic Everest Base Camp Trek to discover remote villages and little-known trails. For those looking for a wilder experience, Nepal has numerous options for the keen trekker with Langtang, Mustang, Ganesh Himal, Dolpo and Kangchenjunga all offering pristine mountain scenery and a culture still relatively untouched by tourism. In addition, for 2020, we have expanded our offerings in Nepal and introduced a selection of fantastic remote and challenging treks, including: Grand Annapurna Traverse, Makalu Base Camp Trek, Dhaulagiri Sanctuary Trek and Five High Passes - Dolpo to Mustang Trek.
View all 2020 Nepal holidays
Uzbekistan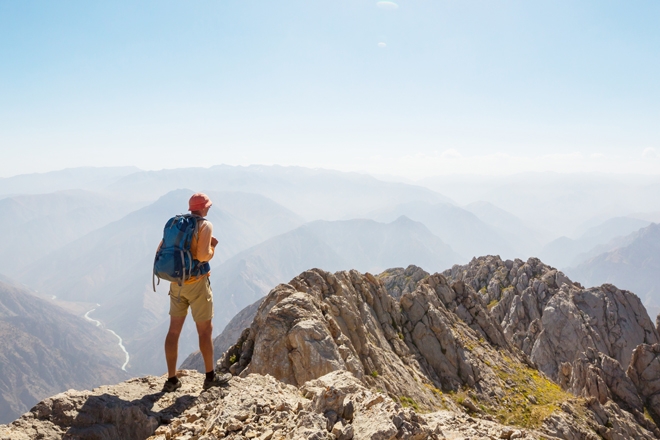 Chimgan Mountains, Uzbekistan
In the heart of central Asia, and along the route of the ancient Silk Road, Uzbekistan is a country full of fascinating history and rich cultural influences. These are best evidenced in the exceptional architecture and artisan industries of the great Silk Road cities of Khiva, Bukhara and Samarkand. Last year, saw an explosion of interest in Uzbekistan as a travel destination, and to support this demand we've recently increased the number of departures we offer and expanded our range of tours to include a new 15-day walking holiday - Silk Road Mountains & Monuments
Travel on a tour between the Silk Road's fabled cities and you will discover a perfectly preserved treasure trove of blue-domed mosques, wonderfully ornate mausoleums and madrassahs and intricately decorated towers and minarets. The cities are also great places to discover some of the traditional crafts of the Uzbek people including silk and paper making – little changed in their techniques over the centuries and still in use today.
Beyond the impressive cities of Uzbekistan there is abundant natural beauty to be discovered. From the red sands of Kyzyl-Kum Desert to the pristine peaks and alpine-style meadows of the Chimgan and Nuratau Mountain ranges. A summit of Small Chimgan is well worth the climb, offering spectacular panoramic views of Charvok Lake and the Karjantor Mountains on the Kazakhstan border.
View our Uzbekistan holidays
Bhutan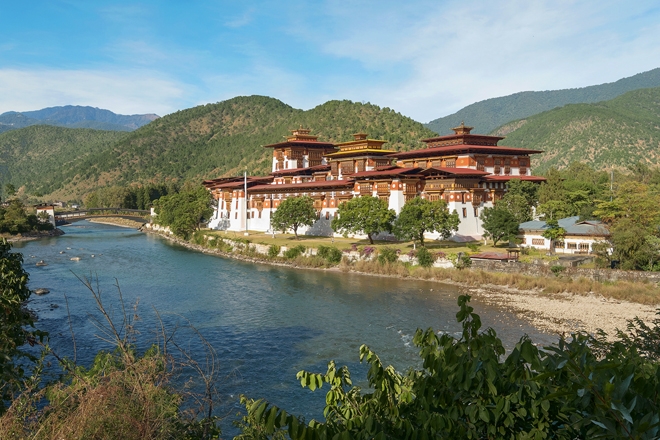 Punakha Dzong
Bhutan is a remarkable destination, as the only carbon negative country in the world, it has now been recognised by Lonely Planet as the top country to visit in 2020. This comes as no surprise to us here at Mountain Kingdoms. Bhutan is a wondrous land still immersed in myths and legends, where modern-day developments are carefully integrated with an ancient culture, ensuring that its unique traditions are preserved whilst still embracing the outside world.
Travellers pay a high daily fee to visit Bhutan as part of their low-impact tourism policy. This helps to sustain the tiny kingdom's pristine nature, unspoiled mountain paths, idyllic monasteries and Buddhist traditions - giving each visitor the true sense of nature and value.
One of the kingdom's most famed attractions, the Taktsang monastery, located at an elevation of 3,110m/10,200ft on the side of a dramatic cliff in the Paro Valley, is a striking sight to behold and a must-see for all visitors. Following suit, many of Bhutan's towns, however remote, have their own dzong reflecting both the deep spirituality of the country and its martial past. Bhutanese culture is also celebrated through vibrant and engaging festivals, where monks and locals dress in flamboyant garments and perform masked dances for their audience.
With its picturesque countryside characterised by broad valleys and pretty villages, together with primeval forests and towering Himalayan peaks, Bhutan is a land best explored on foot (or even on two wheels). From gentle valley walks to epic high mountain treks, and everything in between, Bhutan can satisfy any level of walking experience or fitness. And, with the east of the country only recently opening up to visitors there are still large parts of the Thunder Dragon Kingdom where you can have the trail virtually all to yourself.
View our Bhutan holidays
India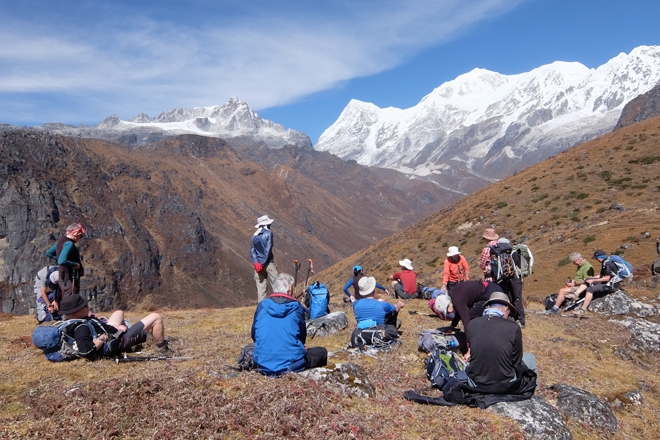 Trekking in Sikkim
India is no ordinary destination, it's packed with diversity at every turn. Whether you are looking to be taken back in time on a cultural tour, walk through verdant tea plantations, cruise along Kerala's backwaters or climb a Himalayan peak, India offers an incredible range of experiences. Rail journeys and river cruises are proving increasingly popular holiday options for 2020.
Rajasthan is the region that best evokes the colour, romance and history of India's fascinating past. Jaisalmer, Udaipur and Jodhpur are replete with ancient forts and palaces and heritage properties – many of which you can stay in – whilst iconic Taj Mahal provides the classic Indian photo opportunity. You can also take a journey aboard the luxurious Maharajas' Express, travelling from Delhi to Agra, and on to Ranthambore National Park and historical Jaipur.
For a fascinating insight into ancient civilisation Hyderabad and Hampi are well worth a visit offering a remarkable array of palaces, forts, temples and museums. Travel to Southern India for a complete contrast from the north. It is a land of white beaches, nature reserves, spice plantations and architectural splendour. In Kerala you'll discover captivating waterways and great wildlife viewing opportunities in the region's national park.
Alternatively, travel north to the Indian Himalaya and there's no end to the opportunities for superb trekking. You can either follow a classic trail such as the Markha Valley trek or trek in the shadow of the world's second highest peak, Kangchenjunga, or venture into the dramatic desert landscapes of Zanskar and Ladakh. Whichever you choose, you'll find a land of unsurpassed beauty and rich cultural interest.
View all our holidays in India
Georgia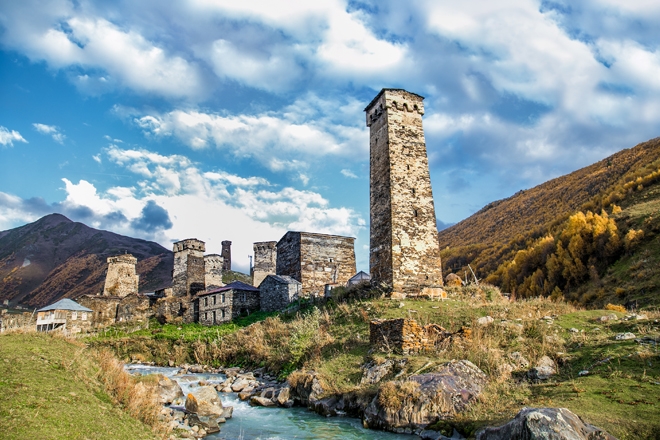 Watchtowers
Easily accessible from the UK, Georgia was considered to be a hidden gem, however recently Georgia has come into the spotlight and ABTA (Association of British Travel Agents) has revealed Georgia as one of the top destinations to watch for 2020. Sitting astride Europe and Asia, it is a destination that has absorbed many cultural influences yet proudly preserved its own identity. With its dramatic mountain scenery, remote walking trails, ancient village watchtowers and hospitable people, it is fast emerging as an ideal destination for keen trekkers. Not to mention the delicious, traditional cuisine! Here you can sample the tasty food that hospitality trend-forecasters are calling the 'cuisine of the year'.
The country's biggest draw is of course the High Caucasus Mountain range. One of the most scenically spectacular parts of this mountain range is the Upper Svaneti region with its glorious alpine scenery. Walking through this mountainous region provides a real feeling of being lost in nature as you are constantly surrounded by snowy peaks and verdant meadows. This scenic region now plays host to the Transcaucasian Trail, created with the purpose of both preserving the rich cultural heritage of the region and enabling trekkers to experience its many delights - which in turn benefits the local communities.
Despite becoming an increasingly popular tourist destination, Svaneti has managed to remain relatively wild and off-the-beaten-track, our advice would be to visit sooner rather than later while this is still the case!
View our Svaneti & the Transcaucasion Trail Trek
Ethiopia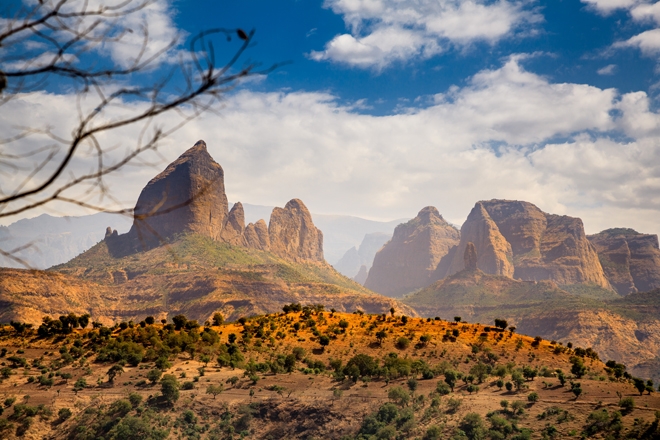 Trekking in the Simien Mountains
Rough Guides has recently ranked Ethiopia in second place on their list of Top 4 Countries to Visit in 2020, and for good reason. Ethiopia has emerged to be one of the fastest-growing travel destinations in the world in 2019. Due to new infrastructure, attractive new accommodations and increased accessibility it's a great choice for those who like to be at the forefront of emerging travel destinations.
Ethiopia is a destination renowned for its extravagant wealth of historic treasures as well as the rugged beauty of its mountains. It offers an impressive selection of must-see sights, beginning in its capital, Addis Ababa, home to 'Lucy', the 3.2 million year old fossilised skeleton, famed for being the oldest and most complex hominid ever found and one of the reasons that Ethiopia is known as the 'Cradle of Civilization'. Venturing away from the capital, Gondar and Lalibela are two of Ethiopia's other ancient wonders. Gondar is the site of a dozen castles built by different emperors over 236 years, whilst the remarkable medieval rock-cut churches of Lalibela are one of Christianity's most significant and unique landmarks. These are just two of Ethiopia's nine cultural World Heritage Sites.
Another of Ethiopia's World Heritage sites is the Simien Mountains National Park. The park offers great trekking through desert-like scenery and is also home to Ras Dashen, 4,550m/14,930ft, the highest mountain in Ethiopia. Within the park you can find a surprising amount and variety of wildlife, including the Geleda baboon, Walia ibex and Simien fox, there is also a richness of flora and some of the world's most magnificent birds.
View our Ethiopia Holidays

Italy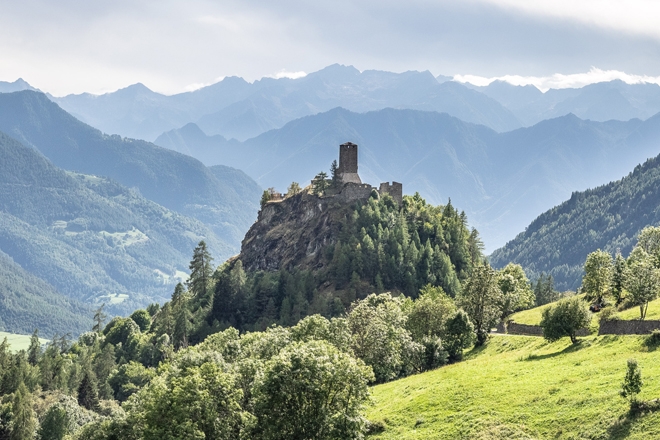 Monte Rosa Rando
If you're looking to lower your carbon footprint and stay a little closer to home in 2020, Italy could be just the ticket. With its diverse regions, Italy boasts an abundance of superb scenery for tourists to enjoy. Combine this with a wealth of historical interest, delicious food, blue skies, and just a two-hour journey from the UK, it is almost impossible to resist Italy's allure.
The dramatic landscape of the Dolomites is one of the country's biggest draws, especially for walkers, with its lush forests, verdant valleys colossal rock walls and unique jagged peaks. Each day spent wandering along the superb walking trails through Fanes-Sennes-Braies National Park, under the Tofanes Mountains, across the breathtaking Forcella del lago pass and up the spectular Lagazuoi Massif provides a magnificent new perspective of the Dolomites. For a lower-level trek, the Pennine Alps combines quiet trails and alpine meadows with stunning views of Monte Rosa Massif and its glaciers.
For lovers of coastal walking you can explore the wild landscapes of the volcanic Aeolian Islands and walk between lava flows and extinct craters with superb views across Sicily. Or you can stroll on the 'path of the gods' and through the cosmopolitan towns of the gorgeous Amalfi coast.
View our Italy holidays
Chile & Argentina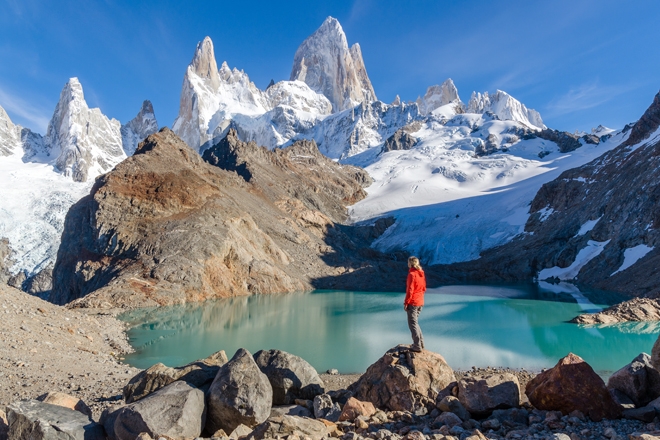 Patagonia
From the glacial landscapes of Patagonia to the hidden canyons of the Atacama desert and the mysterious monoliths of Easter Island, Chile is full of hidden gems, making it the ideal destination for adventure travel.
The magical region of Patagonia covers the southernmost tip of South America straddling Chile and Argentina. Both Argentine and Chilean Patagonia are filled with amazing natural wonders. The Torres del Paine National Park in Chile and Los Glaciares National Park in neighbouring Argentina are both characterised by jagged rock towers carved from the granite of the Andean mountains, surrounded by ice-blue lakes and vast glaciers. Excellent walking trails exist in both parks to reach the ultimate viewpoints of landmarks such as the Paine towers, the peaks of Fitz Roy and Cerro Torre and the immense Perito Moreno Glacier. At the southernmost tip of Patagonia lies the Tierra del Fuego archipelago – an eerily wild landscape where you can walk to 'the end of the world'. It's also the stepping off point for cruises through the Beagle Channel to Cape Horn or further afield to the Great White Continent of Antarctica.
Or, head west to explore the Chilean territory of Easter Island, a remote volcanic island in Polynesia. Here you can discover the mysterious and imposing Moai statues created by the Rapa Nui people and explore the rugged coastline and trails by foot, horse and bike.
View our Chile & Argentina holidays
Peru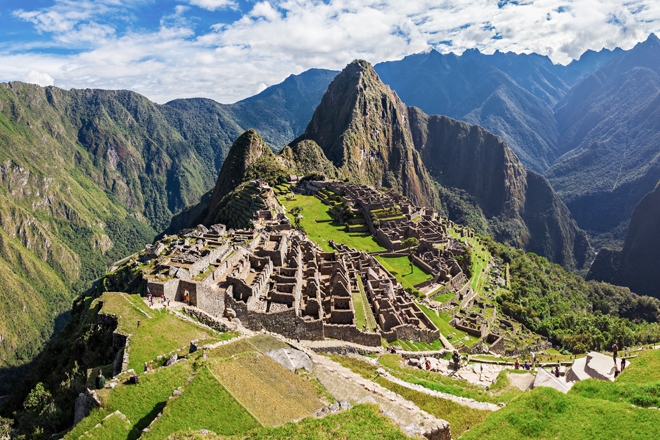 Machu Picchu
Peru recently triumphed at the World Travel Awards in 2019, winning three titles - 'World's Leading Culinary Destination', 'World's Leading Cultural Destination' and 'World's Leading Tourist Attraction: Machu Picchu undoubtedly remains as one of the world's must-see destinations. Since Hiram Bingham first discovered the incredible Inca city of Machu Picchu, it has become one of the most recognised images in the world and a magnet for every visitor to the country. Despite its popularity though, Machu Picchu, never fails to impress due to its scale, state of preservation and its stunning mountain location, and it rightly remains the must-see sight for any visitor to Peru. The most thrilling way to see Machu Picchu for the first time is on foot – trekking along the Inca Trail.
Just a train ride from Machu Picchu lays the delightful mountain city of Cuzco, cultural home of the Quechua people and gateway to the Sacred Valley - a treasure trove of cultural sights and monuments that reveal Peru's history from pre-Inca times through to the Spanish Colonial era. But there is far more to Peru than old stones! Rainforest, cloudforest, coast and high mountains provide an enormous variety of spectacular landscapes and a real trekker's paradise. Beyond the Inca Trail there are Andean peaks to conquer such as Pisco Peak, there's the gloriously technicolour Rainbow Mountain to discover and there are alternative trails to explore through the land of the Incas. In fact, with its wonderfully diverse scenery and rich cultural heritage, Peru is one of South America's most appealing destinations for trek-lovers foodies and history enthusiasts alike.
View all our Peru holidays.
Japan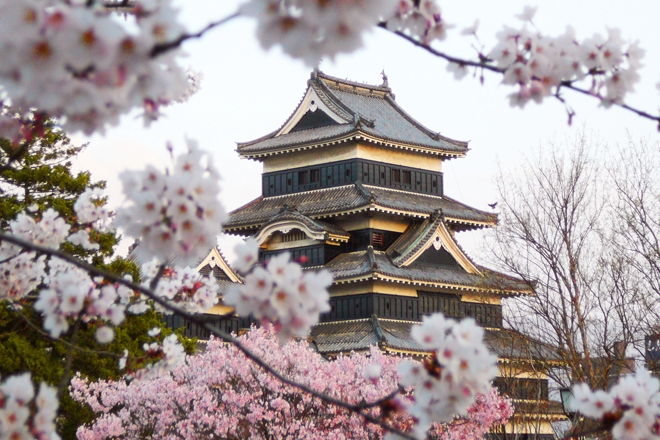 Japan
With the Rugby World Cup having taken place in autumn 2019 and the 2020 Olympics this summer, Japan is very much in the news. But beyond the sporting spectacles, it has much to offer the curious traveller. When you think of Japan the first thing that comes to mind is likely high-rise buildings, high-tech cities and speedy bullet trains, but besides this, Japan is surprisingly mountainous with 80% of the country covered by tree-clad, mountain terrain. Sparsely populated, small villages are linked by a network of sacred trails, such as the Nakasendo Trail and the Kumano Kodo, providing ideal trekking opportunities.
Along these scenic, ancient paths, once used by noblemen, clergy and emperors, you will discover small shrines, waterfalls, tea houses, pagodas and traditional inns called ryokan and minshuku. Here you can spend the night, enjoying exceptional hospitality, hot stone baths and delicious local food.
The immense contrasts are what makes Japan such an intriguing place to visit, from the hustle and bustle of Japans capital city, Tokyo, to the beautifully preserved villages of the Japanese Alps, and the scenic central heartlands there is something to offer every visitor.
View our Japan holidays
Walking and Trekking with Mountain Kingdoms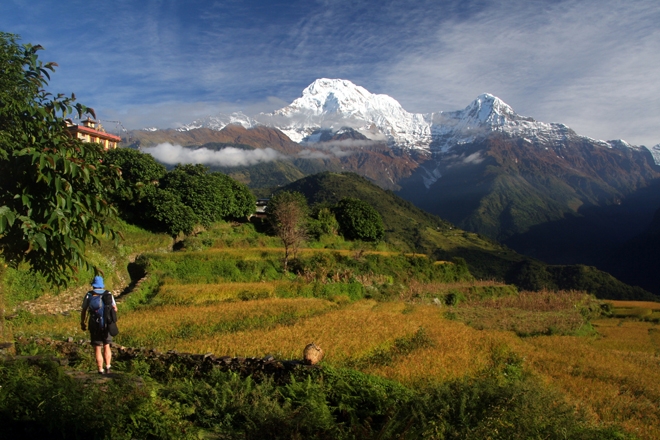 Walking in the Annapurna region - Walking and Wellness, Nepal
Holidays are very much about getting away from it all, but for many travellers the traditional sun, sea and sand break is no longer enough. More and more holidaymakers seek activity and adventure on their escape from everyday life, with walking holidays in particular becoming an increasingly popular choice.
Walking Holidays and Tours
As well as satisfying the desire to keep active on holiday, walking tours may have also increased in popularity due to the rise of local walking clubs. The British walking charity group, The Ramblers, has a membership of around 106,000, for instance. Breaks that involve walking have also gained momentum due to the many benefits associated with such an activity. Not only can a brisk walk provide copious amounts of fresh air, but the health perks are numerous. Walking is thought to lower the incidences of many diseases such as heart disease, diabetes, and even some forms of cancer. It can help as part of a weight-loss plan and it tones muscles. Research has also indicated that it can boost serotonin levels in the brain, which can help to improve your mood and alleviate symptoms of anxiety and depression.
One of the really positive aspects of engaging in a walking holiday is that you do not need to be a seasoned hiker to participate. There are lots of different levels of walks available from gentle ones that are suitable for the complete beginner to more challenging trails for accomplished trekkers.
Whatever level of ability you may have, the trails or routes on offer will all usually involve interesting and beautiful scenery, whether they are through woodland, open moors, coastal paths, up mountains and down valleys, along canal banks, traversing jungle paths or within towns and cities. The diversity of the holidays available with Mountain Kingdoms ensures there will be a walk to suit every taste and ability.
Guided Walking Trips
Walking and trekking holidays also vary according to whether they are guided or not. A guided holiday involves someone leading the walk who has knowledge of the route, the local culture, history and the flora and fauna of the area. Guided walks have the advantage that they normally involve a group, so if you are travelling alone it can be a good way to meet other like-minded walkers. A guided trek is also ideal for someone who may have not been on a walking holiday before or feels a bit nervous about tackling a particular route, especially if they do not know the local area well. Guides will have expert knowledge about the locality and can impart many interesting facts, stories and anecdotes along the way, which you might not have discovered if you had travelled independently.
Whether guided or not, trekking holidays offer an individual or group the opportunity to explore stunning new surroundings. Exploring on foot is often one of the best ways to discover a new place, especially if the walk is taking in parts of a city where you can learn architectural or historical facts or where you really want to see the cultural side on the countries you visit. Because it's at a slower pace than if you were travelling by car or another mode of transport, you can view details better, be immersed in the surroundings and may even get the chance to meet local people en-route. Many tours involve walking or trekking off-the-beaten-track, which can also be a great way to learn more about the local way of life and nature / wildlife away from the tourist hot spots of a particular destination.
Walking with a group of other people can also provide a sociable opportunity to get to know others who share similar interests. If these people are staying in the same holiday accommodation, then you also have some ready-made friends to meet up with in the evening to discuss the day's events with. Like-minded walkers may also be able to share recommended ideas and inspiration for future walking holidays.
Tailor Made Trekking Tours
Trekking tours can also be tailored to individual needs, whether you are going away in a small group or you want a holiday that fits your requirements. Many tours are also matched to interest areas, so trails may be available that appeal to bird watchers or photographers, for instance. Other trails may suit those who are looking to spot rare animals, butterflies or types of flowers.
For the more adventurous, some treks combine walking with other sporting activities such as cycling or rafting. Walking holidays do not just have to take place in the summer, either. Mountain trails that combine trekking with cross-country skiing may be interesting for those looking for a different kind of winter break.
Cultural Hiking Holidays
Those interested in history, architecture or culture may enjoy taking part in hiking tours that take in notable sights along the route. Some trails may not even take place in the same region or country, as transport is provided to take walkers from one area to another as part of a multi-centre trek.
Whatever type of trekking break you choose, whether guided or self-guided, establish what you want to achieve from the holiday. Find out what level of fitness is required, and if you are not sure as to your capabilities, then err on the side of caution and choose a trail that you feel comfortable with. If you do end up finding it too easy, then you can always choose a more advanced level next time.
Make sure that you have the necessary equipment to take with you on the walk. Find out as much as you can beforehand about what is needed and the local area. Research places along the way that might be handy for a rest break. A guidebook and map are useful, and sturdy walking boots and a waterproof jacket are must-haves.
Please do contact us if you would like further information or advice or to order a brochure. We offer worldwide group and tailor made walks, treks and tours.
Introducing Worldwide Base Camp Treks
Trekking to an iconic base camp is an incredible experience, as you follow in the footsteps of celebrated explorers you are sure to feel an overwhelming sense of achievement and gain a much deeper understanding of mountaineering and its community.
Without doubt, the most iconic of all the base camps is Everest Base Camp. However, there are so many more to be discovered, from the dazzling ice-caked peaks of South Inylchek Base Camp, to the awe-inspiring mountain theatre of the Annapurna Sanctuary. Nothing quite beats the feeling of being surrounded by natural beauty in its grandest form as you stand at the base of the world's most impressive mountains.
Here are a few of our top treks that are well worth the climb.
Everest Base Camp - 5,300m/17,388ft, Nepal
A trek to Everest Base Camp is high up on most adventure traveller's wish list, and rightly so. Whether it's to experience the breath-taking landscapes, to savour the iconic history or simply to say 'I was there' it's sure to be an adventure you'll never forget. Trek through charming villages, visit stunning monasteries and meet friendly Sherpas on the best known trail in the Himalaya with our Everest Base Camp Trek, a real joy from start to finish. We also offer a longer variant of this classic trek, Everest Base Camp and Gokyo Lakes which includes an ascent of Gokyo Ri, where you'll see the dazzling Gokyo Lakes.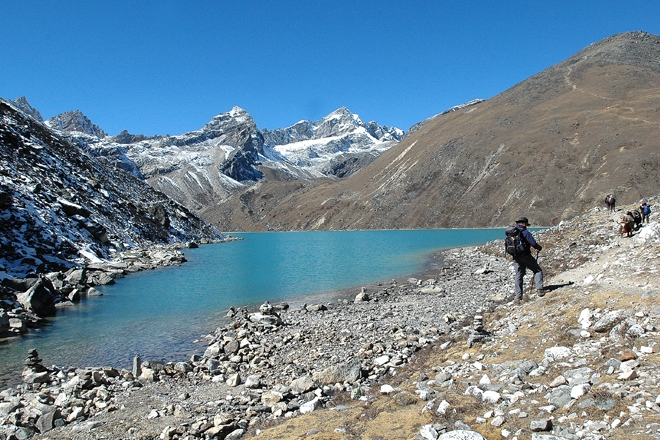 Everest Base Camp and The Gokyo Lakes
Annapurna Base Camp - 4,130m/13,550ft, Nepal
Annapurna Base Camp Trek is one of the most sought after trekking adventures in all of Nepal, unlike other high-altitude excursions the Annapurna Base Camp Trek is a comparatively moderate trip, with altitude sickness being near to unlikely. The base camp is a magnificent mountain theatre located at 4,130m/13,550ft and set below a ring of eleven of Nepal's major peaks. Embark on this unforgettable adventure with our Annapurna Sanctuary trip, the perfect first Himalayan trek that offers wonderful walking and superb views, taking you right into the heart of the Annapurnas. If you would prefer to do this trek in a bit more comfort take a look at our Annapurna Base Camp in Style itinerary which utilises luxury lodges along the way.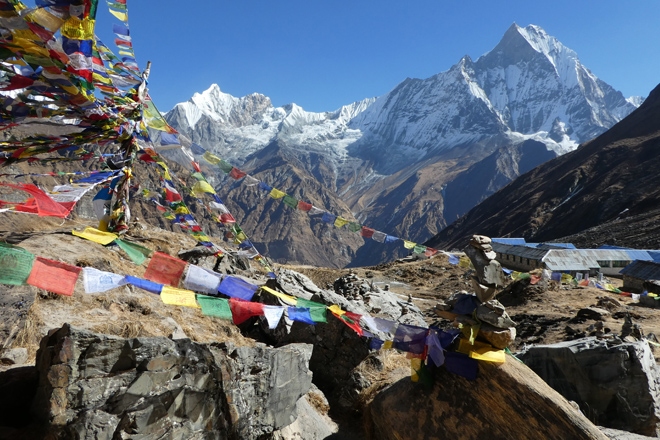 View from Annapurna Base Camp - Annapurna Base Camp in Style
Condoriri Base Camp - 4,600m/15,091ft, Bolivia
Dotted with crystal clear lakes, flocks of lamas and pristine peaks, the views at Condoriri Base Camp are highly rewarding, overlooking the Condoriri Massif, which is an immense cluster of 13 peaks all sitting at above 5,000 metres. The highest of these, Cabeza del Cóndor, features interesting twin ridges flowing from either side of the summit resembling a condor lifting its wings, hence its nickname 'head of the Condor'. Experience the classic Andean scenery for yourself as you trek the entire length of the Royal mountain range on our Cordillera Real Traverse trip, that offers what many seasoned trekkers dream of – solitude, wilderness, remoteness and natural beauty.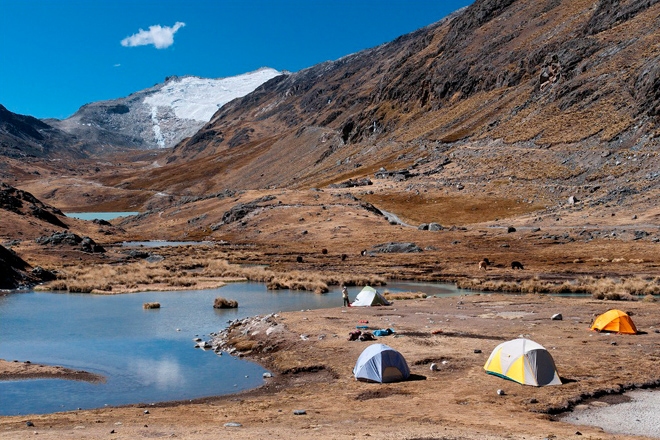 Camp at Janko Kota - Cordillera Real Traverse
Ama Dablam Base Camp - 4,576m/15,013ft, Nepal
The stunning Ama Dablam stands at 6,812m/22,349ft tall, and is one of the most loved and admired mountains in all of Nepal. It's name translates as 'mothers necklace' – the long ridges on each side like the arms of a mother protecting her child, and the hanging glacier thought of as the 'dablam', which is a piece of traditional jewellery worn by Sherpa women. The Base Camp sits at 4,576m/15,013ft on an open yak pasture beneath the west face, with a view of the summit almost straight up above and sensational panoramas of Kan Tega,Thamserku and Tawoche. Join our Luxury Lodges to Ama Dablam Base Camp for a two-week trip staying in the best lodges of the Everest region. The whole trek has magnificent mountain scenery throughout and visits some of the prettiest Sherpa villages including Namche Bazaar, the vibrant heart of Sherpa country.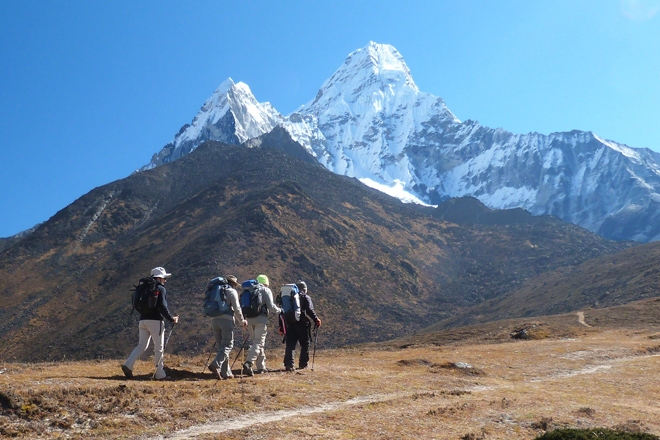 Walking to Ama Dablam Base Camp - Luxury Lodges to Ama Dablam Base Camp
Chomolhari Base Camp - 4,090m/13,416ft, Bhutan
Stand at the foot of Bhutan's second highest mountain at Chomolhari Base Camp. A heaven-like spot surrounded by rich flora and fauna as well as splendid scenery of Bhutanese Himalayas. The base camp is as close as you can get to Mount Chomolhari, as in 1994, Bhutan prohibited climbing mountains higher than 6,000m/19,685ft out of respect for locals who have spiritual beliefs that the mountains are sacred. On a Mount Chomolhari & the Bonte La trip not only will you visit the awe-inspiring base camp you pass the breath-taking glacial lakes above base camp and return via the lesser trekked route crossing the beautiful Bonte La. After the trek you will enjoy some of Bhutan's key cultural sights including Taktsang Monastery and the Late King's Memorial Chorten.
Glacial lake above Chomolhari Base Camp - Mount Chomolhari & the Bonte La
South Inylchek Base Camp - 4,100m/13,451ft, Kyrgyzstan
South Inylchek Base Camp, sits at the base of Khan Tengri and offers a dazzling panorama of ice-caked, ice-fluted peaks and hanging glaciers in a 360° arc. Khan Tengri in particular must rate as one of the most beautiful peaks in the world, a natural phenomenon, almost perfectly formed, its marble roof produces the most wonderful colours at sunrise and sunset. It really is a stunning environment with fantastic views of the celestial mountains of the Tien Shan. Mountain Kingdoms Marketing Manager, Kerry Robins, sampled our South Inylchek Glacier to Khan Tengri trip and described it as "without doubt one of the most beautiful mountain ranges" she has ever trekked within.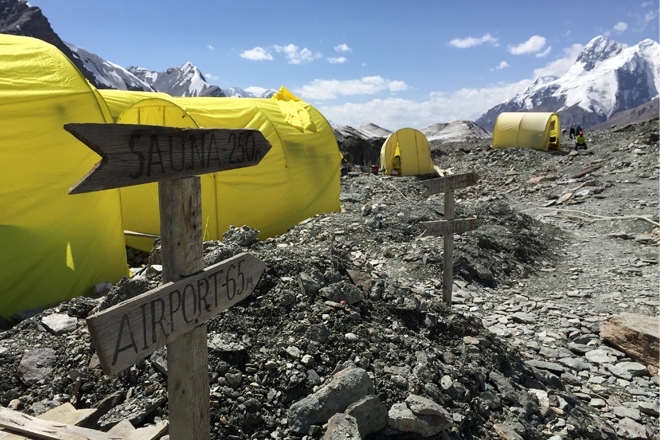 South Inylchek Base Camp - South Inylcheck Glacier to Khan Tengri
Makalu Base Camp - 4,800m/15,748ft, Nepal
The region of Makalu has remained relatively little-known and was closed off to the outside world until the 1950s, when Eric Shipton carried out an expedition there. The base camp offers outstanding natural beauty, pristine wilderness and a rugged trekking challenge. Operations Manager Niki, on her recent return from this trip recalls the immense sense of achievement of standing directly in front of the spectacular view of Makalu at the breathtaking base camp. She also enjoyed an epic panorama of some of the Himalaya's highest peaks including Everest, 8,848m/29029ft, Lhotse, 8,516m/27939ft, Chamlang, 7,319m/24,012ft, and Baruntse, 7,129m/23,389ft from a viewpoint just above the base camp.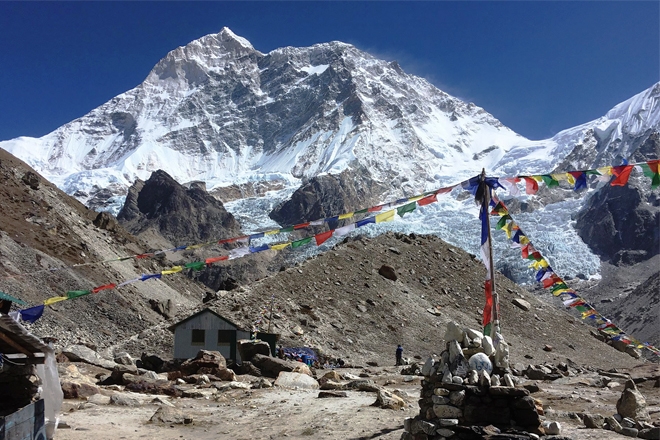 Makalu Base Camp
Kanchengjunga Base Camp - 4,903m/16,086ft, Nepal
In the far east of Nepal sits the third highest mountain in the world, Kangchenjunga, this beautiful mountain and its surrounding area offers some of the most spectacular and remote trekking in the whole of Nepal. Similar to trekking to Everest Base Camp but with hardly any people around, the trek to Kangchenjunga's two base camps is probably the most scenically jaw-dropping that you can experience in Nepal. Crossing several high passes, and travelling through culturally interesting villages, every twist and turn of the trail provides a new mind-blowing vista.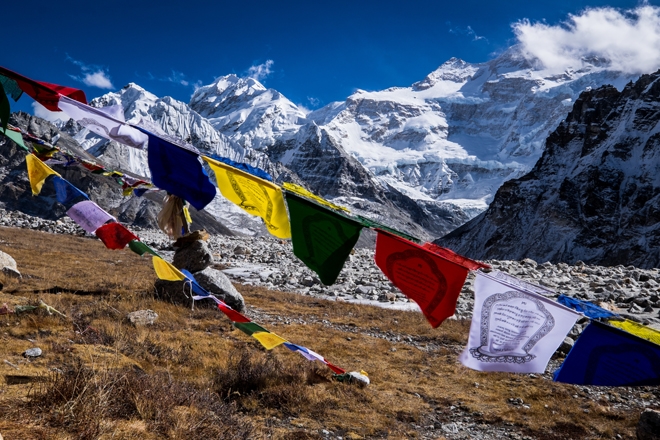 Kangchenjunga Base Camp
K2 Base Camp - 5,117m/16,785ft, Pakistan
K2 is the second-tallest mountain on earth and without doubt one of the deadliest to climb, even the trek to stand beneath is not for the faint-hearted. Anyone who loves the mountains and epic climbing tales will be familiar with the dazzling line up of big peaks that pave the way to K2 Base Camp, one of the most impressive mountain locations in the world. Follow the route taken by expeditions for over 100 years on our classic Himalayan K2 Base Camp Trek in the Karakorma Mountains that assails you at every step with a dramatic landscape of tangled granite spires, ice-clad jagged peaks and wild savage glaciers.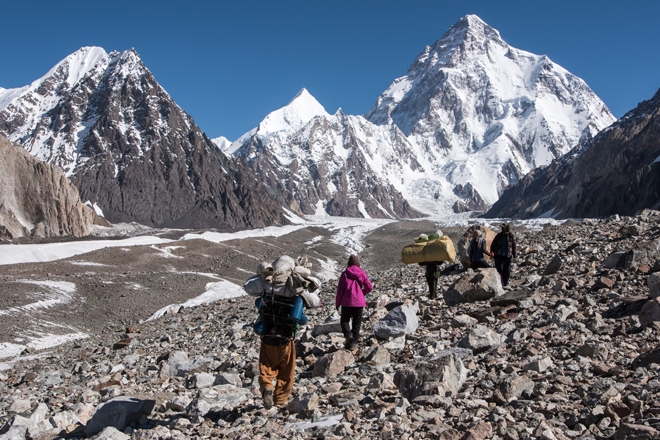 Walking to K2 Base Camp
A beginner's guide to Bhutan
As Bhutan small group and tailor made travel experts, with a long-held passion for the country we've put together a beginner's guide to shed some light on the most fascinating part of the Himalayan Kingdoms. Mountain Kingdoms have been organising cultural tours and walking and trekking holidays to Bhutan for more than 30 years, so we know this beautiful and mysterious country inside out.
Where is it?
Part of the Himalaya, Bhutan is a small country sandwiched between India and Tibet, just east of Nepal and north of Bangladesh.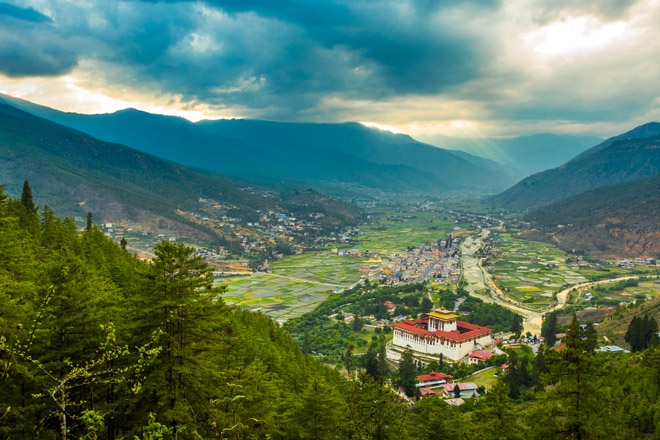 Paro - The starting point for most visitors to Bhutan
How do I get there?
Tourism is still pretty new to Bhutan, and was prohibited until 1974, when the Government decided to open its isolated country to travellers in an effort to raise revenue and promote Bhutanese culture. Their philosophy of low volume, high value tourism means that visitor numbers are kept at a sustainable rate by not allowing independent travel. It's only possible to visit this mysterious land through a registered tour operator like ourselves.
To reach Bhutan there are regular flights from Kathmandu, Delhi or Bangkok – you cannot fly direct from the UK. Alternatively, if you are visiting Eastern Bhutan you can drive there from India via the border crossing at Sandrup Jonkhar.
When is the best time to visit?
Bhutan is not the cheapest holiday destination so you want to make sure you come at the best time! The second half of October provides the best window for trekking offering frequent blue skies and dazzling views with temperatures of up to 20 degrees. Mid-April comes a close second, suiting those who enjoy rhododendrons and other Himalayan flora. Another thing to keep in mind when planning your visit is of course the festivals.
If you are travelling to Bhutan on a walking holiday or cultural tour, you can even visit in the winter months. In fact, as long as you avoid the monsoon months in the summer, there will always be something exciting to see and do.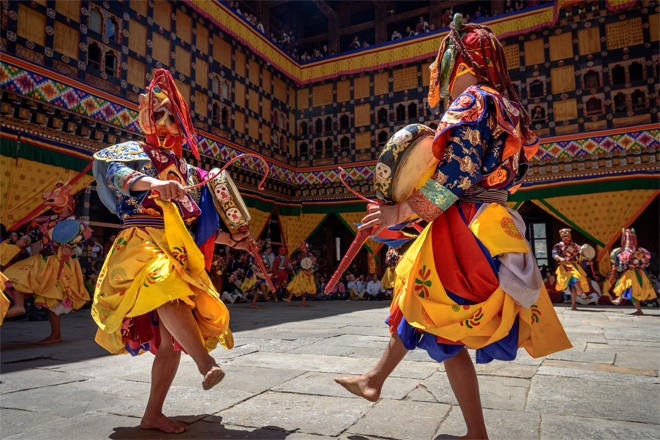 Dancers at Paro Festival
Which festivals should I visit?
Festivals in Bhutan perfectly encapsulate the exotic, other worldly culture, serving as both a sacred and social celebration. Thimphu Tsechu in the autumn and Paro in the spring are the most popular festivals due to their grand scale. Both are of great religious significance, celebrated through music and vibrant masked dances. If you prefer smaller crowds, the Black-necked Crane Festival has the advantage of receiving few western visitors and offers a real insight into the Bhutanese 'at play' as they celebrate the arrival of this endangered and majestic bird through song, dance and theatrical performance.
What's the accommodation like in Bhutan?
On our cultural tours or gentle walking holidays in Bhutan you'll be staying in good standard tourist hotels with rustic charm and modern amenities. If you fancy travelling in style there are now several premium quality hotels in Bhutan that offer real indulgence and the highest standards of service and facilities – our Highlights of Bhutan in Style uses some of these properties which add real wow factor to any stay.
Some of our trips, such as Hidden Valleys of Bhutan, offer the priceless opportunity of a homestay where you'll experience the lives of the local people, and gain an insider's view of Bhutanese culture.
And for the trekkers you'll be out in the Himalayan wilderness camping in tents and enjoying a first-rate camping service with full porterage, great food and top quality equipment.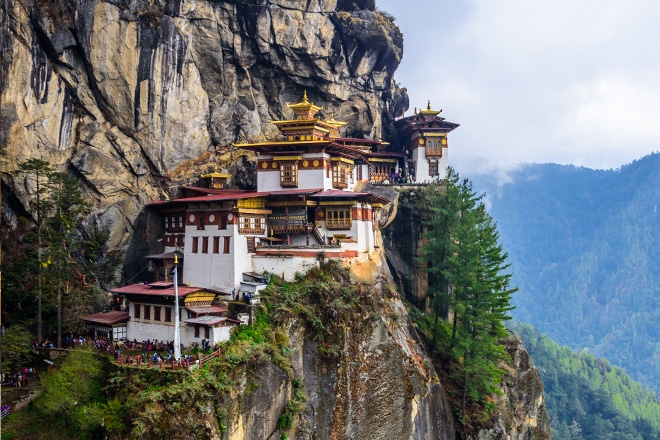 Taktsang Monastery
What are the main cultural attractions?
Tiger's Nest Monastery should of course be at the top of your list of must see attractions. Perched dramatically on a cliff above the Paro Valley this very photogenic attraction has genuine wow factor. Bhutan is renowned for its impressive dzongs - these unique, and often ancient buildings act as both fortresses and administrative centre. With a dzong in every town you'll be sure to visit a few on your visit. All are spectacular but there's one that certainly stands out - Punakha dzong. Situated at the between two rivers, its steep white walls topped with red and gold roofs and embellished with ornately carved wooden windows make for a magnificent sight.
The capital of Bhutan, Thimphu, has many attractions to entertain and inform tourists, including the Tashichhodzong (the main government buildings), the Textile Museum, the late King's Memorial Chorten and the School of Painting to name but a few. There is also a fascinating riverside market full of local produce where you can pick up a great souvenir. On the high road between Thimphu and Punakha is one of Bhutan's most scenic viewpoints, the Dochu La Pass. Marked by 108 memorial chortens, the 10,000ft high pass offers a stunning 360 degree panoramic view of the Himalayan mountain range including Gangkar Punsum – Bhutan's highest peak at 7,550m/24,770ft.
What's the food like?
Just like the country itself, the local cuisine of Bhutan has maintained a unique character, influenced somewhat by its neighbours, China, Tibet, and India. Overall dishes are less oily than Chinese or Indian food and spicier than Tibetan. The most traditional meal you'll find is Ema Datshi, a curry traditionally made from chili peppers and yak's cheese which packs a hefty punch in the spice department!
A fun fact about Bhutan is that even though it's a Buddhist country, many people still eat meat. The government does not allow the killing of animals for consumption so all their meat is imported from neighbouring countries, mainly India.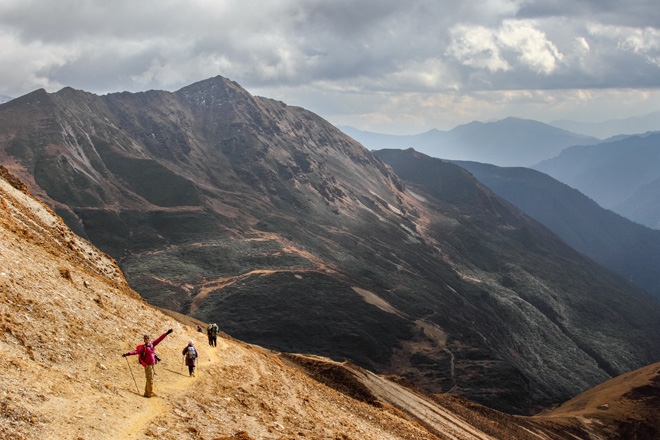 Trekking above the Paro Valley
Is it good for walkers and seasoned trekkers?
Bhutan is an absolute haven for walking or trekking enthusiasts with so much to see: towering peaks, picturesque valleys, attractive villages and spectacular dzongs. A walking holiday such as our Gentle Walking Bhutan, is the ideal introduction to all the premier sights of the Thunder Dragon Kingdom. But Dzongs and Tsechus are just the starting point of its attraction. As the roads and tour buses disappear you reach an untouched mountainous wilderness accessible only through trekking. There really is a trek for everyone from moderate all-rounders with superb scenery and cultural highlights such as the Druk path trek, to more challenging, high mountain adventures like the epic Lunana Snowman trek.
What birds & wildlife can I expect to see?
Although Bhutan is a relatively small country it has an immense variety of birds and wildlife. Expect to see weird and wonderful creatures such as blue sheep, golden monkeys, clouded leopards, yaks and maybe even a yeti or two… more likely though you should look out for the takin - Bhutan's national animal, a rather unusual creature with the features of a goat, a cow and a moose combined. During the winter months you may find the revered Black-necked crane, a whitish-grey medium sized crane, with a black head, red crown patch and black upper neck and legs.
Myths & legends?
A place shrouded in mystery, Bhutan holds many supernatural tales, myths and legends – often connected to mountains, lakes and other natural features. In fact all mountains in Bhutan are considered sacred and it is forbidden to climb them. This is why Gangkar Punsum remains the highest unclimbed mountain in the world.
One of the legends you will no doubt encounter in Bhutan is linked to Taktsang Monastery – the Tiger's Nest – the must see sight for all first time visitors. It is believed that a man named Guru Rinpoche, a Buddhist monk, flew to Paro Taktsang from Tibet on the back of a tigress, the tigress is said to have landed in the cave within the monastery where Guru Rinpoche then meditated for 3 years to conquer a demoness plaguing Buddhism in Bhutan. In the late 17 th century, Guru Rinpoche is said to be reincarnated in a man called Gyalse Tenzin Rabgye who constructed Taktsang Monastery around the cave. Numerous miracles are associated with the monastery, such as mysterious flowers that appear in the air, only to disappear before touching the ground. The Guru has also been spotted both inside and outside the cave at the same time.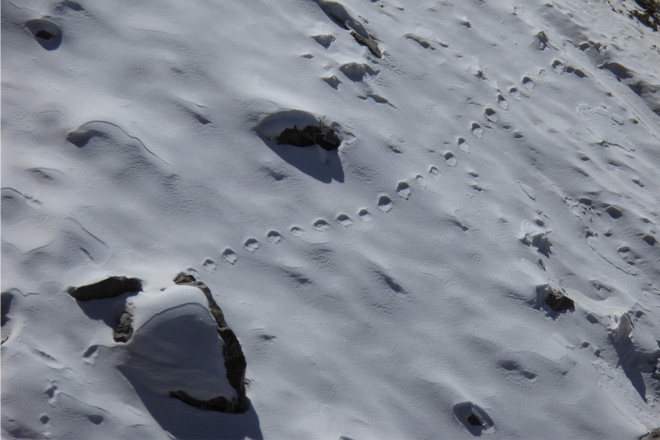 Yeti Tracks in Bhutan
Where can I find a yeti?
In Bhutan the yeti is known as the migoi. There are many myths and legends about this very elusive creature. It tends not to frequent the more popular areas of western Bhutan – more likely to encounter signs of a yeti in Eastern Bhutan. There's even a Migoi National Park in the far east of Bhutan – an area preserved for yetis to run wild! The Rodang La, also in the east, is known as a bit of a yeti 'hot spot'. The locals have many tales to tell of strange noises and mysterious sightings. Even if you don't see a yeti here you may well hear one whistling, you should also be on the lookout for unusual footprints as folklore has it that the migoi has the unique ability to walk backwards!
If you want to be more certain of seeing yeti footprints then you need to trek into the wild and remote valleys around Gangkar Punsum. Here our MD, Steve Berry, has spotted strange footprints in the snow on two occasions which he believes belong to an unknown bipedal creature. Watch Steve's video Footprints in the Snow, to see more of his discoveries and adventures in Bhutan.
So that's our beginners guide to Bhutan, if you'd like experience this truly unmissable destination for yourself then take a look at our treks, cultural tours and walking holidays here and find a holiday that's right for you.
Japan - our top 10 unmissable experiences
Think about Japan and it's easy to imagine only high-rise, high-tempo cities, bullet trains and cutting-edge technology, but Japan has so much more to offer beyond its 21 st century stereotype. It is in fact a land of spectacular mountains and islands with deep cultural traditions and a profound spirituality; a unique and fascinating blend of ancient and modern with varied and beautiful landscapes, Japan is fast becoming the hottest destination for the discerning traveller.
Here's our guide to 10 of the most unmissable experiences that a holiday in Japan has to offer - in no particular order.
Walk in the mountains of Japan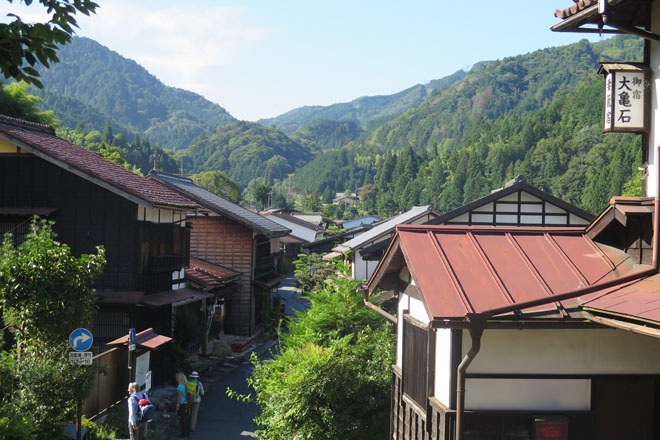 Traditional post town on the Nakasendo Trail
Japan is a surprisingly mountainous country with around three quarters of its interior covered by heavily forested mountains and volcanoes rising to upwards of 3,000m and criss-crossed by small rivers and ancient trails. With the vast majority of its population concentrated in the cities based on the coastal plains, the mountains are undeveloped and little-populated making Japan an ideal destination for keen walkers. Small villages and beautifully preserved post towns pepper the trails and offer welcoming accommodation and the chance to discover a traditional way of life that's a world away from high-rise Japan. Our Gentle Trekking Nakasendo Trail holiday is the perfect introduction to the mountains of Japan.
Visit Mount Koya
Situated high in the densely forested mountains of the Kii Peninsula, Mount Koya has been a place of worship since the 9th century when the very first temple was built here. Since then, more than 100 temples have emerged within the settlement, all devoted to Shingon Buddhism. This makes Mount Koya an excellent place to visit to gain an insight into the long-held traditions of Japanese spiritual life, especially if you spend a night in a temple (shukubo) and observe a Buddhist service in the morning.
Take a tour of Tokyo
Central Tokyo (courtesy of Y. Shimizu)
The sleek, neon-lit skyscrapers, indecipherable signs and frenetic energy of downtown Tokyo give it an alien quality more akin to a sci-fi movie then your typical urban sprawl. But amidst the futuristic cityscape there are excellent shops, restaurants and nightlife to enjoy and a surprising amount of historic and cultural interest to discover. Try a visit to the old quarter of Yanaka for a glimpse of Tokyo in days gone by, or visit Senso-Ji temple with its five-storey pagoda to see what skyscrapers looked like in ancient times.
Go island hopping
Japan is actually an archipelago of islands - some 6,852 of them of which 430 are inhabited. The largest island is Honshu which is also referred to as the Japanese mainland and contains the capital city of Tokyo and Mount Fuji, Japan's highest mountain. Most visitors to Japan will spend their entire trip on Honshu, but if you want to experience a bit of alternative Japanese culture, then a trip to one of the other islands makes for a fascinating experience.
Step back in time in Kyoto
Yasaka Pagoda, Kyoto
Home to geisha, sublime gardens, imperial palaces, traditional wooden houses and hundreds of ancient temples and shrines, Kyoto is the cultural and historic heartbeat of Japan. The must-see sights include: the Fushimi Inari shrine, perched on a hill and reached through a gateway of seemingly endless vermillion gates known as torii; the Golden Pavillion with its dazzling gold-leaf exterior; Nishikikoji Market, where you can see a simply staggering variety of food for sale; and, if you'd like to see geisha girls in all their finery, head to the Gion district.
Stay in a ryokan or minshuku
One of the great joys of taking a walking or trekking holiday in Japan is the opportunity to stay in traditional accommodation in the form of ryokan inns or minshuku guesthouses. With their tatami-mat rooms, futon beds, simple styling, understated service and excellent food, they provide a wonderful contrast to the bland modern hotels of the cities. Many ryokan and minshuku also offer onsen baths for a total immersion in Japanese life.
Trek a pilgrimage route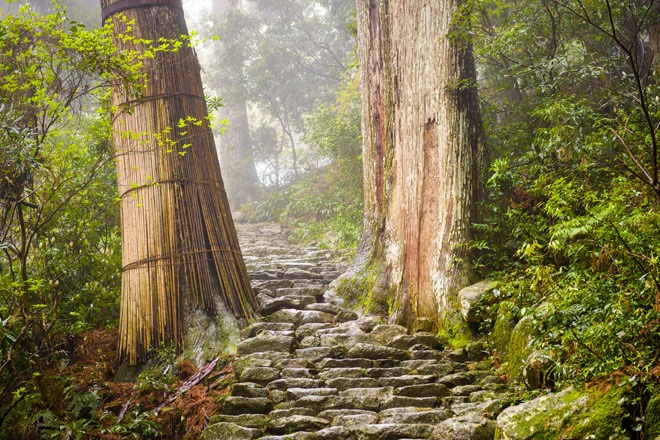 The Kumano Kodo pilgrimage trail
The ancient trails the Kumano Kodo, in the remote Kii Peninsula, are a network of sacred paths that link important Shinto 'grand' shrines. Originally a path of devotion for emperors and noblemen the popularity of pilgrimage eventually spread to priests and commoners who rested at night in the post towns en route. Designated a World Heritage Site by UNESCO, the Kumano Kodo still remains an important pilgrimage route, akin to the Camino Santiago, but you don't need to be on a pilgrimage to enjoy its rugged mountain scenery, cedar tree lined trails, historic sights and traditional accommodation. Our Kumano Kodo Pilgrimage Trek is the ideal way to explore the route.
Enjoy an onsen - a hot spring bath
One of the great joys of walking or trekking in Japan is the chance to ease weary legs in a hot spring bath at the end of a day on the trail. There are thousands of onsens throughout Japan – outdoors and indoors - and many traditional inns offer this experience to travellers. A little daunting to first-timers, the etiquette and ritual surrounding an onsen can be off-putting but, if you can put modesty aside, the soothing thermal waters and contemplative atmosphere can be both physically and mentally uplifting.
Tantalise your tastebuds
A delicious meal served in a traditional inn
Most westerners are familiar with the delights of sushi, but there is far more to Japanese cuisine than this rice-based delicacy. Renowned for being both tasty and healthy, Japanese cuisine is made from the freshest ingredients. Aside from sushi, things you could try the popular snack onigiri - seasoned/filled rice balls, udon - a hearty noodle based soup, yakitori - a Japanese meat brochette and shabu shabu - a wonderful, shared hot pot meal. If you stay in a traditional ryokan you will get to try some of the best cuisine in the land - made from delicious fresh, local ingredients and presented as though from the finest Michelin-starred restaurant.
Ride a bullet train
High speed bullet trains, or Shinkansen, were first introduced into Japan in the 1960s and still remain one of the archetypal symbols of modern-day Japan. Travelling at speeds of up to 200mph and carrying over 150 million passengers a year, riding a bullet train is most definitely a quintessential Japanese experience.
For these and other amazing experiences, take a look at all our walking and trekking holidays in Japan.
Ladakh Festivals - Hemis and Dak Thok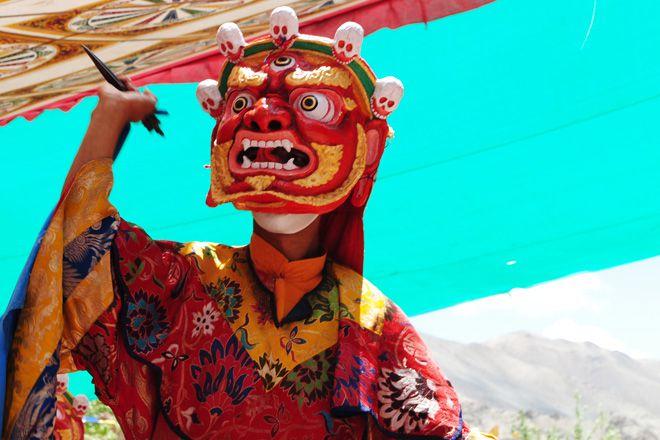 Hemis Festival. Photo courtesy of E Cullen
From the stunning mountainous landscape to the vibrant local culture, Ladakh is a truly memorable place, and a walking or trekking holiday or cultural tour, is the ideal way to experience this beautiful corner of the Himalaya in depth. One of the high points of any visit to the region is undoubtedly the chance to enjoy one of its festivals. They are the highlight of the year for the local Ladakhis, providing an excuse to dress up, socialise, drink, have fun and at the same time earn religious merit.
Hemis Festival
Taking place at Hemis Gompa, the festival is famous far beyond the borders of Ladakh. It occurs on the 9th to the 11th days of the fifth Tibetan month: July by our calendar. Lamas and monks gather during the festival to perform sacred mask dances called Chams. These highly choreographed dances, performed by monks wearing ornate, brightly-coloured costumes, signify and celebrate the triumph of good over evil. The dances are accompanied by a cacophony of drums, cymbals and horns and are the centre of the festival celebrations. Visitors can sit in the courtyard in front of the main door of the gompa (monastery) and watch the drama unfold.
The gompa itself is an important holy site. It is the largest and richest monastery in all of Ladakh and was founded in the 17th century by Stagtshang Rinchen. The second spiritual leader at the monastery, Gyalsey Rinpoche, was the founder of the Hemis Festival, and it is his portrait that is honoured on the great thangka. Even without the festival, the gompa is a memorable stop on any holiday to Ladakh.
The July departures of our Definitive Cultural Tour of Tibet and Markha Valley Trek attend the Hemis Festival.
Dak Thok Festival
The Dak Thok Monastery is situated in a village in the Indus Valley about 50km from Leh. Built in the middle of the 16th century around a sacred cave, the name Dak Thok translates as 'rock roof' and indeed, the internal roof and walls of the monastery are hewn from rock. The annual Dak Thok Festival is one of the most important Tibetan Buddhist events held in the region and is attended by large crowds of Ladakhi people dressed in their finery. It is held on the 9th and 10th days of the sixth month of the Tibetan lunar calendar - normally in August.
As with the Hemis Festival, Cham dances are performed by costumed monks and locals to the sound of drums, pipes, horns and crashing cymbals. The masks worn by the dancers represent different aspects of the wrathful and compassionate deities as well as a variety of animals, whilst the dances depict the battle between them - with good eventually triumphing. By attending the festival locals believe they will gain protection from evil things as well as receiving instruction in spiritual teachings.
If you would like protection from evil spirits, you can join in the Dak Thok festivities on specific departures of our Gentle Walking Little Tibet & Indian Himalaya holiday and our Definitive Cultural Tour of Tibet.
Best time to trek in Nepal - trekking regions
When planning a trekking holiday in Nepal there are four main seasons to consider: spring, autumn, winter and monsoon (the summer months). Here's a brief intro to each.
The spring season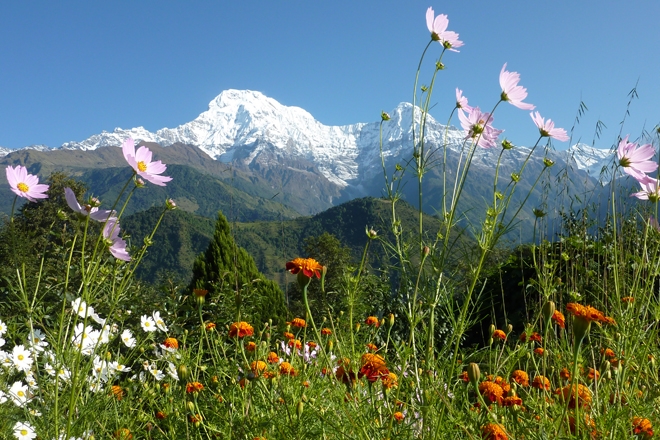 Spring flowers in the Annapurnas by J Barenblatt
The spring season begins in March and lasts until the end of April. It is the second busiest time of the year to trek in Nepal, especially in the Everest region and the Annapurnas. The days are long, daytime temperatures are warm to hot, with only occasional showers, and the trails up to the tree line, are ablaze with colourful rhododendron and flowers. Annual temperatures and humidity peak in May – just before the start of the summer monsoon season – bringing an end to the spring trekking season.
The summer season (monsoon)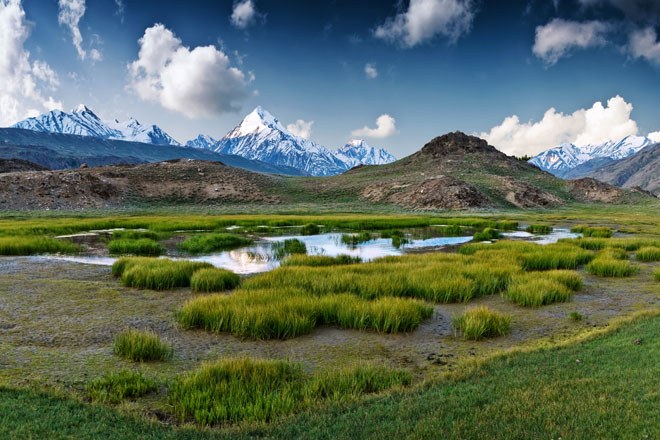 Summer in the Himalaya
During the monsoon season, which typically lasts from June to late September, temperatures are high with heavy, intermittent rainfall. The heavy rains can flood the trails and cause mud slides so it's not a good time to trek in most of Nepal's trekking regions. By the end of the monsoon season, the countryside is carpeted in green.
The exceptions are the Dolpo and Mustang areas of Wild Nepal, close to the Tibetan border, which fall within the rain shadow of the Himalaya. By way of contrast, the summer months here are warm and dry – ideal for trekking.
Autumn on the trails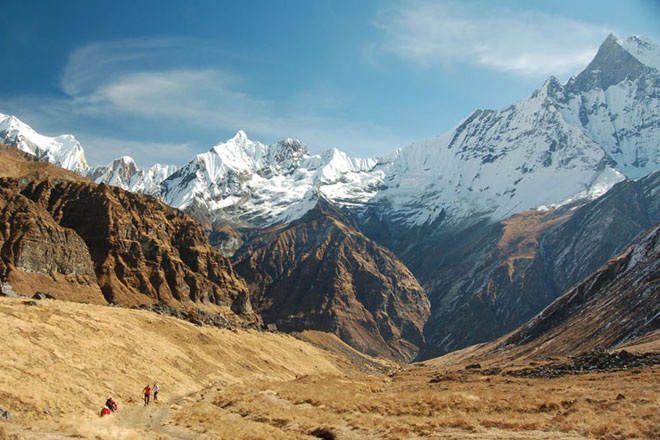 Annapurna Base Camp by C West
The post monsoon months of October and November are the peak trekking months, not only in the more popular regions of Everest and the Annapurnas, but also in much of Wild Nepal. These months have pleasant daytime temperatures, good visibility and extended spells of fine weather. It has long been considered the best time to enjoy the magnificent Himalayan views, which means the trails are at their busiest. If the monsoon is late or lingers though, early October can still see cloud and rainfall.
The winter months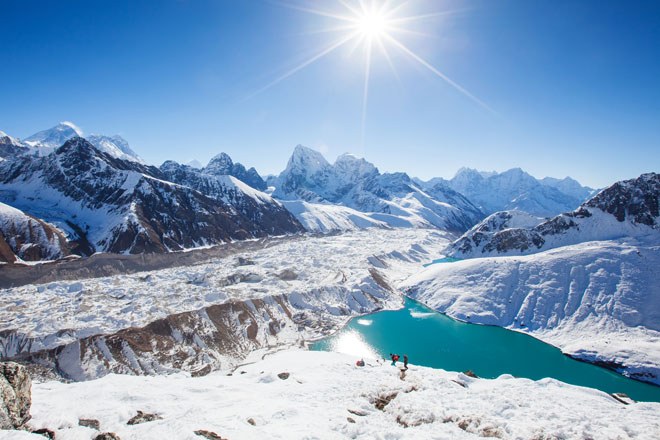 Winter at Gokyo, the Everest region
December through to March is the coldest time in the Himalaya with temperatures falling well below zero – especially at higher altitudes and at night. January is prohibitively cold for trekking, however, it is possible to trek in the Everest region – even up to Everest Base Camp - during December as long as you have plenty of warm layers with you. Although cold, the trails are quiet and the skies often crystal clear from dawn to dusk – making it a great month for photographers to capture the magic of the mountains.
February and March should be avoided by trekkers as these months see the heaviest snowfall in the mountains – blanketing trails and blocking high passes.
For more information about trekking in the Himalaya, take a look at our guides to Nepal's trekking regions:
Trekking Guide to the Everest Region
Trekking Guide to the Annapurnas
An interview with April: Travelling the Silk Road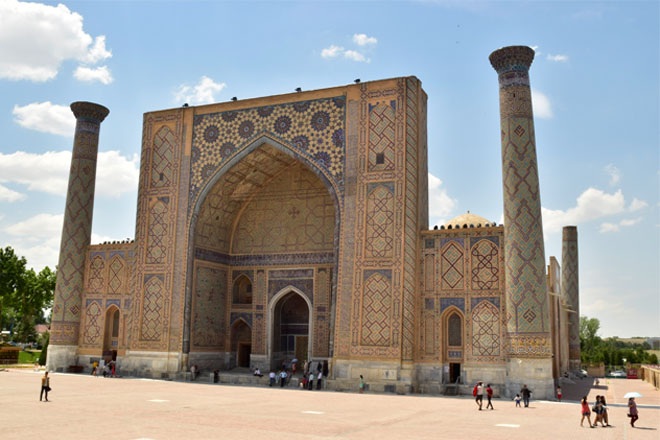 Sightseeing in Samarkand
Our Flights Manager, April, travelled to Central Asia to join one of our groups in Uzbekistan on our Silk Road to Samarkand tour. Here's what she had to say about her trip.
Can you give a brief overview of the trip?
The Silk Road to Samarkand was an inspiring and memorable experience encompassing dazzling monuments, wonderful Uzbek cuisine and interesting culture. On this 15 day tour you will visit four of Uzbekistan's main cities which are Tashkent, Khiva, Bukhara and Samarkand. You are transferred by private vehicle between cities and spend time sightseeing in and outside of each place.
Can you describe a typical day in the city?
Each day, after breakfast, we were met by our friendly guide and set off from our hotel for a day of sightseeing. The first day of each location was spent exploring the city in the company of a local guide. Our guide was extremely knowledgeable about the history and culture of their homeland and really brought the past to life for us. The time sightseeing was interspersed with our lunch stop, a visit to a local bazaar and, where possible, we stopped at a craft work shop. The day ended with a couple of hour's free time followed by an evening meal at a local Uzbek restaurant.
What were the main sights in the Silk Road cities?
In Tashkent we toured all the most important monuments including the Kukeldash mosque - an impressive piece of Islamic architecture featuring intricate mosaics and a beautiful garden located near the Chorsu Bazaar. In Khiva the main sights were all located within the Ichan Kala architectural complex featuring the vibrant Kalta Minor tower; famous for being fully covered with glazed tiles of several colours.
Bukhara which is regarded as one of the most evocative cities in the world houses the Bolo Haouz Mosque also known as the Forty Pillar mosque because of its elegantly carved wooden pillars that hold up the beautifully painted coffered ceiling. In Samarkand one of the most memorable sights was the Guri Amir Mausoleum, a masterpiece of medieval craftsmanship known as being the prototype of much Mughal architecture found in India such as the Taj Mahal.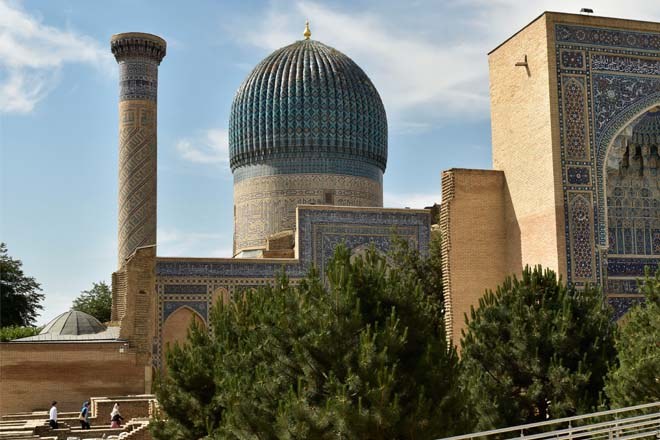 Guri Amir Mausoleum in Bukhara
Did you have time to explore other places?
We had lots of opportunities to discover sights outside of the main cities and explore what else Uzbekistan had to offer. One of my favourite excursions was spending the day in the Kyzylkum Desert, one of the largest sand deserts in all of Asia. There were some very photogenic sand dunes here as well as a salt lake at Shur Kul which is renowned for its medicinal properties, everything about this desert day was just fascinating. We also visited the ruins of ancient fortresses and had lunch in a nomadic yurt camp with a local family – a really enjoyable experience.
Did you have any free time?
We had a free day in Khiva, Bukhara and Samarkand to explore the city on our own. We used this time to return to our favourite monuments, spend time with the very friendly locals and browse the busy, colourful markets filled with hand-embroidered fabrics, nuts, spices and great souvenirs. We were never stuck for things to do with many sights in walking distance of our hotel.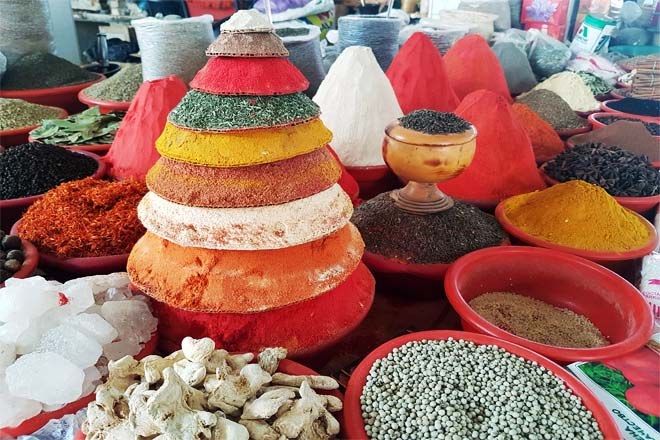 Market Spices
What did you think of the Uzbek cuisine?
The food and drink were of a very high standard. We ate mostly in local restaurants so we were able to try authentic Uzbek food. Fresh, handmade Uzbek bread accompanied every meal which was great as we had seen this bread being made at the local markets. We enjoyed a variety of salads along with a hearty main meal. The chefs catered extremely well for any special dietary requirements.
What did you think of the Uzbek culture
We got a real authentic feel for the culture on our visit to the El Merosi theatre, where we watched a wonderful performance demonstrating the traditional costumes of Uzbekistan along with classical Uzbek music. Each costume represented different historical periods, from the Bronze Age to the present day, giving us a colourful view into how the culture has developed over the years - It was a really entertaining show.
Another part of the tour where I gained a further understanding of Uzbek culture were on the drives we took between the great cities of Khiva, Bukhara and Samarkand. An exciting part of the tour in their own right giving us a sense of the journeys taken by the Silk Road traders in ancient times and offering a variety of transport in Uzbekistan from modern cars and motorbikes to beaten up Soviet style cars and carts pulled by donkeys.
What was your highlight?
One of my personal highlights was spending time at the UNESCO World Heritage Site of Ichan Kala, Khiva. An incredible walled city with many architectural masterpieces including ornate mosques, mausoleums and madrassas.
If you want to follow in April's footsteps along the ancient Silk Road then find out more about this fantastic tour here.
The birds and animals of Costa Rica – our top 10 wildlife sightings
I was lucky enough to travel to Costa Rica for Mountain Kingdoms to research a brand new walking and wildlife holiday. It was a country I'd long wanted to visit knowing that it was renowned as a wildlife wonderland.
Travelling with my husband Adam, a keen amateur wildlife photographer, we were eager to see some of the birds and animals that Costa Rica is particularly famed for - unsurprisingly, sloths and toucans were right at the top of our list. Having ticked both of these off on the very first day we knew we were in a special place. I guess that with 5% of all the world's birds and animals making their home in Costa Rica it's not surprising that we saw so many wonderful creatures during our two weeks in this nature lover's paradise. Here are just ten of our favourites, although it could have been so many more.
Sloth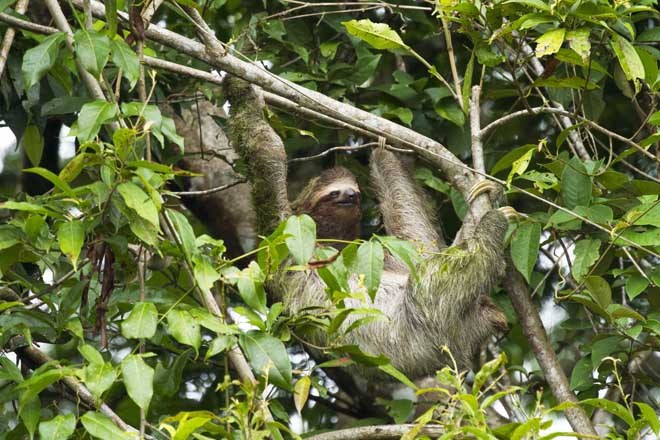 Setting off on an early morning boat tour along the tranquil waterways of Tortuguero National Park, we were fortunate enough to see this Three-toed sloth, lazing around in the trees beside the water. Not only did we watch it enjoying its breakfast, and having a slow stretch, but it also turned and smiled for us. What a welcome.
Toucan
There are six different types of toucans that you can find in Costa Rica, but it is the Keel-billed toucan that is the most eye-catching and the one that we are most familiar with, mainly from seeing them in Guinness adverts over the years. In Costa Rica we saw Keel-billed toucans on several occasions, in national parks as well as perched on trees beside the road – their ridiculously colourful beaks and bright yellow breasts making them quite unmissable. The one pictured here was dancing in the trees above us in Curi-Cancha Reserve.
Red-eyed tree frog
The Red-eyed tree frog is another of Costa Rica's famous animals – often seen on images promoting the country alongside sloths and toucans. Another nocturnal creature, it is best spotted on a nightwalk in the rainforest, although you can find them hiding under broad palm leaves during the daytime. We had our best, close-up sightings of these very cute creatures at our Lodge in Tortuguero which has a special frog habitat making it easy to both see and hear them; they make a surprisingly loud noise for such a little creature.
Hummingbirds
These tiny, beautiful birds with their iridescent colours, slender beaks and madly beating wings are a treat for the eye as they flit between trees and flowers. Costa Rica has over 50 species of hummingbirds and we saw several during our stay in the cloudforest region of Monteverde. The Violet sabrewing, the largest species of hummingbird in Costa Rica, was a regular visitor to the sugar feeders on the terrace of our cloudforest lodge whilst the Mexican violetear (pictured here) posed beautifully for photos in the Curi-Cancha Reserve – a birdwatcher's paradise.
Monkeys
Cruising along the Rio Frio River in the Cano Negro Wildlife Reserve we encountered rather a lot of monkey business. There were Howler monkeys lazing in the high canopy of the surrounding forest, Spider monkeys leaping acrobatically between trees and White-throated capuchins playing in the branches or angrily warding us off when our boat got too close to their territory. Their entertaining antics made the boat trip a definite highlight of our trip.
Green basilisk lizard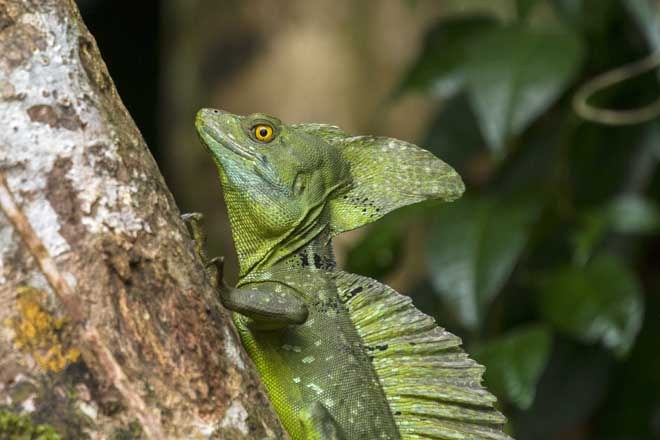 Reptiles such as lizards, iguana, snakes and caimen, are a common sight amongst the animals of Costa Rica, frequenting the country's parks and rivers. One of the most colourful and interesting of all is the Green basilisk lizard, also known as the Jesus Christ lizard due to its amazing ability to run on water when startled by a predator. We did see one speed across the water after being startled by a capuchin monkey in Cano Negro, but it ran far too quickly to get a photo. More usually, we came across them basking photogenically on trees and logs.
Motmots
Our expectations were very high that we would see many unusual and exotic birds during our time in Costa Rica, and we certainly weren't disappointed. We may not have seen the famed Resplendant quetzal, but instead we saw Ringed and Green kingfishers, Orange-bellied trogon, Purple gallinule, Montezuma Orpendolas, Great kiskadees and Blue-gray tanagers to name but a few. But perhaps the one we enjoyed the most was the Turquoise-browed motmot - a really colourful little bird, with striking tail feathers that perched on telegraph wires and roadside fences, especially in the hot-dry Guanacaste region, keeping us company on our travels.
Coati
Along with agutis, coati were regular visitors in the national parks and wildlife reserves we visited. A member of the racoon family they're about the size of a large house cat with a long, ringed-tail. As with your first sighting of any animal we thought we'd come across a strange and unusual creature, soon to realise that they're pretty commonplace although a little camera shy. Whilst on a walk through forest trails in the grounds of our lodge in Montezuma, just before dark, we startled this baby coati which dashed up a tree and peered briefly at us before scampering away. It was certainly the cutest animal we saw in Costa Rica if not the rarest.
Golden orb weaver spider
My biggest fear ahead of travelling to Costa Rica was that I'd have a close-up encounter with a tarantula – I'm definitely not a fan of huge, hairy spiders – but fortunately I managed to avoid them altogether. Instead, whilst walking the Rio Celeste Trail in Tenorio Volcano National Park we saw these rather magnificent Golden orb weaver spiders which, even though large, were surprisingly beautiful. The female spider with her striking coloration and long legs, weaves a vast, golden-coloured web which glints in the sunlight attracting insects to her enticing lair. Who'd have thought a big spider could be more seductive than scary! A particularly good place to see these spiders is alongside the path on the Rio Celeste Trail in Volcan Tenorio National Park.
Great Curassow (also known as Lupe)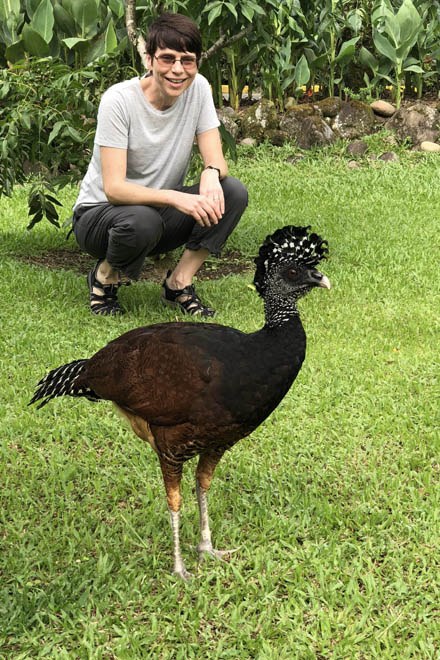 No sooner had we checked in to our hotel in La Fortuna then we had our first encounter with a Great Curassow. This large, impressive bird is in fact endangered, but this particular female, along with her mate, had taken up residence in the grounds of the hotel and was on a constant lookout for new sources of food. Whenever we opened the door of our cabin, there was Lupe looking longingly at us. Whenever we went to the pool for a swim, along came Lupe, pecking at our discarded clothes and possessions whilst we were in the water. And, whenever we sat outside our room, there was Lupe, jumping on the table and trying to eat pens, books, Kindles – in fact anything! We said our fond farewells to her when we left, but she was already eyeing up the next guest.
So there you have it, a terrific top ten of all the birds and animals we saw on our flying visit to Costa Rica. If you're inspired to go and see Costa Rica's wonderful wildlife for yourself then take a look at our Gentle Walking & Wildlife Costa Rica holiday. If you have any questions about the trip contact Kirsty on 01453 844400, she'll be more than happy to talk about her exciting wildlife adventure with you.
Eastern Bhutan - discover the other side of the Thunder Dragon Kingdom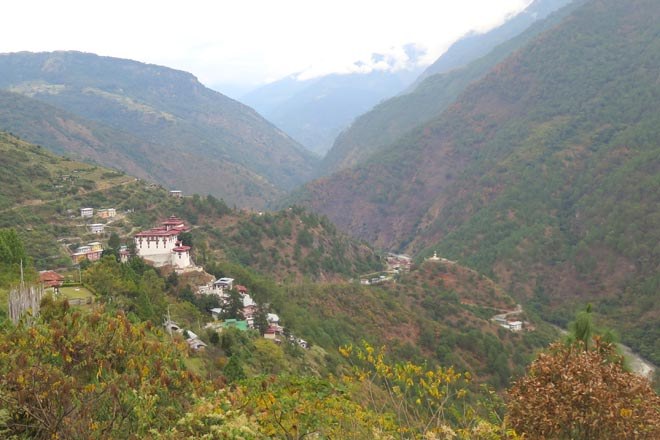 Lhuentse Dzong
Our MD, Steve Berry, has recently returned from travelling extensively in the east of Bhutan and wants to share what a fantastic experience the 'other half' of the Thunder Dragon Kingdom is.
"Historically Bhutan has been a country of two halves - the west and the east. Everything east of the Thrumshing La is regarded as east Bhutan, and once you cross the Thrumshing La, there is an almost indefinable atmosphere of 'old Bhutan'. Very few westerners get out this far. The pace of life slows down even further (if that was possible!), but the temples and monasteries/fortresses are just as impressive. There are some absolutely fantastic things to see in the east and wonderful, mystical historical places to visit. My particular favourites were Lhuentse, which is the ancestral home of the Wangchuk family (present-day kings of Bhutan); Tangmachhu with its giant bronze statue; Khaine Lhakhang, one of 108 temples built by an early Tibetan king to quell the demon that hovered over the whole of Tibet, and Trashiyangste. Of course there is also the strange and quirky region known as Merak-Sakten where one of the reasons for creating a wildlife sanctuary was to protect the yeti, and where the Brokpa people speak a different language, wear completely different clothing and have hats made of yak hair that look like large spiders.
Travelling to the east has always been difficult in practical terms. However, three things have happened in recent years to change all this. Firstly, an airstrip is now in full operation in Jakar in Bumthang. This means you can cut the drive to the east in half by flying to Jakar. Secondly, the road through to the east has been dramatically improved by the new government. The road is wider, safer and takes less time to travel. Lastly, the new government has abolished the tourist tax for all nights spent in the eastern districts in an effort to encourage people to visit."

We currently offer three trips in Eastern Bhutan, each of which offers a different and unique perspective on this lesser-known side of the kingdom. Our Gentle Walking Eastern Bhutan visits many of the dzongs and temples highlighted above, as well as taking easy-paced walks in the countryside and spending a night in a traditional farmhouse homestay in the picturesque village of Ura. As a bonus, there is also time at the Tangbi Mani Festival. This is one of the most popular festivals in the Bumthang region and is a wonderful opportunity to see the Bhutanese people in their colourful finery enjoying the fabulous masked dances and hypnotic music of the festival.
Rodang La, Eastern Bhutan is a superb trek that follows the ancient 'Red Rice' trading route across the high Rodang La pass to reach Tashiyangtse in the far east of the country.
Steve's adventure in Morocco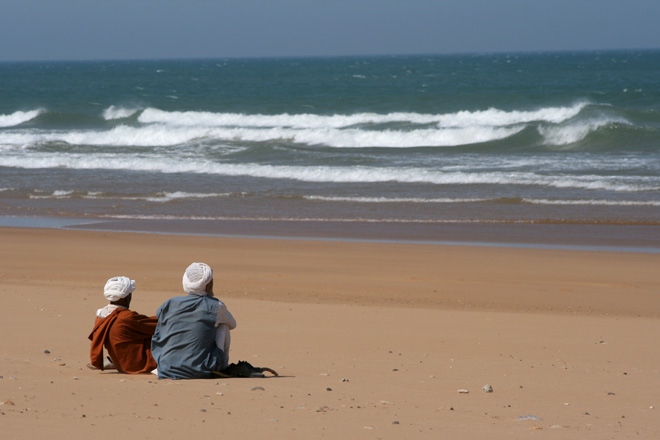 Beach at Essaouira
At the end of last year, our MD, Steve Berry, and a group of good friends, travelled to Morocco to try out our new coastal trek. For Steve, this was not only a chance to enjoy some great winter trekking but also to take a nostalgic trip down memory lane. Here's his account of his latest Moroccan adventure.
"I first travelled to Morocco in 1968 at the age of 19 yrs. I hitched across France and Spain and joined up with some friends in Madrid and from there we took a train to Algeciras followed by a ferry to Morocco. We carried on hitching down to Marrakesh and from there onward to Essaouira. I wore a bowler hat whilst hitching to grab people's attention. It most certainly helped me get lifts! These were the 'Flower Power' days and arriving in Morocco as young hippies we switched to wearing caftans and beads, and I sold the bowler hat to an American tourist.
Essaouira stands out in my mind as one of the most beautiful, dreamy places I had ever been to. The Portuguese had fortified the port in the 1600's and the ancient town survives to this day, though in 1968 we did not stay in the town but lived in a hippie encampment by the beach. Jimi Hendrix bought a house here and it is rumoured that he wrote 'Castles Made of Sand' there.
This is where our Coastal Trek starts from, and where the camels will be waiting for your arrival. I myself and another group of more mature friends did this trek in February 2019. We thought it was fantastic; a really relaxing ramble down the coast for 5 days with bags of winter sun and a lot of varied trekking. Sometimes you trek on hard sand on empty beaches, and sometimes along the tops of rocky headlands. There are straightforward cliff paths, walks through groves of argan trees, sand dune scrambles and descents to magical bays where you will find ammonites and an opportunity to have a go at camel riding. Most nights you camp on the sands but on two nights you camp next to shrines built in honour of local holy men, and on at least one day you will share mint tea in a local farmhouse. We also came across the extraordinary sight of groups of goats which had very cleverly climbed high into trees to nibble the leaves!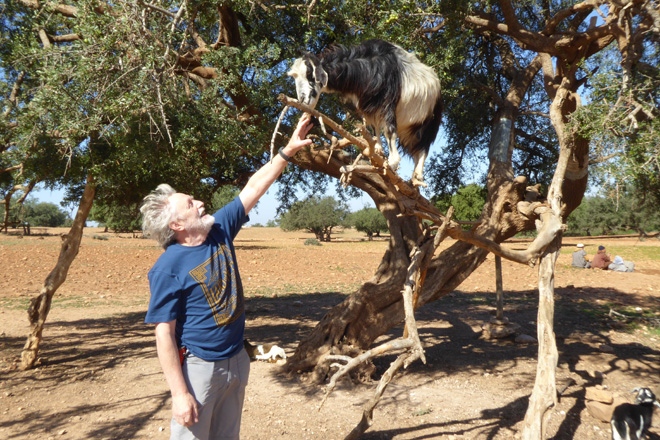 Steve making new friends
Finally you head to Essaouira to stay in a very atmospheric riad and wander the narrow streets of the souks and medina soaking up the sights and sounds of 'old Morocco'. Whilst you're here you get to experience a hammam – a hot steam bath followed by a vigorous massage which bears no comparison to a spa treatment back home. Hammams have been used by the locals since ancient times to cleanse, socialise, relax and rejuvenate and are still very much part of modern day life across the country. There's also the chance to learn about Moroccan spices and have a go at creating your own culinary masterpiece at a cookery class.
For your final night you return to Marrakesh, and a last chance to haggle in the souks for a pair of colourful leather slippers, some silverware, spices or maybe even a fez to take home – but perhaps not a bowler hat!
As we left for the airport I said a fond farewell to Morocco - the food is amazing, the scenery like something out of Lawrence of Arabia, and the riads we stayed in just oozed character and charm. I highly recommend this trek for a relaxing, fun adventure and the perfect winter escape."
Find out more about our Morocco Coastal Trek & Essaouira holiday or contact Steve on 01453 844400 if you have any queries.
Should I travel to Burma (Myanmar)?
Burma is a country with a difficult and complex recent history and we are often asked by concerned clients whether it is right or safe for them to travel there. Although this is ultimately a personal decision, we hope the information in this blog will help when making a decision.
After many years of political isolation and repressive government policies, Burma began to open its doors to the world in 2010. As the government shifted towards a more democratic stance, tourists were welcomed back by opposition leaders and invited to discover the many cultural and natural delights of Burma and to bring a much needed economic boost to the country and its people.
We responded to the call by introducing holidays to Burma for the very first time, but only on the premise that we worked with private individuals and companies whenever possible; minimising direct financial support to the military regime and supporting the local people. Burma quickly became one of our most popular destinations with visitors eager to see the fabled sights of Bagan, Mandalay, Rangoon, Inle Lake and the Irrawady River.
The political situation though remained complex and fragile, and in 2017 a violent policy of ethnic cleansing of the minority Rohinghya Mulims was implemented by the government in Rakhine State in western Burma. Although events have now left the front pages and the situation appears to have stabilised somewhat (although not resolved), it has once again raised the dilemma for tourists of whether to visit Burma, even though there is no official tourism boycott.
From a safety perspective, the FCO Travel Advice only advises against all but essential travel to Rakhine, Shan and Kachin States. The main tourist centres remain safe, open and unaffected.
Ethically, though, the decision to travel is far more complex. It is one we have grappled with ourselves as a company, but after much deliberation we have decided to continue offering holidays to Burma. Although we condemn the terrible actions of the government and military, we wish to continue to support the Burmese people. Over the last few years we have built excellent relationships and friendships with our partners in Burma who have always given our clients the warmest of welcomes and unfailing good service. We also include visits to families, villages and communities in our itineraries, thereby bringing direct economic benefit to the locals. By withdrawing from Burma, it is undoubtedly these people that will suffer, not the government.
We also believe that travel encourages us to engage with others, share ideas and values, gain a truer insight into difficult situations and to go beyond the headlines to discover all sides of the story. Hopefully this in turn brings understanding and openness.
Burma is a fabulous country with a rich cultural heritage, beautiful landscapes, a fascinating and complex history and wonderfully friendly, generous people. If you decide you would like to visit, then we would be delighted to introduce you.
Take a look at our Burma holidays or speak to one of our travel experts if you would like to discuss any concerns.
Best time to visit the rice terraces of Sapa and Northern Vietnam
Considered to be one of the most photogenic sights in the world, the rice terraces around Sapa in Northern Vietnam have been attracting travellers and photographers for many years. The terraces are believed to have been carved out of the hillsides by the minority tribes of the area as long ago as the fifteenth century, and they are still cultivated today by the same local tribes in an annual cycle of planting, growth and harvesting. The terraces are punctuated by small wooden shelters and you will often see the locals, in their trademark conical hats, tending to their crops.
The Muong Hoa Valley, an easy walk from Sapa, has some of the most impressive terraces, with over 100 sinuous layers climbing steeply towards the sky. It's a must see sight for any visitor to the area.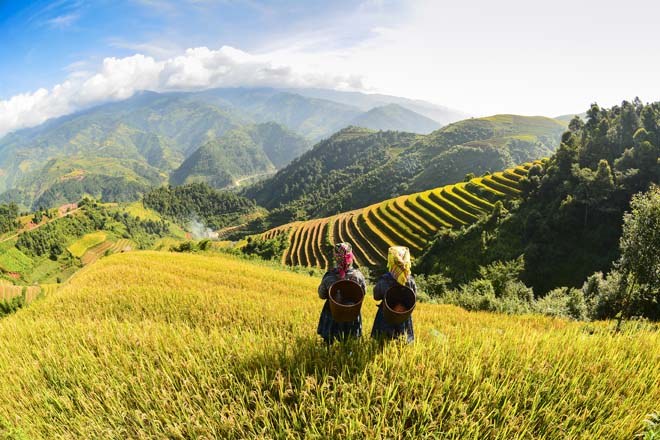 Local tribespeople surveying their rice terraces
Not only is this region of Northern Vietnam visually stunning it's also culturally fascinating. There are several ethnic minority groups living in Sapa and the more remote villages that are dotted in the surrounding hills. Giay, H'mong, Tay and Red Dzao are just some of the groups you may encounter if you get off-the-beaten-track and walk or trek in the mountains. They still live their rural lives in a very traditional way, little-changed by time. If you have the opportunity to spend a night in a local homestay it's a great way to gain an insight into their way of life.
If you would like to visit Sapa, or trek to some of the tribal villages, here's our guide to the best time to travel.
March – April
Although this is not a particularly good time to view the rice terraces as they have not yet been planted, wildflowers and blossoms are beginning to bloom in the surrounding fields and hillsides giving hints of colour. However as the village trails are dry, and there are less tourists visiting at this time of year, it's a good time for trekking. Temperatures are generally mild and pleasant during the day (between 15 and 25 degrees), although nights can be still be pretty chilly given the higher mountain altitudes in this part of the country.
May – June
Known locally as the 'water pouring' season this is the start of the monsoon rains. The rains typically fall as heavy showers rather than persistent rainfall. The water pools in the rice terraces making for beautiful, mirror-like reflections. Rising mists also create beautiful scenes and atmospheric photos. This is the time of year when the terraces are planted with the young shoots so it's a good time to see the locals working the fields using very traditional hand-farming methods. However, the rains make the trails boggy and difficult to navigate so it's not advisable to go trekking or walking during these months.
Planting the rice terraces

July – August
This is peak monsoon season so it's very wet and very hot and humid. Definitely not good for trekking! However, if you don't mind braving the rains, and are happy to wait for the clouds to lift, you will be rewarded with classic views of vivid green rice terraces. Just beware, this is the main time for domestic tourists to visit Sapa so expect to be sharing your views with large crowds,
September –November
This is harvest season, but before the rice shoots are picked they turn a deep golden yellow in colour. Again, this makes for some fantastic photos. Heavy rains can still be experienced in September but October sees the start of the dry season. For trekkers, October and November are undoubtedly the best time to visit Sapa. The region is still lush and tropical after the monsoon, but the temperatures are starting to drop making them much more pleasant for walking.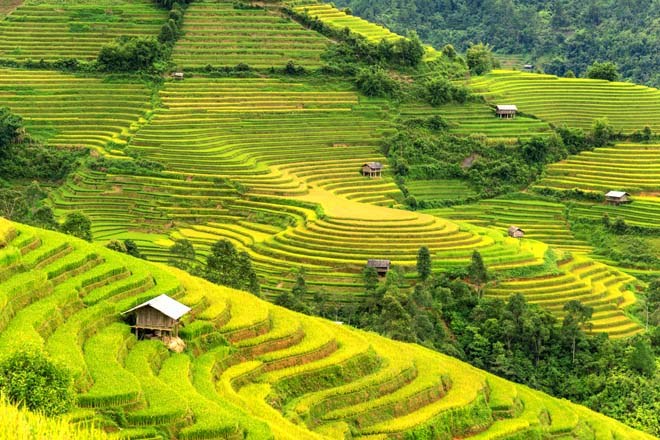 Rice terraces turning to gold in September
December – February
Despite being a subtropical region, the higher mountain altitudes mean that the winter months can experience very cold weather - often falling below freezing at night. The rice terraces can also appear a little bleak at this time of the year so the region is best avoided during these winter months.
We offer a trekking holiday that takes you from Sapa into the villages of several different hill tribes. Accommodation is a mix of hotels, lodges and a homestay giving you the most in-depth experience. Before travelling north, you have time in Hanoi and after your trek, you spend two nights at Ha Long Bay on a luxurious cruise. See our Hill Tribe Trails of Northern Vietnam for dates, prices and the full itinerary. Our group departures make the most of the best time to travel, departing in October and November.
If you would prefer to visit Sapa at any other time of the year we can Tailor Make your perfect holiday. Simply complete our Tailor Made enquiry form or contact our friendly travel experts.
For more climate and destination information see our Vietnam holiday information
A Kit List for the Everest Base Camp Trek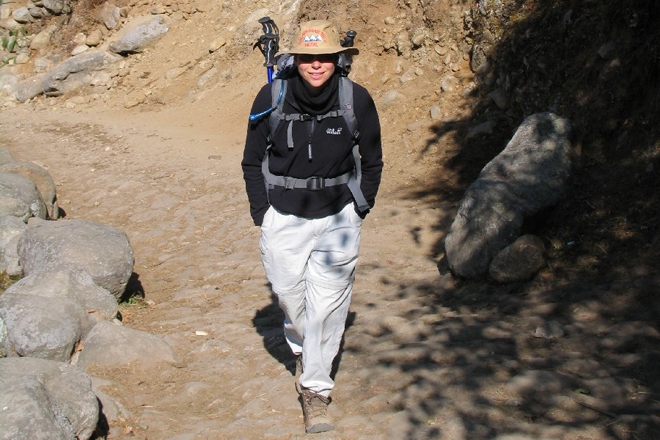 One of the questions we most commonly get asked from clients who are planning a trek to Everest Base Camp is what do I need to pack? In reply, here's a comprehensive clothing and equipment kit list for the trek, together with some helpful information and advice.
Clothing
The key to being comfortable on trek is to adopt a system of several layers rather than one item of bulky warm clothing. Temperatures can drop very quickly in the evening at altitude and you will need to put on a number of layers once the walking has finished for the day. There are few warmer combinations than a pair of thermal leggings and roomy trekking trousers, with your trunk insulated with a base layer, micro fleece, thermal fleece jacket and a duvet jacket. A disproportionately large amount of body heat is lost through your head (about a third), so just as important as warm body clothing is a warm hat, together with the hood of your waterproof jacket. Don't forget that your waterproof jacket (which should always be in your day pack when you're not wearing it!) makes a very effective outer warm, windproof layer and is likely to be as often used for this as for its waterproof qualities. A sun hat is also an essential item, with a wide brim and something to protect your neck.
Tight fitting, figure-hugging clothing, such as those made with Lycra can often be offensive to locals, especially on women. If you find these items comfortable as a base layer then pack something to wear over the top of them. Similarly, wearing shorts is culturally insensitive in Nepal so leave them at home. Calf-length cut-off trousers are fine to take instead.
Your boots are your most important item of clothing. Generally speaking we would recommend you use the boots you already use for hill walking. If you do not have any suitable footwear, or the pair you have are on their last legs (or feet!) make sure you buy a new pair several weeks before your trek to enable you to fully break them in. In general price is a good indicator of quality – good quality boots will normally cost between £80-£120. Normally an all leather boot is harder wearing and more waterproof but nowadays there are many reputable makes which utilise a mix of leather/nubuck and fabric. It is useful to have Gore-Tex lined boots for breathability and extra waterproofing. Take time in choosing a boot that fits you well (remember to take your favourite pair of walking socks with you when trying boots on). Tell the assistant exactly what you are going to use the boot for and choose a boot with a good degree of ankle support and a good quality sole such as a Vibram sole.
Your luggage allowance - a word of advice:
In March 2013 CAAN (Civil Aviation Authority of Nepal) instituted new rules on luggage limits for flights to STOL airports - which Lukla is. The new weight limit is 15kg, to include hand luggage. This means that they will now weigh both your kitbag and your day pack at the airport which should be within this limit. So you will need to be careful when packing for trek. Our advice is to make sure to wear your down jacket and walking boots for the flight to Lukla and also not to carry too much water on that day - you will be able to fill up with water and repack any extra clothing you're wearing into your kitbag when you arrive in Lukla.
Here's our full clothing list:
Walking boots - with spare laces
Trainers or all terrain sandals - for travel and changing into in the evening
Waterproof jacket and over-trousers - preferable made from breathable material
Duvet / down jacket - essential for colder evenings especially at altitude. Mountain Kingdoms provides this free of charge for all our Nepal treks.
Trekking trousers
Thermal underwear
T-shirts / short sleeved shirts
Long-sleeved shirts - to cover arms against the sun or insect bites
Micro fleece
Warm fleece
Socks - walking socks and liners/thin socks
Warm hat and gloves - take two pairs in case you lose one
Sunhat - ideally one that provides cover for your neck as well
Scarf or Buff - for warmth and also for protection against wind or dust
Casual non-trekking clothes to wear in Kathmandu including a swimsuit for your hotel pool
Equipment and accessories
Try and keep your equipment lightweight whenever possible. This is our suggested list:
Day sack - 30-40 litres
Sleeping bag - you need a good quality 4-season sleeping bag and liner. Mountain Kingdoms provides these for you free of charge, together with a sheet and pillow cover
Trekking poles - useful on steep ascents, descents and on rough ground, but, if you're not a regular user of trekking poles, try them out beforehand
Small lockable suitcase or bag - to leave your spare clothes in at your hotel in Kathmandu whilst you're on trek
Assorted waterproof stuff bags - to keep your clothes and kit dry on trek. Plastic bags are a cheaper option
Water bottle - 1-2 litres at least
Water purification tablets or a water bottle with a good filter system i.e. a Mountain Kingdoms Water-to-Go bottle
Penknife - Swiss army type with tweezers and bottle opener is useful. Pack in hold baggage
Sunglasses / Glasses - Sunglasses are easy to lose or break, so bring a cheap spare pair. If you wear glasses, bring a spare pair. Contact lenses can cause problems due to dust.
Personal first aid kit - see list below
Head torch
Camera - with spare battery and memory cards
Binoculars - although not essential, a lightweight pair will add to your experience
Wash kit - shampoo, soap, flannel, toothpaste, toothbrush, deodorant and moisturiser
Travel wash - 100% biodegradable
Trekking towel
Antibacterial gel and/or wetwipes
Hand warmers - useful for very cold days
Toilet paper / travel tissues
Repair kit - needle, thread, safety pins, small pair of scissors
Inflatable pillow
Earplugs - especially if you're a light sleeper
Personal time gear - playing cards, travel games, writing material etc.
Spare batteries for electrical items where necessary and a power charger
Electrical adaptor suitable for Nepal - Standard voltage in Nepal is 220-240 volts. In the Kathmandu hotel there are normally a two-pin razor socket in the bathroom and in rooms generally sockets are round-three pin but can also be European or British variety sockets. Best advice is to use a universal travel adaptor. Tea houses on trek usually have recharging facilities (they will make a charge) but if it's busy there may be a queue for recharging.
Mobile phone - coverage in Kathmandu and Pokhara but limited elsewhere
Personal first aid kit
Any personal medicines or antibiotics (tell your trek leader if you have any conditions and are taking medication)
Analgesic tablets - paracetamol, aspirin or whatever you normally take as a standard painkiller
Antiseptic cream
Antihistamine - tablets and/or cream
Sunscreen - Factor 20 at a very minimum
Lipsalve - must have a high sunscreen factor. Apply liberally and often at altitude. Zinc blocks are also excellent

for burnt lips

Insect repellent
Anti-blister plasters
Assorted plasters and tape
Throat sweets
Dioralyte rehydration powders - make sure you have enough to cover an emergency
Diamox - be sure to speak to your doctor if considering to take Diamox
So there you have it, everything you need (and a little more besides) to help get you to Everest Base Camp. If you've got any questions, or need any advice, then just contact one of our specialist staff who will be very happy to help.
Discover the sacred celebrations of a vibrant Bhutanese festival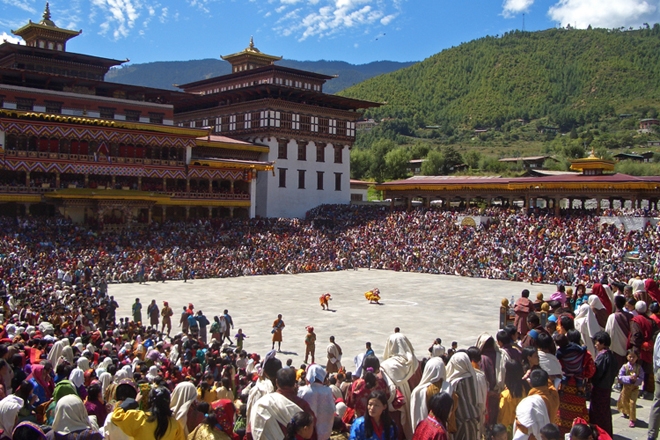 Thimphu Tsechu by B&D Stallion
Festivals are a significant part of Bhutan's culture. Most festivals, also known as a 'tsechu', are of great religious significance and are mostly celebrated through music and masked dances. Tsechus attract high numbers of Bhutanese people as they believe by attending these special celebrations they gain religious merit as well as enjoying a fine social event. Below are just a few of Bhutan's major festivals, all of which can be visited on a Mountain Kingdoms holiday.
Thimphu Tsechu
Thimphu Tsechu is one of Bhutan's most important festivals. It is a three day event celebrated by thousands at Tashishhodzong, Thimphu's monastery. Like most Bhutanese festivals, Thimphu Tsechu is a religious celebration, during which monks perform dances in colourful masks to entrance evil forces that have accumulated over the ground during the previous year and prevent their harmful intentions.
Location: Thimphu
When: Autumn (October)
Which holidays attend this festival in Bhutan? Chorten Path Trek, Druk Path Trek, Definitive Cultural Tour of Bhutan, Highlights of Bhutan, Gentle Walking, Bhutan, Thunder Dragon Trails in Style walking holiday, Cultural Highlights of Nepal, Bhutan & Tibet tour.
Paro Tsechu
During the colourful Paro Tsechu, music and ceremonial masked dances are performed to represent Guru Rinpoche and celebrate his significant life. Many people from even the most remote villages join to celebrate, socialise and have fun. By attending the festival and witnessing the performances they believe they will achieve merit and cleanse themselves of any sins.
Location: Paro
When: Spring (March)
Which holidays attend this festival in Bhutan? Chorten Path Trek, Druk Path Trek, Definitive Cultural Tour of Bhutan, Gentle Walking, Bhutan, Thunder Dragon Trails in Style walking holiday.
Punakha Tsechu
Punakha Tsechu is held in the magnificent Punakha Dzong, one of the most spectacular and important in the Kingdom. The festival was introduced as a commemoration of the Bhutanese victories over the Tibetans. During the festival there are colourful masked dances and other dramas enacting the days when the Bhutanese people gathered to expel the Tibetan forces out of the country by ushering in a new-found internal peace and stability.
Location: Punakha
When: Winter (February)
Which holidays attend this festival in Bhutan? Gentle Walking, Bhutan
Black-Necked Crane festival
The Black-Necked Crane festival takes place at Gangtey Gompa in Phobjikha to celebrate the annual arrival of the endangered and majestic cranes. The festival consists of traditional masked dances, crane dances, songs by the local school children and plays. The festival has the advantage of receiving relatively few western visitors and offers a real insight into the Bhutanese 'at play' as they showcase their cultural heritage and skills.
Location: Gangtey Gompa, Phobjikha
When: Winter (November)
Which holidays attend this festival in Bhutan? Definitive Cultural Tour of Bhutan, Gentle Walking Bhutan.
Jambay Lhakhang Drup festival
Held at one of Bhutan's oldest temples, Jambay Lhakhang Drup is one of the country's most ancient and sacred festivals. The three day celebration attracts village people to the temple for singing and dance rituals. There are different categories of dances, those that are intended to give moral instruction, those designed to drive away evil spirits and those that celebrate the Buddhist faith in its many guises. A particular highlight is the midnight fire ritual where crowds gather to witness a ritualistic naked dance.
Location: Jambay Lhakhang, Bumthang
When: Autumn (November)
Which holidays attend this festival in Bhutan? Rodang La Trek.
If you would like us to organise a private trip to Bhutan, taking in one of these fantastic festivals, then contact us and we can create a Tailor Made Holiday especially designed to suit your travel requirements.

Sue Lawty's Wild Zanskar Adventure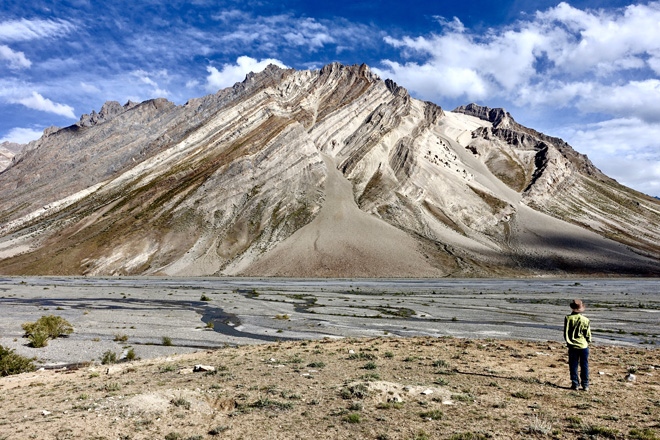 Taking in the scenery of Ladakh
Soaring contorted cliffs, canyons, rocks and rivers crossings. Ancient, exposed cliff paths and hidden passes high on the Tibetan Plateau. It was such a privilege to lead this trek.
We pass through this landscape as a group, but also as individuals. We see, notice and are inspired by different things. Our path is the same, but our experiences are unique. I am always interested in what particular memories linger, so I asked members of the group for their thoughts, now, two months after returning. Here is a selection.
… 'There were so many wonders to see and experience along the way it is difficult to choose one special one. But my favourite two days began one early morning when we were due to cross a river back and forth about forty times. The water was freezing cold, but it was wonderful to be in such wilderness. At one point I stood for a while in the middle of the river despite the cold, savouring the gorge, the level boulder fields, and the precipitous mountains above. From there we traversed some perilous paths along the sides of steep, narrow gorges and on into high broad valleys with wild sheep galloping up the mountain sides waiting for us to pass so that they could return to graze again, the occasional lammergeier vulture floating in the updrafts above, just checking.'
… 'I think one of my most wonderful times was climbing up the small hill beside camp before the Zalung Karpo La … that was my favourite campsite because it was just so peaceful and such a fantastic view from the ridge of the hill. It was lovely just sitting there and feeling at one with the environment.'
However majestic the land, it is the glue of the crew that enables us to be there in such fine style, the… .'charming, kind, attentive guide and team who looked after all our needs and kept us safe and well fed.' Plus, of course, the skilled pony men and the …'ability of the horses/ponies to ascend and descend the steep slopes with very loose rocks underfoot.' all contributed to the 'can do' positive atmosphere. We were a happy bunch in this wilderness with many laughs on the way.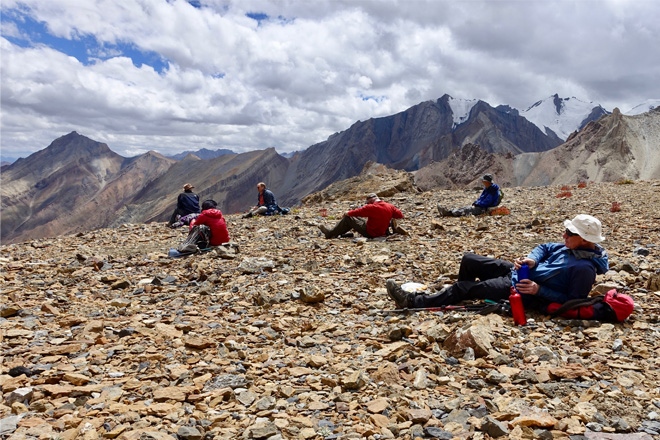 Resting among the mountains
The allure of this specific route is its rigorous wildness. However, when we did have occasion to interact with local people it was magical … 'yak butter tea during prayers at Lingshed monastery - an informal affair with wonderful melodic and atmospheric chanting' …'breakfast of tea and chapattis with the nuns and novice nuns in Zangla nunnery school.' Quite often an impromptu hold-up opens up opportunity: … 'a very special moment has to be when we arrived at the campsite at Namsuru. While we waited for the crew to arrive, we had time with a lovely group of old and young local people and were served tea in china cups!'
And always, ever present throughout the myriad of our impressions, Zanskar's extraordinary landscape: …' My favourite place on the trek was the amphitheatre of mountains , pinnacles and ridges overlooking the village of Yulchung… a great drama of numerous shades of orange and grey rock.' As you stare at this theatre of nature you perceive that the 'orchestra stalls' slide into the deep shadows of gorges which seem to spawn more gorges within their shadowy depths. The 'upper circle' and 'balconies' are formed by ridges and pinnacles. Natural rock arches, some shot through with quartz or sprinkled with snow, just beginning to be turned golden by the setting sun.'
If you're feeling inspired by Sue's journey of wild and remote Zanskar then find out more here
Our tips for the top – how to reach the summit of Mount Kilimanjaro
With nine intrepid celebrities preparing to climb Kilimanjaro for the Big Red Nose Challenge, we thought we'd share some tips from our own Kili experts to help them reach the summit. Mountain Kingdoms team members, Seraphina, Kerry and Harry have all made it to the top of Africa's highest mountain. So we've picked their brains and pooled their expert knowledge to come up with our top tips for reaching the summit of Kilimanjaro.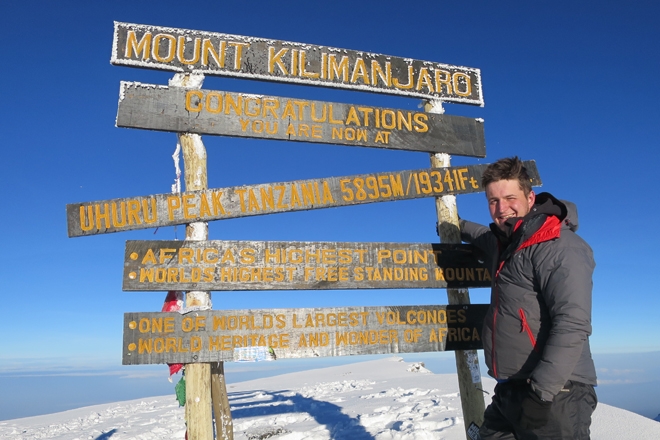 Harry on the summit
Train before you travel
The best preparation for a trekking challenge like Kilimanjaro is to go walking in advance. It doesn't have to be up a mountain but if you can build up to walking for several hours at a time and walk on consecutive days, you will really benefit once you start your climb. If you're limited to the gym, then try to increase your time on the treadmill and the length of your workouts. Any boost to your cardio fitness will be worth the effort.
Wear in your boots
Ideally, you want good quality, waterproof walking boots for tackling Kili. They can be made of leather or material but the most important thing is to make sure you've worn them in before you start your trek. Sore, blistered feet will make it extremely hard going so break in new boots beforehand with several good walks, preferably with plenty of ascent and descent. This also gives you chance to sort out the trekking socks that work best for you, which will help ensure your feet stay comfy and pain free.
Go 'pole pole'
'Pole pole' is Swahili for 'slowly, slowly' and you'll hear the local guides say it all the time as you ascend to the summit at a (literally) breathtaking 5,895m. The higher you go, the thinner the air and the more breathless you will feel. Altitude sickness arises from rapid exposure to lower amounts of oxygen, and to reduce the affects you need to listen to your body and as well as your guides and walk slowly. Treat it as a marathon not a sprint. Why would you want to rush anyway when there's so much to see and experience.
Eat your porridge
The traditional breakfast on trek is porridge made from maize. You may not feel like eating first thing in the morning, especially at altitude which can affect your appetite, but a bowl of steaming hot porridge will warm you after a chilly night on the mountain and give you much needed, slow release, energy for the day ahead. In Seraphina's opinion it tastes delicious although Harry would beg to differ – he much preferred the breakfast pancakes. Whatever you choose, the more you eat the better.
Drink lots
Good hydration is one of the most important things to keeping healthy at altitude so you must drink, drink, drink - even if you don't feel thirsty. Your trek crew will boil water to make it safe to drink and you can fill up your bottles every evening ready for the next day. Kerry's top tip is to put your bottles in your sleeping bag with you which will stop the water freezing and help keep you toasty warm.
Layer up
Daytime temperatures will vary enormously during your climb from a barmy 25-30 degrees when you set out to freezing temperatures at the summit. When the sun shines you'll feel very warm but windy conditions will cool you quickly and, as with any mountain, micro climates and sudden changes to the weather can make it a very unpredictable place to be. That's why we advise carrying and wearing lightweight, breathable layers so you can react to changes in temperature and stay comfortable. Keep an extra warm layer in your bag and always have a good waterproof/windproof top layer with you.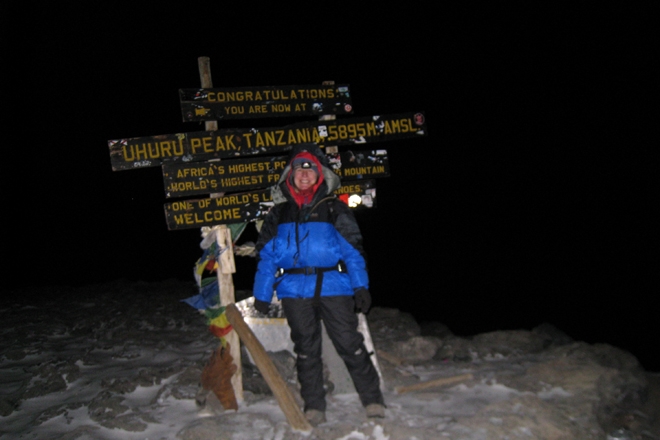 Seraphina in her down jacket waiting for the sun to rise over the summit
Pack a down jacket
A super warm 4-season down jacket (also called a duvet jacket) was Seraphina's most cherished piece of clothing on Kilimanjaro, especially in the evenings once the sun had gone down and the temperature had dropped very quickly. On summit day it's an essential piece of kit as you'll leave your tent in the early hours in the freezing darkness. Then, when you reach the summit you'll need to keep warm as you wait for the sun to rise, take loads of photos and celebrate your great achievement. It might seem a bulky item that takes up valuable space in your kit bag, but you won't regret taking one.
Keep a buff handy
A buff is a surprisingly useful piece of clothing to have for your Kilimanjaro climb. If you're not sure what a buff is, it's a versatile 'tube' of stretchy material which you can wear in many ways: round your neck like a scarf, on your head as an alternative hat or pulled up to cover your mouth and nose - this not only helps to keep you warm but is also surprisingly useful for keeping out the bad odours that you can get in the loos.
Enjoy a sweet treat
This was the first piece of advice Harry gave us as he found a bag of fruit pastilles to be an invaluable resource on his ascent of Kilimanjaro. The sugary sweets proved to be a welcome energy boost and they were also a bit of a morale booster when he was struggling. Of course, it doesn't need to be pastilles - nuts, chocolate, crunch bars and any other snack you love will help to lift your spirits as well as your energy levels when the going gets tough.
Keep up a positive vibe
Climbing a mountain is not just about your physical well-being it's also a case of mind over matter. It might seem trite to say but if you genuinely believe you're going to make it to the top, you'll increase your chances of doing so. Harry suggests visualising yourself standing on the summit, arms raised in celebration; or distract yourself from the struggle of the climb by singing your favourite songs or telling silly jokes with your fellow trekkers. In fact, the constant support of your guides and the camaraderie of your co-climbers, will play an essential role in keeping you going. Along with those sweeties of course!
Don't suffer in silence
Altitude sickness is a very serious issue and Kilimanjaro climbers can suffer due to the speed of ascent, especially if doing one of the shorter routes. On Kerry's mulitple climbs, she's seen a lot of trekkers suffering unnecessarily and is fully aware of the dangers posed by climbing too quickly. Most people will feel some minor symptoms when trekking at altitude but sometimes these can develop quickly into something more serious. It's therefore important that you make your trek guide aware of any symptoms you have such as headaches, nausea or sleeplessness. Your guide can then advise on medication if appropriate and keep a close eye on you in case your symptoms get worse. To maximise your acclimatisation, and your chances of success, we recommend taking a longer route such as the Lemosho Route or even doing a pre-Kili climb of neighbouring Mount Meru. This is the ultimate preparation and gives you the added bonus of claiming two summits on just one holiday.
Cherish your guides
Undoubtedly your most valuable aid to getting to the top of Kili are your guides and porters. They will provide a constant supply of advice and support to keep you going even when you feel like you can't possibly take another step. They will feed you, put up your tent and keep you safe all the way to the top. They will become your best friends and you should cherish them completely - you won't reach the top without them. And, when you finally say a fond farewell you should reward them generously.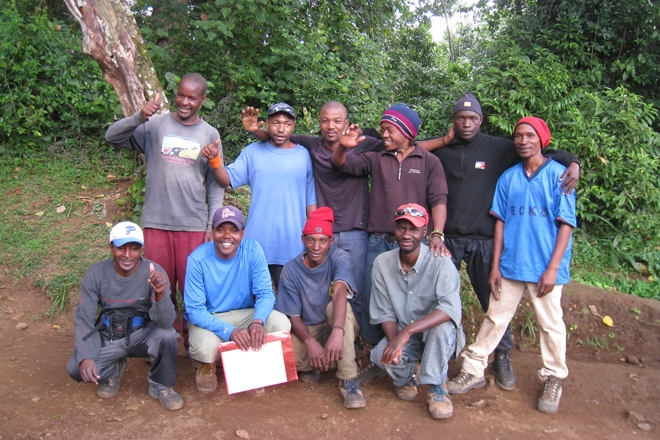 Seraphina's trek crew
So there you go. With just a bit of preparation, the right kit, great guides, a long route, a slow pace, plenty of food, drink and sweets and a dose of self-belief, you too can conquer Kilimanjaro.
If you're interested in climbing Mount Kilimanjaro, find out more about our two Kilimanjaro treks: Kilimanjaro Summit - Lemosho Route and Summits of Kilimanjaro & Meru.
Travel for tea lovers
Tea remains the most popular drink in the world (after water) and there are well over 40 countries growing and producing tea for sale. China and India remain the two biggest tea producers but even in Britain we grow small quantities at the Tregothnan Estate in Cornwall. In fact, if you wanted to tour the tea producing world your travels would take you from South America to Eastern Europe, through much of Asia, the Indian Sub-continent and Africa.
Even in countries that don't grow tea, vast quantities are consumed with huge variations in tea drinking habits. Here are just some of our favourite destinations for tea lovers to visit.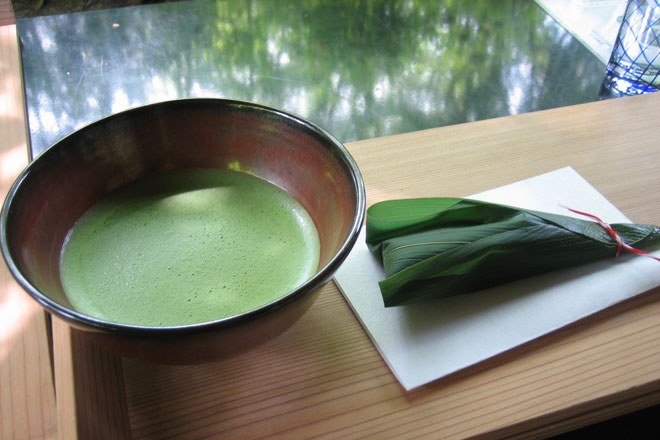 Matcha tea
In Japan the act of drinking a cuppa has been elevated to an art form with the 'Chanoyu' or tea drinking ceremony. Traditionally, matcha tea is used – a powdered green tea – which is whisked with hot water to produce a strong, slightly bitter tea. It's prepared and served in accordance with intricately choreographed rituals that date back as far as the 6th century. As the entire ceremony can take up to 4 hours it's not something you should consider if you just need a quick cuppa in the morning!
Where we add milk and sugar to our tea, Tibetans prefer butter and salt. Traditionally tea leaves are boiled for several hours before yak butter and salt is added to the strained liquor which is then churned to produce a thick, salty brew. It may not be to our tastes, but in the thin, cool air of Tibet butter tea provides important calories and fat to the local diet. Just don't let it get cold!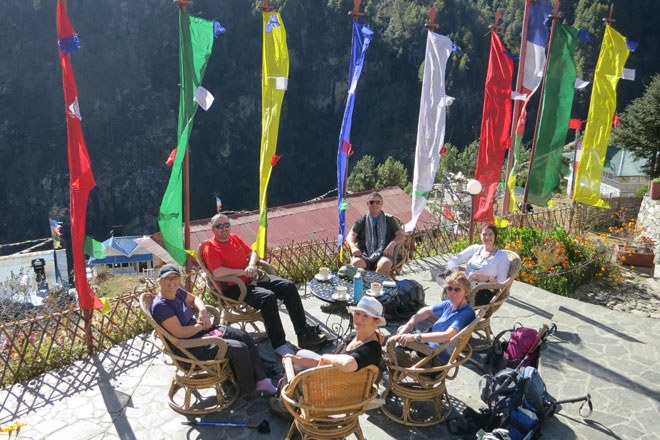 Trekkers on a tea break
If you are on trek in the Annapurnas or following the trail to Everest Base Camp, you will no doubt enjoy many, many cups of tea as you trek between tea houses. It's the staple drink in the mountains where the local people will boil the tea, water, milk and sugar together in one big pan to make a sweet, milky brew that's not too dissimilar to a traditional British cuppa. In the Everest region it's often referred to as Sherpa tea. For trekkers though, the milk and sugar is left out and weak, black tea is served in large metal flasks that appear at every meal and trek stop. We're not sure whether it's the mountain air or the need for a bit of home comfort, but tea has rarely tasted so good.
Chai is the word for tea in India where it is blended with all manner of spices, condensed milk and sugar to make a creamy, sweet and spicy brew. Visit any Indian village, town or city and you'll find 'chai wallahs' selling fragrant tea brewed to their own special recipe. Cardamom, ginger, cinnamon and cloves are just some of the spices used and the tea is often served in small, clay cups which are smashed after use. Make sure you try at least one cup of chai on your holiday in India if you want to get a true taste of the country.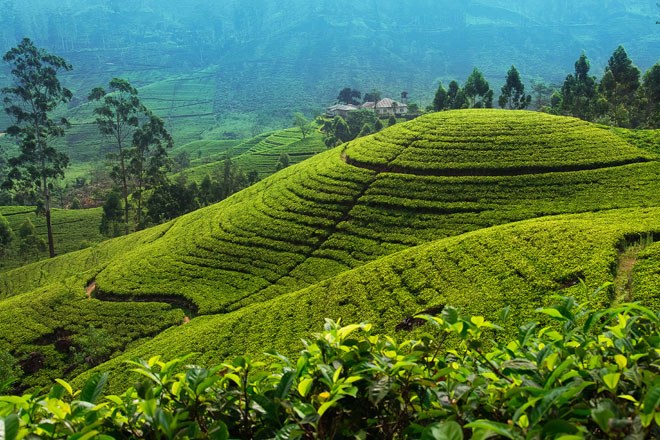 Tea estate, Nuwara Eliya, Sri Lanka
Sri Lanka may be a tropical paradise but, for the British tourist it's a real home from home. That's because, wherever you visit in Sri Lanka you'll no doubt be offered a 'proper cup of tea'. Since the 19th century, Sri Lanka has produced vast quantities of black tea much of which supplied the British market. Traditionally known as Ceylon tea, the locals also like their tea brewed strong and served with milk and sugar – preferably in a china cup. If you want to see tea being grown and made, Sri Lanka is one of the best destinations for the tea loving traveller to visit as there are numerous tea factories offering tours and tastings as well as the chance to walk through beautiful tea estates.
China is undoubtedly the cultural and spiritual home of tea. It introduced tea to the rest of the world and is still the world's biggest producer and consumer of tea. Black, green, oolong, white and Pu-erh teas are all made in China with hundreds of different varieties many of which are still hand produced using techniques little changed for centuries. As a travelling tea lover, try some of the more unusual and exquisite Chinese teas when visiting such as Silver Needles, Golden Monkey or Dragon Well.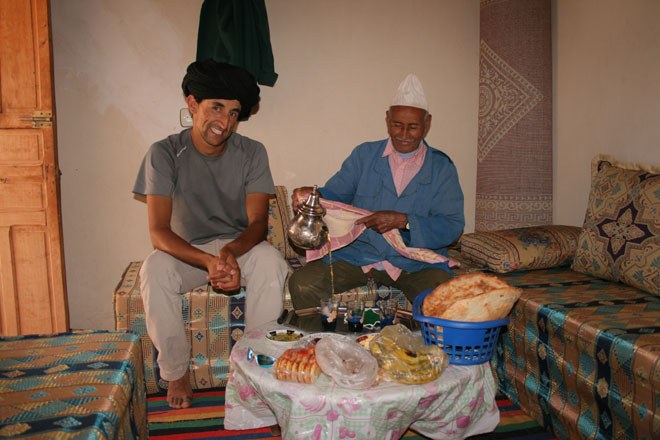 Tea is served
For travellers and tea lovers alike, Morocco is a must visit country. Wonderfully refreshing mint tea is the brew of choice served in small, glass cups and poured theatrically from a great height. Ingredients are green tea, fresh mint and lots of sugar. Moroccans are a very hospitable people and love nothing more than to serve endless cups of tea to their guests. And, in the heat of the desert, you'll find there's nothing more welcome or thirst-quenching.
Somewhat surprisingly, Argentina is the 9th biggest producer of tea most of which is exported to the States. The Argentinians prefer their own particular variant of tea called yerba mate – not strictly a tea at all, more of a herbal brew. It's traditionally drunk through a metal straw from a hollow gourd, called a bombilla, It's a very social drink as bombillas are often shared between friends but beware, when first brewed in the morning, the mate can be very strong and bitter due to the high caffeine content, but during the day the flavour mellows as the leaves are topped up with hot water. Even if you don't enjoy the mate, you can always bring a bombilla home from your holiday in Argentina – they make a great souvenir.
So, whether you want to try your tea with butter or spices, drink it out of a gourd or from a china cup, or have it served in a tea house or a desert tent you will no doubt find just your cup of tea when you travel the world with Mountain Kingdoms.
Put a spring in your step - our favourite walking holidays for the springtime
If you've got the winter blues and are craving sunny days and long, languid walks don't despair. Spring is just around the corner. And here are some of our favourite springtime walking and trekking holidays to inspire your holiday planning.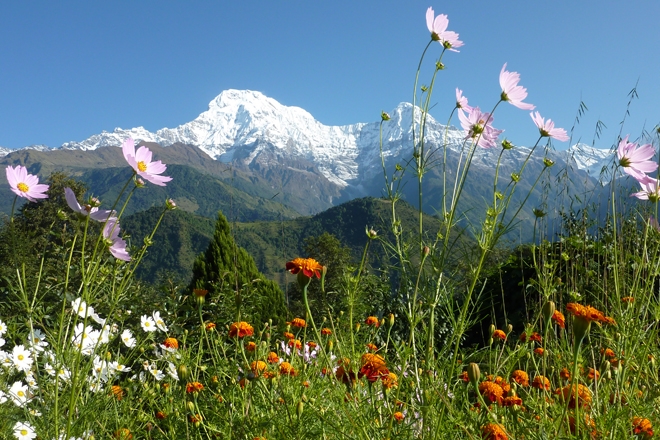 Annapurna flowers and mountains by J Barenblatt
Gentle Trekking & Luxury Lodges, Annapurna Foothills, Nepal
The spring months are prime time for trekking in the Annapurnas due to the warm sunshine, emerald green rice terraces and trails lined with a colourful profusion of rhododendron and marigolds. And there's no better way to first experience the magnificent Annapurnas then by trekking between luxury lodges on gentle trails that showcase the stunning Himalayan scenery.
Gentle Trekking Nakasendo Trail, Japan
Late spring is one of the best months to visit Japan as it's warm and sunny in most of the country but not as hot, rainy or humid as in the summertime. In fact, it's just delightful for trekking and seeing the sights. The cooler hills of the Kiso Peninsula with their ancient, sacred trails and the fascinating centres of Kyoto and Nara provide a wonderful range of contrasts in a country that is once again proving very popular.
As with much of the Himalaya, springtime is one of the best times of the year to visit Bhutan when it's not too cold or deluged by monsoon rains. With walks in the Paro and Phobjika valleys and an unusual overnight trek to reach Taktsang Monastery it's good to have the weather on your side. You'll also spend three nights in a farmhouse homestay for a privileged insight into how the Bhutanese people live their daily lives.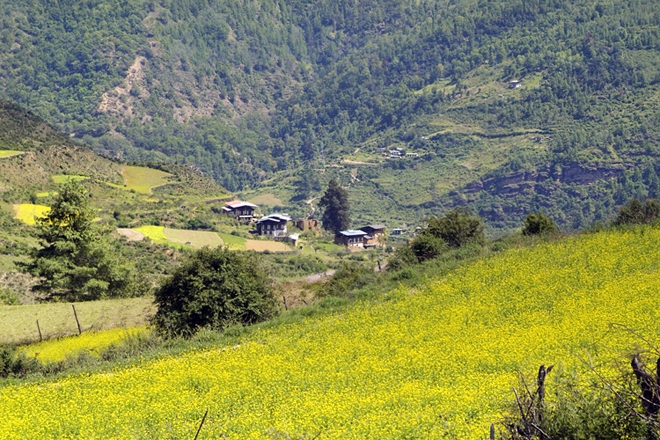 Haa Valley, Bhutan
Spring and autumn are the ideal time for trekking in the high Himalaya as this is the dry season. Prior to the arrival of the monsoon in June, spring days can bring warm sunshine, colourful wild flowers and good mountain views. Nights will be chilly though, even in the spring, but by staying in first rate trekking lodges you'll be toasty and warm as you trek all the way to Everest Base Camp.
Montenegro experiences bitterly cold winters and very hot summers – neither of which are good for walking. By contrast, the weather in June is ideal; comfortably warm and relatively dry in the mountains and not too hot at lower levels. The summertime crowds have also yet to arrive and you'll often find the walking paths and national parks deserted in the late spring. It's simply the best time to enjoy the many natural and historic treasures of this beguiling European destination.
Camino de Santiago - The Northern Way, Spain
Walking the fascinating route from Camino del Norte to Santiago de Compostela is best done during the spring months as the temperature will be warm but not too hot for walking.The trail will also be a lot quieter than the busy summer months meaning that overcrowding won't be an issue.The Camino del Norte has the benefit of being more peaceful than the alternative pilgrimage route to Santiago - the Camino de Frances, yet still offers excellent food and accommodation and is a fabulous trekking experience.
Spring flowers, Croatia
Gentle Walking Islands of Croatia
With its searingly hot and crowded summers, the Croatian coast is best avoided in peak season between June and August. In spring though it's a gloriously enticing place. Island trails are shaded by pine forests and olive groves whilst the crystal blue seas glisten in the sunshine and provide a cooling dip at the end of the day. Steeped in history and natural beauty there's no better place to treat yourself to a spring break.
June is the beginning of the trekking season in the Karakoram Mountain range. Situated in the rain shadow of the Himalaya, this is the start of the dry season when daytime temperatures are just right for trekking. And what a trek this is! The route follows the mighty Biafo and Godwin-Austen glaciers and passes through Concordia, the aptly named 'Throne room of the Gods', before reaching the magnificent base camp of K2, one of the most impressive mountain locations in the world.
Our top challenges for 2019
As you enter January and look ahead to the coming months, it's the perfect time to set new challenges to improve mind, body and spirit. Whether you want to be fitter and healthier, step out your comfort zone, try something completely new or just have more fun there's no better way to broaden your horizons and achieve new goals than through travel. Here we give you our top 10 challenges to help discover a new you in 2019.
Trek the Lunana Snowman - the epic Himalayan trek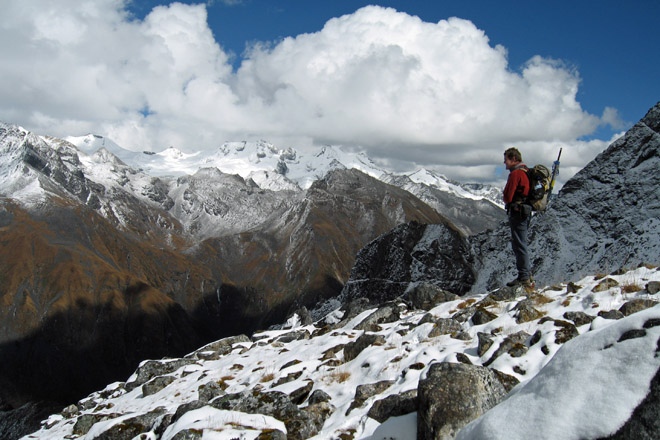 Lunana Trek. Image by N Sloman
This is a superb challenge for seasoned trekkers who want to push themselves to achieve something really special this year. The Lunana Snowman Trek in Bhutan is one of the most ambitious high mountain treks you can tackle. Over 28 days it takes you away from civilisation into the towering peaks of the Bhutanese Himalaya crossing 14 high passes and trekking through some of the most inaccessible settlements on Earth. You will have an experienced Mountain Kingdoms leader with you, plus a trek support crew so you'll be very well looked after, and, for that extra special challenge, we have introduced a new twist on the classic route, returning through some incredible, unexplored terrain.
Complete Lunana Snowman Trek, Bhutan

Reset your compass on a wellness holiday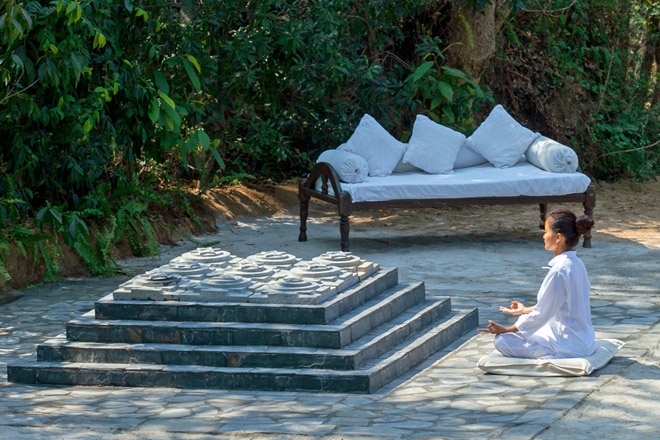 Meditation in Nepal
The rich spiritual heritage of Nepal and the tranquil beauty of the Himalaya provide the perfect environment for reinvigoration and reflection. You stay in stylish hotels and indulgent eco-resorts with an emphasis on relaxation and well-being providing the perfect base from which to try a range of wellness activities including yoga classes, meditation, holistic treatments and gentle walks amidst stunning mountain scenery. Complimented by delicious, healthy meals and some atmospheric cultural sights you will undoubtedly return full of peace, harmony and happiness.
New Walking & Wellness holiday, Nepal

Reach new heights – climb Kilimanjaro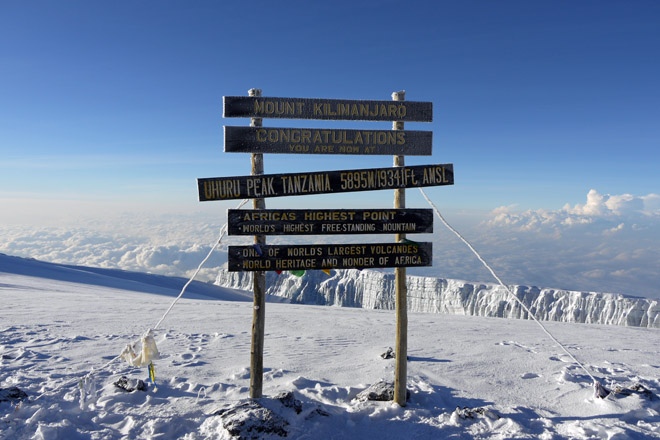 Kilimanjaro summit. Image by L Walker
Summiting a mountain isn't just for climbers or hardy mountaineers, especially if it's Kilimanjaro. The highest mountain in Africa, at almost 6,000m, it's a surprisingly attainable goal as long as you have the right preparation and good acclimatisation. More of a challenging trek than a climb, the path gradually ascends higher and higher until, on summit day, you reach the top in time for a stunning sunrise across the African plains below. We use the Lemosho route on our Kilimanjaro treks, this is the longest route, giving the best excellent acclimatization and maximizing your chance of summit success.
Kilimanjaro Summit, 5,895m/1,9304ft - Lemosho Route

Make new friends – spend time with the locals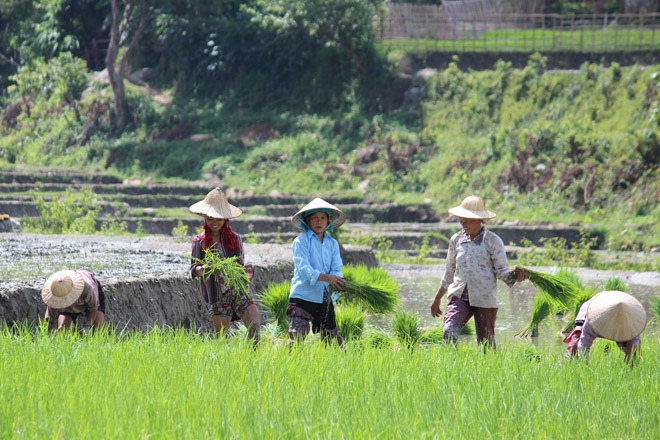 Picking rice, northern Vietnam
One of the great things about travel is the chance to broaden your social horizons and meet new people from incredibly diverse backgrounds. There's no better way to do this than to spend a night or two in a village homestay where you can share meals with the family, swap stories of your lives and gain a real insight into their culture. On our Hill Tribes of Northern Vietnam walking holiday you experience a night in the home of a member of the Red Dzao hill tribe, walk between remote villages and enjoy many enriching cultural encounters. In addition you'll tour the vibrant attractions of Hanoi and end with a two night cruise through the stunning islands of Ha Long Bay.
Complete the world's most iconic trek to Everest Base Camp

On top of the world
At the top of many a trekker's wishlist, the classic route to Everest Base Camp remains one of the great trekking challenges. Starting with a thrilling flight to the tiny mountain village of Lukla the trail to Everest ascends gradually from the fast-flowing waters of the Dudh Khosi River, through the lively Sherpa capital of Namche Bazaar, past the atmospheric monastery at Thyangboche and up into the stark, dramatic high mountains of the Khumbu. Following in the footsteps of so many legendary mountaineers it culminates at the foot of the world's highest mountain with the opportunity to ascend the small peak of Kala Pattar for mesmeric, panoramic views of Everest in her full glory. Stay in traditional Sherpa tea houses en route for the complete Everest trekking experience.
Immerse yourself in a different culture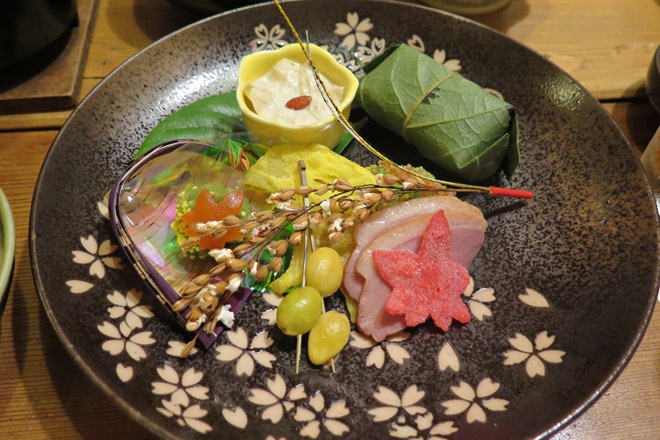 Delicious Japanese cuisine
There are few cultures that feel quite so different to our own as Japan's. It blends a 21st century love of technology with a profoundly spiritual and traditional culture, and juxtaposes high rise, neon lit cities with secluded, mountainous landscapes dotted with monasteries, temples and ancient trails. This world of contrasts, together with a language, cuisine and lifestyle so startlingly different from the west, makes Japan a fascinating place to visit. To experience authentic Japanese culture, take a trek along one of its pilgrimage trails staying in traditional minshuku and ryokan where you can enjoy hot baths and delicious local food.
See all of our holidays in Japan
Go wild!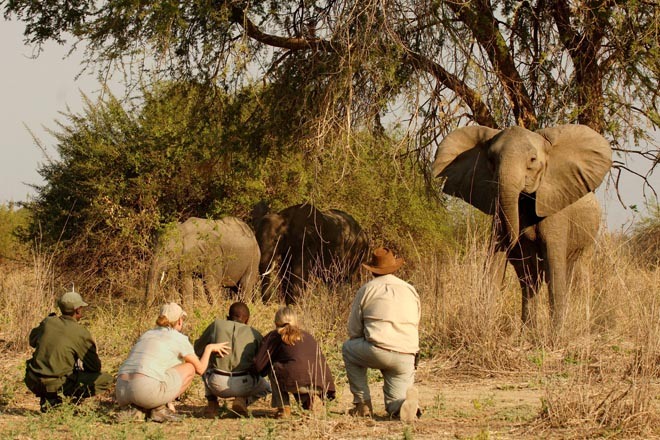 Wildlife encounters on a walking safari
If you're searching for new thrills this year then look no further than a walking safari. There's nothing more exhilarating than tracking big game through the bush and observing exotic wildlife at close quarters. Accompanied by highly experienced guides you walk between indulgent bush camps or spend nights under canvas in the wild. All our walking safaris combine time on foot with game drives and other safari activities for the complete safari experience. So, if you want to go wild in 2019 take a look at our comprehensive portfolio of African walking safaris in Zambia, Uganda, Malawi, Tanzania, Zimbabwe and South Africa.
Challenge yourself to a digital detox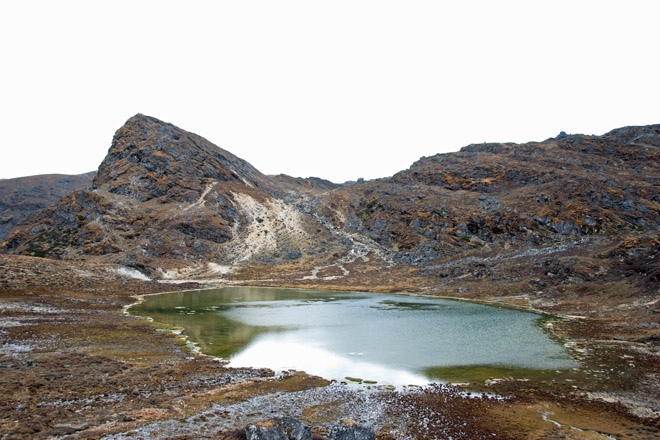 Sacred lake, Dagana trek, Bhutan. Image by G Church
If you want to escape from the constant intrusion of our digital world then you need to find true wilderness, and our Dagana Wilderness Trek in Bhutan offers just that. This pioneering trek enters an incredibly remote region of the country where very few westerners have ever visited and where you definitely won't find any phone masts or Wi-Fi. Not that you'll need any outside distractions as the stunning scenery, varied wildlife and local legends will keep you more than entertained during your seven days on trek.
Dagana Wilderness Trek, Bhutan

Travel to the ends of the earth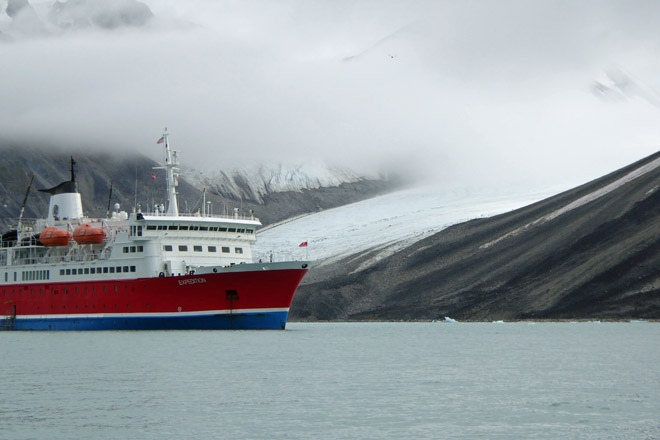 M/S Expedition polar cruise ship

Journey further this year than you ever have before on a polar cruise to the Arctic or Antarctic. Sail north into the Arctic waters around the Svalbard archipelago and you'll enter the wild and beautiful realm of the polar bear. Alternatively, cruise south and the 'great white continent' of Antarctica will be revealed in all its majesty with vast penguin colonies, spectacular snow clad mountains and towering icebergs carved by the elements. On all our polar cruises you will sail aboard the well-appointed M/S Expedition and enjoy regular shore landings for close-up encounters with the many natural wonders of these worlds of extremes.
Where to see the wildlife of David Attenborough's Dynasties
If, like us, you have been riveted, moved, and inspired by David Attenborough's extraordinary series, Dynasties, read on to find out where you can experience your own wildlife encounters with the rare and remarkable creatures featured in the series.
Chimpanzees in Africa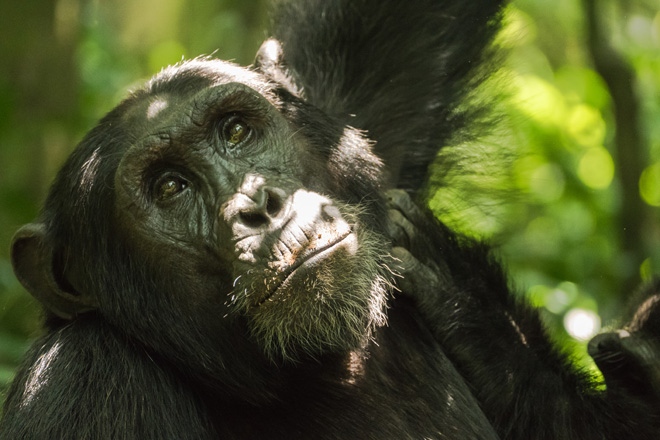 Chimpanzee in Kibale National Forest, Uganda
Dynasties began with the compelling tale of David, the alpha male leader of a troop of chimpanzees, who came increasingly under attack from the young pretenders to his crown.
Travel to Uganda on our Gorilla & Wildlife Walking Safari and you can track and observe a family of chimpanzees in Kibale Forest – although sadly only for a fleeting few hours rather than the two years the BBC crew spent following David and his troop. Plus, there's the added thrill of the chance to get close to gorillas in the wild in the Bwindi Impenetrable Forest – one of the last remaining homes of these incredible creatures anywhere in the world.
Download a detailed itinerary and views dates and prices of our Gorilla & Wildlife Walking Safari, Uganda

Penguins in Antarctica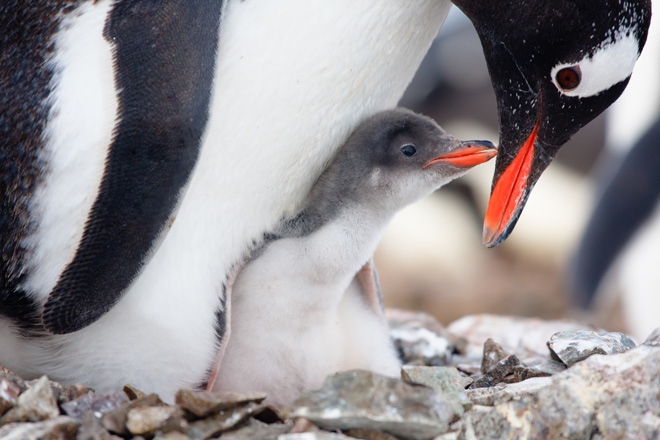 Penguin and chick, Antarctica
Episode 2 follows a colony of Emperor penguins as they try to keep themselves and their chicks alive through the brutal conditions of an Antarctic winter.
Our selection of polar cruises aboard the M/S Expedition polar cruise ship, take you deep into the ice-covered world of Antarctica, although you'll be there in the far more hospitable summer months. With regular shore landings you'll have the opportunity to step onto the ice and walk amidst vast colonies of penguins including Adelie, chinstrap and gentoo.
If you travel on our epic Spirit of Shackleton cruise which visits South Georgia and the Falkland Islands as well as the Antarctic Peninsula, you'll also have the chance to see the impressive giant king penguin and the distinctive macaroni penguin as they are only resident on the island of South Georgia.
For further information about all our Antarctic Cruises click here.
Lions in Africa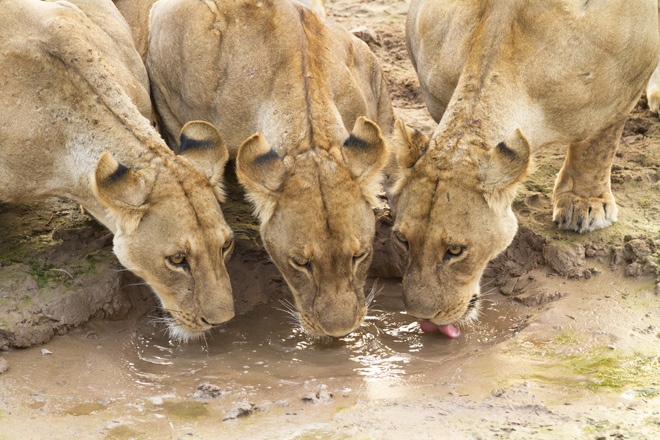 Lionesses drinking together, Luangwa National park
Following one of Africa's most famous prides of lions, this episode of Dynasties presents an extraordinary story of leadership as two lionesses feed and protect their young and fight for the survival of their pride against other animals and humans, on the plains of the Masai Mara.
The great wildlife parks of Africa are the best place to go if you want to see these magnificent beasts in their natural habitat. We offer several walking safaris that combine bush walks with jeep drives and provide excellent opportunities for viewing lions. Classic Luangwa Walking Safari in Style spends a week in wildlife rich Luangwa National park where big cats are abundant; and Eswatini, Kruger & Wild Pafuri Walking Safari visits Kruger National Park where around 1,500 lions still roam free.
The Painted Wolves of Mana Pools, Zimbabwe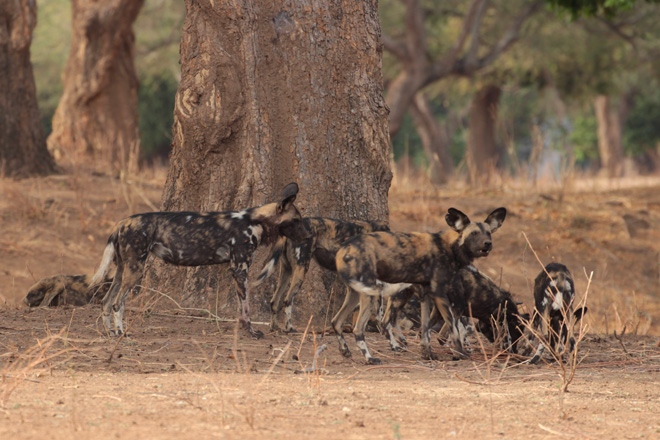 Painted wolves, Mana Pools National Park
One of the most brutal and heart rending episodes of Dynasties was filmed in Mana Pools National Park in Zimbabwe and followed the clash between two packs of painted wolves, led by mother and daughter, as they fought for territory and survival.
Not only are you likely to see painted wolves on a Mana Pools & Lake Kariba Walking Safari, but you may encounter the actual packs featured in Dynasties. Our Product Manager, Jude, was fortunate to have two such close-up encounters as she walked in Mana Pools.
Neighbouring Zambia is also home to painted wolves and these may be spotted on our Classic Luangwa Walking Safari in Style.
Tigers in India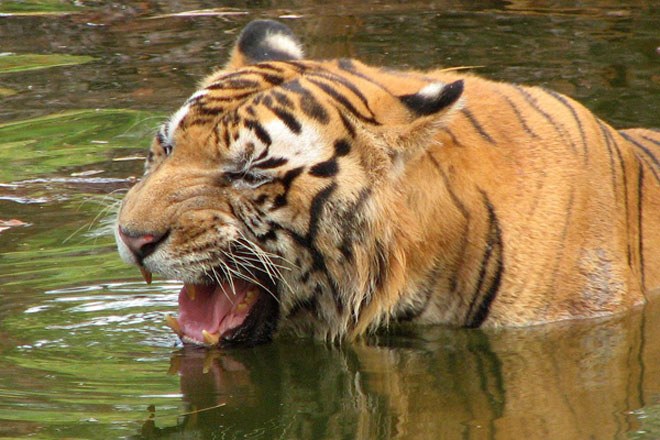 Tiger, Kaziranga National Park
The final episode of Dynasties features tigress Raj Bhera and her four adorable cubs whom she seeks to protect from rival tigers and to preserve their territory.
The tigers were filmed in Bandhavgarh Reserve - just one of several locations where you may see tigers in the wild in India. Another excellent place to view tigers is Kaziranga National Park on the banks of the Brahmaputra River in Assam. The park boasts over 100 tigers and you will enjoy jeep safaris to go in search of them on a Brahmaputra River Cruise. Even if you don't spot a tiger, the park is also home to the rare one-horned rhino plus numerous other birds and animals.
At the other end of India, in Kerala, you may also spot an elusive tiger in Bandipur National Park on our Spice Trails of Kerala & Southern India. Alternatively you can add an extension on to any of our India group holidays to visit Ranthambore or Corbett National Parks – two of India's premier destinations for seeing tigers in the wild (this is dependent on the time of year you are travelling).
Take a look at all of our holidays that have a wildlife focus or contact us if you'd like us to help plan your Tailor Made wildlife adventure of a lifetime.
Painted Wolves Factfile
The Nyakasanga Pack, Mana Pools National Park
Little known or understood, especially in comparison to the animal superstars of the African bush, painted wolves, or wild dogs, are finally gaining worldwide attention. No more so than this weekend when David Attenborough's highly acclaimed new series on BBC1 – Dynasties - follows two packs of painted wolves in Mana Pools National Park in Zimbabwe.
Our colleague, Jude, was fortunate enough to travel to Zimbabwe last month to try out the latest addition to our portfolio of walking safaris, Mana Pools & Lake Kariba Walking Safari, and was fortunate enough to encounter one of these packs as she walked through Mana Pools.
Here Jude shares some of the many fascinating facts she learned about these rare and striking animals.
Painted wolves are neither dog nor wolf but a distinct species, Lycaon Pictus.
There are only 6,500 painted wolves left in the world – around 200 of these live in Mana Pools National Park in the far north of Zimbabwe.
Every wolf has a unique coat pattern making individuals easy to spot – if you know what you're looking for!
They are Africa's most endangered predator. Humans are their greatest enemies and constitute the biggest threat to their survival, primarily through habitat fragmentation and hunting.
Painted wolves work use team work and stamina rather than stealth to hunt. They can run at up to 60km an hour for over 3km, making them incredibly effective predators. Some experts claim they have a success rate of up to 80% per hunt.
Even though they are Africa's most successful predators, there is apparently no record of a painted wolf ever attacking a human.
Unlike other pack animals, it is the females who head off to find a mate elsewhere, often travelling long distances, whilst the males remain in their home territory.
Painted wolves packs have a strict social hierarchy, headed up by the alpha female.Go girls!
When it comes to mealtimes any pups are usually fed first and meat is then shared amongst the whole pack, irrespective of status.
The pack will care for injured or elderly members, supporting and feeding them. Maybe we could learn a thing or two from their care in the community programme.
If watching Dynasties leaves you wanting your own close-up encounter with painted wolves then take a look at our new Mana Pools & Lake Kariba Walking Safari.
2017 Photo of the Year Competition
This year we have received a fantastic selection of images from your adventures around the world. Our five final photos perfectly reflect our range of travel experiences, from a traditional festival in Bhutan to a Polar cruise through Antarctica. It proved a challenge for us in the office to pick just five images from the fabulous array of photographs we received this year, however, we got there in the end, and as you can see, our final shortlist is very impressive!
We asked you to help us decide the winner and, after many weeks of voting, we are delighted to announce that the winner is Mr Harrison, with his fantastic photo of a Bagan river sunset in Burma. Many congratulations to Mr Harrison who wins £150 towards his next holiday booked with Mountain Kingdoms. Read our latest news post for more details on how Mr Harrison captured this stunning image.
Winner - Bagan river sunset by A Harrison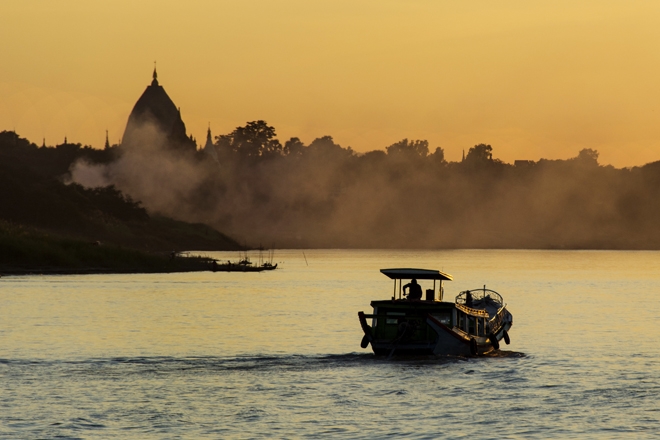 Bagan river sunset by A Harrison
Featured in this evocative image is the beautiful Bagan River in the heart of the ancient city of Bagan. The plains of Bagan are filed with vast numbers of temples, built over many centuries. This image was taken by Andi Harrison on a Mountain Kingdoms Tailor Made trip to Burma.
Dancer Barkhor Sqaure, Tibet by A Harrison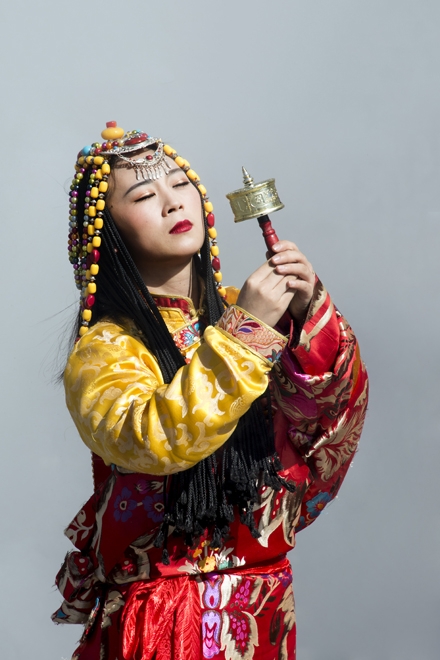 Dancer Barhkor Square, Tibet by A Harrison
This fabulously detailed portrait was taken by Andi Harrison on a Mountain Kingdoms Tailor Made itinerary to Tibet. The image was taken in Barkhor which is an area of narrow streets surrounding the Jokhang Temple in Lhasa. Tibet is the perfect place to visit for a culturally fascinating adventure.
Zodiac exploration, Antarctica by D Tyrrell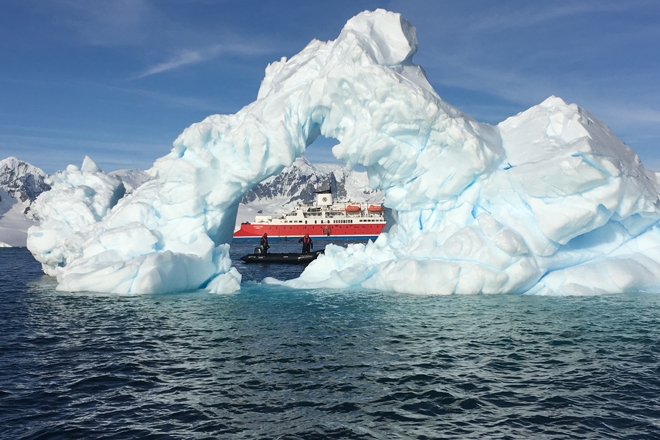 Zodiac exploration, Antarctica by D Tyrrell
This fantastic image was taken by David Tyrrell on the cool waters of Antarctica on our polar Antarctica Classic cruise .The cruise takes you on a magnificent journey through the frozen continent exploring the gorgeous land and seascapes of the Antarctic Peninsula and South Shetland Islands.
Bhutanese festival celebrations by J Leonard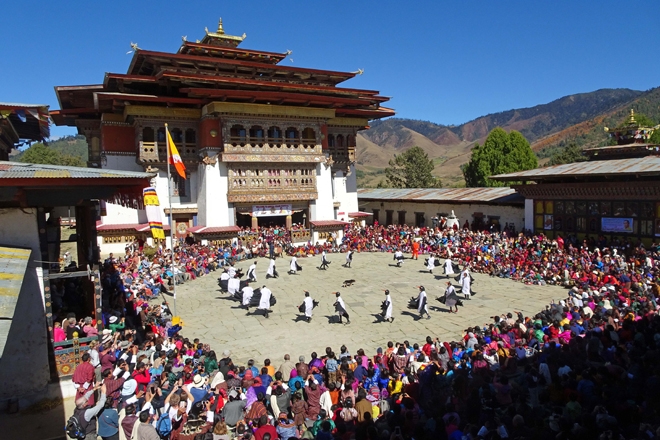 Bhutanese festival celebrations by J Leonard
The atmospheric image was taken during the Black-necked crane Festival, a traditional Bhutanese festival held in the autumn. It was taken by John Leonard, who was in the heart of the action on our Definitive Cultural Tour of Bhutan.
View from Annapurna Base Camp by G Smith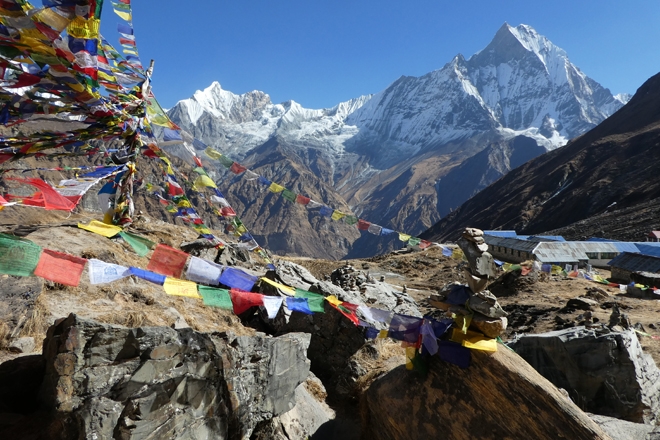 View from Annapurna Base Camp by G Smith
Taken on our Annapurna Base Camp in Style trek, this impressive image is by Graham Smith. It perfectly captures the stunning panoramic views experienced upon reaching Annapurna Base Camp – a very rewarding end to a challenging trek!
Everest 60th Anniversary Celebrations
DAY ONE - 16TH MAY 2013
*MK on trek to Everest: Five intrepid explorers will today depart the UK, on our Everest Base Camp Anniversary Trek. Their destination: Nepal's capital city, Kathmandu. In the lead up to the anniversary, we are going to be following their adventure as they make the journey to Base Camp.
*60 years ago: The 1953 British Mount Everest Expedition departed for Nepal on 12th February, on a ship bound for Bombay. Other members of the team flew to Nepal, including Edmund Hillary, who flew from New Zealand.
*Did you know? The world's highest mountain above sea level, Mount Everest was named in 1865, after Sir George Everest, the British Surveyor General of India. It's Nepalese name is Sagarmartha, and in Tibet it is called Chomolungma.
-------------------------------
DAY TWO - 17TH MAY 2013
*MK on trek to Everest: Today the group will arrive in Kathmandu, after their international flight. Maybe they will eat at the Rum Doodle Restaurant, where trekkers sign their name on a cutout of a foot, and stick it on the wall, to join the collection built over the last twenty years!
*60 years ago: When the Expedition party arrived in Kathmandu there were no hotels, so they were looked after by the British ambassador.
*Did you know? Apa Sherpa holds the record for the greatest number of ascents – he has reached the summit of Everest 21 times between 1990 and 2011.
-------------------------------
DAY THREE - 18TH MAY 2013
*MK on trek to Everest: Rather than rush off on trek, the group will have a day to relax after the international flight, and explore the bustling sights of Kathmandu, including the 'monkey temple' at Swayanbunath.
*60 years ago:The party, along with 350 porters, left Kathmandu on the 10th and 11th March.
*Did you know? Probably the most popular dish in the Everest region is Dal Bhaat, a thick lentil stew, served with rice or pappadom. It is a hearty and nutritious option when trekking, and each teahouse has a slightly different recipe. If you fancy making it at home, here's a recipe for you.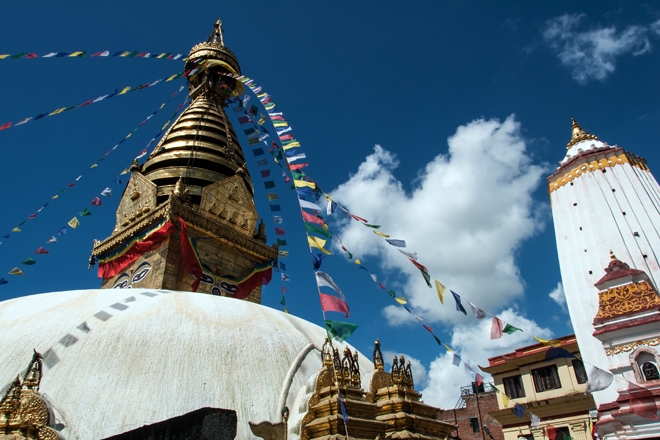 Kathmandu. Image courtesy of A Harrison
-------------------------------
DAY FOUR - 19TH MAY 2013
*MK on trek to Everest: The group will take the domestic flight to Lukla – which must be one of the most spectacular flights in the world! Upon arrival, the group will meet the Sherpa and trek crew and begin the trek, reaching the village of Monjo.
* 60 years ago: There are actually two base camps for Everest. South Base Camp is in Nepal and North Base Camp is in Tibet. The 1953 expedition climbed to the summit using the South Col route, so started in Nepal. These camps were established for climbing expeditions, but now have become trekking destinations themselves.
* Did you know? In 2010, thirteen year old American teenager, Jordan Romero, broke the record for the youngest person to reach the summit of Everest.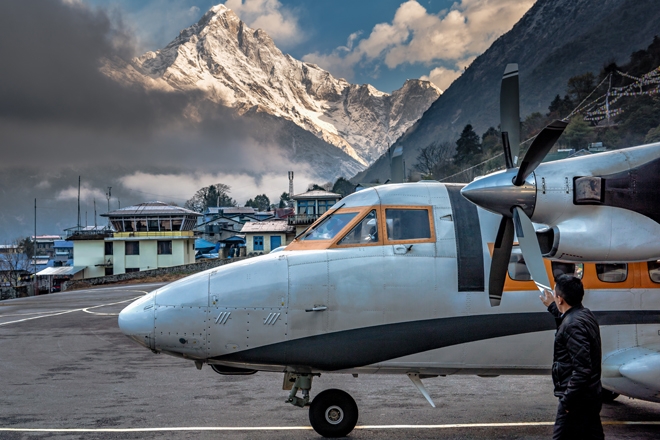 Lukla Airport
-------------------------------
DAY FIVE – 20TH MAY 2013
* MK on trek to Everest: today the group enter the Sagamartha National Park, and continue up to Namche Bazaar, the largest village in the Khumbu region.
*60 years ago: watch a slideshow of photos taken on the 1953 Summit Expedition on the BBC website, using photos from the Royal Geographical Society.
*Did you know? If you aren't feeling fit enough to tackle Everest in real life, you can recreate the ascent at home! Lego have created an interpretation of the Everest trek (in Lego), including the flight to Lukla, Base Camp, the Khumbu Icefall and the summit itself!
-------------------------------
DAY SIX – 21ST MAY 2013
* MK on trek to Everest: The group will have a free day at Namche Bazaar. This day is built in to aid acclimatisation, which is so important when trekking at altitude. Perhaps they will take a walk up to the Sagarmartha National Park Museum, browse Namche's shops, or take in the mountain views over a cup of hot lemon.
* 60 years ago: When Hillary and Tenzing made the successful ascent, a coded message was sent back to Namche Bazaar by runner, where the message was send by telegram to the British Embassy in Kathmandu. Today, technology has improved – now there is broadband internet at Base Camp!
* Did you know that yaks are used to transport goods in the Everest region, including your trek gear? MK client, Hermione Roff, was inspired to write a book on her trek in Nepal. Her comical tale of two yaks on trek in Nepal, Nak & Yak, is aimed at children aged 3-7 years, and is beautifully illustrated. You can purchase a copy from our office for £8, including postage. £5 from every book sale goes to the Nepali Children's Trust. See http://www.nepalichildrenstrust.com for more information on the trust, which was set up in 2005 by another MK client, Fran McGowan. Registered charity number 1111279.
Namche Bazaar after dark. Image courtesy of R Walls
-------------------------------
DAY SEVEN – 22ND MAY 2013
* MK on trek to Everest: Today the trail leads to the village of Thame. This is where Tenzing Norgay lived for many years.
* Did you know? Mountain Kingdoms and its MD, Steve Berry, have lots of connections to Everest. Did you know that Mountain Kingdoms and Jagged Globe used to be the same company, Himalayan Kingdoms? In 1993, Himalayan Kingdoms ran an Everest Summit Expedition, putting 16 people on the summit, including Himalayan Kingdoms co-founder, Steve Bell, climber Ginette Harrison and MK trek leader, Gary Pfisterer.
-------------------------------
DAY EIGHT – 23RD MAY 2013
* MK on trek to Everest: The group will continue their trek to the village of Khunde, perhaps visiting Thame Monastery before they head off.
* 60 years ago: Some of the 'luxury' food that the expedition team ate for breakfast whilst on the mountain included; sardines on biscuits, tinned pineapples and pears, salami and biscuits and honey. Our Everest Base Camp Trek group are more likely to have something warming such as eggs, porridge and toast with jam for their breakfast.
* Did you know?Graham Hoyland, is a self-shooting producer and director of adventure films. He has worked on all seven continents for the BBC, Discovery, Travel Channel and NBC, from the shores of Antarctica to the peaks of the Himalayas, and he was the 15th Briton to climb Mount Everest.
We asked Graham how he felt when he reached the summit:
"I can't remember much. Now it all seems a sort of vivid dream: bright sunlight, a tearing wind, a long flag of ice particles flying downwind of us. A vast drop of two miles into Tibet. We could see across a hundred miles of tightly packed peaks, and we could see the curvature of the earth. Contorted faces shouting soundlessly, lips blue with oxygen starvation. Doctors prove with blood samples that climbers are in the process of dying up there on the summit, but I would say that is where I started to live. As I stumbled down the mountain one thought kept recurring to me. If I, a very average climber, could stand on this summit, how could the legendary George Mallory have failed to do so?"
-------------------------------
DAY NINE – 24TH MAY 2013
* MK on trek to Everest: We've heard news from Tom Whipple, Times Reporter, who is travelling on our Anniversary Trek: "We are at Thyangboche Monastery. The prayer flags are fluttering beside us, the last of the snows are clinging on below us, Everest is towering above us – and Barbara launched a successful mission to find an apple strudel at the German bakery in the village." They also had an encounter with a hairy shrunken Yeti head.
Thyangboche is the location of the main monastery in the Khumbu region. Here, every autumn from the October full moon, Thyangboche Monastery is home to the Mani Rimdu Festival. Lamas (monks) wearing cockaded hats blow Tibetan horns and 'Black Hat' dancers twirl, dispelling evil demons. The three day festival is a celebration of Buddhism, and Sherpa people trek from miles around to attend.
We have spaces available on two of our departures which attend the colourful festival. See Everest Base Camp & Gokyo trek and Luxury Lodges of Everest trek for details.
* 60 years ago: The Expedition party reached Thyangboche on the 26th and 27th March. They used the time between 27th March and the 17th April to acclimatise to the altitude.
* Did you know? Oldest person to summit – In 2008, Min Bahadur Serchan broke the record for the oldest person to reach the summit – at 76 years old.
-------------------------------
DAY TEN – 25TH MAY 2013
* MK on trek to Everest: Today the group will reach Dingboche. This village is set in a stunning position, surrounded by high peaks. Our Anniversary Trek is led by Nima Sherpa - an Everest Summiteer. You can read about how he felt when he reached the summit on our blog.

* 60 years ago: On the 12th April, the 'Icefall party' reached Base Camp and routes through the Khumbu Icefall were planned. Porters then carried tons of equipment up to Base Camp.

* Did you know? Pemba Dorje Sherpa holds the record for the fastest ascent via the southeast ridge (South Col), reaching the summit in just 8 hours and 10 minutes.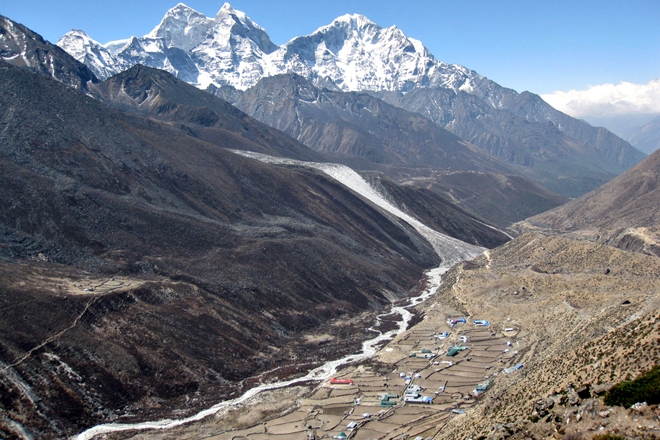 Dingboche
-------------------------------
DAY ELEVEN – 26TH MAY 2013
* MK on trek to Everest: The Anniversary Trek group will spend the day at Dingboche (4,350m/14,268ft). This extra day will help the group to acclimatise, ready for their push to Everest Base Camp at (5,300m/17,384ft).

* 60 years ago: On the 26th May, Tom Bourdillon and Charles Evans, the first of the two climbing pairs selected by their leader, John Hunt, set out for the summit. They successfully achieved the first ascent of the 8,750 m (28,700 ft) South Summit, coming within 100 m (300 ft) of the final summit, but were forced to turn back after becoming exhausted, defeated by oxygen equipment problems and lack of time.

* Did you know: British mountaineer, Kenton Cool, has set a new world record this year - he climbed, along with his climbing partner, Dorje Gylgen, the three peaks of the Western Cym. This amazing feat was acheived over just three days, starting with Mt Nuptse (7,861m), then Mt Everest (8,848m) and finally Mt Lhotse (8,516m). Click here to read Tom Whipple's article as featured in the Times.
-------------------------------
DAY TWELVE – 27TH MAY 2013
* MK on trek to Everest: The group will follow the Everest trail, over the rocky moraine at the end of the Khumbu glacier, and on to the hamlet of Lobuche. The terrain is wild and rocky here, with a feeling of being high up in the mountains!
* 60 years ago: George Band, one of the 1953 Expedition party, trekked with our MD, Steve, in 2000. On their trek to the Nanda Devi Inner Sanctuary the two shared tales of their adventures in the Himalaya. Tom Stubbart, the cameraman for the 1953 team, climbed Mount Nun Kun with Steve's father in 1946.
* Did you know? Fastest descent - The first person to paraglide from the summit of Everest was Jean-Marc Boivin. The record was made in 1988, taking Jean-Marc 11 minutes to reach Camp II from the summit.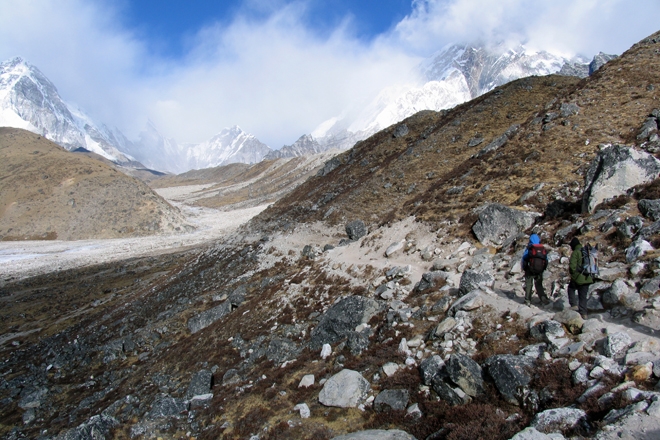 Heading on to Lobuche. Image courtesy of A Parsons.
-------------------------------
DAY THIRTEEN – 28TH MAY 2013
* MK on trek to Everest: Today the group will reach their goal of Everest Base Camp! Although there are no views of the actual summit of Everest, there are sensational close-up views of the intimidating Khumbu ice-fall and the surrounding scenery of ice seracs and tumbled rocks. As it is the climbing season, the Base Camp will be busy with mountaineering teams, preparing for/returning from their summit attempts.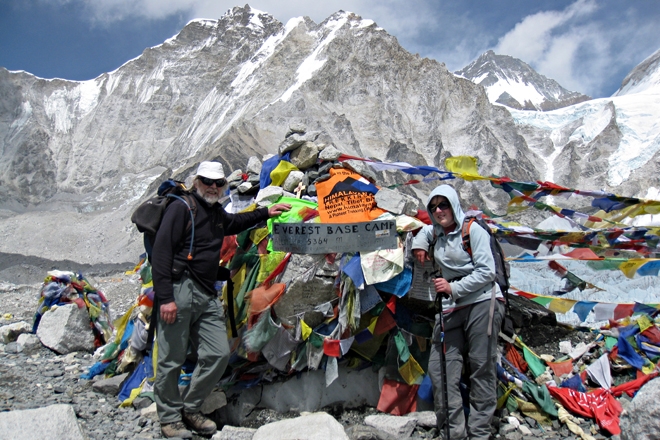 Steve and Katie Berry at Everest Base Camp.

* See more photos of the Everest region: Here's a photo of our MD, Steve, at Base Camp. Take a look at our facebook albums – Everest Base Camp Trek, Everest Anniversary Trek and Ama Dablam Base Camp, for more images of the Everest region.

* 60 years ago: The 1953 Everest Expedition required about 350 porters to carry equipment up to Base Camp, and twenty Sherpa guides to assist with the climb. After the expedition, Sir Edmund Hillary founded the Himalayan Trust, to provide health and education for people in the Everest region.
'To many western eyes, the Everest Region is a place of great beauty and high mountains to be climbed. For the Sherpas and other Nepalese who live there however, life has few privileges. Medicine and education are scarce, bridges and paths are often destroyed and forests upon which they depend are rapidly being depleted. Despite these hardships they are the most warm-hearted people I know. Any help you can provide will be important and gratefully received.' Sir Edmund Hillary.

Mountain Kingdoms and our generous clients have been supporting the Himalayan Trust for over twenty years. To make a donation please visit their website.
Times journalist, Tom Whipple, travelled with Mountain Kingdoms to Everest Base Camp. Read his article about Kanza Sherpa, who was part of the 1953 expedition team, and another article about Elizabeth Hawley, who complies Everest records on her website www.himalayandatabase.com
-------------------------------
DAY FOURTEEN – 29TH MAY
This time 60 years ago, Sir Edmund Hillary and Tenzing Norgay, reached the summit of Everest. Limited by their oxygen sources, their stay on the summit was a short one, lasting just fifteen minutes. Sherpa Tenzing made offerings of sweets and biscuits to the Buddhist gods as thanks for their safe passage.Their monumental achievement has inspired generations of explorers to conquer the highest peaks, not only in the Himalayas but worldwide.
The news took several days to reach the public, being first published in the Times newspaper. To celebrate this event, the Times sent one of their reporters, Tom Whipple, on Mountain Kingdoms Base Camp trek. You can read his Times front cover story here (spread across 3 pages one, two, three)
Click here to see our full range of Everest Base Camp Treks.
What are the top 10 things to see in Bhutan?
We've been taking travellers to Bhutan for 30 years on treks, tours and Tailor Made holidays, and we've accumulated a lot of knowledge about this enigmatic Himalayan kingdom. One of the questions we most often get asked is what are the must see sights of Bhutan? So, here's our top 10 guide to the unmissable cultural and scenic attractions of the Thunder Dragon Kingdom.
Taktsang Monastery - the Tiger's Nest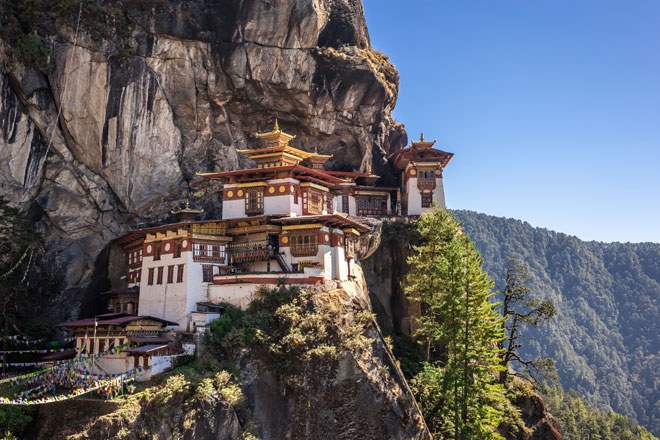 Taktsang Monastery
Perched dramatically on a cliff above the Paro Valley, Taktsang Monastery is undoubtedly Bhutan's premier attraction and has genuine wow factor. Legend has it that Guru Padma Sambhava, flew from Tibet on the back of a tiger and landed where the temple now stands but visitors can reach it by more conventional means – on a steep, climb up from the valley floor. The effort is rewarded with great views of the red, white and gold monastery, bedecked with colourful prayer flags.
A Bhutanese Festival (tsechu)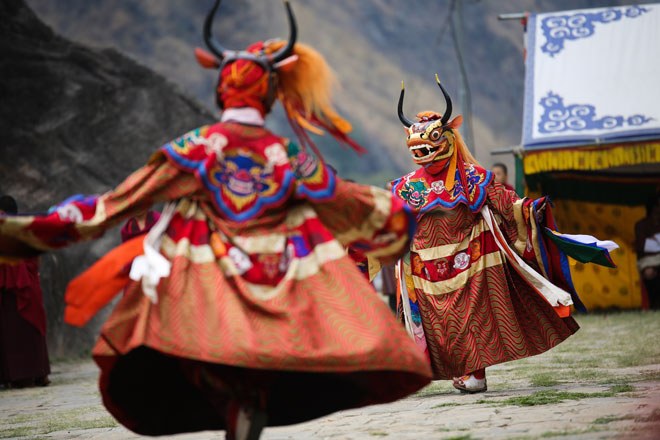 Masked dancers at a tsechu
The Bhutanese people just love a festival, and numerous large and small tsechus are held throughout the country each year. Two of the most important are Paro Tsechu in the spring and Thimphu in the autumn, both of which attract large crowds of locals and visitors alike. Festivals are a vibrant spectacle of colour, costume, music and dance that serve as both sacred and social celebrations for the Bhutanese.
The Dochu La Pass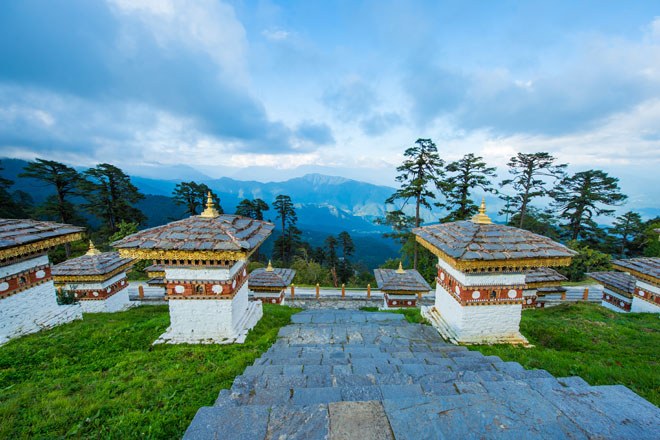 Chortens on the Dochu La
On the high road between Thimphu and Punakha is one of Bhutan's most scenic viewpoints, the Dochu La Pass. Marked by 108 memorial chortens, the 10,000ft high pass offers fabulous, panoramic views (on a clear day) of the mountains of the eastern Himalaya including Gangkar Punsum – Bhutan's highest peak at 7,550m/24,770ft.
.Punakha Dzong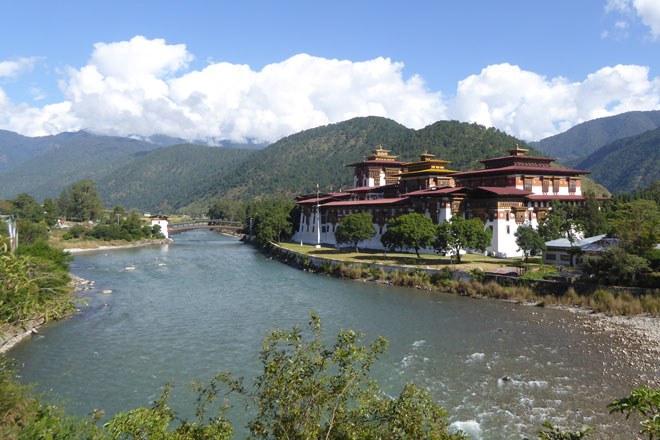 Picturesque Punakha Dzong
In a land of many dzongs (fortress/monasteries) Punakha is one of the most significant and spectacular. Situated at the confluence of two rivers, its steep white walls topped with red and gold roofs and embellished with ornately carved wooden windows give it a marvellous photogenic quality. Inside, the dzong is a stunning showcase for Bhutanese craftsmanship and contains many important artifacts and religious treasures.
Thimphu town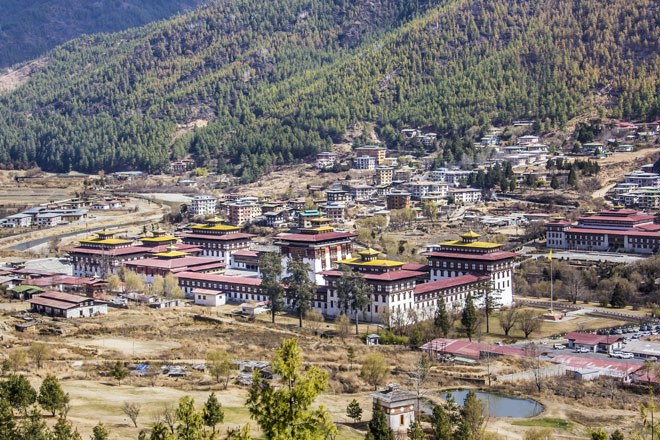 Thimphu dzong and town
The capital of Bhutan, Thimphu has many attractions to entertain and educate visitors including a textile museum where you can see intricate, hand-woven cloth being produced; a fascinating riverside market full of local produce and wares and an impressive dzong which is the official residence of the King of Bhutan. Thimphu is also a great place to pick up a souvenir.
The Haa Valley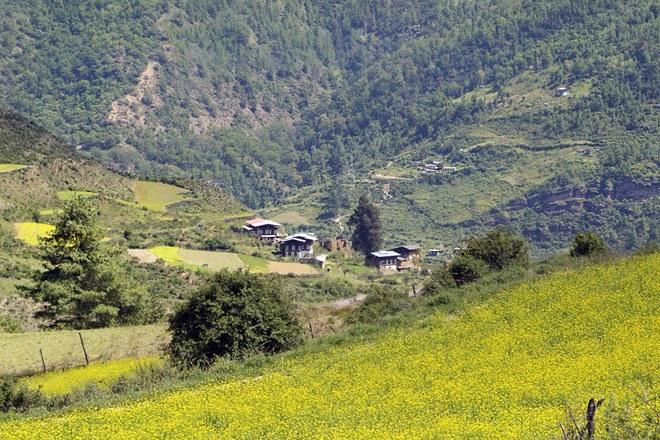 Verdant Haa Valley
Cross the Cheli La Pass to the southwest of Paro and you will enter the beautiful Haa Valley. Far away from the main tourist trails, it's a peaceful, verdant valley that reveals a way of life little changed by the modern world. Along with some lovely walks in the delightful countryside, the Haa Valley has villages, temples, a dzong and an old town to explore.
Bumthang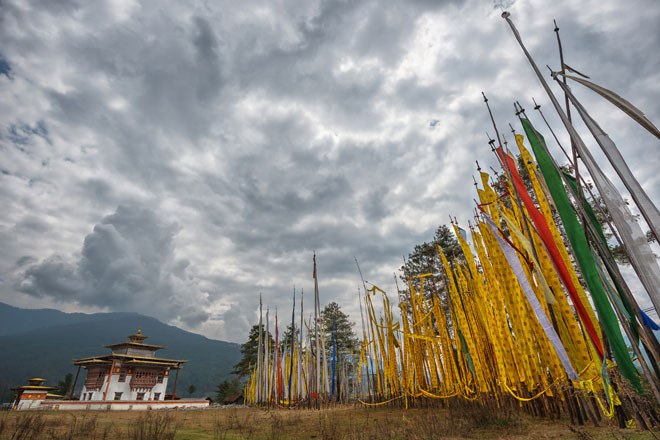 Prayer flags and monastery in the Bumthang Valley
Known as the spiritual and cultural heart of Bhutan, the Bumthang region actually comprises four fertile valleys and is home to several of the country's oldest and most atmospheric temples and monasteries. 7th century Jambay Lakhang, Jakar dzong – the castle of the white bird – and Kurje Lakhang are all high on the must see list, whilst Jakar town is a great place to see traditional handicrafts in action.
An archery competition

Archery celebrations
Archery is Bhutan's national sport and is always a very entertaining spectacle for the visitor. Unlike our rather quiet, sedate version of the sport Bhutanese archery involves much good natured banter between opposing teams and spectators as well as celebratory drinking, singing and dancing. If you want to see the local people at play then you should really include watching a game of archery on any visit to Bhutan.
Paro Dzong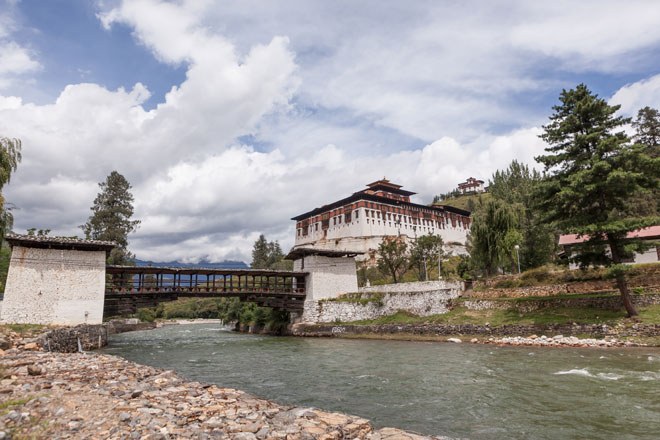 Wooden bridge beneath Paro Dzong
Built on a steep hillside, the imposing whitewashed walls of the Dzong are visible throughout the Paro valley and evidence its important defensive, strategic and political role in the kingdom. It's also one of the finest examples of Bhutanese architecture you will see. Home to the Paro Tsechu in the spring it also has one of Bhutan's most photographed sights with its traditional wooden, covered bridge.
Black-necked cranes in the Gantey Valley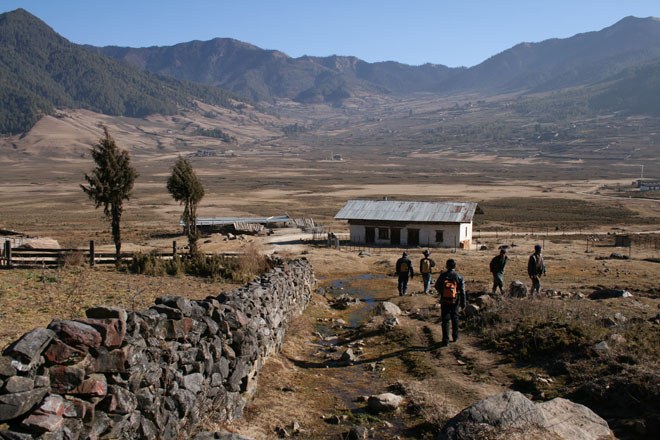 Gantey Valley
Gantey, or Phobjika as the area is also called, is an unspoilt, wide glacial valley that is famed primarily for the Black-necked cranes that overwinter there. They arrive in late October and stay until early spring before flying back to Siberia. Revered in local culture there is even a festival held in their honour each winter. The Gantey Valley is also a great place to enjoy a walk and stay in a village homestay for a real insight into traditional Bhutanese life.
So that's our guide to the Top 10 things to do in Bhutan and you can see all of these must-see sights on our Bhutan treks, cultural tours and walking holidays. Next time, we'll tell you our Top 10 things to do in Bhutan.
View our full range of holidays in Bhutan or contact our travel experts to discuss a Tailor Made trip to Bhutan.
What are the top 10 things to do in Bhutan?
Whether you're planning on spending a week or a month in Bhutan you'll not be short of things to do. It may be small, but the Thunder Dragon Kingdom, is packed with no end of possibilities whether you want to tour the cultural sights, explore the towns, discover the countryside or head to the Himalaya on an adventurous trek. Here's our guide to the top 10 things to do in Bhutan – but we could have made it a top 100!
Hike to Taktsang Monastery (the Tiger's Nest)

The Tiger's Nest
For every first time visitor a walk to the entrance of fabled Tiger's Nest Monastery should be top of their must do list. Impressive enough when viewed from the valley floor, the close-up views of gravity defying Taktsang are even more spectacular and endlessly photogenic. It takes around three hours to reach the entrance but there is a handily placed tea house with great views en route to break the steep climb. Alternatively, you can approach the Monastery from above on a little used trail known as the Bumdra Trek (see 'Take a short trek' below).
Enjoy a gentle walk in the valleys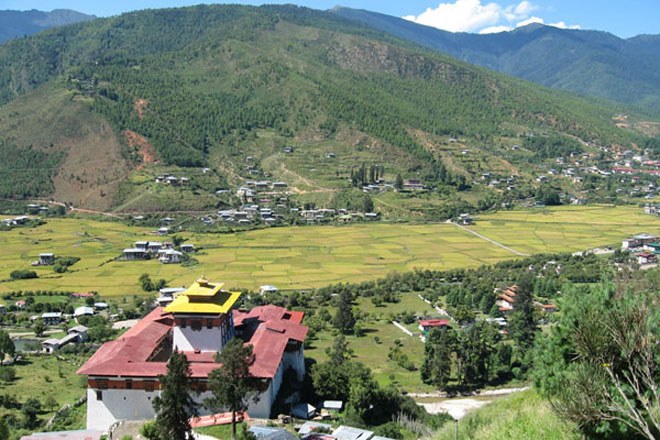 Views along the Paro Valley
Wide, verdant valleys carved by glacial action, are one of the most beautiful hallmarks of the Bhutanese landscape. Haa, Paro, Punakha and Gantey are amongst the most accessible and all offer the opportunity for some delightfully gentle walking all year round. Valley walks will reveal village life, characteristic chalet-style houses, fertile terraces and fields, interesting flora and fauna and many fascinating chortens and small monasteries. You will be welcomed with a wave and smile by the friendly locals and maybe even offered a potent glass of homebrewed ara. You have been warned! We offer two gentle walking holidays in Bhutan that include ample time to explore the valleys and countryside as well as visiting the key cultural sights and attending a festival - Gentle Walking Bhutan and Thunder Dragon Trails in Style.
Search for a yeti

Yeti tracks near Gangkar Punsum
If you thought that the yeti was just a mythical best then you really should visit Bhutan. Many locals living in the remote, mountainous north tell tales of yeti sightings (or Migoi as it is called in Bhutan) and there's even an official yeti reserve in eastern Bhutan. Although rather camera shy, you'll know there's a yeti nearby as they're said to smell horrible, whistle loudly and walk backwards! Our MD, Steve Berry, is one of the UK's foremost yeti hunters and has seen large, unexplained footprints in the snow whilst trekking near Gangkar Punsum on several occasions – take a look at the evidence here! You too can search for a yeti on our Gangkar Punsum Approach Trek or in the little visited far east of the country on our Rodang La Trek.
Visit a dzong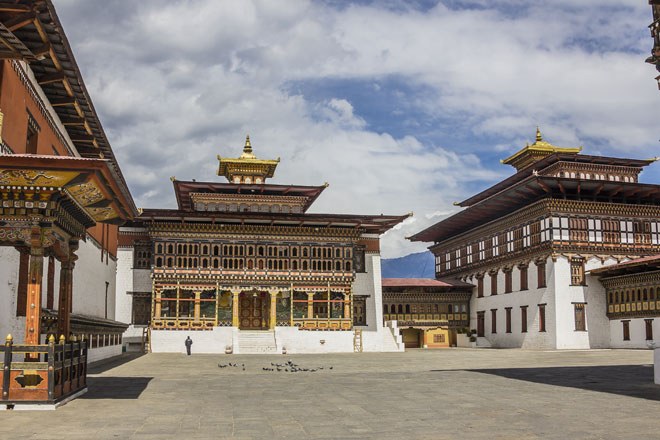 The main courtyard of Thimphu Dzong
A combination of fortress, monastery and administrative centre, dzongs are a unique feature of Bhutan and a visit to at least one dzong should be high on anyone's list of things to do in the Thunder Dragon Kingdom. Architecturally distinct they often dominate the skyline with their towering whitewashed walls, intricately carved windows and facades and ornate ochre and gold roofs. The massive walls and wooden doors surround courtyards and complexes of offices, accommodation and temples that often hold important religious and historic artefacts. Amongst the most renowned dzongs are those in Paro and Thimphu as well as the beautiful riverside dzong at Punakha.
Trek in the high Himalaya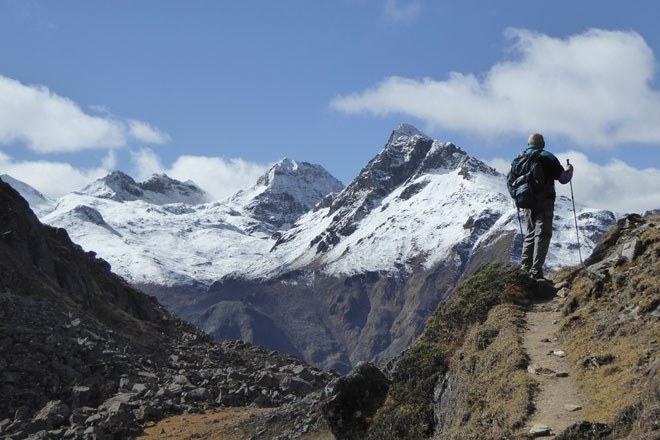 En route to Gangkar Punsum
Along the northern border of Bhutan lie the Himalaya with mountains rising to over 7,500m tall. Gangkar Punsum, Chomolhari and Jichu Drake are just some of Bhutan's most celebrated peaks and it's possible to trek in the shadow of these on several superb trekking routes. If you only have a couple of weeks to spare, the base camp of Mount Chomolhari is a very achievable objective with a superb return via the beautiful Bonte la pass. If you have three weeks leave to use then you can trek all the way to the remote and culturally distinct villages of Lingshi Laya or, if you can find five weeks then the epic Lunana Snowman Trek should be right at the top of your trekking wish list.
Dress up in a Gho or a kira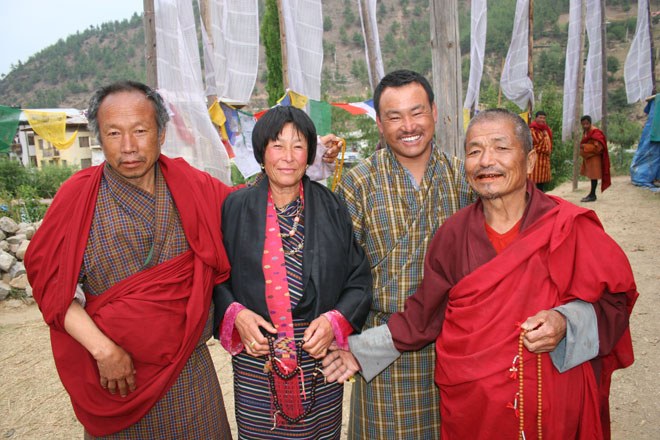 All dressed up
Wherever you go in Bhutan you'll see the locals wearing their distinctive national dress - a gho for the men or a kia for the ladies. By law, all men who work in a government office or school must wear a gho as well as on formal occasions. Often made from intricate, handwoven fabrics to traditional patterns, a gho or kia make a great souvenir to bring home from your travels. The artisan textile shops of Thimphu are amongst the best places to find ghos and kias to try on or buy, and a visit to the excellent National Textile Museum will show you the fabrics being made using age old techniques.
Dance at a festival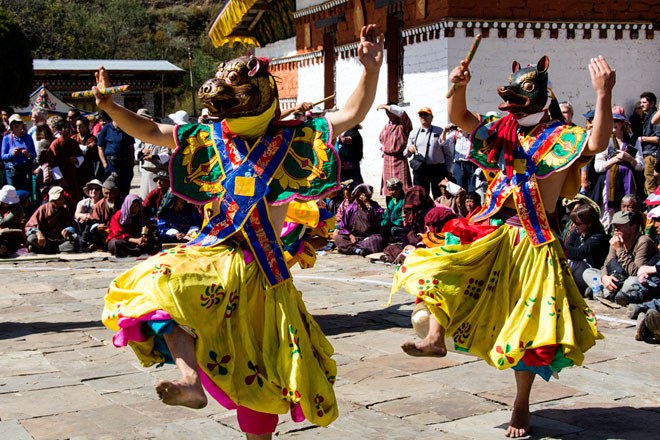 Stag dancers by A Harrison
If you treat yourself to a stylish gho or kia, there's no better place to show it off then a Bhutanese Festival (or tsechu). These joyful occasions are full of dancing, music and socialising and you can even gain spiritual cleansing by watching the colourful masked dances that enact Buddhist stories and legends. The two most significant festivals are the Paro and Thimphu tsechus which attract vast crowds of locals and tourists. For a more intimate experience, visit one of the smaller village or community festivals such as Tangbi Mani or Trongsa Tsechu.
Take a short trek

On the Druk Path Trek
You don't have to go into the high Himalaya to enjoy a trekking holiday in Bhutan. In fact you can spend as little as one night under canvas on the Hidden Valleys of Bhutan Trek which will take you far from the tourist trail and into the hills. This trek climbs from the valley floor at Paro to reach a scenic campsite beneath a monastery before taking a lesser-trodden path to Taktsang Monastery. Journalist Martin Symington undertook a similar trek with Mountain Kingdoms in 2016 and you can read all about his experience in this Wanderlust magazine article. The Paro Valley is also the starting point for the Druk Path trek which takes an ancient mountain trail to Thimphu over five days. You can then continue trekking for a further four days to Punakha to complete the Chorten Path trek.
Try some local delicacies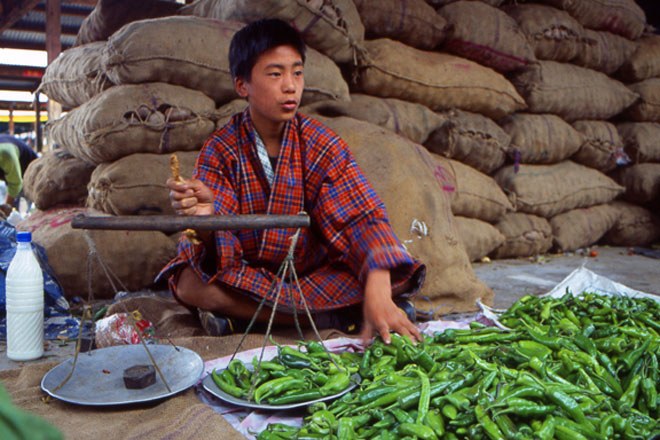 Chilli seller at Thimphu market
Ema datsi – a curiously spicy mix of chilli and cheese – is the national dish of Bhutan. The locals love it but beware the power of the chillies which can be rather hot! If the heat proves too much for you try washing it down with a glass of locally brewed ara – a potent, fermented 'rice wine'. Other popular foods in Bhutan include momos – dumplings filled with minced meat or vegetables, phakshaa paa – pork and red chilli stew, and healthy red rice grown for centuries in the Paro Valley. Thimphu market is a great place to visit if you want to discover some of Bhutan's more unusual produce.
Stay in a homestay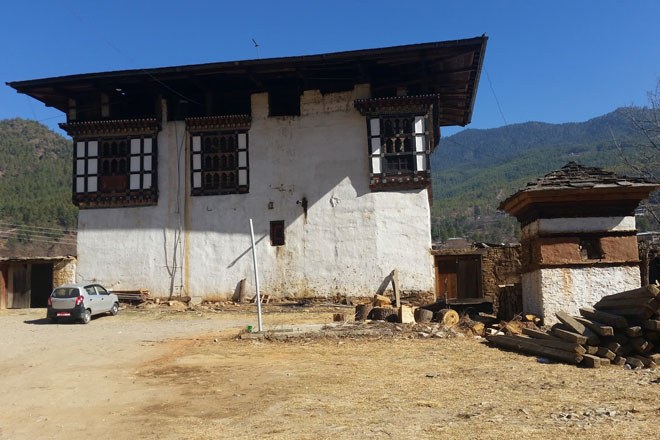 Homestay in the Gantey Valley
Bhutan has an impressive array of hotel accommodation from comfortable, characterful lodges to elegant, luxury resorts. But to really gain an insight into the people, traditions and beliefs of this enigmatic kingdom, spend a night or two in a village homestay. Increasingly, Bhutanese families are opening up their homes and farms and sharing their lives with curious visitors. You will be able to eat meals with your host family, play games with the children and maybe even enjoy a cookery lesson or a game of archery. Homestays can be included in a Tailor Made holiday or added as an extension to a group trip.
If you'd love to discover the Thunder Dragon Kingdom for yourself, take a look at our group treks, tours and walking holidays in Bhutan. Or visit our Tailor Made holidays to Bhutan for more ideas and suggested itineraries.
Top travel destinations for 2018
Find inspiration within our selection of popular travel destinations for 2018.
1. Nepal
A journey to Nepal will be one you will never forget. Considered to be one of the most exciting Himalayan nations, Nepal has plenty to offer the keen traveller, from fascinating culture, to spectacular mountains. Discover the picturesque high mountains of the Everest region, the beautiful scenery of the Annapurnas or, if you prefer an even more remote experience, visit the mysterious desert landscapes of Mustang in Wild Nepal.
View our trips to Nepal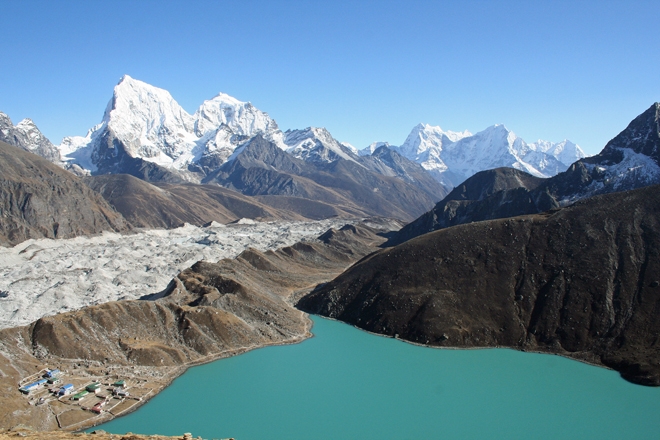 Everest and Gokyo Lakes. Image by G McGeorge
2. Bhutan
The small yet majestic Kingdom of Bhutan is situated in a more remote part of the eastern Himalaya, with an abundance of historical culture including iconic monasteries and colourful festivals. If you are seeking a more energetic experience, Bhutan offers both walking and trekking for different physical levels, ranging from gentle walks through hidden valleys with visits to atmospheric temples, to a unique exploration of the region around Bhutan's highest mountain, Gangkar Punsum. Without doubt, Bhutan is the perfect location for an unforgettable Himalayan adventure.
View our trips to Bhutan
Taktsang Monastery. Image by N Sloman
3. Burma

Burma and the lives of its people have seemingly remained immersed in ancient ways, beliefs and traditions, little touched by modern-day western customs and values.Burma has many highlights to offer the curious traveller including, Mandalay – the cultural heart of the country, Bagan – an immense plain filled with exquisitely crafted temples and monuments; and the picture-perfect region of Inle Lake, where floating villages are home to fishermen and farmers.Explore these attractions on foot, by embarking on a relaxing river cruise, or for a different perspective, cycle through this fascinating part of the world.
View our trips to Burma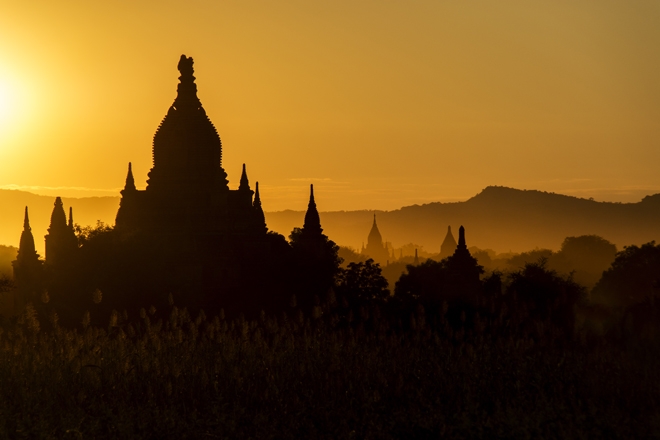 Bagan Sunset. Image by A Harrison
4. Italy

With its diverse and stunning regions, Italy boasts an abundance of superb scenery for walkers to enjoy. Combined with a wealth of historical interest, delicious food and almost guaranteed sunshine, Italy is the perfect place to escape to. Enjoy walking amidst the dramatic landscape of the stark, yet beautiful rock formations of the Dolomites, or take in the spectacular views and cosmopolitan coastal towns of the gorgeous Amalfi coast. If you would prefer a more relaxed break, visit the UNESCO protected Aeolian Islands, a little piece of volcanic paradise with breathtaking views of Mount Etna.
View our trips to Italy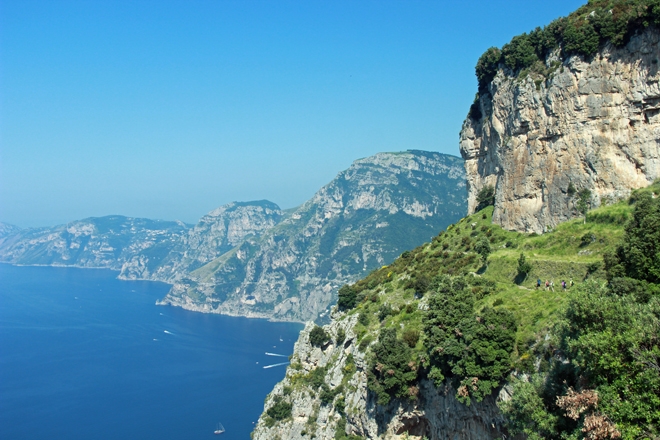 Path of the Gods
5. Japan

Japan is an exciting mix of old and new, blending 21st century technology with a deeply spiritual and traditional culture.With mountain ranges covering around 80% of Japan's islands, the mountains and countryside are sparsely populated; home only to small and remote villages.These areas offer walking and trekking opportunities along historic, ancient trails, really giving you a 'behind the scenes' insight into the traditional spirituality of this amazing country.In contrast to this, a visit to Japan would not be complete without spending some time in high-tech, contemporary Tokyo or Kyoto, making any holiday in Japan absorbing, intriguing and utterly enjoyable.
View our trips to Japan
Kinkakuji golden pavilion, Kyoto. Image by A Tierney
6. India

India is an incredibly diverse country with so much to offer. Immerse yourself in India's vibrant culture with a visit to bustling, urban Delhi, or in contrast, take a relaxing cruise along the tranquil backwaters of Kerala in southern India. Aside from the impressive scenic and cultural diversity, India is rightly renowned for its wonderful wildlife, including majestic tigers and the rare One-horned rhino which can be seen in the Kaziranga National Park.If you're seeking more adventure, why not journey to the snow-capped peaks of the Indian Himalaya for some epic trekking, or explore the dramatic deserts of Rajasthan.
View our trips to India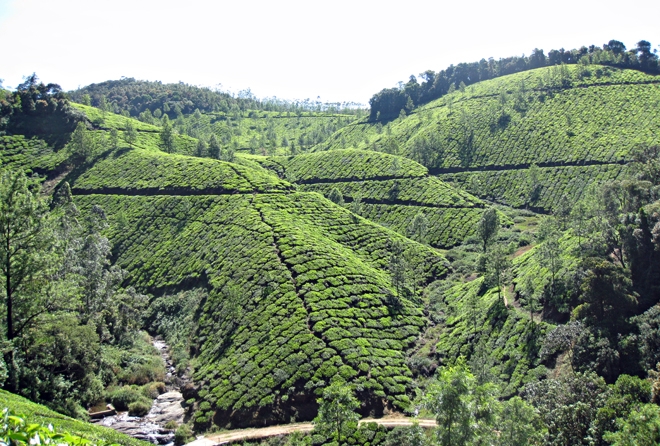 Tea estate, Munnar
7. Sri Lanka

The stunning shores of Sri Lanka have been attracting travellers for centuries, captivated by the island's natural wonders and extensive cultural heritage. Despite being a small island, Sri Lanka has incredible diversity: tranquil white-sand beaches, mangrove lagoons, mysterious mist-swathed hill country and rainforest abundant with wildlife. Sri Lanka's most noteworthy cultural and natural sights include: the spectacular ancient ruined cities of Mihintale, Anuradhapura and Polonnaruwa, the charming northern town of Jaffna, the rock fortress of Sigiriya and the amazing cave temples in Dambulla. Sri Lanka's diverse wildlife can best be enjoyed at Yala, its premier National Park, whilst Blue whales are often sighted off its coastal waters.
View our trips to Sri Lanka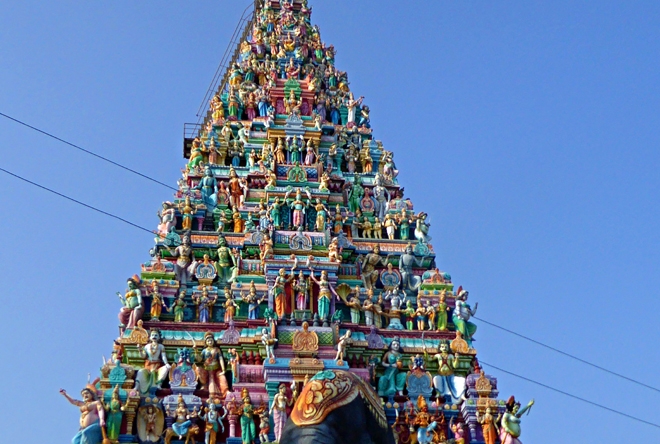 Naga Pooshani Ambal kovil hindu temple, Nainativu Island
8. Peru

This superb country not only offers picturesque scenery and fantastic walking opportunities, but also has a distinctive culture and fascinating history. Everywhere you will see reminders of the country's rich past, from Spanish Colonial churches, to Quechan villages to Inca ruins, with those at Machu Picchu being the most iconic of all.Superb walking options include Peru's famous Inca Trail, one of the most popular trekking trails in the world, whilst In the north of Peru, the mountain town of Huaraz provides a gateway to the high summits of the Cordillera Blanca, including Pisco Peak – a high altitude trekking peak challenge for the keen adventurer.
View our trips to Peru
Machu Picchu
9. USA

The western states of the USA are home to an plethora of stunning National Parks filled with some of the most breathtaking and iconic scenery in the world.Utah in particular has many natural wonders including the intricately carved, multi-coloured rock spires or 'hoodoos' of Bryce Canyon, the vast, carved landscapes of Canyonlands and the towering red rock faces of Zion National Park.This striking scenery overflows into the neighbouring state or Arizona where the unlimited depths of the Grand Canyon and its unparalleled beauty, form the landscape of the most celebrated park in the region.
View our trips to the USA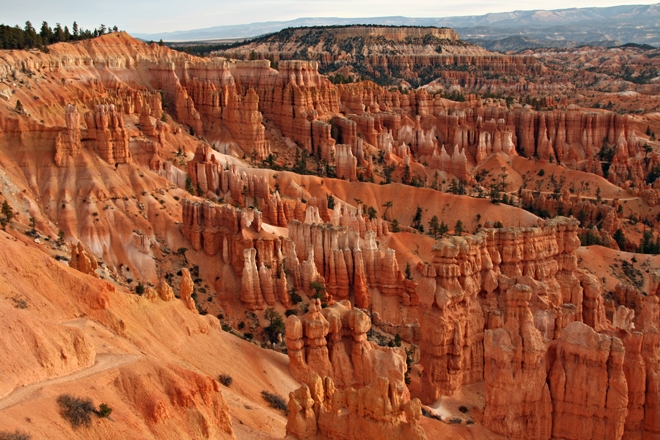 Bryce Canyon. Image by A Parsons
10. Vietnam
From top to bottom, Vietnam is a sensory overload with its compelling natural beauty, charming people, captivating history and wonderful cuisine.Whether you choose to explore the vibrant life of downtown Hanoi, see the characterful architecture of the port of Hoi An, enjoy the transcendent beauty of Ha Long Bay, cruise along the peaceful waters of the Mekong river or mix with the friendly locals sharing their delicious local cuisine – your trip to this beautiful country will leave you with amazing and long lasting memories.
View our trips to Vietnam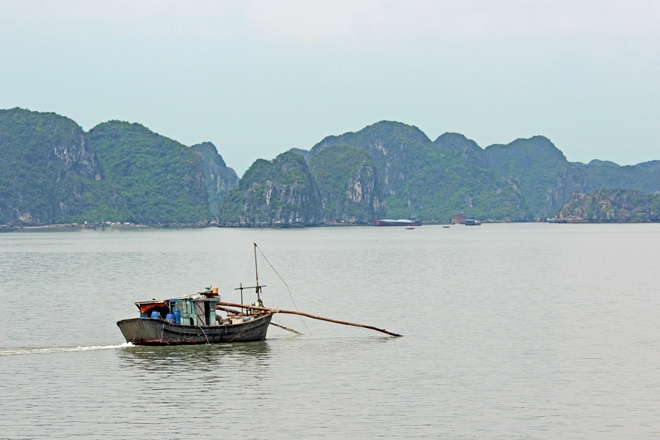 Ha Long Bay
Trekking Guide to Wild Nepal
Step away from the more popular trekking regions of Everest and the Annapurnas, onto the enticing trails of Wild Nepal, and you may find that you have the path all to yourself. From sculpted desert landscapes, to crystal blue lakes and from remote mountain monasteries to rarely visited villages there is a fascinating and rewarding world of delights to discover for the committed trekker. Here's our guide to the key trekking regions within Wild Nepal.
Mustang & Dolpo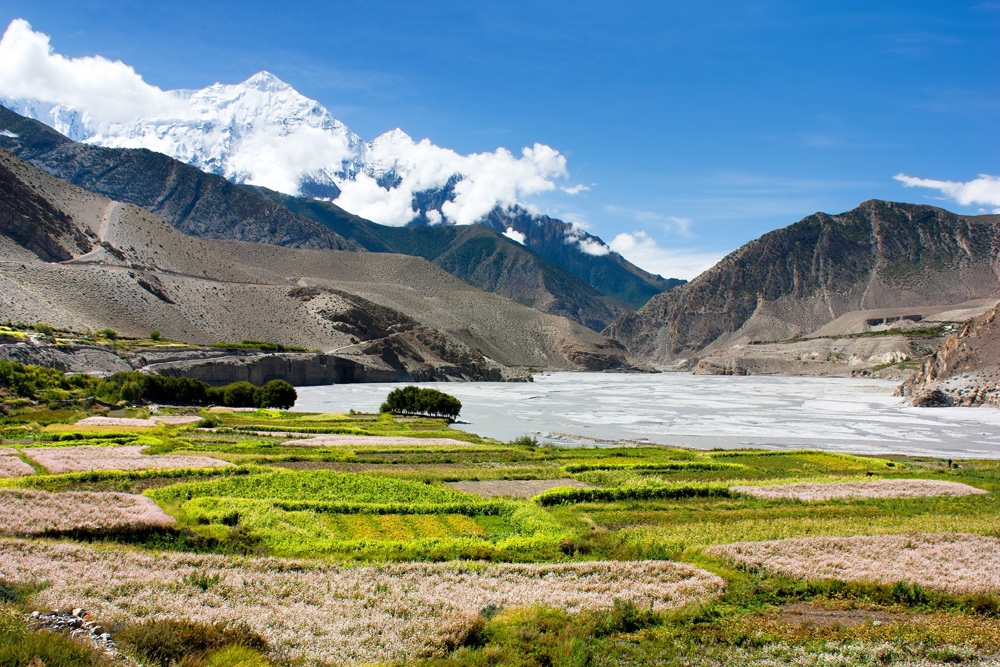 The village of Kagbeni in Mustang
Mustang and Dolpo offer an alternative Nepal that is wild, remote and little-changed over hundreds of years. Isolated from the outside world for centuries the local people have retained their unique cultural identity and the area is often considered more Tibetan than Tibet. The landscape is also very distinctive, evoking images of high desert scenery, abandoned cave dwellings, ancient Tibetan monasteries and, of course, the elusive snow leopard. It's also a region where, unusually for Nepal, you can trek in the summer months.
Where is it?
Mustang lies directly north of the Annapurnas, abutting the border with Tibet whilst Dolpo is further west. The two are linked by a challenging trek across high passes.
How to get there
To reach either Dolpo or Mustang from Kathmandu you need to take two flights. For Dolpo you first fly to Nepalganj, close to the Indian border, before taking a 45 minute flight to Juphal. For treks in Mustang a flight to Pokhara is followed by a very short one to Jomsom.
When to go
The summer and early autumn is the time to trek in Dolpo or Mustang. This is because the region lays in the rain shadow of the Himalaya so does not receive the monsoon rains the affect much of the rest of the Himalaya.
The mountains of the region
This is a very high altitude desert region without the iconic peaks of other trekking regions in Nepal. However, Dhaulagiri, at 8,167m, lies just south of Mustang and its towering summit often dominates the skyline when trekking in the area.
The people of the region
Restricted access and the extreme isolation of Mustang and Dolpo has done much to preserve and protect the uniquely Tibetan culture, language and traditions of the region. Nearly all the people are Tibetan Buddhists and their beliefs and practices permeate all aspects of their lives - best witnessed in festivals such as the Tiji Festival held annually in Lo Manthang, the ancient capital of Mustang. The way of life of the local people has changed little over the centuries and is largely based around farming and agriculture with houses still often built of mud brick.
Treks in Mustang and Dolpo
An amazing trek that takes you on an unforgettable journey to the capital of Mustang, Lo Manthang. As you trek through this remote region, you will be surrounded by awe-inspiring scenery such as towering cliffs, peppered with intriguing cave dwellings and desert landscapes stretching for miles, all complete with a backdrop of the impressive snow-capped Himalaya. After completing your trek to Lo Manthang, you will return to Nepal's culturally diverse capital, Kathmandu, with plenty of time to explore.
This exciting trek discovers some of the most remote corners of the Kingdom of Mustang.Trekking along sections of the western side of the Kali Gandaki valley, you reach the square-walled city of Lo Manthang. From here, you journey further into this mysterious kingdom, exploring its spectacular scenery and fascinating history. Your trek then takes you south, through an even more isolated part of the region, before returning to bustling Kathmandu, with plenty of time to soak up the atmosphere.
Ganesh Himal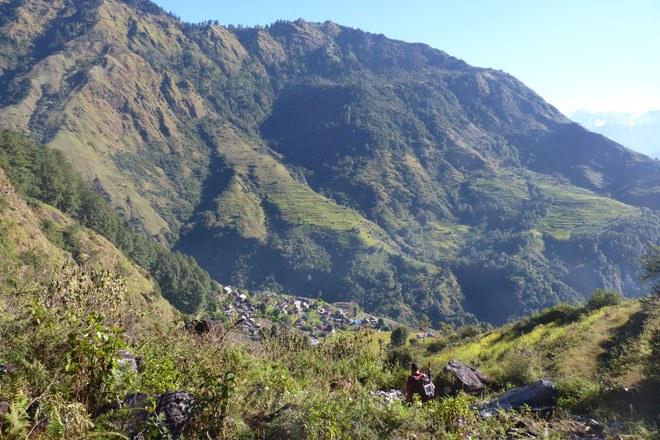 For a region so close to Kathmandu, with such a wealth of high peaks and gorgeous scenery, it is amazing that it has remained so off-the-beaten-track. In fact, it's likely that you won't meet any other trekkers or tourists whilst walking in the area. This wonderful sense of isolation, together with strikingly deep valleys, stunning mountain views and a network of paths between picturesque villages, make this a delightful region for trekking.
Where it is
The Ganesh Himal range is in northern central Nepal, only 70km from Kathmandu. At its most northerly point the range extends to the Tibetan border.
How to get there
This is an easily accessible region from Kathmandu – only a 4-5 hour drive to reach the old town of Arughat.
When to go
As with much of Nepal, the spring and autumn present the best time of the year to trek in the Ganesh Himal.
The mountains of the Ganesh Himal
The highest peak in the range is Ganesh I, 7,422m (also known as Yangra) and there are three other peaks over 7,000m plus fourteen over 6,000m. The name of the range comes from the elephant-headed Hindu deity and it is believed that the south face of Ganesh IV resembles an elephant.
The people of the region
The villages in the Ganesh Himal are an interesting ethnic mix of Gurung and Tamang people and you will encounter both Hindu and Buddhist traditions. Many of the Gurung men have served with the Gurkhas and their pensions bring much needed income into the region. The Tamangs are almost pure Tibetan having migrated from Tibet centuries ago. Many people in the region eke out a subsistence living from their small hillside farms where very traditional farming methods are still practiced.
Trekking in the Ganesh Himal
This trekking gem crosses the region from east to west with the high point of the trek the Pangsang La pass from where there are wonderful panoramas of the Nepalese Himalaya. The trails lead through villages surrounded by verdant terraces and a couple of days are spent trekking in indigenous forests with beautiful old trees.
Kangchenjunga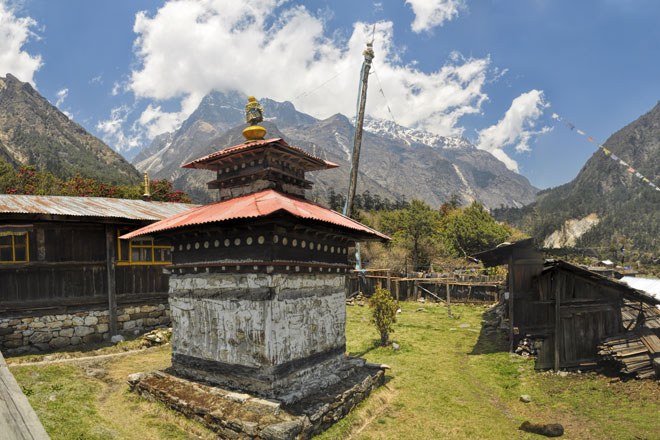 A chorten on the trail to Kangchenjunga
Sparsely populated and surrounded by some of the highest peaks in the world, trekking in the Kangchenjunga region is an immersive and exhilarating experience. With access to the area having been restricted until 1988 the trails are invitingly pristine and the flora and fauna fantastically rich and diverse. This is truly a wild and wonderful place where trekking is still a great adventure.
Where it is
Kangchenjunga is located in the very far east of Nepal on the border with Sikkim in India.
How to get there
To trek in the Kangchenjunga Himal you need to get to Taplejung which sits southwest of the mighty mountain. This is normally done by flying from Kathmandu or, on an overnight car drive from Kathmandu via Phidim.
When to go
Autumn is the premium trekking time for Kangchenjunga – particularly the month of October.
The mountains of the region
Until 1849, Kangchenjunga was thought to be the world's highest mountain, but today's accepted height of 8,586m ranks it third, after Everest and K2. It was first climbed in 1955 by Joe Brown and George Band. Kangchenjunga itself comprises a main peak plus 4 satellites – all over 8,000m. Indeed the name Kangchenjunga means Five Treasures of Snow and it is considered sacred by the people of Darjeeling and Sikkim. Along with Kangchenjunga, the himal comprises 16 summits over 7,000m as well as a host of peaks over 6,000m.
Trekking in the Kangchenjunga himal
Kangchenjunga North & South Base Camps
This trek has two splendid objectives in the expedition base camps of Kangchenjunga. Starting with the trek to the southern one first the trail then strikes out across the Mirgin La and the Sinion La to the thrilling finale at Pangpema – the northern base camp. Breathtaking views provide ample reward for the rigours of trekking up to 5,000m.
Manaslu
En route to the Upper Valley, Manaslu Circuit, by S Moralee
At 8,163m, Manaslu is the eighth highest peak in the world and has enticed climbers and trekkers to its environs for many years with its distinctive, beautiful summit. And it's a region that doesn't disappoint due to the sublime Himalayan scenery, diverse wildlife and welcoming villages and tea houses. A circuit of Manaslu is still considered one of the great treks of the world.
Where to find it
Manaslu is located in west central Nepal between the Ganesh Himal to the east and the Annapurnas to the west.
How to get there
A six hour drive from Kathmandu takes you to the riverside town of Arughat Bazaar at the foot of the Buri Bandaki valley.
When to go
Typically for Nepal, the spring and summer months, pre and post monsoon, are the perfect time for trekking around Manaslu.
The mountains of the region
Manaslu is of course the main attraction of the region although there are many other peaks in the himal over 7,000m including Himalchuli, Ngadi Chuli and Shringi. Manaslu was first climbed in 1956 by a Japanese expedition team. The region has been designated at the Manaslu Conservation Area and is home to numerous species of rare mammals and birds such as Golden Eagle, pandas and bears.
The people of the region
There are several ethnic groups living in the Manaslu region: the Gurungs,the Nubri and the Tsum. Divided geographically, the Tsum valley has remained more isolated and therefore its people have retained more of their Tibetan cultural traditions. Additionally, Gurungs can be found in the central hills and they are the main ethnic group to have joined the army as Gurkha soldiers.
Trekking in the Manaslu region
This world renowned trek provides a more remote alternative to the neighbouring circuit of the Annapurnas and it has equally spectacular scenery, big mountain views and fantastic trekking. There is strong cultural interest throughout and a 5,000m pass to cross in the Larkya La. There's also a tremendous sense of achievement to be gained in completing a circuit of one of the ten highest mountains on the planet.
Langtang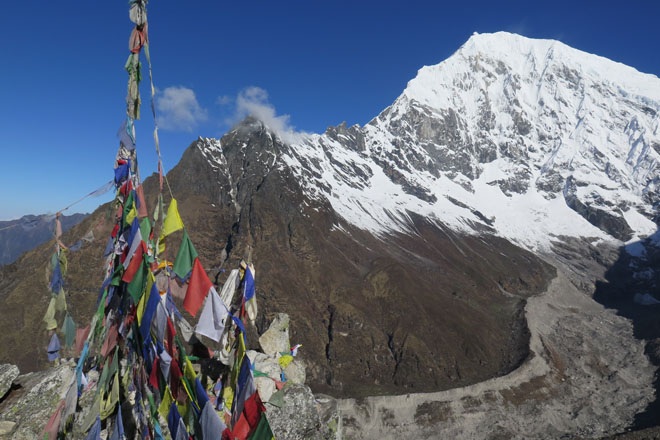 Similar to Ganesh Himal, the Langtang Valley is another trekking region within a short day's drive of Kathmandu. As no special permits are required to trek here (just an entry fee for the park), and altitudes on the trails are relatively low by Himalayan trekking standards, it is a very accessible option, making it an excellent alternative to the popular regions of Everest and the Annapurnas. The beautiful Langtang Valley was designated as Nepal's first national park in 1971 and although severely affected by the 2015 earthquake, it is now fully open for business and keen to welcome trekkers to its trails. Langtang can be sub-divided into three trekking areas: the Langtang Valley, Helambu and the Gosainkund Lakes, all of which have their own distinctive characteristics.
Where to find it
The Langtang National Park, embraces the Langtang Himal mountain range and is situated between the Kathmandu Valley and the Tibetan border.
How to get there
There are no flights into the Langtang region so you need to drive there. A journey of around 170km, taking between 6-8 hours, will get you to the town of Sybaru Besi which is the starting point for treks into the Langtang Valley.
When to go
Spring or autumn are the prime seasons to trek in Langtang. The region is particularly renowned for its colourful displays of rhododendron in the springtime especially on the trek up into the high Langtang Valley, whilst in the autumn larch trees in the forests at lower altitudes provide attractive autumnal shades.
The mountains of the region
As with most regions of Nepal, Langtang is blessed with a plethora of soaring, snow-clad Himalayan peaks. There are two over 7,000m: Langtang Lirung and Langtang Ri, and 11 in total over 6,000m. Although the mountains of the Langtang Himal are not so well known they nonetheless provide stunning panoramas particularly when trekking at the higher elevations of the Langtang Valley and the Gosainkund Lakes.
The people of the region
Helambu, in the south of the Langtang region, is of particular cultural interest. The tribal people of Upper Helambu call themselves Yolmo rather than Sherpas. Similar to the Sherpa people of the Khumbu (Everest region) they arrived in the region from Tibet in the 15th century. The Yolmo though have their own written script and language which is quite different to other Sherpas.
Trekking in the Langtang Region
This trek fully encompasses the varied landscapes, breathtaking views and distinct cultures of Langtang. Starting from Sybaru Besi, you first head into the high Langtang Valley along forested trails, before emerging above the tree line to reach Kyanjin Gompa at almost 4,000m. Here there are truly stunning vistas of the Langtang Himal. Next comes the rugged beauty of the sacred Gosainkund Lakes before crossing the Laurebina La, bedecked with prayer flags, and heading down into the Helambu Valley with its rich cultural heritage.
Read our Trekking Guide to the Everest Region.
Read our Trekking Guide to the Annapurna Region.
Trekking Guide to the Annapurna Region
Annapurna is a Sanskrit name meaning Goddess of the Harvests which aptly reflects the beautiful, verdant valleys and fertile terraced fields of this glorious trekking region of Nepal. With a variety of walking trails from gentle paths through the foothills to classic high mountain treks, the Annapurnas are justifiably one of the most popular and stunning trekking regions anywhere in the world.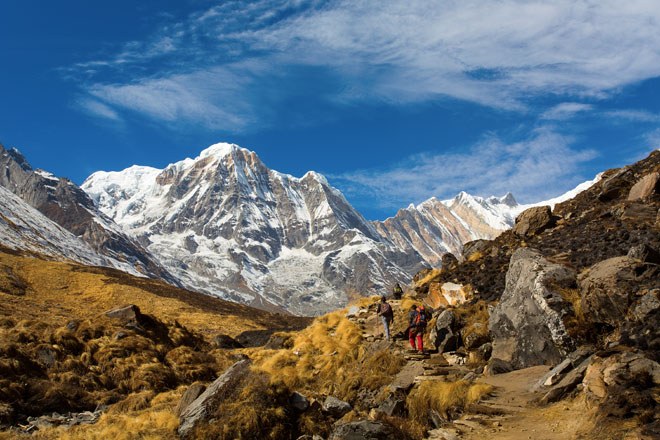 Trekking to Annapurna Base Camp
Where is it?
The Annapurna Massif is located in north-central Nepal roughly 200km to the west of Kathmandu.
How to get there
You can either fly or drive from Kathmandu to Pokhara. The drive takes about 6 hours whilst the flight time is only about half an hour. Pokhara is the gateway town for treks in the regions but is also a lovely, laid-back place to spend a day or two.
When to go
Spring and autumn are the main seasons for trekking in the Annapurnas – from late March to the end of April and October to the end of November. Although trekking in the foothills is possible as early as February and as late as Christmas.
The mountains of the Annapurnas
Annapurna I, 8,091m, is the highest peak in the massif and is the tenth highest mountain in the world. It is also the only peak over 8,000m in the Annapurnas although there are thirteen peaks over 7,000m and sixteen more over 6,000m. One of the most notable mountains in the Annapurnas range is sacred Machhapuchare due to its beautiful 'fishtail' shaped summit. The entire massif and surrounding area are protected within the 7,629 square kilometres (2,946 sq mi) Annapurna Conservation Area, the first and largest conservation area in Nepal.
The people of the Annapurnas
The foothills of the Annapurnas are the heartlands of the Gurkhas, celebrated for their brave military service. It is still considered an honour for young men in the Annapurnas to be selected to join the British military whilst many others join the Indian Army. When their service is finished a lot of ex-soldiers retire back to their village homes and are greatly revered by their family and communities.
The majority of the local people however are farmers due to the fertile nature of the region. Walking paths in the lower foothills and valleys of the Annapurnas often pass through terraced fields and farming communities where traditional methods are still in use.
Treks in the Annapurnas
Gentle Trekking & Luxury Lodges, Annapurna Foothills
A superb trek through a verdant rural landscape, between a group of high quality lodges set against a backdrop of some of the highest and most beautiful mountains in the Himalaya.
With its relatively low altitude and short duration, a trek into the breathtaking mountain amphitheatre of the Sanctuary is the perfect first Himalayan trekking experience. This classic trek stays in tea houses but we also offer Annapurna Base Camp in Style, that uses the best lodges en route.
Namun La, Annapurna Wilderness Trek
In the heart of the Annapurna mountains, close to the Annapurna Circuit, this little-known route offers the same breathtaking landscapes but with the added bonus of few other trekkers.
This epic trek takes you from eastern foothills of the Annapurnas to Josom via three challenging high passes, little-visited villages and an overnight camp at a high mountain lake. The scenery is never less than spectacular and it gives a genuine wilderness experience in the heart of the Annapurnas.
Read our Trekking Guide to the Everest Region.
Read our Trekking Guide to Wild Nepal.
Trekking Regions of Nepal
Nepal is perhaps the most exciting of the Himalayan nations. It is home to eight of the ten highest mountains in the world, has an attractive, vibrant culture and a friendly, chaotic allure that has made it a favourite destination for travellers and trekkers for many years.
The draw of the spectacular Everest and Annapurna massifs, with their iconic peaks, naturally make these the two most popular trekking regions. Here there are well-trodden paths through paddy fields, forest and yak pasture leading up to the higher trails where the air is thinner and the landscape more distinctively stark and dramatic. Home to the Sherpa people of Everest and the Gurkhas of the Annapurnas you will always be assured of a warm welcome and a comfortable bed at one of the many tea houses or luxury lodges that line the trails.
Venture further afield into 'Wild Nepal' and you will find pristine mountain scenery, remote villages and a culture still relatively untouched by tourism or the modern world. From Kangchenjunga in the far east, through the central trekking regions of Ganesh Himal and Manaslu, to Mustang and Dolpo in the north and Api in the far west, Wild Nepal offers a vast diversity of mountain landscapes and cultures as well as all year round trekking.
To find out more, click on the links below to view our trekking guides to the Everest region, the Annapurnas and Wild Nepal.
The Everest Region

Everest from Kala Pattar
Read our Trekking Guide to the Everest Region.
The Annapurnas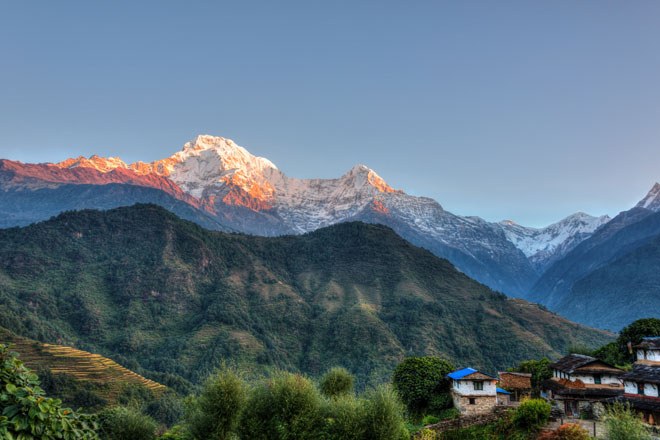 Ghandruk in the Annapurnas
Read our Trekking Guide to the Annapurna Region.
Wild Nepal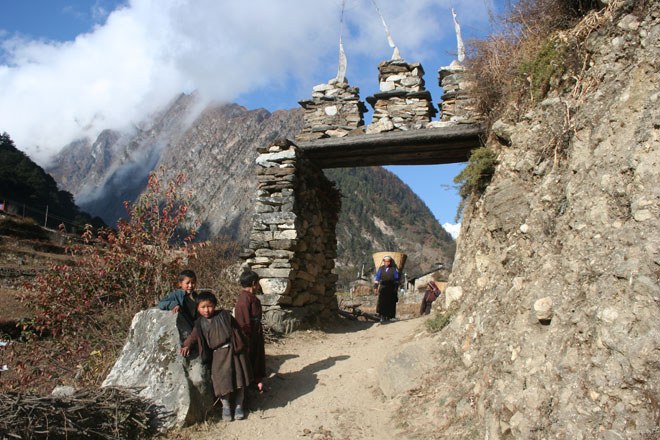 On the Manaslu Circuit by A Luck
Read our Trekking Guide to Wild Nepal.
.
Top 10 Himalayan Trekking Holidays
At Mountain Kingdoms, we're absolutely passionate about the Himalaya. Spanning five countries – India, Nepal, Bhutan, Tibet and Pakistan – the Himalayan range contains not only nine of the ten highest mountains on the planet but thousands of smaller peaks, fertile valleys, sparkling rivers, dramatic glaciers and azure lakes. Alongside the endlessly stunning scenery is a wealth of cultural interest, evidenced by the variety of language, dress, customs and beliefs of the people that call the Himalaya home.
We wanted our 10 favourite trekking holidays to reflect this great scenic and cultural diversity, to include both classic treks and remote trails and to offer something for novice walkers and hardened trekkers alike. The only problem was, keeping it to just 10! So, after much discussion, here's our top 10, in no particular order…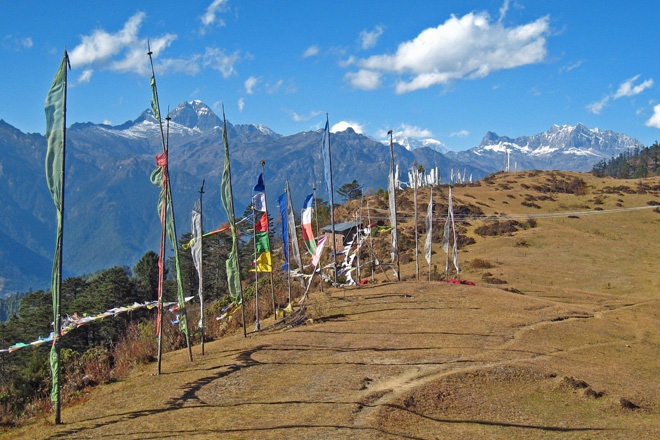 On the Druk Path by A Tierney
13 or 14 day trip | 5 days on trek, walks on 1 day | Moderate grade
If you enjoy spending time under canvas, but not too long, take a look at our Druk Path Trek. This ancient trail traverses gorgeous mountains between Bhutan's two main cultural centres of Paro and Thimphu. Highlights of the trek include a haunted monastery, sacred lakes and wonderful views of the eastern Himalaya. With ample time for sightseeing before and after the trek this holiday really does showcase the very best of Bhutan in just two weeks. If you'd prefer to spend a little longer in the mountains, then take a look at our Chorten Path Trek which continues on from Thimphu to the old capital of Punakha.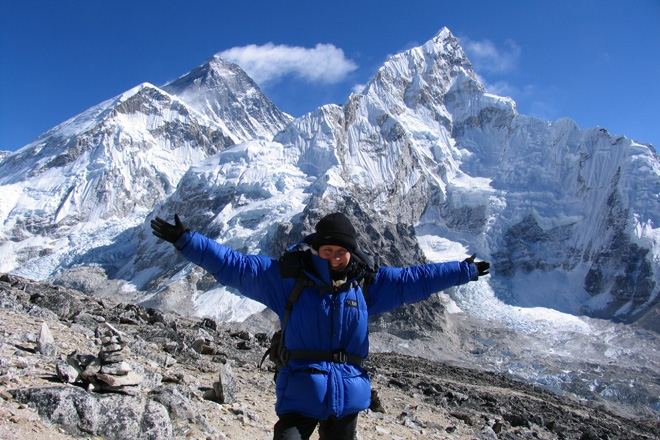 Everest success by A Parsons
19 day trip | 14 days on trek | Strenuous Grade
A trek to Everest Base Camp is high on many people's 'bucket list'. Whether to enjoy the breathtaking landscapes, to savour the iconic history or simply to say 'I was there', it remains one of the great objectives for the walking enthusiast. Starting with the exhilarating flight from Kathmandu to Lukla and ending at the foot of the world's highest mountain, it's never less than a thrilling and inspiring experience. And yes the trails are popular and the tea houses often busy but you'll enjoy the company of fellow trekkers and have someone to share your sense of adventure and achievement with.
We offer two accommodation alternatives for trekking to Everest Base Camp – Everest Base Camp in Style which uses luxury lodges and some first-rate tea houses or the traditional Everest Base Camp Trek staying in tea houses throughout.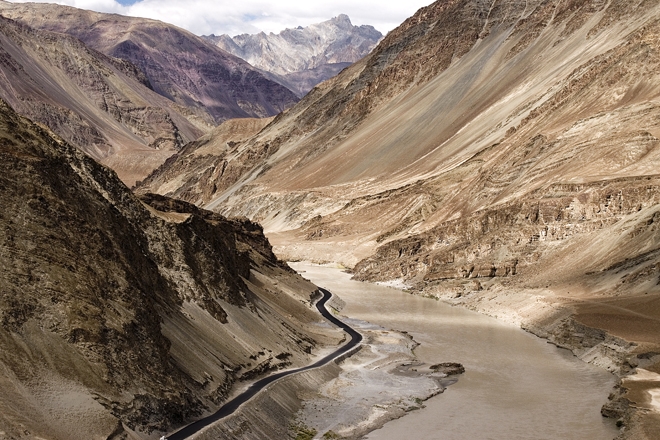 Markha Valley by Hull
Markha Valley Trek, Ladakh, India
14 day trip | 7 days on trek | Vigorous grade
In the rain shadow of the Himalaya, Ladakh offers both summer trekking and a very different landscape. An arid, desert-like land it is characterised by deep gorges, contorted rock strata and dramatic cliffs set against a backdrop of towering, snow-capped peaks. The Markha Valley epitomises the best of this scenery and is Ladakh's most celebrated trek. Taking only two weeks London to London, it provides a superb opportunity to enjoy a great value Himalayan trek in the summer months.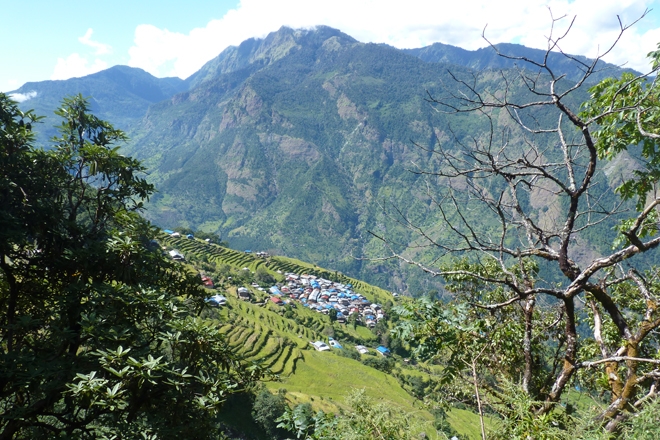 Beautiful Ganesh Himal by S Berry
17 day trip | 12 days on trek | Moderate/Vigorous grade
Looking for something away from the main trekking trails of Nepal but not too strenuous, then our Ganesh Himal trek could be just for you. Situated in northern central Nepal, the region of Ganesh Himal is home to four peaks over 7,000m yet the trek itself is relatively low altitude by Himalayan standards - staying below 4,000m. Camping for the most part, you will wake each morning to glorious mountain views and spend each day trekking through verdant terraces, beautiful forest and traditional villages populated by either Tamang or Gurung people. And the chances are you'll have the trails entirely to yourself with not another trekker in sight - a rarity indeed.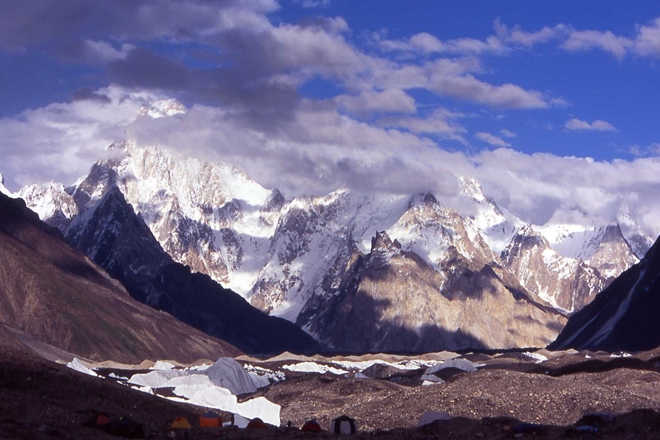 On route to K2 by J Turner
22 day trip | 15 days on trek | Strenuous grade
For the connoisseur of serious trekking, the walk to the foot of the world's second highest mountain is considered one of the true classics. Closed for several years, the recent change in Foreign Office travel advice has once again opened trekking routes into this spectacular region. Our trek follows the route taken by expeditions attempting to conquer K2 that takes us across the Baltoro Glacier, through the mountain 'throne room' of Concordia and past savagely beautiful landscapes of granite spires and glittering icy-peaks before reaching Base Camp itself.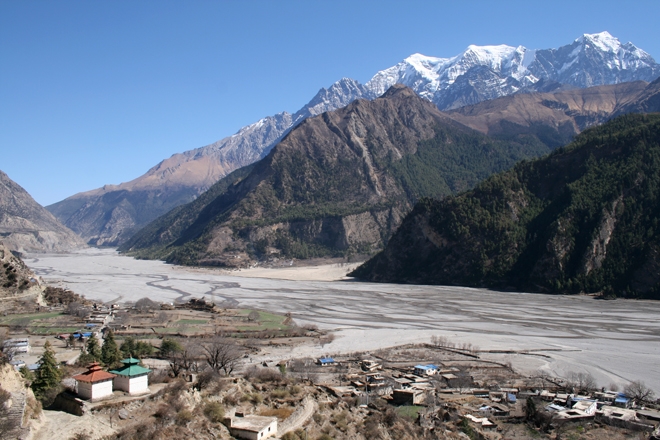 Annapurna Circuit by S Harbert
Annapurna Circuit (Currently unavailable from 2020)
21 day trip | 16 days on trek | Strenuous grade
We couldn't have a top 10 list of Himalayan treks without the Annapurna Circuit. Rightly considered one of the classic treks of the world, the Annapurna Circuit has been wowing trekkers for years with its spectacular, varied scenery and fascinating cultural interest. Crossing the fabled Thorong La pass at 5,414m is the undoubted high point of the trek but trekking into the deepest gorge in the world – the Kali Gandaki – and peeking into mysterious Upper Mustang are equally unforgettable experiences. If you have less time to spare, but still want to discover the magic of the Annapurnas, then take a look at our Mini Annapurna Circuit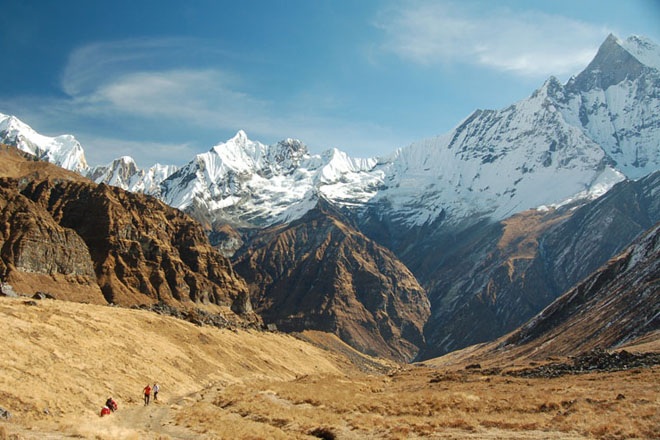 Annapurna amphitheatre by C West
Annapurna Base Camp in Style, Nepal
16 day trip | 12 days on trek | Vigorous grade
This magnificent trek remains one of the most spectacular in Nepal following the scenic gorge carved by the Modi Khola river into a hidden amphitheatre of towering Himalayan peaks including the awesome south face of Annapurna I. Seeing the sun rise from base camp remains one of the most magical and unforgettable moments you can experience on any Himalayan trek. With super-comfortable accommodation including soft pillows and hot water bottles, this is a great trek for those who like their adventure with a few home comforts. We also offer a classic Annapurna Sanctuary Trek staying in traditional tea houses.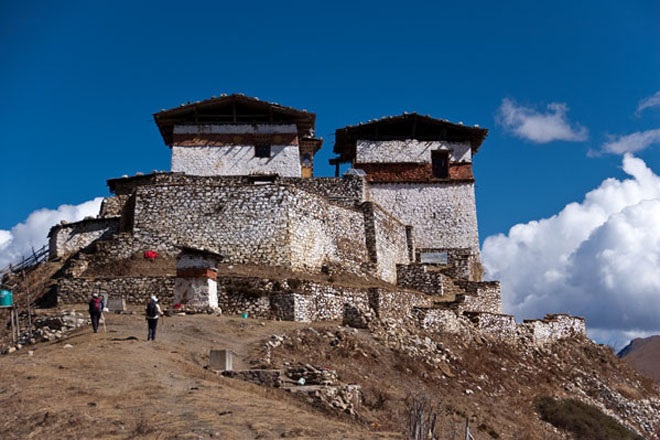 Lingshi Dzong by A Harrison
35 day trip | 28 days on trek | Strenuous grade
This epic trek traverses the full length of Bhutan's Himalayan peaks including Gangkar Punsum – the world's highest unclimbed mountain. Passing through vast uninhabited regions, over high passes and into truly remote villages you'll be stepping foot into places where few people have ever been; Lunana is Bhutan's most isolated and beautiful region where even the king of Bhutan has rarely ventured. So, if you've got a real spirit of adventure and a passion for the mountains then why not tackle the ultimate trekking challenge and complete the Lunana Snowman trek!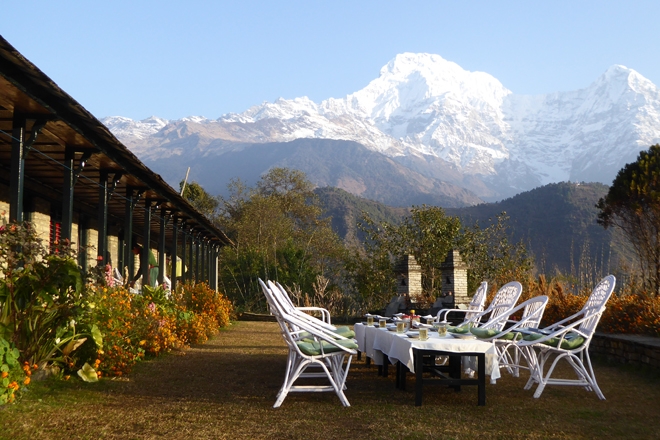 Luxury Lodge by J Shillibeer
Gentle Trekking & Luxury Lodges, Annapurna Foothills
12 day trip | 5 days on trek, walks on 1 day | Gentle/Moderate grade
This is the perfect first Himalayan trekking holiday taking easy-paced walks between high quality lodges nestled in the fertile valleys and fields of the foothills. The low altitude trek follows well-trodden village paths set against the backdrop of some of the most beautiful mountains including Machapuchare with its striking fishtail summit. If you're new to trekking, the lodges provide welcome comfort and relaxation with excellent food, en suite rooms and even a nightly happy hour. Cheers!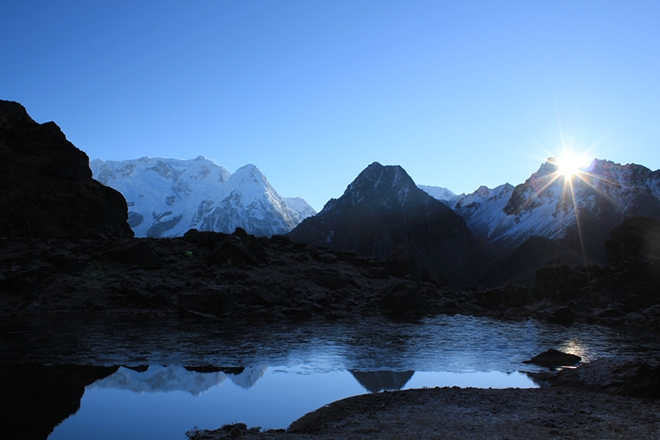 Yalung Glacier moraine. Image by J Fitzpatrick
Kangchenjunga North & South Base Camps
24 day trip | 18 days on trek | Strenuous grade

Spectacular Himalayan scenery, with views of many 8,000m peaks, sets the scene on this superb off-the-beaten-track trek in Nepal. Following a trail through the most scenically stunning area in all of Nepal, this trek leads its way to the foot of the world's third highest mountain, Kangchenjunga, with excellent acclimatisation and ample time to explore this wonderful area. This is a challenging trip for the adventurous trekker.
10 things you should know about the Galapagos Islands
A mesmerising volcanic archipelago in the Pacific Ocean, the Galapagos Islands is known as one of the world's leading destinations for wildlife-viewing. Check out our top 10 facts about the unrivalled Galapagos…
1. Location

The Galapagos can be found approximately 926km off the coast of Ecuador. The island group consists of 18 main islands, three smaller islands, and 107 rocks and islets scattered along the coast of Ecuador.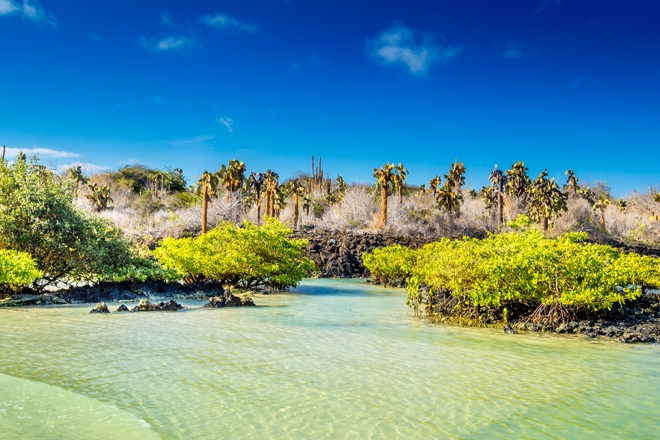 Galapagos Islands
2. Plant life

The mysterious Galapagos Islands are known for their incredibly rare and diverse plant life - much of which can be found nowhere else on earth. The islands have over 500 native plant species including four species of mangrove. This plants can be found along the edges of saltwater coves in the islands Coastal Zone. This zone spans from the oceans edge to approximately 50-100 miles inland.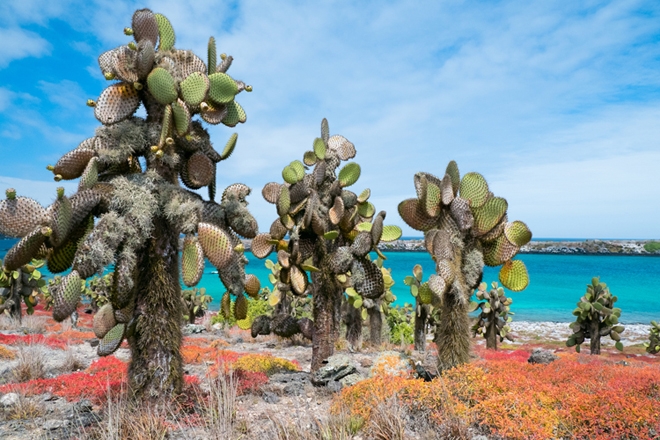 Galapagos plant life
3. Wildlife

The Galapagos islands are home to the Galapagos penguin; the only wild penguin species that can be found living on the equator. The islands are also home to some more prevalent wildlife, these include lava lizards, mockingbirds and Galapagos tortoise.
Galapagos Green Sea Turtle
4. Airports

The islands are home to two airports on San Cristobal - San Cristobal Airport and Baltra – Seymour Airport.Both of these airports are used on our Galapagos trips.
5. Volcanoes

Volcanoes have had their place on the Galapagos Islands for at least 20 million years. The Islands are characterised by a vast number of concurrent volcanoes, with most having either plume magma or asthenosphere sources. Due to the proximity of the islands to the GSC (Galapagos Spreading Centre), structural weakness has been formed which has led to numerous eruptions creating the Galapagos Platform. The islands of Fernandina and Isabela are lie along these structural weaknesses. The highest point of the Galapagos Islands is the peak of Wolf Volcano, situated on Isabella Island. This stands at a huge 5600ft/1707m.
Volcano Chico hike
6. Charles Darwin

In 1835, at the young age of 26, Charles Darwin ventured to the Galapagos Islands on board the HMS Beagle.He stay on the Islands for a total of 5 weeks, researching his theory of evolution. He studied the varied wildlife, including finches and tortoise found on the island and noted how they adapt to the harsh environment. When he analysed some of the bird specimens on his return to England, he found that many of the different birds were in fact species of finches and were unique to individual islands.Based on his findings he was able to make significant contributions to the science of evolution.
7. Predators

The Galapagos Islands have a scarcity of natural predators resulting in the islands wildlife becoming increasingly approachable and allowing visitors to happily explore their natural habitat. A vast number of unfamiliar animals have been introduced to the Galapagos Islands – these remain the main threat to the islands. The islands native animals are quick to reproduce and, with no natural predators, thus making them defenseless when approached by introduced predators.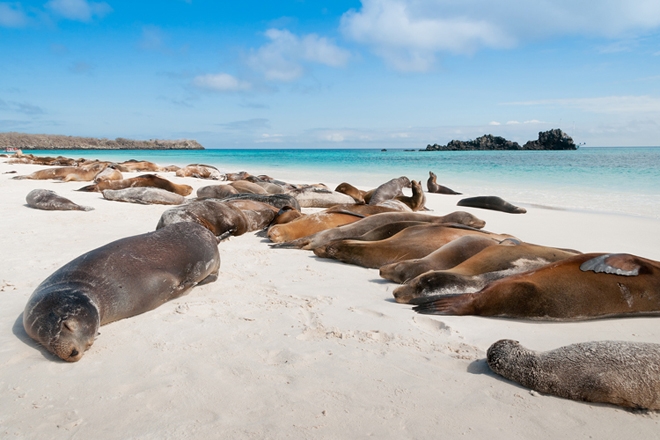 Galapagos Sea Lions
8. World Heritage in Danger

The Galapagos Islands were added to UNESCO's List of World Heritage in Danger in 2007. This was because the island had come under threat due to the rise in non-native species, uncontrolled tourism and over fishing. However, in July 2010, UNESCO made the decision to remove the Galapagos Islands from their list as it was evident that Ecuador had been making some significant progress in addressing these issues.
9. Climate

In the Galapagos Islands the months falling between December and May are considered to be the warmest and wettest, whereas the months from June to November are much cooler but remain reasonably dry. The Islands receive, on average, between 2 and 4 inches of rain per year, and the average temperature varies between 21°C and 29°C. We recommend visiting the Galapagos Islands between November and April.
Santa Cruz sunset
10. Population

The Galapagos Islands have a population slightly exceeding 25,000, who inhabit five of the islands; Baltra, Floreana, Isabela, San Cristobal and Santa Cruz. The Islands native language is Spanish.
Discover the wonders of the Galapagos Islands for yourself on a relaxing cruise or unforgettable walking safari.
Galapagos holidays with a difference
Operations Manager, Liz Noakes, travelled to South America last month to experience our Gentle Walking Ecuador & Galapagos Safari holiday. Here she reflects on her time on the Galapagos and the perspective gained exploring these unique islands on foot rather than by cruise boat.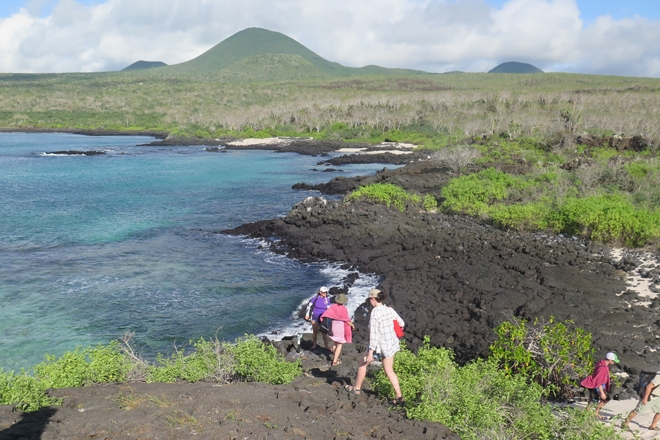 Walking on the Galapagos
Travelling to the Galapagos really is a privilege and a genuine 'once-in-a-lifetime' experience. You get to see all that is promised by the wildlife programmes on TV - often up close and personal. The most common way to travel around the islands is by cruise boat, these generally sail at night leaving passengers the day time to enjoy the wildlife both on the water and land. The boats are comfortable and well equipped and enable you to see many different islands. We combine a Galapagos cruise with walking on the mainland in our Gentle Walking Ecuador & Galapagos holiday.
There is however an alternative way to visit the islands and enjoy different experiences by spending more time on land. In this way you can really start to understand how the communities on the four inhabited islands really live, the issues they face with tourism and the difficulties they have. Don't be afraid you'll be missing any wildlife though as it's all around you and you also get to immerse yourself in the amazing and varied landscapes of the Galapagos. Staying on land doesn't diminish your opportunities to snorkel, kayak, paddle board as you'll have ample opportunity to be on the water and witness the myriad of aquatic life including penguins, seals, marine iguanas and numerous sea birds.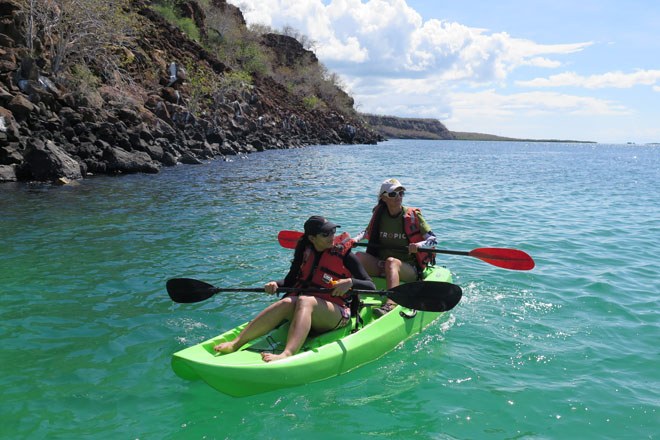 Paddling along the Itabaca Channel
Being land based does open your eyes a bit more to the human side of these extraordinary islands whilst having the added benefit of enabling you to go out and explore early in the morning and later in the evening when the light is good and the heat of the day is not so extreme. There are after all shops and restaurants, café and bars all waiting to be visited and once the 'cruise visitors' have departed for the day, it's all yours.
I was really impressed with the standard of accommodation on the islands having stayed in lovely waterfront cabins on Floreana and a delightful 'safari-style' tented camp in the highlands. All the accommodation we use on the trip is family owned and independently run, and by taking the land based option, you are financially supporting the local people and putting money into their communities.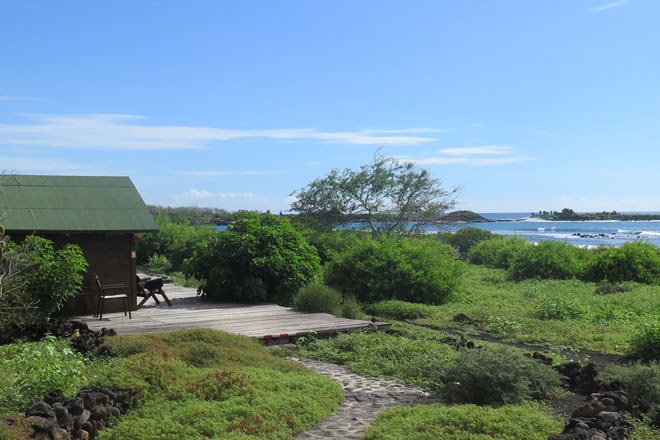 Lava Lodge, Floreana Island
The communities on the islands are facing ever increasing numbers of tourists and this brings with it associated issues. Not least the availability of food and other provisions which all have to be brought in by boat from mainland Ecuador on a weekly basis. The National Park Authority have strict rules regarding bio security and all bags and items imported are inspected for any species of plant, animal or foodstuff which might affect the natural environment. There are strict rules on where you can walk and how close you can get to the wild animals. Having said that, the latter rule frequently has to be broken as you regularly come across sea lions and marine iguanas, to name a few, lying around in public places, blocking access to boat gangways, shops and other public places!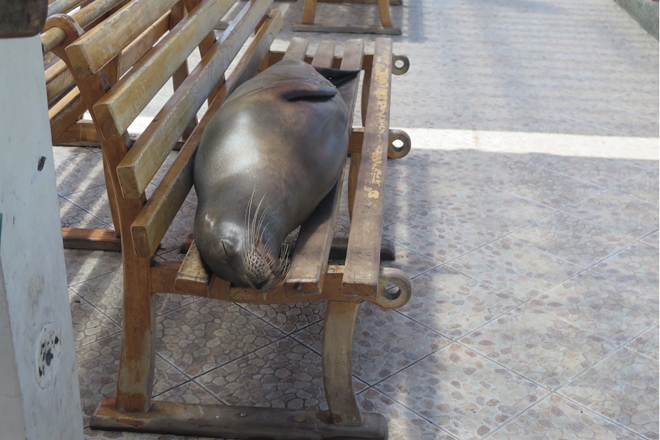 Taking a nap sea lion style
To get under the skin of these islands you need to talk to the people who live there and learn some of the stories of the first settlers and their histories. The most interesting place I visited on my trip was the island of Floreana. Here you find a small tightly knit community of around 150 people and they have THE most interesting history, which includes murder and disappearing people… yes seriously, there have been books written and a documentary film made, it is very 'Agatha Christie' - in a Galapagos way. To hear the stories first-hand from the mouth of a descendent of the real people involved really brings it home that it is actually quite recent history. I won't spoil it for you now, but it IS worth checking up on, it's unsolved and although the people live in harmony now – the fact remains, there are people still living there who were involved in it and prepared to talk about it.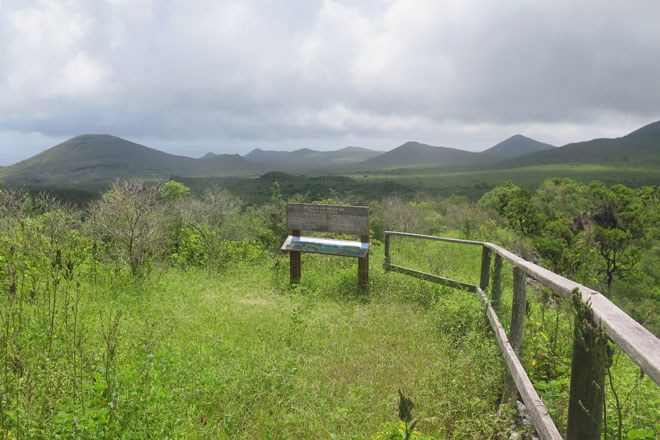 Eco-tourism on Floreana
There are operators working here who seriously embrace eco-tourism in order to have as positive an impact as possible on the islands whilst enabling visitors to have an informed and yet very enjoyable experience. I would urge anyone thinking of going to make it a reality. It is obviously a personal choice how you visit, but I would advise anyone to seriously consider a 'land based' trip for a fantastic all-round experience. After all you will probably only visit once.
View all our Ecuador and Galapagos walking holidays or contact Liz if you've got any questions about travelling in the Galapagos by land or sea.
2016 Photo of the Year Competition
What an impressive range of images we had to choose from for our 2016 Photo of the Year Competition. Thank you to everyone who entered. You truly surpassed yourselves this year with some really wonderful photos of landscapes, people and wildlife from your amazing adventures. After a huge amount of deliberation and debate we finally arrived at a shortlist of just five fabulous photos.
We asked you to help us decide the winner and, after many weeks of voting, we are delighted to announce that the winner is Mr Leonard, with his delightful photo of a shikara (boat) on a tranquil lake in Kashmir, India. Many congratulations to Mr Leonard who wins £150 towards his next holiday booked with Mountain Kingdoms.
Winner - Taxi boat Kashmir by Mr J Leonard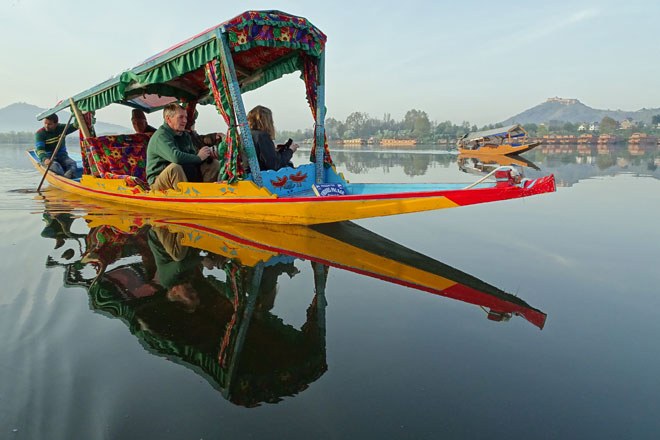 Taxi boat in Srinagar, by Mr J Leonard
This colourful shikira boat is the standard form of transport on the famed lakes of Srinagar in Kashmir, India. The delightful scene, with its mirror-still water and perfect reflection, was captured by Mr Leonard when he travelled to Srinigar last March on our Rajasthan & Kashmir Explorer cultural tour.
Finalist - Zebras on safari by S Patel
Zebras on Safari in Tanzania by Mr S Patel
This impressive black and white image of a group of zebras was taken by Mr S Patel whilst on a Tailor Made holiday in Tanzania. Having summited Mount Kilimanjaro, Mr Patel then went on safari in the Ngorogoro Crater and the Serengeti National Park - two of Africa's most celebrated wildlife parks.
Find out more about our Tailor Made Holidays to Tanzania
Finalist - View of Everest by Mr A Harrison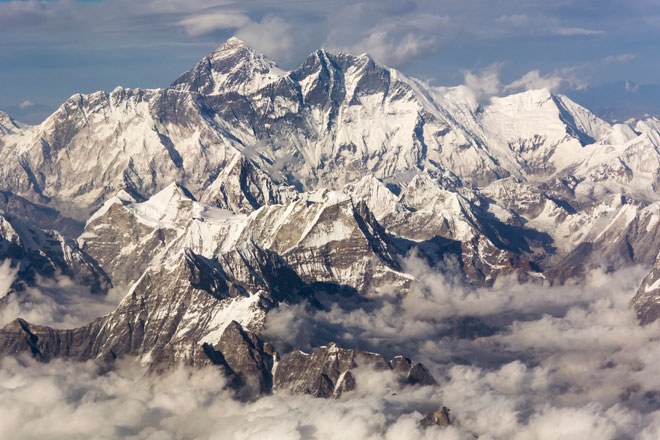 View of Everest by Mr A Harrison
Mr Harrison took this stunning view of Mount Everest from the window of a plane on the flight from Kathmandu in Nepal to Paro in Bhutan. What a view to start your trekking holiday with. Virtually all our holidays in Bhutan start with this flight from Nepal so you too could be luckily enough to enjoy this fantastic view - just make sure you sit on the left hand side of the plane!
Finalist - Namche Bazaar after dark by Mr R Walls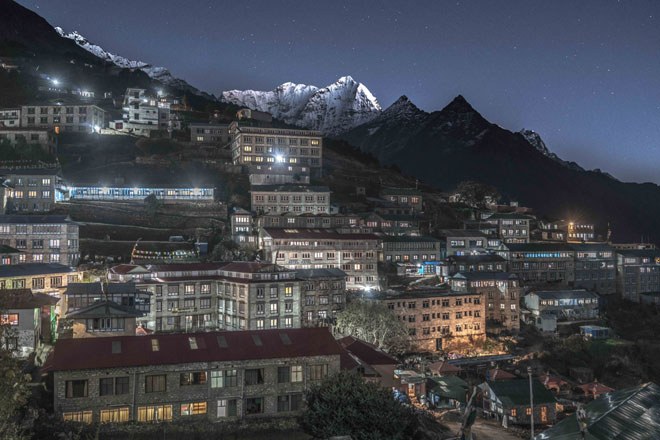 Namche Bazaar after dark by Mr R Walls
We've seen hundreds of photos of Namche Bazaar in the Sherpa heartlands of Nepal, but never one taken at night.
This unusual and arresting perspective of Namche beneath a starry sky, was taken by Mr Walls on our Everest Base Camp in Style trek last November.
Finalist - Man in the red turban by Mr R Shorrock

Man in the red turban, India by Mr R Shorrock
This striking portrait image was taken by Mr Shorrock in Rajasthan in India. Mr Shorrock was travelling on our cultural tour of Rajasthan & Kashmir and saw this suitably regal gentleman at Rawla Narai, the former hunting lodge of the royal family of Jodhpur.
Mountain Culture: Three Sherpa Festivals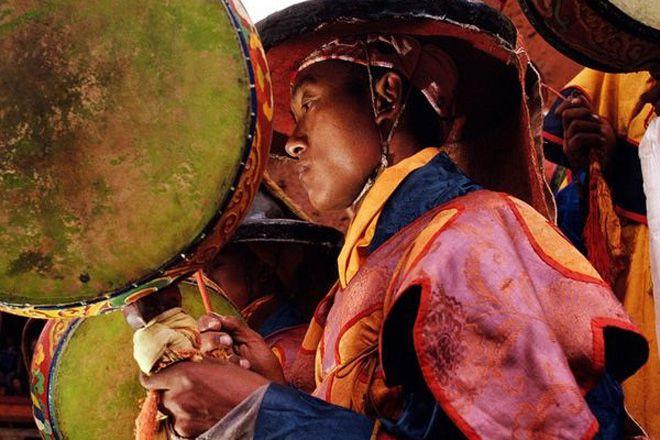 "Buddhist Monk, Mani Rimdu" © 2012 Biken2012, used under a Creative Commons
Visits to the Himalaya are packed with new and exciting experiences and include chances to immerse yourself into captivating cultures. Experiencing local villages and attending monasteries gives travellers time to explore and learn about absorbing traditions. One unique way to gain insight into a culture is by learning about its festivals - so here are some of the significant dates in the Buddhist calendar.
Losar
Buddhists in Bhutan, Nepal and Tibet traditionally follow the Tibetan lunar calendar, in which the New Year begins in late February. The New Year is marked with a festival known as Losar, rarely seen by visitors as it occurs outside of the Himalaya trekking season. Losar is a relatively quiet festival taking place over 15 days, with the first 3 days playing host to the majority of the main celebrations. Losar is a time for cleaning out the home and praying for good fortune for the community in the coming year, as well as feasts, singing and dancing. The Bhutanese are also known for their lively archery contests.
Harvest Festival
July sees the harvest festival Dumje, in which Sherpas give thanks and celebrate the success of their labour. The festival is celebrated partly at home and partly by visiting the nearest monastery to pay respects and attend ritual dances.
Mani Rimdu
Many festivals are centred on the family home, and are not often attended by visiting trekkers in the Everest Region, but one notable exception is Mani Rimdu. If you're visiting the Everest Region in late October or early November, you may be able to witness this vibrant celebration at Thyangboche Monastery. Made famous by its colourful masked dances and the incredible atmosphere, Sherpa people travel from miles around to witness the twirling 'Black Hat' dancers dispel evil demons and monks play Tibetan horns during the three-day festival.
Our Everest Base Camp & Gokyo Lakes trek attends the Mani Rimdu. You will be able to witness this vibrant celebration at Thyangboche Monastery - situated at 3,863 metres (12,674ft), the monastery is the largest gompa in the Everest region of Nepal and boasts stunning mountain-top views of breathtaking ice-capped mountains.
Our top 10 reasons to go trekking in the Annapurnas
Despite the emergence of new trekking regions and routes around the world, the Annapurnas still has masses to offer the keen trekker and outdoor enthusiast. Whether you're a first time visitor to Nepal or an inveterate trekker wanting to get off the beaten track, here's our top 10 reasons why the Annapurnas should always be top of your trekking wishlist.
1. Spectacular and varied scenery
The Annapurna Conservation Area (ACA) was the first protected area in Nepal and is still the largest giving rise to an incredible diversity of landscapes. The foothills offer the quintessential Himalayan scene of lush, fertile terraces set against a picture book backdrop of soaring, snow-capped peaks but trek ever higher and you'll discover dense bamboo forest, hot springs, sandstone cliffs, mountain lakes, deep gorges and even arid desert dotted with jewel green oases. Simply stunning no matter what trekking trail you are following.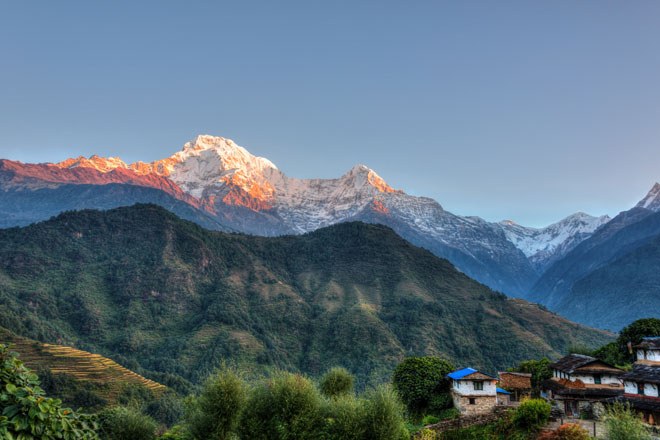 Ghandruk Village
2. Trekking for all abilities
With Gentle Trekking in the Annapurna Foothills, the trek into Annapurna Sanctuary, the classic Annapurna Circuit or its shorter counterpart – the Mini Annapurna Circuit, the Annapurnas offer a wide range of treks of varying lengths, altitude and grades. Unlike other parts of Nepal, it has easier paths to suit the novice trekker as well as trails that will appeal to those who regularly head into the mountains.
3. The people
The foothills of the Annapurnas are the heartlands of the Gurkhas; renowned for their bravery as loyal servants of the British Army. The majority of the local people however are farmers due to the fertile nature of the region. The main ethnic group of the region is the Gurungs, but if you're trekking away from the foothills you will no doubt encounter other groups such as the Manangba and Thakali. Whoever you meet on your travels you can be sure to receive a big smile and warm welcome.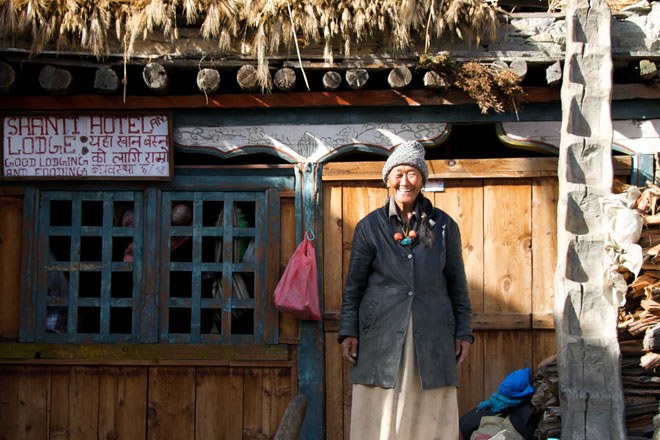 Local lady by J Davies
4. The highest lakes and deepest gorges
The Annapurnas has some impressive natural features including the highest lake and the deepest gorge in Nepal. Tilicho Lake, at nearly 5,000m, is a stunning turquoise body of water that makes for an incredibly picturesque and remote campsite. The Kali Gandaki Gorge is not only the deepest in Nepal but one of the deepest on the planet. The descent into the Kali Gandaki is one of the highlights of the Annapurna Circuit and is reached via a crossing of the famed Thorong La pass.
5. The Annapurna Sanctuary and Annapurna Circuit
Not just one, but two of the greatest treks in the world can be completed in the Annapurnas. The Annapurna Sanctuary really is the perfect first Himalayan trek. You're on trek for only 12 days, the ascents are not too steep, the maximum altitude is relatively kind for the Himalaya and it has a truly spectacular objective – to reach the towering amphitheatre of mountains that forms the Sanctuary itself. If you want something more strenuous that includes 22 days on trek, a spectacular pass over 5,000m, a descent into one of the world's deepest gorges and a daily delight of amazing scenery and breathtaking views, then the Annapurna Circuit is for you. Either will prove to be an unforgettable trekking holiday and the experience of a lifetime.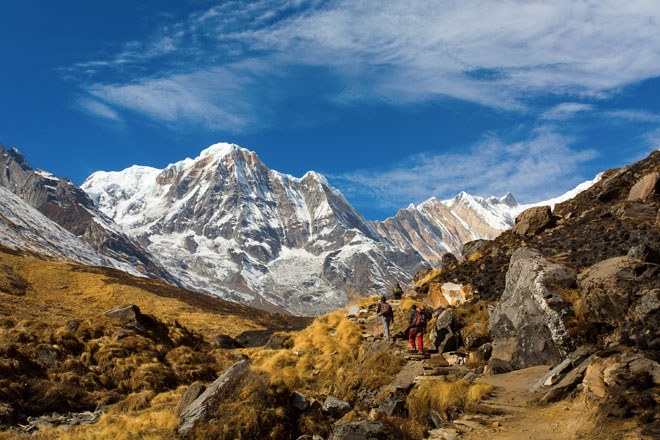 Trekking to Annapurna Base Camp
6. Himalayan Giants
The Annapurna Massif contains some of the highest peaks on the planet - the tallest being Annapurna I at 8,901m. A world of towering, snow-topped giants, there are 13 peaks over 7,000m and a further 16 higher than 6,000m. The Annapurnas are often considered the most beautiful mountain range in Nepal with, perhaps, sacred Machhapuchare the most striking of all due to its steep, thrusting slopes and elegant, fishtail shaped summit. Set foot in the Annapurna Sanctuary and you can see both Machhapuchare and Annapurna I along with Fang, Tent Peak and Hianchuli in one incredible, panoramic view.
7. Off-the-beaten-track trekking
You don't have to follow the well-trodden path in the Annapurnas, instead try something a little further afield like the Naar-Phu & Annapurna Traverse and you'll soon have the trail all to yourself. This challenging trek takes you to the Tibetan border at the very edge of the Annapurna Conservation Area, and combines the crossing of two high passes and time at beautiful Tilicho Lake with an exploration of little-visited valleys and isolated communities set amidst spectacular scenery and awe-inspiring landscapes.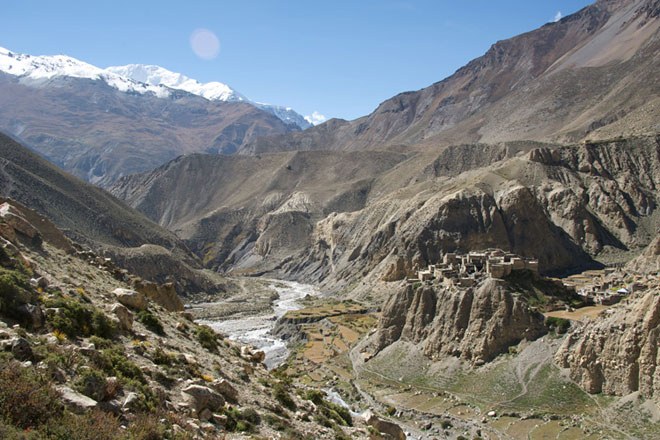 Naar-Phu by J Davies
8. Cultural interest
Chortens, gompas, mani walls and prayer flags are common sights when trekking in the Annapurnas and are all reminders that you are walking through a predominantly Buddhist region. One of the oldest monasteries in the region is found at the village of Braga, but the main cultural attraction is Muktinath temple. Situated on the trekking route of both the Annapurna Circuit and Mini Annapurna Circuit, Muktinath is a key pilgrimage site for both Buddhists and Hindus and you will often see pilgrims there bathing in the temple's holy waters.
9. Tea houses and luxury lodges
Tea houses are still the most commonly used accommodation in the Annapurnas. Although basic in their facilities with simple, twin-bedded rooms and communal dining, traditional tea houses nevertheless offer hearty food, a comfy bed and excellent value for trekkers. For those looking to trek in more comfort, there are now several luxury trekking lodges in the foothills of the Annapurnas. Walking between these lodges you can complete our Gentle Trekking, Luxury Lodge trek or, combine them with some of the newer, better-equipped tea houses further up the trail, and you can now reach Annapurna Base Camp in style.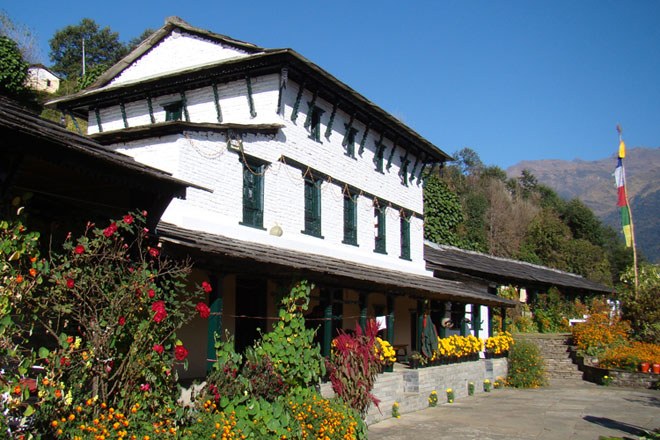 Tea house on the trail by M Sheytanova
10. The apple capital of Nepal
Take a trek in the Annapurnas in the autumn and you won't be far from orchards full of trees heavily laden with gloriously sweet apples – especially in Marpha the pretty apple capital of Nepal. Eaten on their own they're a tasty treat or even better in a tempting apple pie which you will no doubt be offered in the tea houses, shops and cafes that line the trail. Better still, share a glass or two of apple brandy with the locals and you're bound to make new friends.
View all our holidays and treks in the Annapurnas or take a look at our Trekking Guide to the Annapurna Region for more information on when to go and how to get there.
Our travel highlights of 2016
The Mountain Kingdoms team have been looking back on some of their favourite travel moments from 2016. Here's a selection of our highlights.
Ashley
My first visit to Venice this year was pretty special but without a doubt my favourite travel moment of 2016 was when I visited Uganda to try out our new Gorilla & Wildlife Walking Safari. Considering there are only about 800 mountain gorillas in existence, with half of them in Bwindi, this was quite a privileged experience! When I caught my first glimpse of a silverback sat at the trunk of an enormous tree in a little valley I have to admit I got goosebumps! I then got to spend an hour watching a family of three gorillas, including a baby which provided lots of laughs, "oohs" and "awws".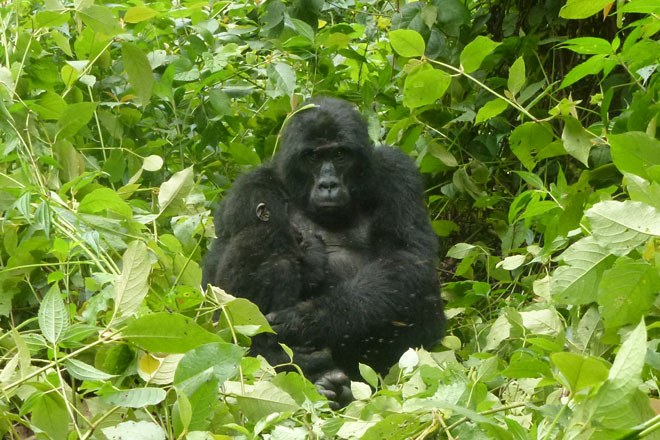 Kerry

Taking a floatplane across the South Chilcotin Mountains and landing, seemingly effortlessly, on beautiful Lorna Lake, nestled amongst gentle rolling remote countryside was just one of the many highlights during my adventures this summer in the scenically spectacular regions of Alberta and British Columbia in Canada.

Kirsty
My standout travel moment of 2016 was during a walking holiday on the Amalfi Coast in October. On a perfect morning of bright, warm sunshine and clear blue skies, my husband and I reached the high point of the Tre Cali walk. As we summited the airy ridge line all alone, we were blown away by the totally breathtaking views of the Sorrentine Peninsula stretching far into the distance in the azure waters below. It was one of those unexpectedly, magical moments that lives long in the memory and a fabulous way to celebrate our 25th anniversary.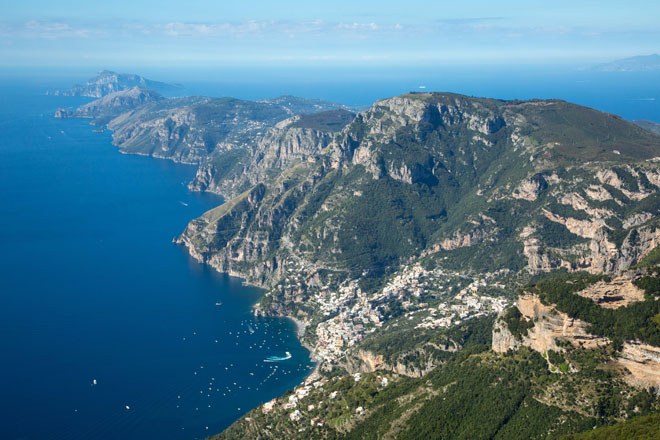 Steve
Regular clients of Mountain Kingdoms are no doubt aware that I've developed a bit of an obsession with tracking down the Yeti in Bhutan. I even appeared this year in a film on Channel 4 alongside world famous mountaineer Reinhold Messner. Continuing my search for the elusive beast, I returned to Bhutan in the autumn with a group of fellow adventurers. Unfortunately though, I suffered a back problem at the hot springs at a place called Dhur Sachu and had stayed a couple of days back to recover. The main group continued with the Bhutanese Guide, Karma Tensing, and in crossing a high 5,000m pass (which the locals told us no European had crossed before) they saw some extraordinary footprints. I am quite convinced these are not the prints of a bear, and they are remarkably similar to the famous prints that Eric Shipton found in 1952. Plans are afoot (if you'll excuse the pun) to return in 2017. Watch this space!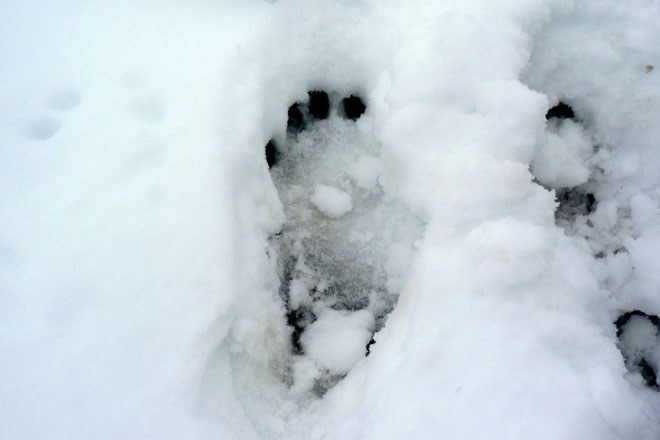 April

Earlier this year I enjoyed a 10 day tour of Sri Lanka and what a fantastic holiday it was. The people were incredibly friendly, the landscapes and beaches were really beautiful, the historic sights we visited were fascinating and the food was utterly delicious. In fact, we were left with so many wonderful memories that it's very hard to come up with just one highlight. If I had to name one though, it would probably be the day we were lucky enough to see leopards at Yala National Park. That was a real wow moment.
Jude
I was fortunate enough to try out our new walking safari in Zambia this summer. Tracking fresh lion prints through the Zambian bush, heart in my mouth, and coming round the corner to find a pride of seven females right below us on the riverbed was a truly unforgettable moment. Closer to home, I loved sharing lazy afternoons with family and friends at the Ruin Beach Cafe on Tresco in the Isles of Scilly.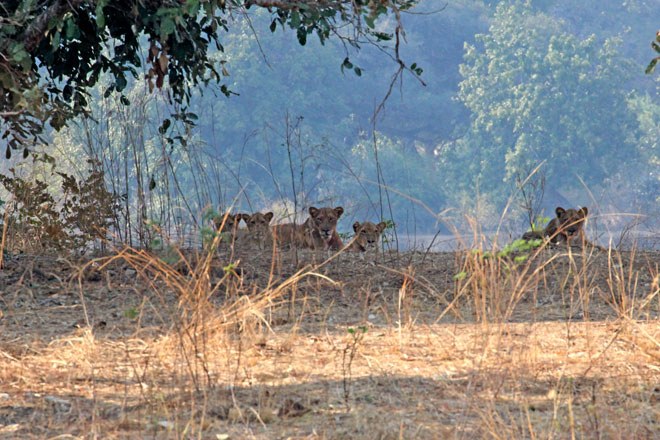 Linda

Together with my husband I joined one of Mountain Kingdoms groups travelling on the Montenegro Lakes & Mountains holiday. We had a super week of walking in a beautiful part of Europe but the real highlight was when we hiked to a high mountain pasture in the Biogradska National Park. The scenery and views were sublime on the walk and when we reached the tiny hamlet of Katun Goles we received a very warm welcome from our host family and joined them for a hearty, tasty meal before spending the night in a rather cosy little wooden cabin. It felt such a privilege to share their home, even for just a few hours, and It was a fascinating glimpse into a way of life that the modern world had barely encroached on.
Liz

Back in August, I was the lucky member of the Mountain Kingdoms team who got to sample our Realm of the Polar Bear Arctic cruise. It was a place I'd always wanted to visit and, not surprisingly, seeing polar bears, walruses and vast colonies of seabirds in their natural habitat was an amazing experience. More surprising though was how impressive it was to see enormous slabs of ice calving from the face of a glacier. To hear the sharp crack of the breaking ice and the deafening roar as it hit the water, then to feel the swell of the seas followed by complete stillness was a thrilling assault on the senses.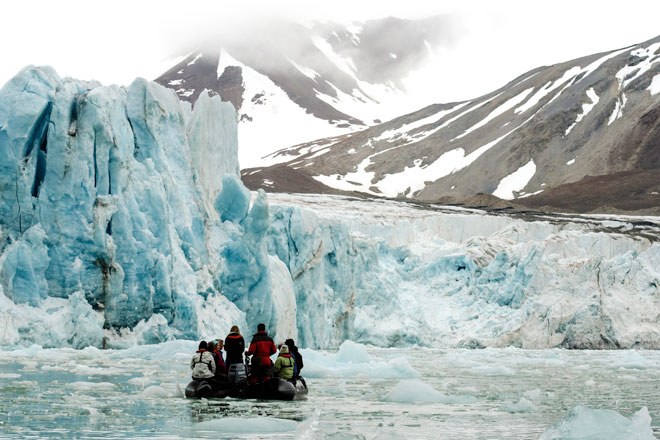 Read more about Liz's experience in her Arctic Adventures blog.
An interview with Seraphina: conquering the three peaks of the Balkans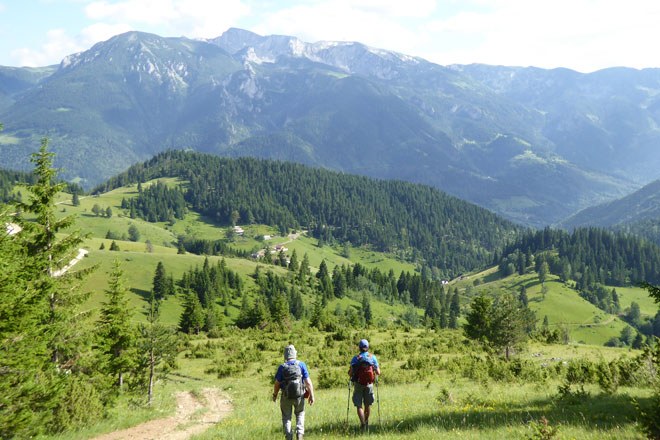 Trekking towards Liqenat
In June this year our Reservations Manager, Seraphina Berry, completed a recce trek of our new Three Peaks of the Balkans trekking holiday. This made her one of a very select band of trekkers who have walked along the Balkans Peace Trail which straddles the mountains of Kosovo, Albania and Montenegro. Here's what she told us about her exhilarating experience.
Where does this trek go?
After a 3 hour drive from Pristina (the capital of Kosovo) into Albania, the trek starts in the beautiful Valbona Valley which is situated in the Accursed Mountains region.
Over the course of 7 days, the trek criss-crosses the borders of Montenegro, Albania and Kosovo ascending from lush valleys, through picturesque meadows to high peaks including the summit of Gjeravitza, the highest mountain in Kosovo. There is a welcome rest day in the middle of the trek in the fascinating Kosovan town of Peja and it ends in the historic town of Gjokova before returning to Pristina.
Have you been to the Balkans before?
Yes, in 2014 I completed our Accursed Mountains Trek which, like Three Peaks of the Balkans, walks along sections of the Balkans Peace Trail. In fact, if you complete both treks you will have done virtually all of the 120 mile long trail.
What is the Balkans Peace Trail?
Founded in 1999, the Balkans Peace Park Project is a sustainable tourism initiative that aims to preserve the fabulous flora and fauna of the high mountains region of the Balkans and to help the local people sustain their centuries old lifestyles. As part of the project, a long distance walking path has been established that winds across the borders between Kosovo and its neighbouring countries of Albania and Montenegro.
This innovative project bears testament to the more harmonious future being fostered between the people of the region who experienced the trauma and divisiveness of the Balkans war only two decades ago.
What made this part of the Balkans so special for you?
Without doubt, it was the people. Their warmth and hospitality knows no bounds, rather like their seemingly bottomless bottles of raki (homebrew). They are surprisingly demonstrative and always gave us a hug when we arrived or moved on and they just loved to have their photos taken.
How much time did you spend with the local people?
Our guide was from the region and he accompanied us throughout. His knowledge of the history, culture and cuisine of the Balkans was invaluable, as were his language skills as English is not commonly spoken in this part of Europe. We spent all but one night of our trek in simple village homes and guesthouses, often eating and socialising with the family who lived there. One of the aims of the Peace Project is to revive and sustain mountain culture and traditions and we certainly got a real sense of that on our trek.
What was the food like?
Unbelievably wonderful! Food and hospitality is immensely important in the Balkans. Their food is very rustic and simple but always fresh and often home grown or home produced. We ate a lot of delicious fruit, vegetables and salads fresh from the gardens of the guesthouses we stayed in as well as a lot of dairy products, especially sheep's cheese.
Aside from the raki, we drank lots of herbal teas, again using herbs picked fresh from the garden. These were wonderfully refreshing and reviving after a hard day on the trail.
Did you see many other trekkers?
Very few indeed - no more than eight during six days of trekking in the mountains. It's hard to convey just how remote and undiscovered this part of Europe is. In fact, it felt more akin to tea house trekking in the Himalaya many years ago than trekking in Western Europe.
What was the trekking like and how varied was the scenery?
This is a tough, rugged trek with over 1,000m of both ascent and descent every day – not unlike walking up and Snowdon each day for a week. There are also three peaks to summit although these are completely non-technical trekking peaks that can be successfully tackled with nothing more than good walking boots and lots of stamina. Our luggage was carried by horse or motorbike so we didn't need to carry anything more than a daypack and we also had a day's sightseeing in the middle of the trek which allowed us to rest our weary legs.
All the exertions were worthwhile though as the scenery was simply stunning and surprisingly varied. We walked through beech and pine forests, crossed pristine alpine-like meadows full of colourful flowers, hiked along airy ridges and encountered many tarns, mountain lakes and impressive rock formations. The views were simply stupendous from start to finish.
What was the accommodation like?
For four nights of the trek we stayed in simple guesthouses with shared rooms and a hot shower. Following local tradition, our meals were prepared and cooked outside on wood burners and we ate with our host family in their garden. We also spent two nights high in the mountains in a shepherd's hut. This accommodation was very basic with a single dormitory room and earthen floor. Beds were on a raised platform with good, comfy mattresses and lots of warm bedding as it can get pretty cold. If you don't mind 'roughing it' this is a wonderfully authentic experience which we absolutely loved.
Two nights are also spent in hotels for a bit of extra comfort.
What flora and fauna did you see?
Myriad wildflowers carpeted the meadows making them a riot of colour. Our guide did tell us all the names but there were just too many to remember. I do recall lots of tiny blue gentians as well as delicate, rare orchids. It was a botanist's delight.
Apart from foxes we didn't see many wild animals although wolves and bears are present in the mountains. We did see birds of prey and many other smaller birds some of which were familiar and others I'd not seen before.
Describe a typical day on trek
We ate breakfast around 7am which comprised fresh bread, eggs, yoghurt, cheese and tea or coffee. Most of our walking days started directly from our accommodation and there was always a good amount of ascent and descent although mainly on good paths or dirt tracks. There is very little motorised transport in the mountains so we rarely encountered any vehicles. After walking in the morning for 3 or 4 hours we stopped to enjoy our simple picnic lunch of bread, cheese and tomatoes, before continuing for another couple of hours. Most days we reached our next accommodation between 3 and 4pm. We were always welcomed with hot drinks and raki before having time to freshen up and relax before our evening meal.
Did you spend any time in the local towns?
We took a break from trekking to visit the small town of Peja in Kosovo. The key sight here is the exquisitely beautiful monastery of Visoki Decani which is an important Serbian Orthodox monastery. Designed by a Franciscan monk in the 13th century it is home to 24 monks who make cheese and brandy. Understanding the history of the monastery and the town provides a real insight into the complex background of the Balkans war in the 1990s. The monastery is in fact still protected by members of the NATO KFOR peacekeeping force who have retained a presence in Kosovo. We also visited the caves at the source of the White Drin river and experienced the popular Kosovan pastime of eating trout!
The trek ends in the town of Gjakova which is a fun place to spend your final night with lots of cafes and shops full of the local people enjoying the balmy summer evenings. We don't include time in Pristina in our trip itinerary, but it would be easy to organise an extension and there's plenty to see and do in Kosovo's principle city.
What was your holiday highlight?
Evenings spent enjoying a hearty meal and sitting round a fire with our guide and hosts provided some of the real highlights of the whole trip and gave me memories to treasure. In terms of the trekking, the wow moment for me was in the Doberdol Valley when we crossed a pass and had amazing, panoramic views of the dramatic mountain scenery beyond. I can't recommend trekking in the Balkans highly enough.
Who is this holiday ideal for?
It's perfect for the Alpine trekker who wants to experience something more remote and undeveloped without having to travel too far from home. To enjoy the trek, you need to be a strong walker and be happy to spend nights in shared accommodation – not dissimilar to mountain huts – so a good level of tolerance and a sense of humour will certainly help get the most out of this fantastic trip.
Liz's Arctic Adventures
Our Polar Operations Manager, Liz Noakes, is currently in the Arctic on our Realm of the Polar Bear in Depth cruise. Sailing for 10 nights aboard the M/S Expedition (G Expedition) ship, around the Svalbard Archipelago and Spitsbergen, Liz is sending back daily bulletins of her exciting adventures.
Day 1 - A thrilling polar bear encounter...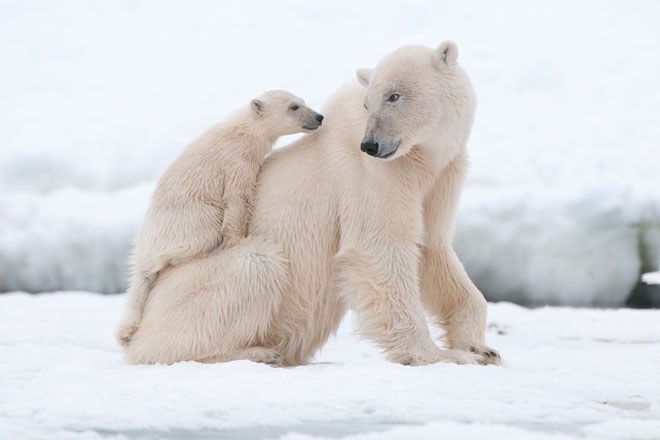 "Day 1 on board has been amazing. After important safety briefings from the crew in the morning we set out on the Zodiac boats for our first shore landing of the cruise. The clouds were low but we could still see the mountains all around us and watch glaciers calving into the sea. As the afternoon wore on the cloud lifted to reveal a host of pointy peaks for which the main island of Svalbard is so aptly named in Dutch, "Spitzbergen".
Before we set off in the Zodiacs, a group of the very professional staff zoomed out to check the shoreline for bears and, having had the all clear, we loaded into boats and headed for shore. After a walk along the coast, marveling at the different colours of ice in the glacier ahead that was tumbling down the mountain into the sea, we reached a sandy beach with an interesting array of jetsam - apples, oranges and watermelon rind! This was to prove significant later.....
We then drove round the bay in the Zodiacs watching the glacier calving and arrived at another beach with a pile - literally - of walruses snoozing away. Quite a sight and smell! Many photos later we left for a closer look at some of the pieces of ice bobbing around in the sea and listen to the 'popping' as air bubbles exploded out of the ice under water.
Suddenly the radio crackled into action. Two polar bears had been spotted on the shore heading for the beach where half the group - 50 people - were waiting to be picked up. Action stations! Polar bears move at some speed and immediately the monitoring safety boat was alongside with the flare gun poised in case they arrived at the group of people before the boats did. Those of us still enjoying the Zodiac cruise were whizzed back to the ship and quickly taken off the boat to free it up for rescue. Racing up on deck I watched the polar bears, now identified as a mother and last year's cub, loping towards the beach and luckily turning up the hill thus avoiding confrontation. I'd previously questioned one of the guides - a very experienced man who's worked 20 odd years up here and is a bit of a bear expert - if he'd ever had to shoot a bear? 'Luckily not' he replied but he had had to use a flare to scare one off before. This certainly was a close call although it was managed perfectly and no one was in any danger as all the guides on shore and in the Zodiacs are highly trained and carry loaded guns.
After safely getting everyone off the shore and into boats it was announced that we were all going back into the Zodiacs to go to the shoreline where the bears were now ambling along at sea level. This was just amazing, at times only 100m or less away, we followed them and watched them eat the fruit we had previously come across! Leaving them plenty of space they eventually took to the water and swam across the bay. This was time to depart and we arrived back on the ship in high spirits - what a day!"
Day 2 - Time for a polar plunge, or not!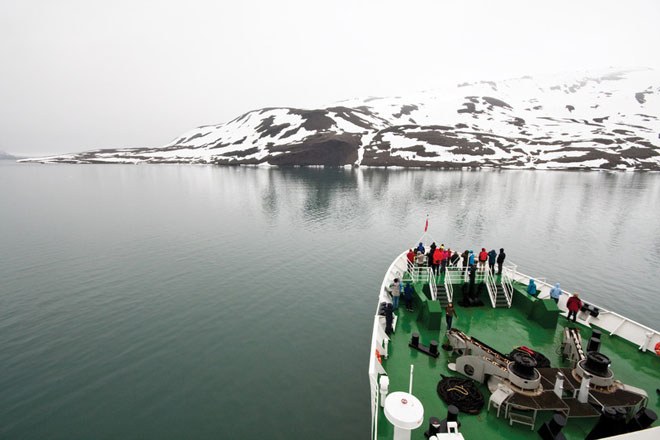 "Today started, or was it yesterday ended, in bright sunshine. Yes the midnight sun in all its glory makes it hard to go to bed when it feels like mid-afternoon. However today remained sunny until around 2pm when the Arctic sea fog moved in.
Overnight we'd sailed north into the pack ice and were lying at around 80 degrees and 550 miles from the North Pole. There was lots of ice sparkling in the sun and the morning was spent scanning with binoculars for seals and polar bears. There were both bearded and ringed seals to be spotted but not a bear in sight. Too hot? Maybe for polar bears. It was warm in the sun if you were out of the wind, but once in the shade and wind it was definitely Arctic.
When the fog drifted in, we drifted to the lounge for a lecture by the on board expert about polar bears. He seems to know all there is to know and it is gratifying to hear that the population around Svalbard in the Barents Sea has increased in recent years. This is directly attributable to the Norwegian ban on hunting them and very good news for the bears.
As the fog stayed with us it was suggested that it was the ideal time for a 'Polar Plunge' from the Zodiac loading bay. Hmmm, it didn't take long to decide NOT to do it as the water temperature is around freezing. But plenty of crazy people did and an hour or more of spectator fun ensued as the brave souls jumped into the sea. A safety boat was on hand together with the ship's photographer, and all participants had a belt on a piece of rope around their waists to be hauled out. It was said that 90 seconds was the maximum time to be in the water before the body starts to shut down. That doesn't sound too long, but probably felt a very long time for those in the chilly water!
Later, during dinner, some blue whales were spotted off the port bow - see how the nautical lingo flows from me already - and the next hour was spent rushing from table to windows to spot these huge beasts. Mostly, only the blow was spotted with a bit of the dorsal fin but some patient photographers with mega lenses managed to record a bit more detail.
And that was about it for the day. The sea swell rose as the wind settled in and we sailed south away from the pole and back into the Barents Sea towards the north easterly islands of Sjuoyana."
Day 3 - An intriguing mix of walruses, waste disposal and historic stones...
The day started as usual with the wake up announcement to all cabins at 7am - "good morning ladies and gentlemen". It's a bit like a holiday camp but with wonderful food, scenery and of course, wildlife. Pulling back the curtain, one is blinded by the brightness, day or night. It had been a night of rougher seas and it felt like we'd been rolling around somewhat but luckily no sea sickness.
We had arrived in the bay near Phippsoya where there is a walrus colony on one of the beaches surrounded by glacially eroded mountains. This bay is famous for Horatio Nelson having landed here as a 14 year old when he was first at sea and allegedly fought off a polar bear when he tried to go and hunt one to take the skin back to his parents.
No polar bears today so it was announced safe to go ashore. Due to the wind it was a bracing and wet Zodiac ride to the beach, observing walruses swimming along the way. Once on dry land we were able to hike around a little within the confines of the armed guides dotted about on bear alert. The focus of the morning, apart from the walruses, was to collect rubbish as the beaches collect an unbelievable amount of flotsam. Apart from a number of bleached tree trunks - from Siberia apparently - there is a disturbing quantity of plastic rubbish and our aim was to collect as much as possible. Cruises, such as ours, are doing their bit to help collect this ever increasing amount of garbage emanating from ships. Go figure (as they say in the US)!
Due to the wind, our original afternoon plan was scrapped and we were told that instead we would sail to Chermsideoya, an hour or so away and just off Nordaustland - the Svalbard Island, situated to the north east. The bay was more sheltered from the westerly wind thus enabling us to go out on the Zodiacs. Arriving there we were shuttled to shore where there are some historical sights left from various ships who used this bay as a shelter in times past. These took the form of sentences written in stones on the beach: the first in Swedish to mark the expedition which checked if the world was indeed round (in the 19th century); a swastika from the 2nd world war when the Germans used Svalbard as weather stations; and a third from the Russian ships which were searching for the Italian explorer Umberto Nobile who crashed his air ship on the way back from the North Pole.
This shore visit was brought to a hasty end when a polar bear was spotted swimming our way. Luckily or unluckily he changed course part way through the evacuation when it was too late to change plans so on returning to the ship we had a quick cup of tea and then headed back out in the Zodiacs for a cruise around the bay to look at all the beautiful glaciers - as our Zodiac driver commented 'a geologist's dream'.
Day 4 – Polar bears and ice floes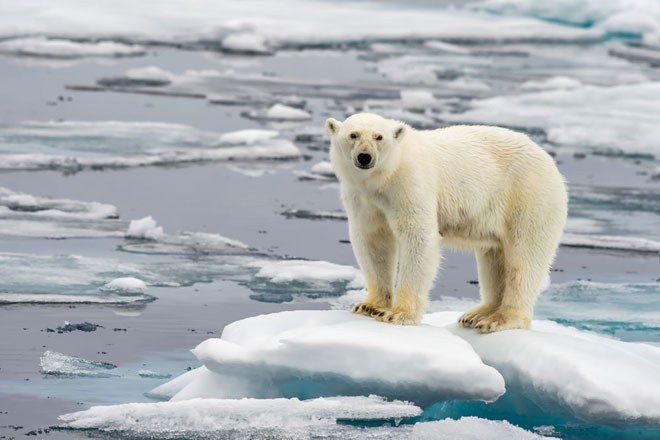 Woke up back in the ice pack at 81 degrees, the furthest north yet. Overcast but good visibility although colder at 4 degrees centigrade plus a touch windy. Brrrrrrr! Out on deck trying not to freeze but there were two polar bears to be viewed today. The first didn't want to be seen or photographed and soon disappeared but shortly afterwards a second was spotted further north and we headed off through the ice pack to get a better sighting.
When the ship pushes through the ice the tiny arctic cod, which live just below the surface, are exposed so numerous birds follow close to us diving into the water once the ice has broken to feed. It is quite a sight and sound to break through the ice and hear it splitting beneath us. The second bear was soon spotted lying down on the ice pack - its yellow fur contrasting with the white of the ice. Once we closed in on it, it stood up and started towards the ship curious to see and smell what we were! Some great photo opportunities and the camera lenses were really out in force.
Binoculars were barely required for some time and even my rather small camera (by comparison) managed quite well. It was very special to observe the bear at such close quarters making its way over the ice flow and taking to swimming where necessary. Almost with relief he began to retreat so we left him alone and retreated inside ourselves to warm up.
It was also almost lunch time. As anyone who has been on a cruise will know the days are largely focused around meal times. The food is really good and varied although way too much can be eaten if you're not careful. But mealtimes are a good social occasion and provide a fun get together and a chance to share wildlife stories.
In the afternoon there were lectures and entertainment planned when it was decided instead to go out on Zodiacs into the ice! WOW is probably the best word to describe the experience, at 81 degrees 39 minutes north and less than 300 miles from the pole it was quite amazing to be zipping through the remarkably still Arctic Ocean at ice level. The Zodiac drivers had a plan and soon we were driven onto an ice floe and disembarked. Probably the most northerly people in the world at that moment and to be standing on a piece of ice, well it felt very remote and potentially precarious! The guides had their guns and we kept a vigilant eye on what might be approaching but only a seal came to see what was going on. An amazing experience!
And so another action-paced day ends. We are now sailing south east towards Kvitoya (or White Island) the easternmost of the Svarlbard archipelago and 50km from Russia. This is where we will wake up tomorrow.
Day 6 - Birds, birds and more birds... plus a fox!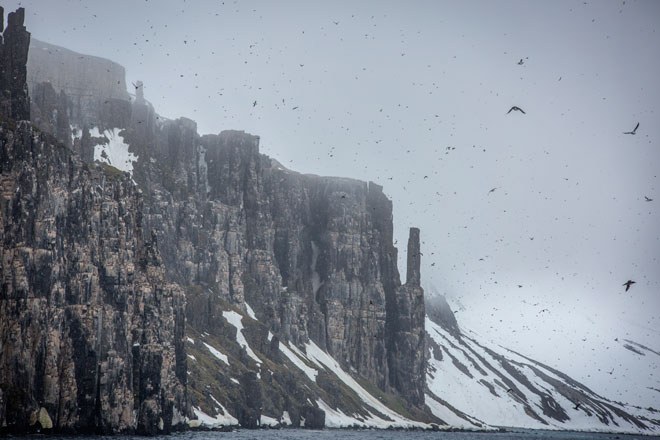 We woke to clear weather but, as we neared our anchoring point, the fog came in and the landing was off the agenda. There are never landings in fog or bad visibility for obvious reasons. Instead we were out cruising the bay in the Zodiacs, passing beneath the ice walls of the glaciers and weaving through the ice bergs and pieces drifting in the water. Every now and then a large cracking sound, like a bullet being fired, could be heard as ice calved off the glacier face into the sea. A bear was spotted lying on a large bit of ice and the Zodiacs homed in to observe the bear happily napping. A few yawns, displaying its black mouth and tongue, and the bear slid off the ice and swam off, to be seen later on land strolling along the shore. There were many walruses around swimming and lying on bits of ice together with seals bobbing around on the water and various birds – Arctic Skua, Ivory Gull, Guillemots, Arctic Terns and a flock of female Eider Ducks flying low above the water.
Mid-afternoon we arrived at Alkefjellet or Mount Guillemot which has steep dolorite cliffs rising 100 meters out of the sea. Columns have been formed by erosion and during the summer an estimated 60,000 breeding pairs of Brunnich's Guillemots nest here. The whole experience is remarkable, the sheer volume of bird numbers, the smell and the noise – quite a spectacle. As we cruised beneath the cliffs Guillemots came sailing down, legs out-stretched towards the sea, landing and then bobbing off to fish. Adult birds perched on tiny ledges with their chicks crammed behind them waiting for the moment, after only 3 weeks, when the chick is ready to plunge into the unknown, followed by the adult male who moults and is also flightless. They then begin their long paddle south. We did see a few pairs of males plus small young beginning their journey, the chick keeping in close contact with the adult. Amongst the Guillemots there are also nesting Kittiwakes and the aggressive Glaucous gulls are hanging around ready to take advantage of any unattended eggs or young birds which they can prey upon. Further down the cliffs we also were lucky enough to see an Arctic fox in its striking summer pelt – greyish brown. This fox was making its way between boulders up the Cliffside in a less steep grassy area. These foxes make their dens around the bird breeding cliffs in the summer to feed on eggs and the young birds they find. It is important for them during this time of year to eat as much as possible ready for the lean winter months.
Back on board later that evening it was the Midnight Sun Party starting with a fancy dress competition. All good fun.
Day 7 – Ever changing scenery
We had been told that between 5 and 7 am we would be sailing down Freemansundet to the north of Edgeoya. This area is known for its large number of polar bears who get trapped here when the ice melts and wait out the summer until winter comes. It was advised that if we wished to get up early and go on deck there was a high chance we would see bears, albeit at a distance on the land. However at 6am it was pretty cloudy so I decided the visibility was going to be too poor for much spotting. Some people who had been up at 5am did manage to see a fair number as small dots of yellowy white in the distance.
We arrived by breakfast time at Kapp Lee, a small peninsula off the north-western tip off Edgeoya. Here there was the chance to see reindeer and some old huts from when hunters would come here.It was windy and cool (7 degrees centigrade) but also lightly raining with low cloud. The Zodiac ride to land was fairly 'bumpy' over some biggish waves before we reached the lee of the promontory. Once on dry land we could wander around looking at the plant life, lichens, various types of saxifrage, and Arctic poppies. There were also reindeer dotted around grazing on the tough grass and plant life plus a herd of walruses hauled up on one of the small sandy beaches. It was very nice to stroll around and stretch the legs as long as we avoided the mud which, acting like quicksand, can ensnare the unvigilant walker!
Later we sailed south to Diskobukta on the west coast of Edgeoya to a landing site only available at high tide as it is surrounded by shallow water. Here you find small canyons which are breeding grounds for Black-legged kittiwakes and thus Arctic foxes who prey on the birds. Unfortunately when we arrived the sea was quite rough making getting into the Zodiacs hard and when the scouting party returned to the boat they had seen a polar bear in the bay so the excursion was off. A geology lecture was hastily arranged whilst we sailed on which was very good although I was lacking in basic knowledge to make its finer points intelligible! Instead we continued south to Russebukta a more sheltered bay where we could disembark and have a walk in the Arctic tundra. The terrain was very green with tussocks of grassy mossy land, wet and soft and plenty of plant life. There was a male reindeer to view with impressive antlers and an Arctic fox appeared busily feeding on something.
Today was quite a contrast again to previous days – it has amazed me how varied Svalbard and the Arctic areas are.
Day 8 – Glacial wonders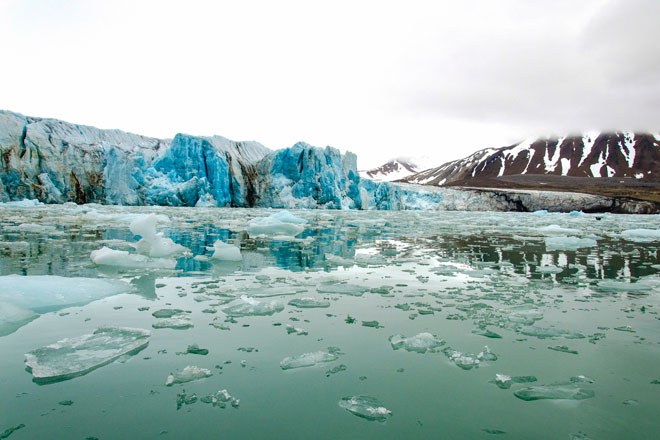 Having sailed around the southern tip of Spitzbergen overnight we woke to see Hornsund and the great glacier of Hansbreen. This was our morning's excursion – to land beside Hansbreen and explore the area on foot. To the north of our landing was a Polish research centre comprising of a number of buildings and a ship. It suddenly felt as if we had returned to a populated area as it is the first inhabited place we have seen for a week. A short Zodiac ride took us to a beach where we disembarked and then had 2 ½ hours to wander around as we wished within the confines of the armed guides – as usual protecting the area from polar bears!
It was good to walk again and climb a short way up the mountain side to view the glacier from above. The beaches were littered with ice in varying shapes and sizes being tossed around in the waves. Every now and then a calving would occur from the glacier face and with the sound of a gun firing ice cascaded down into the water beneath forming a great spray of ice and water and a subsequent wave. During lunch we cruised deep into Hornsund right up to the face of Hornbreen and other glaciers forming the end of the fjord. From here, the afternoon Zodiac cruise took place in lovely clear weather with significant blue sky patches. The afternoon was spent cruising around amongst the icebergs and 'bergie' bits originating from the glacier. Numerous birds were wheeling around sourcing fish from the base of the glacier where the fresh water flowing out creates currents bringing the fish to the surface.
Small calvings occurred and suddenly a massive cracking noise and an absolutely enormous piece of ice started to fall from the face. The Zodiac drivers were quick to react and started motoring away from the glacier as the waves created by such a huge ice fall could be enough to capsize a boat and certainly make the occupants wet! Once all the excitement had died down and the water calmed we all went to examine this huge new ice berg. It was a mix of deep blue, grey, white and had striations showing the passage of air up through the ice as it is squeezed out due to the pressure within the glacier. The visible piece was estimated at 7 x 25 metres and as this is only around 10% of the total size – that's a big berg. The staff reckoned it was the biggest calving they had witnessed and were pretty excited by it too.
Later in the evening we had an on deck BBQ surrounded by the glaciers and icebergs before setting sail once more heading back towards Longyearbyn for our final day at sea. What an adventure it's been.
If you'd love to have your own Arctic adventure then take a look at our collection of Arctic cruises:
Realm of the Polar Bear in Depth
Where to see big cats in the wild - our top 5 destinations
It's International Tiger Day this week which got us talking about some of our big cat 'encounters' and where we thought the best places were to see big cats in the wild.
Although tigers, and other big cats, are highly endangered, you have a reasonable chance of seeing them in their natural habitat in certain national parks and wildlife preserves. But, you have to be extremely lucky to catch a glimpse of a big cat completely in the wild.
Here are our top 5 recommendations for big cat spotting.
Chitwan National Park, Nepal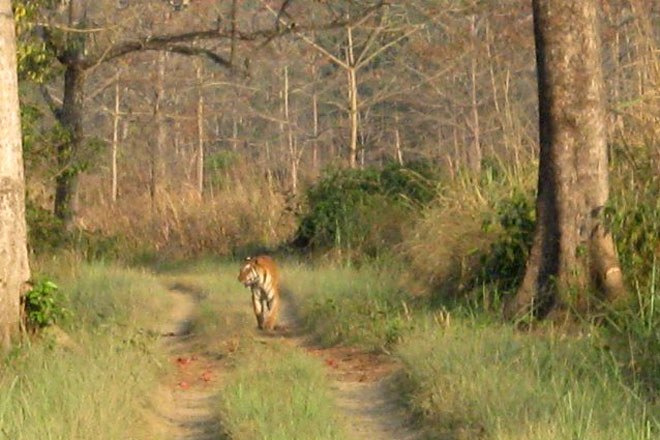 Chitwan Tiger by Katie Berry
We just love Chitwan National Park and many members of the Mountain Kingdoms team have been fortunate enough to visit the park on trips to Nepal. Chitwan is home to the 'King of the Jungle', the Royal Bengal Tiger, and the floodplain habitat of the Terai is one of the best tiger habitats anywhere in the world. Our MD's daughter, Katie, saw one of these majestic beasts strolling along a track whilst she was staying in the park a couple of years ago. She even managed to get a photo.
However, if you don't manage to see an elusive tiger there's plenty of other unusual and fascinating wildlife to keep your interest including sloth bears, flying squirrels, crab-eating mongooses and honey badgers to name but a few.
A visit to Chitwan can be added on to any of our holidays to Nepal and Bhutan or we can tailor make a trip combining Chitwan with activities such as trekking, sightseeing and rafting.
Yala National Park, Sri Lanka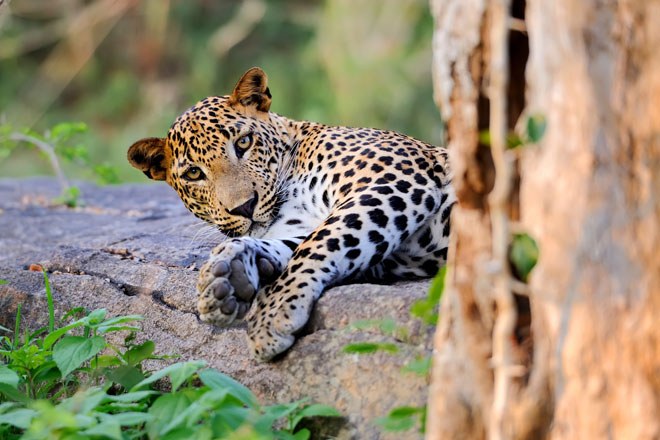 Leopard in Yala National Park
Sri Lanka is fast obtaining a reputation for excellent wildlife viewing and Yala National Park is considered to be the country's premiere national park. Leopards are the main attraction at Yala and, as these normally elusive cats have grown quite accustomed to the safari jeeps that criss-cross the park, you have quite a good chance of spotting one on the dirt trails, sitting atop a rocky outcrop or even basking in a tree.
Our Reservations Manager, Seraphina Berry, was lucky enough to see a leopard lounging in a tree when she visited Sri lanka in 2006, whilst our Flights Manager, April Palmer, saw one prowling in the distance on a trip to Yala earlier this year.
Game drives at Yala can be enjoyed as part of our Gentle Walking Sri Lanka holiday or as a tailor made holiday.
The Himalaya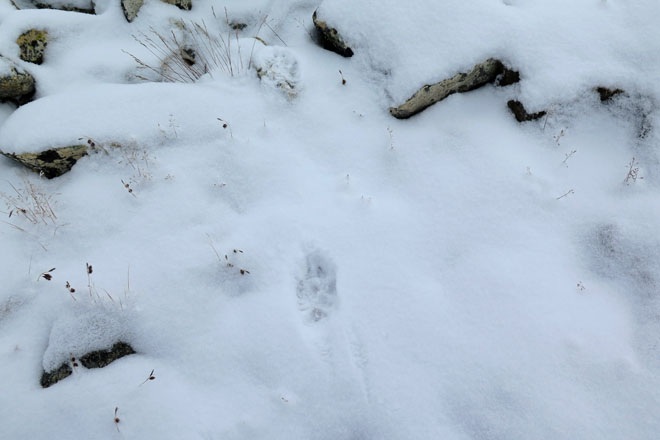 Snow leopard print on the Ghami La by Niki Morgan
We're not claiming that it's easy, or even likely, that you will see a snow leopard whilst trekking in the high Himalaya, but just the merest possibility of spotting one of these incredibly rare creatures adds another dimension to your trek. Snow leopards breed across a vast tract of the Himalaya including Ladakh, Zanskar, Bhutan and Nepal but their numbers remain very small and their habitat extremely difficult to reach for most trekkers.
The nearest anyone in the office has got to seeing a snow leopard was in 2014 when our Operations Manager, Niki Morgan, followed a set of snow leopard tracks in the snow across the Ghami La when she completed our Dolpo to the Kingdom of Mustang trek in Nepal. She returned home with this photographic proof of her near encounter. Niki believes that the wild Dolpo region of Nepal offers some of the best opportunities for seeing evidence of these reclusive big cats.
The Serengeti, Tanzania
Serengeti lioness and cubs by A Tierney
If you want to see big cats in the wild, then the national parks of Tanzania are the place to be. Tree climbing lions are well-established residents of Lake Manyara National Park, lions live in large numbers in the Ngorongoro Crater and leopards are not an uncommon sight on the Serengeti plains.
On our Serengeti Walking Safari in Style you can really get up close and personal with Africa's big five as well as a host of other incredible birds and wildlife. One of our clients, Alan Tierney, went on safari with us last year in the Serengeti and took this fabulous photo of a lioness and her cubs by a water hole.
Kaziranga National Park, India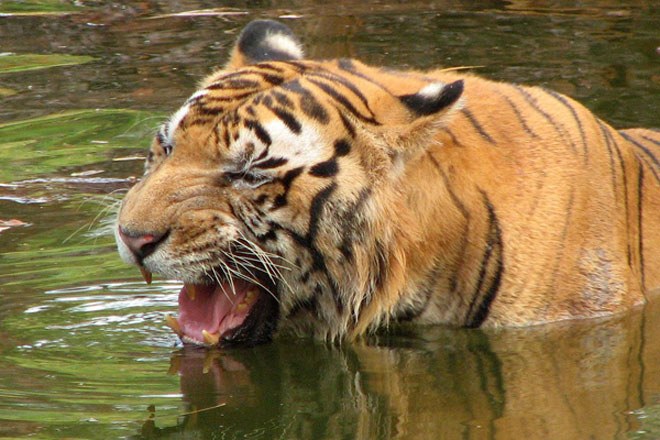 Kaziranga tiger
Situated in northeast India, along the banks of the mighty Brahmaputra River, Kaziranga National Park boasts the highest density of tigers among the protected areas in the world and was declared a Tiger Reserve in 2006. A bio-diversity hotspot the park has an impressive array of wildlife including the rare One-horned Indian rhinoceros, elephants, swamp deer and water buffalo, plus a myriad of exotic birdlife.
A visit to Kaziranga is one of the main highlights of our Brahmaputra River Cruise. On this trip, you set out before sunrise from your cruise boat to enjoy an elephant-backed safari at dawn, through the grasslands of Kaziranga. Whether you see a tiger or not, it will be a truly unforgettable experience.
An interview with Linda: Walking in Montenegro
Kotor Bay
In May this year our Operations Assistant, Linda Denniff, joined one of our groups heading to the Adriatic coast on our Montenegro Lakes & Mountains walking holiday. A seasoned traveller, Linda has taken many a holiday in Europe, but this was her first to the Balkans region. As soon as she got back to the office we asked her all about her experience and here's what she told us.
Give us an overview of your trip
This is a 9 day walking holiday based in the scenic, coastal and mountain region to the south west of Montenegro. Along with a programme of energetic day walks, there are visits to local historic towns, such as Kotor and Cetinje, and to scenic Tara Canyon. We also extended our holiday with a couple of nights in nearby Dubrovnik.
What made Montenegro so special for you?
The mountains, towns and coast were all so pristine and picturesque, and there were sublime views to enjoy around virtually every turn of the walks. The wonderfully colourful spring flowers were also a joy to behold.
What was the food like?
Simply delicious, especially the seafood which was incredibly fresh and well-cooked. The local wines were also a very pleasant surprise and really good value.
Did you spend time with the locals?
We were led by our guide, Milan, who was from the area and was a real expert on the flora, fauna and history of the region. His English was very good and he kept us all entertained, informed and motivated as we walked along the trails.
Whenever we met and talked with the locals they were friendly and hospitable. They are a proud and indomitable people and have a fascinating history which we learned a lot about on this trip.
What were the walks like?
Very varied. We trekked through ancient forests to reach gorgeous glacial lakes, walked over high mountain paths with panoramic coastal views and strolled through idyllic alpine-like meadows carpeted with wildflowers. The holiday is graded moderate which means several hours of walking each day with plenty of ascent and descent; just perfect for a keen hill walker like me.
Describe a typical day
There were no early starts so we always enjoyed a relaxed and plentiful breakfast before driving to the start of the walk – generally less than an hour away. We'd walk for between 4 and 6 hours, with a long break to enjoy a picnic lunch, and arrive at our overnight accommodation in the late afternoon. There was time for a rest before getting together again with fellow group members in the evening for drinks and a lovely meal in a local restaurant.
What was the accommodation like?
Most nights were spent in comfortable, tourist hotels with good facilities but we also had a night in a traditional shepherd's hut in the mountains. Although the huts were basic we had solar power, a hot shower and a delicious meal served in a large, communal dining 'hut'. It was a really unusual and special place to spend a night.
Did you spend any time in the towns?
I extended my holiday with a couple of nights in Dubrovnik which is just over the border in Croatia. The compact old town is a maze of enticing little streets where we found lots of cafes, bars, shops and restaurants to while away the hours. Probably the best way to appreciate the medieval splendour of Dubrovnik's old town though is to take a walk round the impressive city walls or ride the cable car to the summit of Mount Srd where you get splendid aerial views.
We also visited Kotor, rightly considered one of the pearls of the Adriatic. It's a UNESCO World Heritage Site and incredibly beautiful with a sweeping bay and mountain backdrop. The first walk of the holiday is to the summit of Mount Vrmac – high above the town – from where there were glorious panoramic views. As we walked along the trail we could see down to the sun-kissed bay and coast and across to the surrounding snow-capped mountains.
A visit to the old capital of Cetinje is also included in the itinerary. It's a small mountain town and, not surprisingly, it's very historic. It has many interesting buildings to discover and a real mix of architectural styles. A very pleasant place for a wander.
What was your holiday highlight?
It's very hard to pick just one – but probably the spectacular mountain scenery we enjoyed in Durmitor National Park near the end of the trip. The walk we did there was the most challenging of all but it was so worth the effort. It had everything you could want on a good walk - in abundance: soaring mountains, turquoise lakes, verdant meadows, primeval forests, a profusion of wildflowers and endless stunning views. A truly memorable end to an unforgettable holiday!
Tibet Festivals 2017
Summertime sees numerous festivals here in the UK, but it's not just at home where festivals are enjoyed at this time of the year. In Tibet too, June, July and August is a time when several important Buddhist festivities take place and, just like our festivals, they are characterised by music, dancing and great celebrations. Here are the proposed dates for three of Tibet's most significant festivals in 2017 along with information about where they're held, what to expect and the holidays we offer in Tibet that include them.
Saga Dawa Festival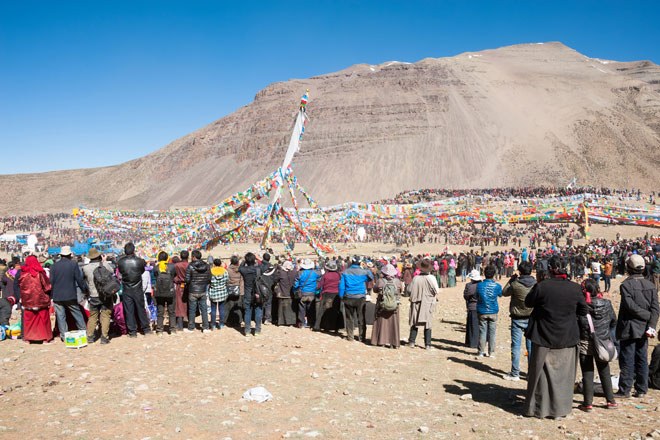 Saga Dawa Festival, Kailash
When and where?
Saga Dawa celebrations are held throughout Tibet and other Buddhist countries. One of the most unusual festivals takes place at Tarboche at the foot of sacred Mount Kailash.
The festival coincides with the full moon of the fourth lunar month. Next year this has been set for the 9th June 2018.
What are the celebrations about?
This very significant and ancient Buddhist festival honours the life of Buddha through prayer, meditation and giving alms. It is believed that good deeds and prayers are multiplied a thousand fold during this event.
What happens at the festival?
Each year, in the dramatic mountain setting of Tarboche, a towering, ceremonial flagpole is raised. The pole is bedecked which hundreds of colourful prayer flags. Once raised, it is believed that the wind carries the prayers to the heavens but, if the flagpole is not completely upright, it's thought that bad luck will follow. So no pressure on the pole setter-upper! If he succeeds in his mission there are cheers of joys from the assembled pilgrims. Buddhist pilgrims travel to Tarboche in their thousands and, during the ceremony, many of them will circle round the flagpole, chanting and praying as they walk. Mounds of incense and juniper are burnt, printed prayers thrown to the wind and horsemen occasionally race around the flagpole in traditional costume. It's an amazing insight into Tibetan Buddhist culture.
In Lhasa hundreds of people gather in front of the Potala Palace to pray - either standing upright or prostrate - and there's a mass picnic in the local park. Throughout the rest of Tibet, butter lamps are lit in Buddhist temples, prayers said and alms given to monks.
How to see it
Join our Mount Kailash & Saga Dawa Festival trek to experience the festivities; walk along the shores of Lake Manasarovar, complete a full kora of Mount Kailash and spend a day at the joyful Saga Dawa festival.
Tashilumpo Festival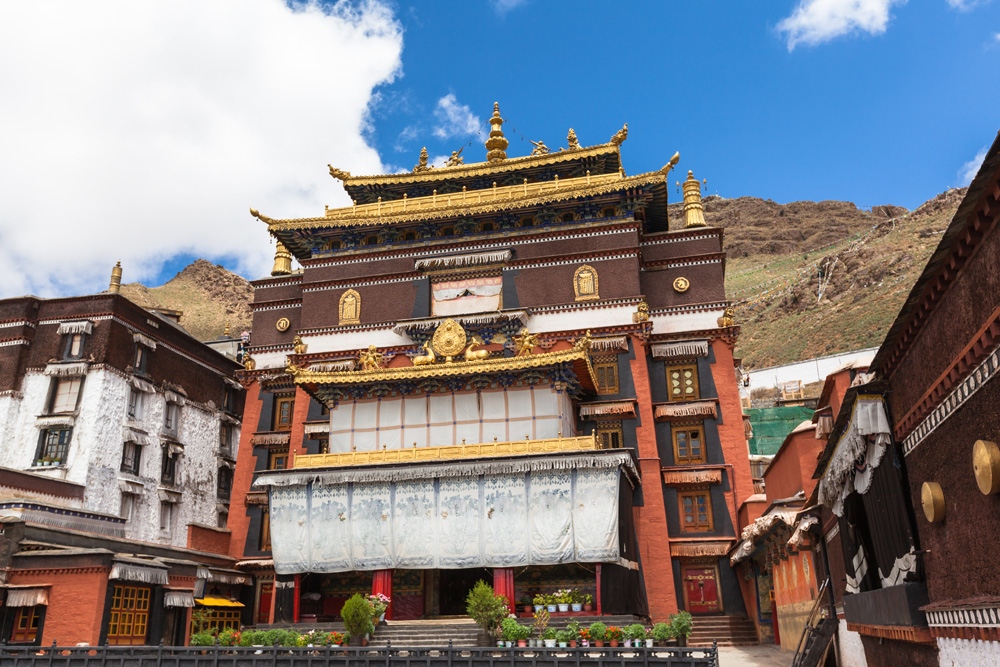 Tashilumpo Monastery
When and where?
The festival is held at the Tashilumpo Monastery in Shigatse – Tibet's second largest city.
The three day event takes place in the fifth lunar Tibetan month. In 2017 it's due to be held on the 8th, 9th and 10th of July.
What are the celebrations about?
The festival was created some 500 years ago by the first Dalai Lama – Gendun Drupa – and is unique to the monastery at Tashilumpo.
What happens at the festival?
Each day, different portraits of Buddha that have been hand embroidered on silk or satin are exhibited. The climax of the festival though is a spectacular ceremony in which a huge, 4-storey, painted, thangka is unfurled in front of hundreds of gathered pilgrims. This is also known as the Buddha-unfolding ceremony. Thousands of pilgrims and tourists gather and Cham dancers perform making it a vibrant, unique occasion.
How to see it
The July departure of our Definitive Cultural Tour of Tibet attends the ceremony as part of a 16-day, in-depth tour of the most important religious and cultural sites in Tibet.
Shoton Festival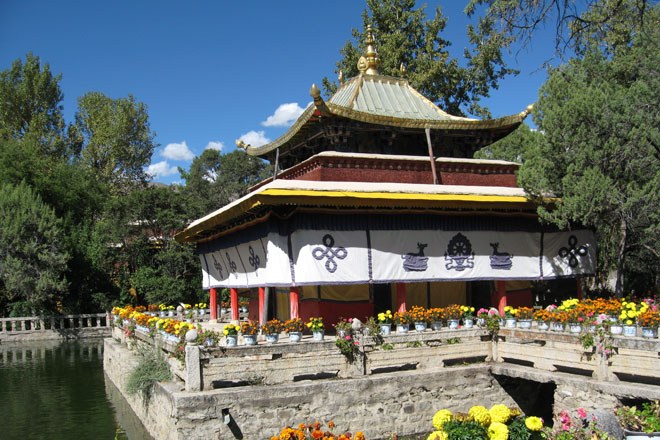 Norbulingka Palace by R Shorrock
When and where?
It is usually held during August in accordance with the lunar calendar. The 21st and 22nd of August are the dates for 2017.
The Drepung Monastery and Norbulingka Palace in Lhasa are the two main sites of the Shotun festival.
What are the celebrations about?
Also known as the 'yoghurt banquet' festival. This festival was traditionally timed for when the lamas (monks) came back from cultivating their crops in the mountains and were welcomed home by local people with yogurt and an outdoor banquet.
After 1642 the Drepung Monastery became the political, religious and cultural centre of Tibet. Each year tens of thousands of people went there to give yoghurt to the lamas and to ask for blessings. Tibetan Opera groups and wild yak dancing troops all came to perform - giving rise to the Shoton Festivities.
What happens at the festival?
The Drepung is still one of the major monasteries of the Lhasa region and on the first day of the festival a huge thangka unfolding ceremony is held there. A 500-square-meter painting of the Buddha is carried by over 100 lamas to a platform on a hillside at the back of the monastery. There it is unfurled ready for the first rays of the sun to strike it. This ceremony is called 'Buddha basking in the sun'. The occasion is marked by the throwing of white scarves. Within two hours, the thangka is once again rolled up and returned to the monastery for safe keeping till the following year.
After the unfurling ceremony at Drepung, festivities begin the following day at the Norbulingka Palace. The residents of Lhasa gather in the park at the palace and celebrate by eating yoghurt and watching the operas. Professional and amateur opera troops perform traditional Tibetan operas. Alongside the opera performances there are dances and even yak and horse races to watch.
How to see it
Travel on our Definitive Cultural Tour of Tibet in August and you will be able to join the pilgrims for the grand thangka unfurling at Drepung. You will also explore the landscapes and cultural sights of this fascinating Himayalan land.
24 Hours in Thimphu - the Royal Visit to Bhutan
With barely a day dedicated to Bhutan on William and Kate's tour schedule, there's hardly enough time for them to leave the ceremonies and speeches behind and experience the Thunder Dragon Kingdom for themselves. But if they could just be regular tourists for a day, how should they spend their 24 hours in Thimphu. Here's our guide …
Start the day at Buddha Viewpoint. There's a lot to pack into the day so it's an early start and a short drive to reach Buddha Viewpoint just south of the town. Not only is this one of the best places for great views of Thimphu and the surrounding valley, but it's also the site of an impressive 50 metre high, golden Buddha statue.
Explore the market. Returning to the town it's time for some shopping. If visiting at the weekend than the weekend market is a must. It runs along both sides of the Wang Chhu river and has numerous food stalls on one bank and a smaller selection of handicraft stalls on the other. Popular produce on sale includes tea bricks, chillies, red rice, jackfruit and strings of datsi – home-made cheese. In fact, the market is also a good place to try Bhutan's national dish – ema datsi – a curiously spicy mix of chilli and cheese.
Treat yourself to a souvenir. There are plenty of shopping opportunities along the main downtown streets where you can buy anything from prayer flags to t-shirts and incense to jewellery. And for that special souvenir, why not take home a gho or kira – the Bhutanese national dress, or call into the Post Office to pick up a sheet of Bhutan's unique, personalised, postage stamps. Makes a change from having granny on your stamps!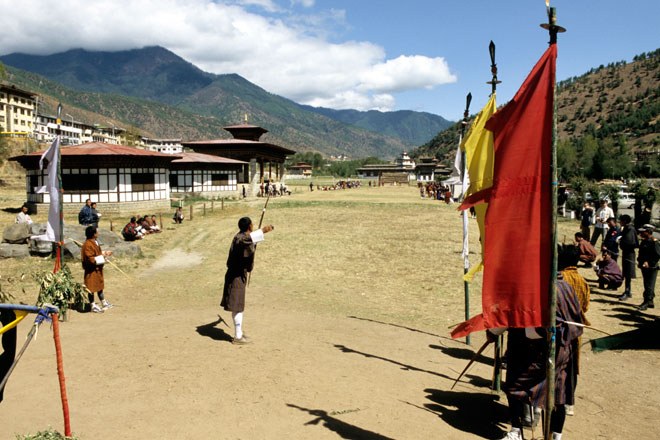 Watch an archery competition. Stop by the Changlimithang Stadium and Archery Ground where there might be a competition in full swing. Archery is Bhutan's national sport and is always an entertaining spectacle. Unlike our more sedate version of the sport, traditional Bhutanese archery involves good-natured 'sledging' of the opposition as well as celebratory singing and dancing.
Visit the Textile Museum. Bhutan is renowned for its beautiful hand-woven textiles – most evident in the intricate and colourful designs of the local dress. To see textiles being produced in the traditional way William and Kate should pay a visit to the fascinating National Textile Museum before they stop for lunch.
Lunch with the traffic police. Stop for a quick lunch and coffee at one of Bhutan's many bakeries. The Swiss Bakery is the oldest in town and a bit of an institution. It's also a great place to watch the local police directing the traffic. In a town with no traffic lights, the white-gloved police keep the traffic moving with a unique style akin to a robot crossed with a ballet dancer!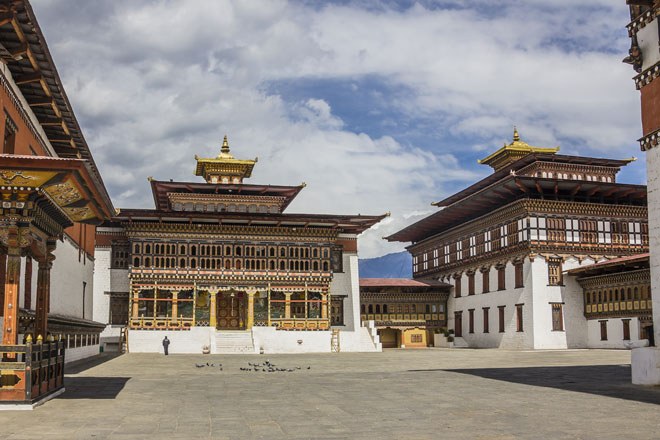 Visit the dzong. After lunch it's off to Taschiccho Dzong – Thimphu's main cultural attraction and the ceremonial centre of the country. This imposing monastery/fortress has both sacred and administrative functions and is still the seat of government as well as the official residence of the King. The splendid courtyard (dochey) isn't to be missed or the assembly hall with its painted ceiling and original thrones. An ideal spot for the royal visitors to sit and rest!
Take a hike. No visit to Bhutan is complete without a walk, and the short but rewarding hike to Tango Gompa can easily be added to a day out in Thimphu. It takes about an hour to reach the gompa following a pretty, wooded trail at the head of the valley. Tango gompa is a monastery and centre of learning for Buddhist monks and comprises a picturesque tower and surrounding buildings built in traditional Bhutanese style.
Enjoy the nightlife. Start the evening with a traditional apple brandy at the Hi Jinks Bar at the Druk Hotel (this is one of our MD, Steve Berry's, favourite haunts) before heading to the Bhutan Kitchen restaurant for an authentic Bhutanese meal. The perfect end to a perfect day whether you're royal or not.
If you're intrigued about this unique Himalayan kingdom find out more about what makes Bhutan so special, take a look at all our holidays to Bhutan or get some inspiration for a Tailor Made trip of a lifetime.
The royal visit to India & Bhutan - Kaziranga National Park
As part of their upcoming visit to India and Bhutan, the Duke and Duchess of Cambridge will spend two days in Assam. They will meet local villagers, see young film makers, enjoy festival celebrations and spend time at Kaziranga National Park.
Kaziranga is a World Heritage Site on the banks of the Brahmaputra River and it has an impressive diversity of habitats and wildlife. The royal couple will see some of the important conservation work the park does when they visit the Centre for Wildlife Rehabilitation and Conservation; the Duke is President of United for Wildlife and is passionate about conservation issues. They will also spend time at the Kaziranga Discovery Centre - built by the charity Elephant Family – which is a unique clinic for working elephants as well as an elephant information centre.
Perhaps though, the highlight of William and Kate's time in Assam, will be an open-air game drive. Kaziranga is home to 35 species of mammals and 14 different primates whilst the vast river system provides refuge for rare dolphins, turtles and numerous types of fish. It is considered an Important Bird Area with many raptors, waterbirds and songbirds, and it provides shelter for some of the longest and most venomous snakes in the world including the King Cobra.
Here's our top five Kaziranga wildlife spots:
Greater One-horned Rhinoceros (also known as the Indian Rhinoceros)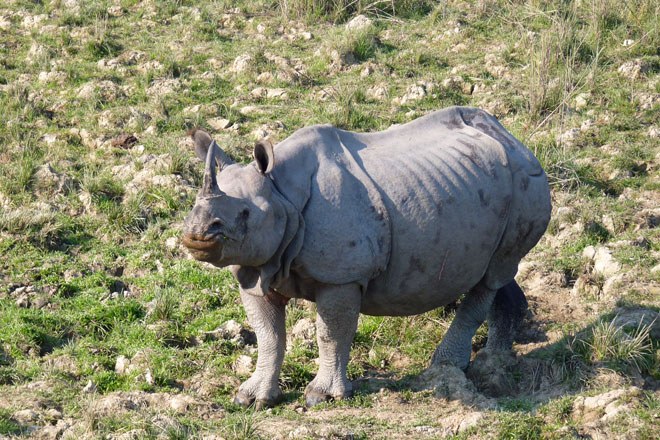 One-horned rhinoceros
Kaziranga is home to 2/3 of the the world's population of the One-horned Rhinoceros – with about 2,400 individual rhinos counted at the last census in 2015. They are one of the main attractions of the park and William and Kate will no doubt see several on their game drive.
Royal Bengal Tiger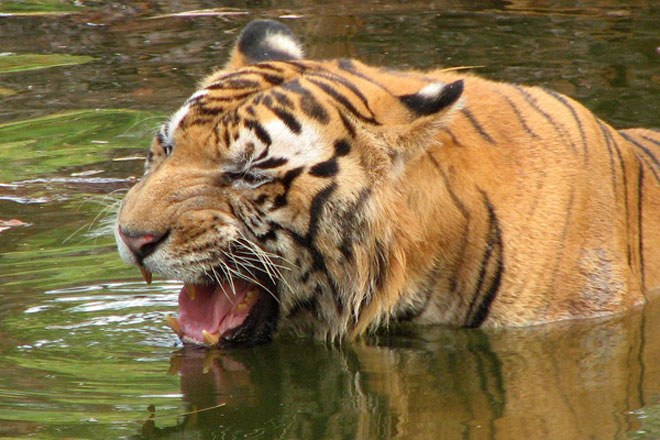 Royal Bengal Tiger
Much more elusive than the rhino, with less than 100 individual tigers in the park, the royal couple will do well to spot a royal tiger.
Indian elephant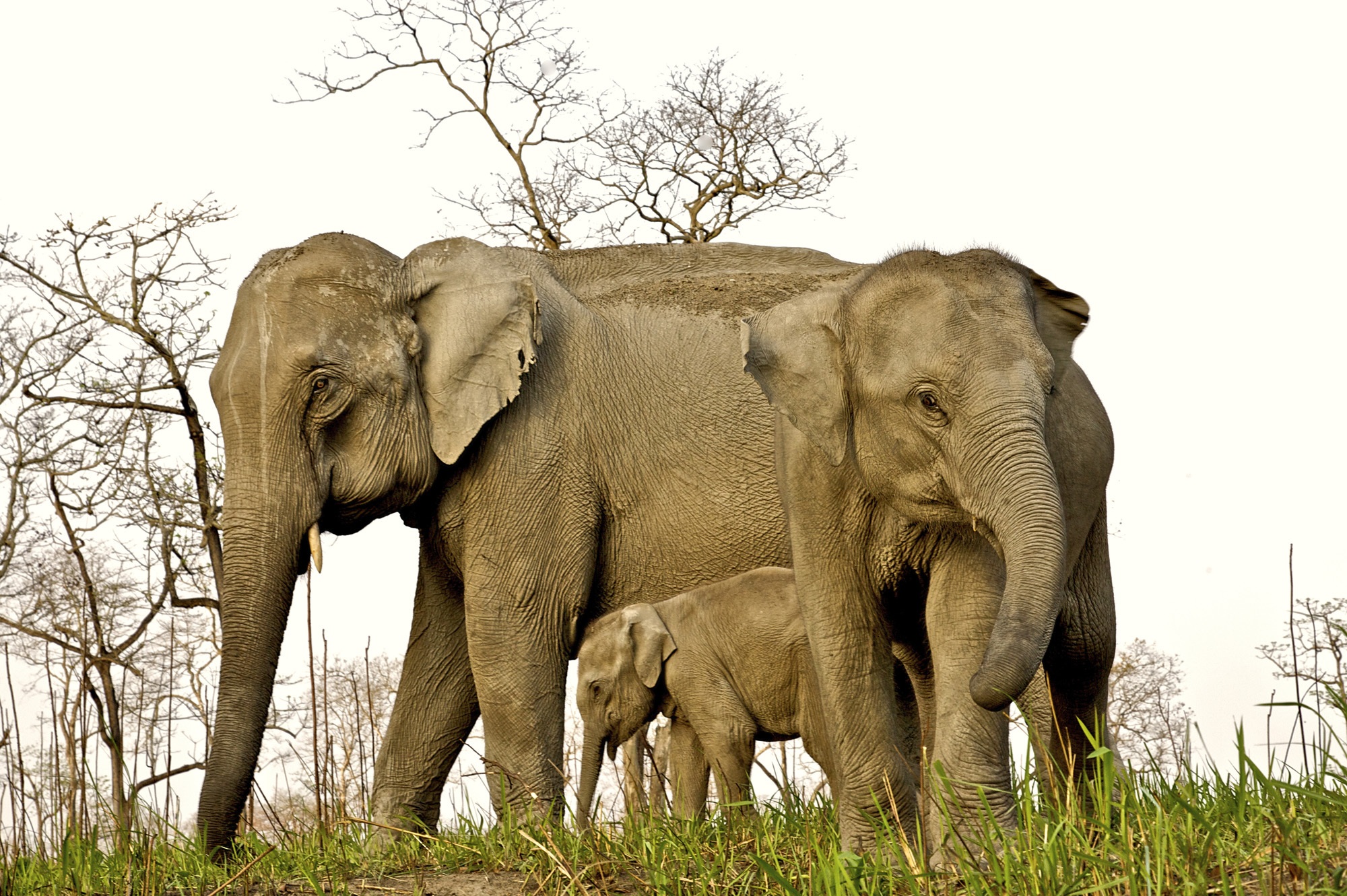 Indian Elephants
There are more Indian elephants in Assam than any other Indian state so sightings should be plentiful on the royal game drive.
Birdlife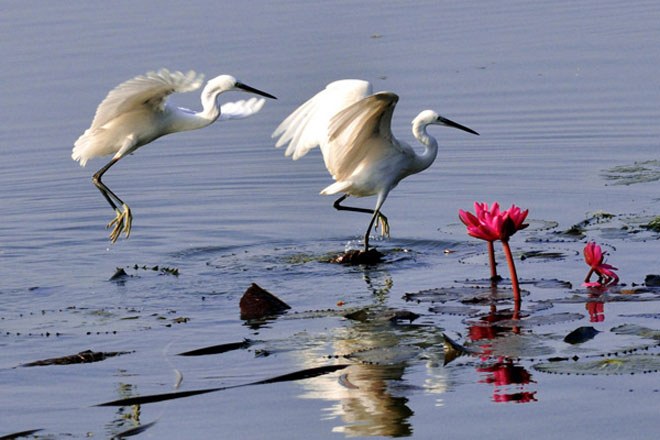 Egrets
A birder's paradise, Kaziranga has a myriad of different birds to discover from the more commonplace egrets and ducks to threatened species like parrotbills and pirinias. There are also many birds of prey including fish eagles and kestrels.
Wild Asian Water Buffalo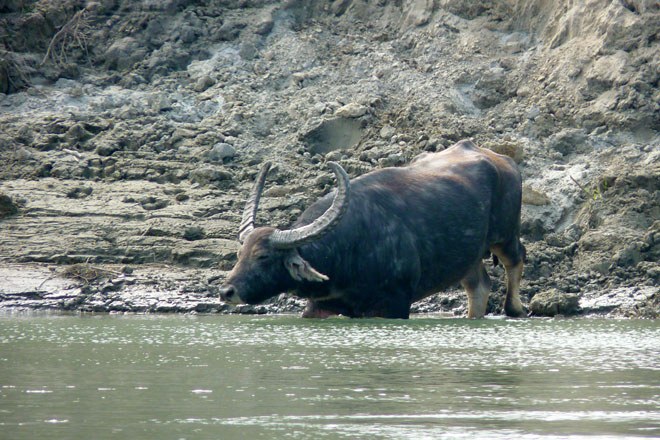 Wild Asian Water Buffalo
Characterised by their impressively long, curved horns Asian water buffalo are considered an endangered species. The vast majority of the remaining buffalo are found in Assam and are easy to spot on a visit to the park or alongside rivers in the region.
If you want to follow in the footsteps of Prince William and Kate then take a look at our three tours that visit Kaziranga as part of a cruise along the mighty Brahmaputra River. Each tour combines the cruise with time exploring another fascinating cultural destination:
Brahmaputra River Cruise & Bhutan
Brahmpautra River Cruise with Darjeeling

Brahmaputra River Cruise with Rajasthan
2015 Photo of the Year Competition
We had a great response to our 2015 Photo of the Year competition. The standard was impressively high and we received a wonderfully varied selection of pictures of mountains, wildlife, people and places to choose from. Needless to say there was much debate in the office when it came to shortlisting the five finalists shown below.
After opening the vote to the general public, the winner was Mr Mason with his evocative image of Mount Gangapurna in Nepal. Many congratulations to Mr Mason who wins £150 towards the cost of a Mountain Kingdoms holiday.
Winning image - Mount Gangapurna by T Mason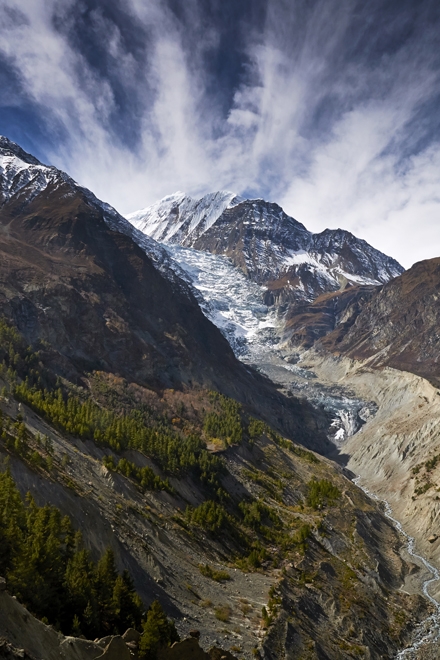 Mount Gangapurna by T Mason
Here's our shortlisted top five:
Dhaulagiri (8,167m) from Muktinath by T Mason
Dhaulagiri from Muktinath by T Mason
A dramatic image from the Annapurna Circuit trek of one of Nepal's most majestic peaks – Dhaulagiri. It is one of only 14 mountains in the world higher than 8,000m and dominates the skyline as you descend from the Thorong La Pass – the highest point of the Annapurna Circuit. This picture was taken about half way round the trek at the village of Muktinath - an important pilgrimage site for Buddhists.
22 days |16 days on trek | Strenuous grade
Elephants on the Move by A Tierney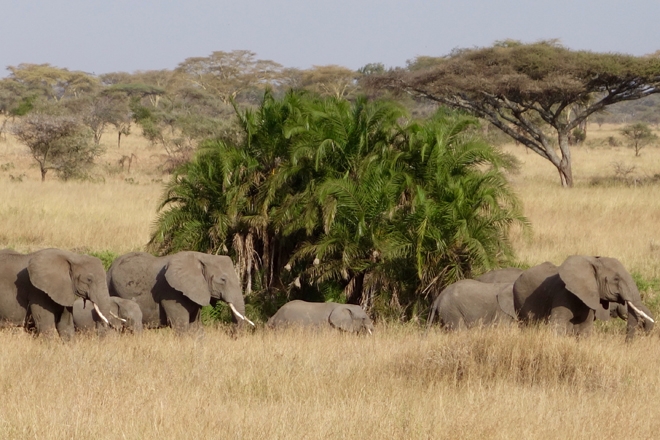 Elephants on the Move by A Tierney
This delightful image of a herd of elephants strolling through the grasslands was taken on a Mountain Kingdoms tailor made safari to the Ngorongoro Conservation Area and Serengeti National Park in Tanzania. These parks are amongst the richest wildlife reserves in all of Africa and have an incredible diversity of animals and birds in a variety of landscapes and habitats.
Our new small group Serengeti Walking Safari provides a unique opportunity to get up close to the wildlife whilst staying in luxury camps in beautiful, wilderness locations.
Serengeti Walking Safari in Style
12 days | Walks on 6 days, game drives on 4 days | Gentle grade
Dance of the Wrathful Deities by Jane Vincent-Havelka
Dance of the Wrathful Deities by Jane Vincent-Havelka
Attending a festival in Bhutan is one of the absolute highlights of any visit to the Thunder Dragon Kingdom. Full of energy, colour and character they are both sacred celebration and social gathering - encapsulating and expressing the unique cultural identity of Bhutan. This photo was taken at the Jamba Lakhang Drup Festival in Bumthang, but similar dancers, bedecked in their colourful costumes and fearsome masks, can be seen at any of the festivals that take place across the country.
We incorporate time at a festival into many of our Bhutan holidays including: Gentle Walking, Bhutan, Thunder Dragon Trails, Druk Path Trek and Chorten Path Trek. Read our Bhutan Festivals blog post to find when different festivals are held and which of our treks and tours visit them.
The Lost World by A Tierney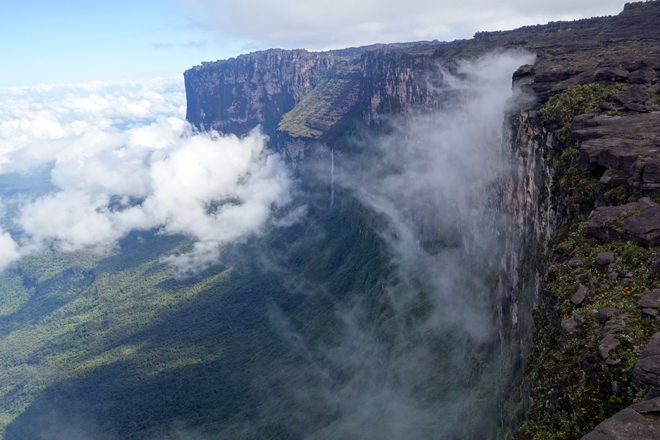 The Lost World by A Tierney
This image was taken from the summit of Mount Roraima in Venezuela on our Lost World trek. Unlike more conventional mountains with their lofted peaks, Roraima is a table-top mountain (or tepui) with a broad plateau instead of a single summit. Made famous by Conan Doyle in his novel 'the Lost World', Roraima is characterised by its sheer cliff faces, impenetrable cloud forest, plunging waterfalls and exotic flora. Often shrouded in swirling cloud it makes an enigmatic subject, perfectly captured in this photo.
You can trek to the summit of Mount Roraima as well as visit nearby Angel Falls and the watery world of Canaima, on our Lost World trekking holiday.
Lost World Trek, Venezuela
13 days | 6 days on trek | Moderate grade
Mount Gangapurna by T Mason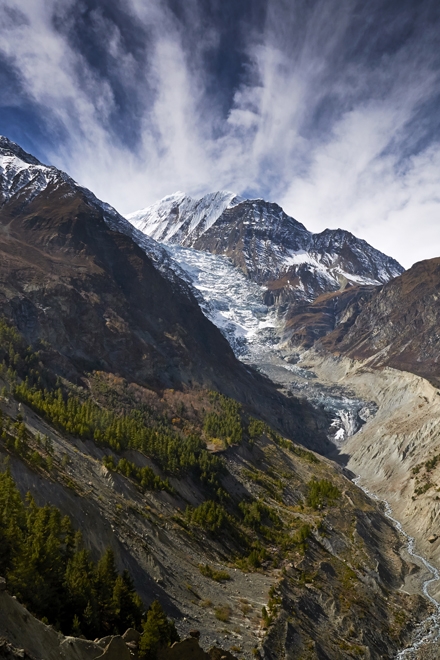 Mount Gangapurna by T Mason
The Annapurna Circuit in Nepal is one of the world's greatest treks. With stunning scenery from start to finish, it's renowned for the giant Himalayan mountains that form the backdrop to the trekking route. Machhapuchare, Dhaulagiri and Annpapurna South are amongst the most celebrated but some of the lesser known peaks are also worthy of attention. This striking photo, taken from the picturesque village of Manang, shows Mount Gangapurna (7,453m/24,452ft) with its vast, tumbling glacier adding to the drama and beauty of the scene.
You can enjoy this fantastic view yourself on our classic Annapurna Circuit Trek or on our Mini Annapurna Circuit.
22 days |16 days on trek | Strenuous grade
16 days | 10 days on trek | Vigorous / Strenuous grade
2014 Photo of the Year Competition
A big thank you to everyone who sent in photos for this year's Photo of the Year Competition. It was a near impossible decision to choose just five from the many we received but, after much discussion and debate, we've come up with our finalists. Here they are, together with a little bit of explanation about where they were taken.
Yak of the Year by M Green
Yak of the Year by M Green
This rather magnificent yak was photographed in front of Ama Dablam on the trail to Gokyo from Everest Base Camp. In fact, its exact location was the hamlet of Dzong La at 4,850m and Mr Green did exceptionally well to take a picture with such a perfectly posed yak.
Everest Base Camp & Gokyo Lakes, Nepal
22 days | 17 days on trek | Strenuous grade
Coppersmith of Skiu by S Hull
Coppersmith of Skiu by S Hull
The village of Skiu, along with neighbouring Chilling, is renowned for its tradition of copper work and this image shows one of the coppersmiths at work outside his home. The tools may be very basic but the quality of the workmanship is exceptional and it takes many years to reach the required standard. This is only one of many fascinating cultural and natural sights you can see on a trek along the Markha Valley in Ladakh.
14 days | 7 days on trek | Vigorous grade
Tsheri Kang by N McCooke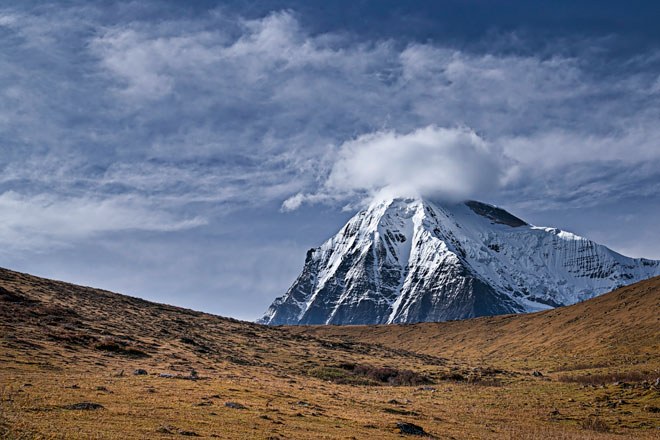 Tsheri Kang by N McCooke
This impressive shot of Mount Tsheri Kang in the Himalayan mountains of Bhutan, was taken after 8 days of trekking on the remote Lingshi Laya trek. Having made the long haul to the top of the Jarela Pass at 4,785m, the views of the majestic peak of Tsheri Kang, towering above the pass, make all the hard work worthwhile.
23 days | 13 days on trek | Strenuous grade
Local Woman, Dharapani by A Harrison
Local Woman, Dharapani by A Harrison
The remote Naar-Phu region of Nepal lies close to the border with Tibet and provides a wonderfully remote trekking experience away from the traditional Annapurna Circuit. Lying close to the Tibetan border, the customs and practices of Tibetan Buddhism are evident throughout the area as can be seen in the traditional dress and the colourful prayer wheels in this photograph. It was taken in the village of Dharapani, right at the start of the trek.
Naar-Phu & the Annapurna Traverse, Nepal
20 days | 13 days on trek | Strenuous grade
Tsho Rolpa Lake, Nepal by A Luck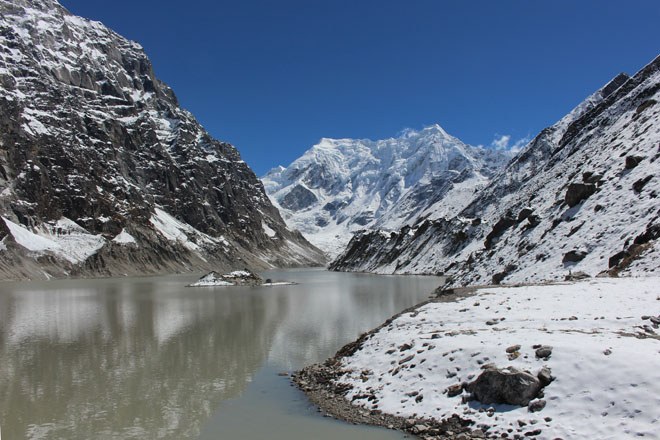 Tsh Polpa Lake by A Luck
This is another off-the-beaten-track trek near to the Tibetan border. The trail leads between giant Himalayan peaks, through the hidden Rolwaling Valley till it eventually reaches Bigu Gompa – a remote yet important Buddhist monastery. The beautiful and serene lake in this image makes a wonderful picnic spot with its superb views of the surrounding peaks.
The winner of this year's competition will win £150 off a Mountain Kingdoms holiday. Good luck to our five finalists.
2013 Photo of the Year Competition
Wow, what an amazing selection of images you've sent us from your holidays around the world. As you can see from our final five photos, we've got temples in Burma, Italian peaks, Venezuelan falls and stunning Himalayan scenery – a positive cornucopia of travel experiences. As you can imagine, it was incredibly difficult choosing just five finalists and led to a great deal of heated debate in the office but, we hope you'll agree, our final shortlist is pretty special. Now it's over to you to vote for your favourite from those featured below. The winning photographer will receive a £150 voucher towards a Mountain Kingdoms holiday.
Temples through the haze, Bagan by P Adams
Temples through the haze, Bagan by P Adams
In the early morning or evening light there is no more photogenic place than Bagan, as is evidenced by this captivating photo of the temples on the plains. In fact, Burma is a wonderful place for the keen photographer to visit with countless and varied photo opportunities. We can arrange a private tour to make the most of the cultural and scenic splendours.
Burma – A Photographer's Delight, private itinerary
14 days | cultural tour
View from Lagazuoi Refuge, Dolomites by D Bird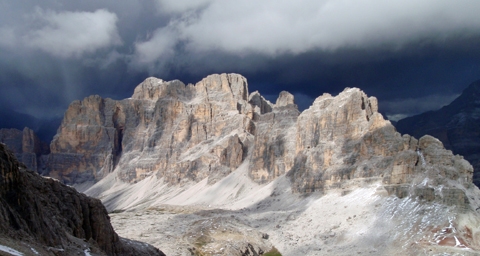 View from Lagazuoi Refuge by D Bird
This exceptional view was taken from one of the most spectacular rifugios in the entire Dolomite range, rifugio Laguzuoi. This traditional mountain refuge is perched 700m above the valley floor and offers 360 degree panoramic views. This image beautifully captures the dramatic mountain scenery with the stormy black skies emphasising the jagged ridges and the delicate pink hues of the dolomite rock.
8 days | 6 days trekking | Vigorous grade
Chorten on the Ama Dablam Trek, Nepal by J Tobin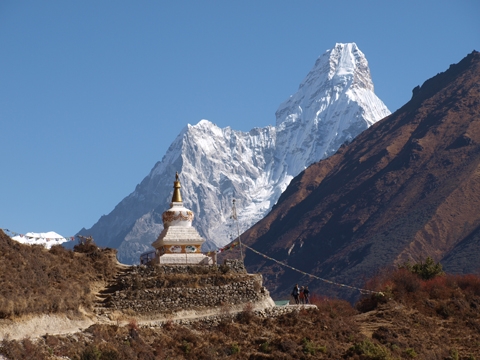 Chorten on the Ama Dablam Trek by J Tobin
Rightly considered one of Nepal's most beautiful mountains, Ama Dablam is a photographer's dream. And, we think that this image of the mountain, together with a chorten and a group of trekkers, encapsulates the scenic appeal of the trail to Ama Dablam. The photo was taken on our luxury lodge trek which uses first rate trekking lodges en route.
Luxury Lodges to Ama Dablam Base Camp
16 days | 11 days trekking | Vigorous grade
Mustang, Nepal by S Butler
Mustang by S Butler
The dramatic and varied scenery of the Mustang region of Nepal has been perfectly captured in this photograph taken on our Mustang & the Kingdom of Lo trek. From desert landscapes to snowcapped peaks and cliff dwellings to cave monasteries, Mustang is full of cultural interest and spectacular scenery. And with access to the region limited via special entry permits, Mustang retains its unique identity and sense of mystique.
Mustang & the Kingdom of Lo
18 days | 11 days trekking | Vigorous grade
Angel Falls, Venezuela by M Green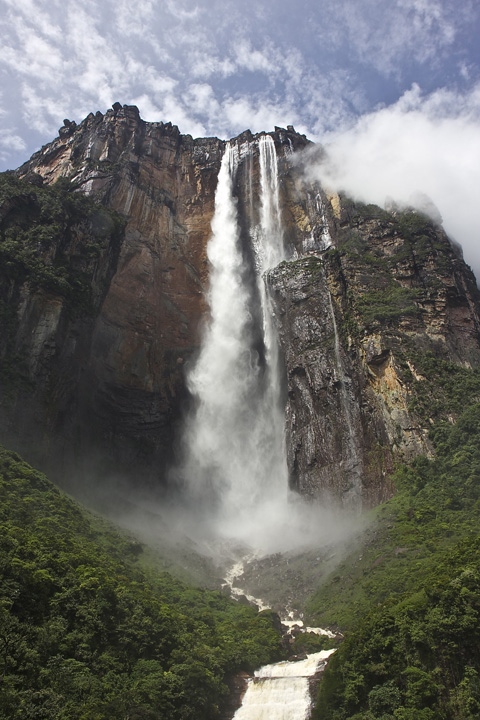 Angel Falls by M Green
With a vertical drop of 807m/2,648ft, Angel Falls are the highest falls in the world and can certainly claim to be the most visually impressive. This dramatic image was taken from Ratoncito Island at the base of the falls which is reached via a boat trip up the Carao river followed by a trek to the island. This excursion can be made following our Lost World Trek to Mt Roraima in Venezuela.
Lost World Trek, Venezuela
13 days | 6 days trekking | Moderate grade
Easter Island - the Mystery of the Moai
Easter Island must surely be one of the greatest mysteries of human civilization. Many theories have been formed over the years about where the original inhabitants came from, why they built hundreds of monumental statues called Moai, how they transported them and why the people who made them eventually died out. Despite much scientific research and investigation over recent years there's still a lot we don't know. But here's what we do know about one of the most remote and intriguing communities in the world...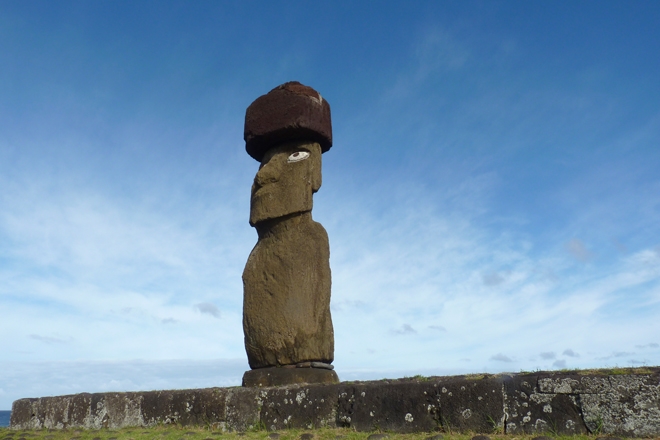 Where is Easter Island?
It's a tiny island in the South Pacific Ocean. Its closest inhabited neighbour is Pitcairn Island – some 2,075km away. That's like Bucharest being London's nearest neighbour. Chile is the nearest continental land mass to Easter Island – 3,512km to the east, nearly 6 hours flying time! Now that's what you call remote!
How big is it?
It is roughly 64 square miles of volcanic rock formed from a series of volcanic explosions. The highest point is Mount Terevaka, 600m high.
Who were the first inhabitants?
The first human settlers, known as the Rapa Nui, were from Polynesia, not South America as was believed for a long time. This has now been proven through DNA testing on human skeletons from the island. The Rapa Nui brought sugarcane, bananas, taro, paper mulberry, chickens and rats with them. There is still much debate about when they arrived – with dates suggesting anywhere between 300 and 1200 AD.
Why is it called Easter Island?
Nothing to do with the chickens! Instead, it was named by Dutch explorers who landed on the island on Easter Sunday in 1722. They were the first Europeans to reach the island and James Cook was the first British visitor in 1774.
When were the Moai statues carved and how many are there?
The giant stone figures were carved and erected roughly between 1250 and 1500 AD. Half of them are still at the quarry site but nearly 900 were transported to different sites around the island. Around a third were placed on stone platforms called Ahus which were situated about half a mile apart forming an almost unbroken line around the perimeter of the island. Another 600 statues, in various stages of completion, are scattered throughout the island. Some of the most striking and most photographed are those buried into the slopes of a volcanic hill, leaving just their heads showing. Excavations have proved that they do indeed have bodies below the surface!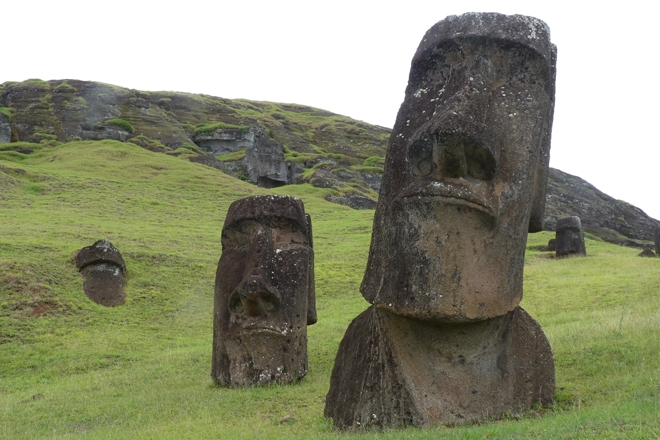 What were they made from and how big are they?
They were carved from Tuff (a compressed volcanic ash). On average they are 4m high and weigh in at around 12.5 tonnes. The tallest finished Moai was 10m high and weighed 82 tons whilst the biggest unfinished statue would have been an incredible 21m high and weighed an enormous 270 tonnes. No wonder they didn't finish carving it.
What did they represent?
Recent theories believe that they were representatives of dead ancestors as well as the embodiment of powerful chiefs – both living and deceased. Some of the statues have a red stone hat or topknot – this is believed to symbolise the hair of chieftains giving the statue additional power and status. The statues mainly faced inland – supposedly watching over the people – except for seven that are looking out to sea.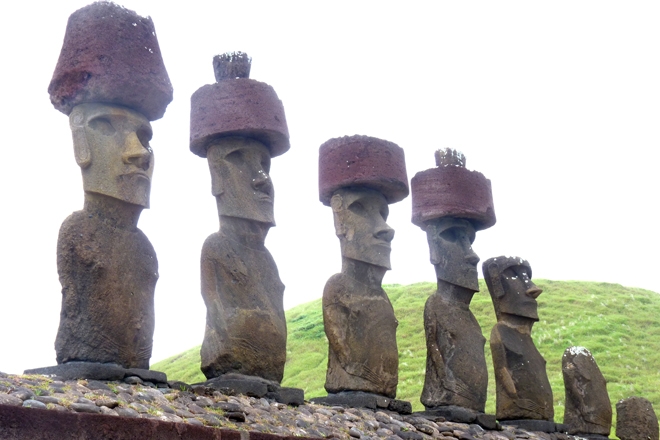 How were the Moai moved?
We still don't really know for sure. Most likely it involved some combination of ropes, log rollers, wooden 'sleds' and a great deal of manpower. Numerous experiments have been carried out to try and transport statues using only the resources available at the time. None so far have been successful although in 2011 two American universities proved that a 3m high maoi weighing 5 tonnes could be moved in an upright position by just 18 people using three ropes, elbow grease and a great deal of teamwork.
Why have so many toppled over?
At some point after the arrival of the first European visitors in 1722 all of the Moai were toppled from their upright positions. This is believed to have been a deliberate act on the part of the Rapa Nui people whose civilization entered a period of civil war, destruction and decline possibly due to the lack of food and fuel. The island had become deforested maybe due to the Rapa Nui cutting or burning all the trees down over time to clear land for farming or, alternatively, the trees were destroyed by rats! The jury's still out on that one. The statues that now stand upright have been re-erected by scientists and research teams.
What happened to the Rapa Nui people?
The eventual decline of the Rapa Nui is a very sorry tale indeed. The slave trade of the mid nineteenth century devastated the remaining population leaving behind mainly the sick, injured and elderly. In turn they were vulnerable to Christian missionaries and their identity and cultural history was systematically destroyed or eroded. Finally, the Rapa Nui were forcibly moved from their tribal lands which were used by settlers for farming. Eventually, all native blood died out.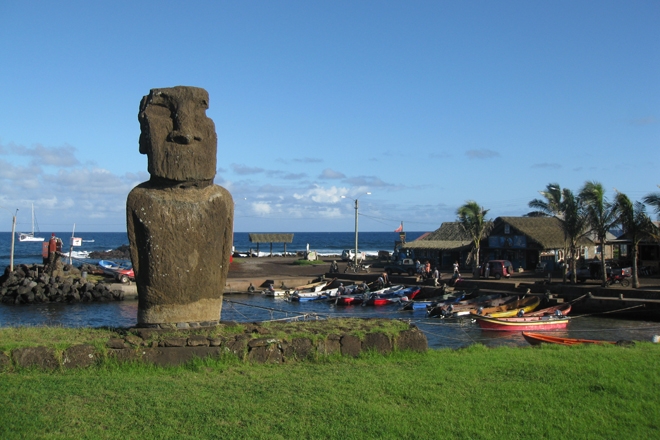 What's happening on Easter Island today?
From the middle of the twentieth century extensive investigation of the Maoi statues and the Rapa Nui people were undertaken. Many statues have been preserved, restored and re-erected as has a ceremonial village. In 1994, Easter Island was made a UNESCO World Heritage Site and studies continue today that may one day solve the remaining mysteries of the Moai of Easter Island.
If you'd like to try unravelling the mysteries for yourself, then take a look at our three Easter Island walking holidays. Each combines a week on Easter Island with time spent seeing some of the main scenic attractions of the Chilean mainland.
Prince Harry and the Gurkhas - a brief history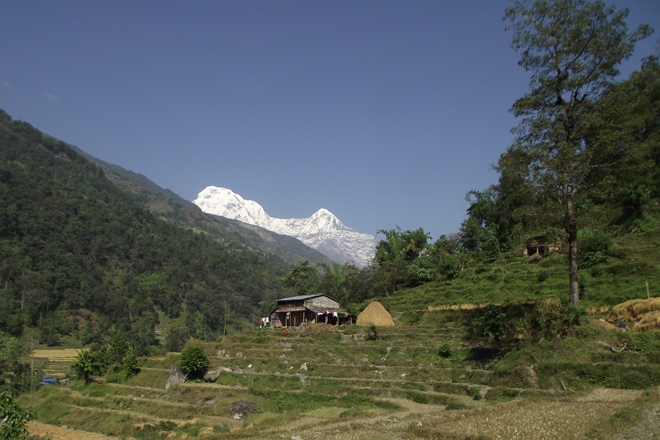 Trekking in the Gurkha heartlands by J Laslett
The visit of Prince Harry to Nepal will no doubt bring worldwide attention to the Gurkha people - particularly when he goes trekking in the Annapurnas and spends a night at the home of a Gurkha family in a village in the foothills of near Pokhara. The Prince's connections with the famous regiment goes back several years to when he served with the 1st Battalion the Gurkha Rifles during his tour of Afghanistan in 2007-8. At the time he memorably commented "when you know you are with the Gurkhas, I think there's no safer place to be, really."
The strong and deeply affectionate bond between the British and the Gurkha people extends back to 1815 when the Gurkhas were first enlisted into the armies of the crown; the British military preferring to fight with, rather than against, such a terrifying foe. During the 19th century the Gurkhas fought in the Indian Mutiny, the second Afghan war and the Boxer Rebellion in China developing their reputation for bravery and loyalty. In the First and Second World War over 200,000 Gurkhas served and they suffered huge casualties. Almost 45,000 were either killed, wounded or missing in action and they earned thousands of gallantry awards.
Since the Second World War the Gurkhas have continued to serve around the world including the jungles of Borneo and Malay as well as in the Falklands conflict in 1982. More recently they have seen active service in Sierra Leone, Iraq and Afghanistan. Throughout, the Gurkha war cry of "Ayo Gurkhali!" and their fearsome kukri knives have struck terror into the hearts of their enemies and many battles have seemingly been won even before they set foot on the battlefield. Stories of their indomitable spirit and immense courage have become legendary along with their motto "Better to die than be a coward".
Young men from the Pokhara region can apply to enter the British, Indian or Nepalese armies but becoming a Gurkha soldier in the British Army is still a matter of immense pride. Thousands apply every year, but few are accepted. The rigorous selection takes place at the British Gurkha Camp in Pokhara which Prince Harry will visit. The selection process includes English grammar and math tests, initiative and medical assessments and interviews with serving officers. Candidates also face gruelling fitness tests including a 'doko race', which involves carrying 25kg of sand while running up a steep 4.2km course. The few who pass find themselves at Catterick Garrison in North Yorkshire, where a rigorous nine-month training course covers language, military skills, and instruction on Western customs and Regimental culture. After passing out, they will join a regiment or unit in which they will serve for the rest of their military career.
Since the high profile campaign fronted by Joanna Lumley in the 1990s, Gurkhas and their families have gained the right to settle in the UK at the end of their service and they have also secured equal pension rights to British service personnel. Prior to this, Gurkhas often suffered high levels of hardship and poverty when returning to Nepal. To help relieve poverty and distress among ex-Gurkha soldiers and their dependents The Gurkha Welfare Trust was established in 1969. Today, their important work continues with the provision of educational, medical and water facilities to remote Gurkha communities. They have also played an essential role in rebuilding homes, lives and schools following the devastating earthquake of April 2015. Prince Harry will trek in the Annapurnas and see some of their projects first-hand including a rebuilt school and village homes. The Prince's spokesperson said "how much he has been moved by the stories of resilience of the Nepali people following the earthquakes last year," and that "he is very much looking forward to getting to know some of the people living in the foothills of the Himalaya". Mountain Kingdoms is a corporate partner of The Gurkha Welfare Trust and will continue to raise funds on their behalf to help support their immensely valuable work.
If you would like to trek in the same area of the Annapurnas as the Prince then take a look at our Gentle Trekking & Luxury Lodges, Annapurna Foothills trekking holiday, Annapurna Sanctuary trek or Annapurna Base Camp in Style.
Yeti prints on world's highest unclimbed mountain
Tracks have recently been found next to the highest mountain in the Himalayan Kingdom of Bhutan and they may prove that the Yeti still exists.
They were spotted by a Bhutanese guide accompanying mountaineer, explorer and Mountain Kingdoms' Managing Director, Steve Berry, whose photos of the mysterious tracks are shown here.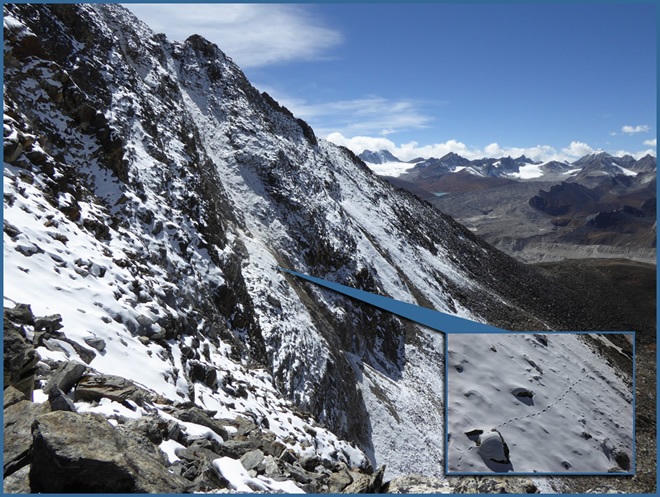 Mysterious tracks near Gangkar Punsum - photo taken by Steve Berry
The tracks crossed a snow ledge high on a steep mountainside in a valley that local people said had never been entered by humans.
Mr Berry said "These tracks could only have been made by a Snow Leopard or Yeti. In my opinion a bear could not have climbed such a difficult mountainside and can be ruled out. I have seen many Snow Leopard tracks but these bear no resemblance."
The tracks would seem to indicate a creature walking upright on two legs. They were at an altitude of 17,500ft / 5,350m.
Mr Berry believes the tracks could have been no more than 2 or 3 days old, as there had been snow at their camp 3 nights previous to the find.
Mt. Gangkar Punsum, 7,550m / 24,770ft, is the highest unclimbed peak in the world and lies on the Bhutanese/Tibetan border. Mr Berry was leader of a British expedition that attempted the west ridge in 1986.
"I am fascinated by the mountain. It is so beautiful and so remote," he said. He added "It is significant that Bhutan with its strong policies of nature conservation still has vast areas of true wilderness in which creatures unknown to science can and do still survive. Bhutan is one of the very few countries in the world that cares passionately about protecting their heritage."
Over 72% of Bhutan remains forested, and there are over 200 species of mammals – could one of these be the Yeti?
New tracks discovered in October 2015
Our MD, Steve Berry, went back to Gangkar Punsum in October 2015 and came across more fascinating tracks that are difficult to explain. They were approximately 2 or 3 kms from the place where Steve and Guide Karma Tshering saw the extraordinary tracks in October 2014. Again the prints indicate a creature walking upright on snow placing one foot exactly in front of the other. The really compelling feature of the 2015 footprints is the almost 180 degree turn made on one foot. Steve says, "I find it genuinely impossible to believe that a four legged creature could make a turn like this, and I seriously do not believe a bear could do a sharp turn like this either. I personally believe that it must be some sort of ape-like animal."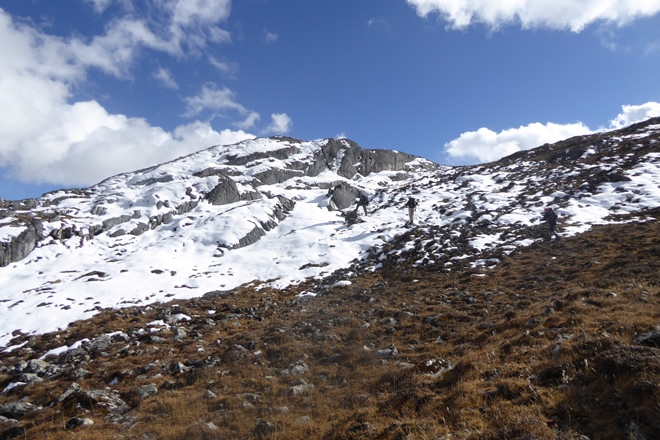 Finding more tracks - photo taken by Steve Berry
Related news
Watch a film of Steve's 1986 expedition: https://www.mountainkingdoms.com/about/our-videos/gangkar-punsum-expedition-1986 , and read a collection of stories from Steve's early expeditions in his most recent book, Straight Up. Plus, in 2016, look out for Steve's interview on Channel 4 and Animal Planet, as he reveals his enthusiasm for discovering the Yeti, and his underlying affection for the Himalaya.
Trek with the Himalayan Specialists in Bhutan
In 2016 Mountain Kingdoms are offering 19 holidays to the Himalayan Kingdom of Bhutan, including a pioneering trekking exploration of the southern side of Gangkar Punsum, trekking to its base by the way of the Chamkhar Chhu valley. Be one of the very first to set foot in this magical region!
Gangkar Punsum Approach - Duration: 27 days from the UK - Sun 2 Oct - Fri 28 Oct 2016 https://www.mountainkingdoms.com/holiday/gangkar-punsum-approach
Guide to Trekking to Everest Base Camp - On trek
In Part 1 of our our Guide to Trekking to Everest Base Camp we looked at how to prepare for the trek before you go, in Part 2 we tell you all about the route, accommodation, food and drink, how to stay healthy and how to trek responsibly. In fact, everything you need to know to successfully complete one of the world's most iconic treks.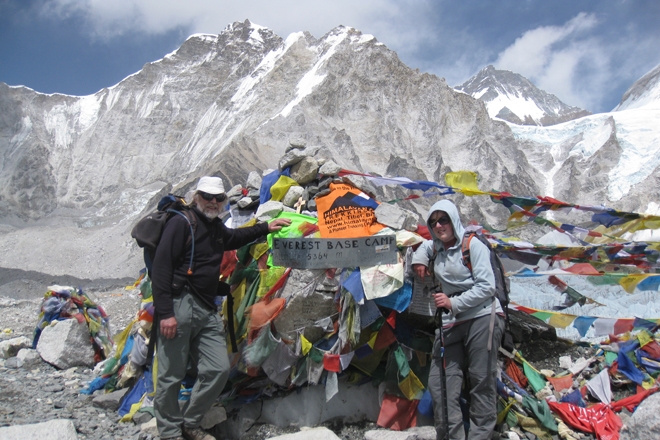 Steve Berry and his daughter at Base Camp
The trail to Base Camp
Most treks into the Khumbu start at Lukla – the busy mountain village located at 2,860m. The sloping runway at Lukla, perched on the mountainside, provides an unforgettable 'white-knuckle ride' when you come in for landing. Grab a seat on the left hand side of the plane for the best views of the Himalaya on the short flight from Kathmandu. At Lukla you will be met by your Sherpa guide and trek crew who will whisk your luggage off the plane and load it onto waiting dzos (a yak/cow cross breed). After a warm welcome, and your first of many cups of tea - known locally as chai - you'll soon be ready to step out on the trail to Everest.
From your very first step the scenery is captivating and for the next couple of days you'll follow the wonderfully picturesque Dudh Kosi river valley up to Namche Bazaar – the main Sherpa town in the Everest region (also known as the Solo Khumbu or just Khumbu). This is a great place to rest, acclimatise and buy any kit you forgot to pack. You'll also enjoy your very first thrilling views of Everest as you make the arduous climb up to Namche.
From Namche, it's a two or three day trek to your next major destination on the trail – Thyangboche. The more direct route treks via Syangboche whilst the longer route goes north west along the Nangpo Drangpo Valley to reach the small village of Thame - once home to Tenzing Norgay the most famous Sherpa of them all. This trail has been used for hundreds of years as a trading route between Tibet and the Khumbu which means you'll be sharing the path with yak trains and Tibetan traders. This alternative route is not on every company's itinerary, but adding an extra day to Thame will not only help with your acclimatisation but also take you to one of the most picturesque villages you'll visit on the trek - surrounded by high peaks and with a 600 year old monastery, or gompa, to visit.
From Thame you return to the main trail and continue on to Thyangboche via several pretty villages, rhododendron forests and ever impressive mountain scenery. Finally, you ascend along a steep path to reach Thyangboche, the main Buddhist monastery of the Khumbu, situated on a high saddle. If the weather's clear, the views to Everest and Ama Dablam from here are simply stunning. Once a year, the Monastery comes alive with the vibrant music and masked dances of the Mani Rimdu Festival.
After Thyangboche you will notice a change in the scenery. As the air gets thinner the landscape and vegetation becomes increasingly stark and dramatic. Seriously high snow-capped mountains now surround you on every side with Ama Dablam dominating the skyline. Your progress will be very slow as you adjust to the high altitude and your itinerary will include plenty of rest as well as days when you can climb high and sleep low which will really help you to acclimatise properly. Eventually you will reach the tiny village of Lobuche from where you'll make the final push to Base Camp itself.
The trek from Lobuche is a long and strenuous one over rocky terrain but, after several hours of hard trekking, you will step foot on one of the most iconic places in the world. During the spring climbing season you may see expedition teams camped out as they prepare for their attempt at the summit. From Base Camp you can't actually see the summit of Everest, but you will have fantastic views of the treacherous Khumbu ice-fall. For close-up views of the summit itself, you need to trek from Lobuche to the small peak called Kala Pattar which sits directly across from Everest. From here there are truly spectacular, panoramic views of Everest and other Himalayan giants such as Nuptse, Lhotse and Pumori.
The three day return trek to Lukla seems like a walk in the park compared to your strenuous trek out. Once back, you'll no doubt enjoy a celebratory beer and meal with your fellow trekkers and toast your achievement in completing the most famous trek in the world.
Read an entertaining account here of one trekker's experience on the trail to Everest Base Camp.
Accommodation on trek
Tea houses are the traditional type of accommodation on the trail. These simple, inexpensive lodges provide a welcome refuge with hearty food, copious amounts of tea and a warm communal area for eating and relaxing. Bedrooms are basic but adequate as are the toilet facilities (normally a drop toilet or ceramic 'squat' style). There is no running water in the rooms at the tea houses so water is heated centrally and provided in bowls for washing each day. Showers, if available, are often ingenious contraptions powered by solar energy. Built and run by the local Sherpa people, tea houses provide an invaluable source of income for this remote region. We use tea house accommodation on our classic Everest Base Camp Trek.
More luxurious lodges are a recent addition to the Base Camp trail. They generally have comfortable, en suite bedrooms, hot running water and more 'refined' dining. Our Everest Base Camp in Style trek, uses luxury lodges for most of the trail to Everest.
Taking a break at a tea house by O Schick
Food and drink
The staple diet of much of Nepal is daal bhat - a meal of rice topped with soupy lentils sometimes served with spiced vegetables. Energy rich, it's the perfect meal to eat whilst trekking to give you much needed fuel. Similarly, potatoes are an important part of the Sherpa diet and widely grown in the Khumbu. In addition to daal bhat, the tea houses and lodges serve a surprising variety of food – catering as much as possible to the western palate. However, we would advise that you keep your choices fairly simple and stick to foodstuffs that you normally eat at home. It's also a good idea to avoid dairy products, raw vegetables, salad and uncooked fruit. This will help minimise tummy upsets as will being scrupulous about personal hygiene before you eat.
Black tea is the ubiquitous drink for trekkers. Served at every opportunity in huge flasks, it's a comforting and important part of your trekking diet. You'll see that the Sherpas take their chai pre-brewed together with milk and copious amounts of sugar. If you're not a tea drinker then instant coffee and hot chocolate is also available. It's really important to drink as much as possible on trek and your trek leader will ensure that all the drinking water you are provided in the tea houses has been properly boiled and purified. We don't recommend buying bottled water as the plastic bottles are a serious environmental problem for the region. Alcohol (normally bottles of beer) is also available at the tea houses but we strongly recommend avoiding drinking any alcohol till after your trek finishes as it doesn't help with acclimatisation.
Dealing with altitude sickness
Altitude or Mountain sickness is one of the biggest fears of first time trekkers to Everest but it really doesn't need to be. Simple precautions can help mitigate the effects of being at altitude and ensure that most people will experience minimum symptoms such as mild headaches, insomnia, some breathlessness and occasionally nausea.
Walking slowly, taking regular rests, eating and drinking lots to stay well hydrated and ascending gradually are the keys to staying healthy. If you are suffering from any symptoms at all tell your guide immediately - he will assess your condition and advise as to the best course of action based on many years of experience. Your trekking itinerary includes rest days as well as the opportunity to 'climb high, sleep low' as you reach higher altitudes which is really important for good acclimatisation.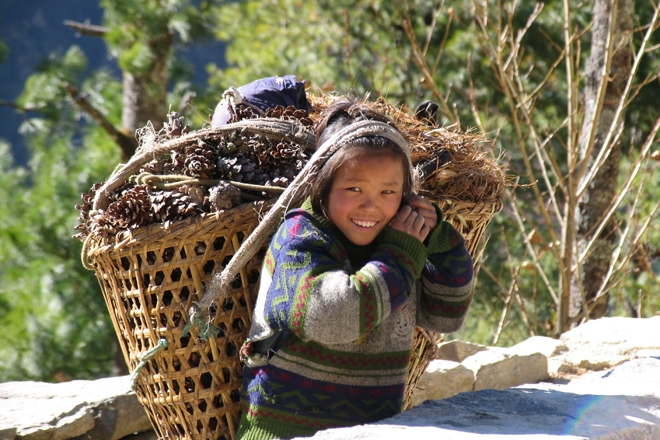 Nepali girl by A Parsons
Trekking responsibly
When westerners visit Nepal they can be unaware or insensitive to the environment, local people and their customs and beliefs. However, by applying some simple common sense, having an understanding of local sensitivities and being aware of the impact you make on your surroundings it is easy to travel responsibly. Here's a few simple guidelines:
Don't leave any litter behind – including tissues or toilet paper.
Avoid buying bottled water. Although it is widely available at the tea houses, the empty plastic bottles cause a real problem.
All hot water has to be heated at the tea houses over a fire. This can often use a lot of firewood or other fuel which is unsustainable. Therefore, think carefully about your use of hot water and how you can help conserve fuel.
Stick to the paths to avoid damaging and eroding the trail and don't take away any natural materials as souvenirs.
Public displays of affection are frowned upon and are disrespectful of local customs.
If you want to take a photo of the local – ask them politely first and get their permission.
Dress modestly – locals may find shorts, skimpy tops or tight fitting lycra offensive.
Respect religious practices and beliefs. For example, pass to the left of mani walls and chortens, turn prayer wheels clockwise, take off your shoes before entering a monastery or gompa and leave a donation behind.
You should only pass food with your right hand (the left hand is considered unclean) and don't touch the head or shoulders of a local person as it is considered the most sacred part of the body.
Don't flaunt your wealth, be discreet with cash and don't give money or sweets to children. Not only does this encourage begging, but the sweets can cause tooth decay. Much better to spend some time playing or interacting with the local people or taking/showing photos.
Try and learn a little of the local language and sample some of the Nepali food and drink – it's really appreciated.
Always be friendly and considerate to your trek guide and crew. In fact, always be polite, friendly and considerate to any Nepali you meet.
'Take nothing but photos, leave nothing but footprints, kill nothing but time.' If you make these wise words from the Sierra Club your mantra, you won't go far wrong.
Gokyo lakes by L Walker
Where next – trekking beyond Base Camp
So, you've successfully trekked to Base Camp and fallen in love with the people and landscapes of the Everest region, so where next? If you have more time, then a trek beyond Base Camp to the stunning Gokyo lakes should be top of your wish list. Alternatively, you can follow our Three High Passes to Everest route and trek in some of the lesser-visited valleys such as the Renjo La and Chukhung. For the more adventurous, trekking peaks such as Island Peak or Mera Peak offer a thrilling challenge. You can see all our Everest trekking holidays here.
So there you have it, everything you need to know about trekking to Everest Base Camp. Now all you need to do is book your trip and complete the greatest trek in the world. You won't be sorry you did.
Guide to Trekking to Everest Base Camp - Part 1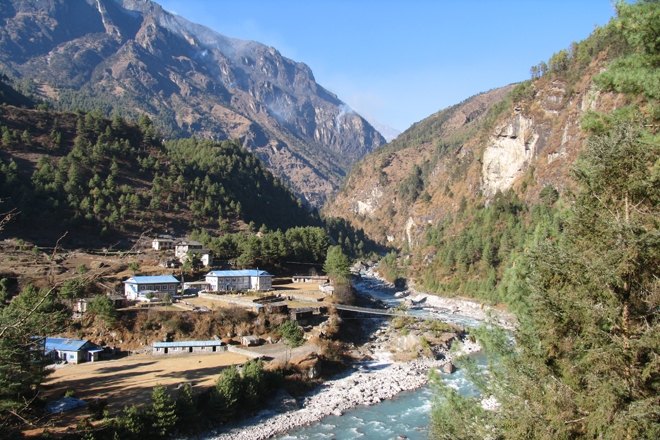 River crossing at Phadking
A trek to Everest Base Camp is high on many people's wish list. Whether to enjoy the breathtaking landscapes, to savour the iconic history or simply to say 'I was there', it remains one of the great objectives for the walking enthusiast. So, if you're thinking about going, but aren't sure what it involves, read our comprehensive guide to the world's greatest trek. In part one we tell you the things you need to know before you go...
The best time of the year for trekking to Everest Base Camp
Outside the monsoon months of June to September you can trek to Base Camp at pretty much anytime. However, the two most popular times to trek in the region are April and May in the spring or the autumn months of October and November. In the springtime, the trails are lined with an abundance of colourful wildflowers and you may meet expeditions at Base Camp, but temperatures can be hot and humid during the day and cloud often builds in the afternoon.
Post monsoon, mid-October to mid-November, has traditionally been considered the premium time to trek when skies are clearer and temperatures pleasantly warm during the day but this means the trails and lodges are at their busiest. To avoid the crowds and take advantage of more predictably clear skies, late November or December is a great alternative. It will be much colder though at this time of year, especially at night and at higher altitudes, but well-layered clothing, a good four-season sleeping bag and a warm duvet jacket will help keep you snug. For those who really don't mind the cold, a Christmas trek is a fantastic festive option.
Pre-trek essentials
Fitness: The two-week trek to Everest Base Camp is not to be under-estimated. Steep climbs, long days on the trail and the effects of altitude can make it a real physical challenge, even for seasoned trekkers. To give yourself the best possible chance of making it all the way to Base Camp it's essential to get in shape before you travel. You can build strength and stamina through jogging, cycling, swimming etc. but undoubtedly the very best preparation for walking is walking. Head out on foot whenever you can and ideally spend time in your local hills or mountains where you should tackle plenty of sustained ascents and descents. You definitely won't regret having put in the hard miles when you finally stand at the foot of the world's highest mountain.
Medical: You need to ensure you are properly immunised for travelling in Nepal, so contact your doctor or travel clinic a minimum of six weeks prior to departure. Information is also available online at www.traveldoctor.info and www.fitfortravel.nhs.uk. It's also sensible to book a visit to your dentist a few weeks before your trip just to make sure there are no dental issues which may come back to bite you – so to speak!
Insurance: Comprehensive travel insurance is another essential and you need to ensure that your policy covers trekking up to 5,500m. Many policies exclude trekking or have very low height limits so it's advisable to speak to your insurance company and get written confirmation that you are adequately covered well in advance.
Visas and permits: All foreigners, except for Indian nationals, need a visa and passport to enter Nepal. A visa can either be easily obtained in advance from the Nepalese Embassy in London (currently £35 for a 30-day multiple entry visa) or purchased on arrival at Kathmandu airport for which you'll need the equivalent of $40 in cash and two passport photos. Further information and a downloadable application form can found at http://www.nepembassy.org.uk/
Trekkers in the Everest region also need to be registered on the Trekker's Information Management System (TIMS) and you will also need a permit to enter the Sagarmatha National Park (the Everest National Park). These will both be organised for you when you book your trek with us, and the cost will be included in the price of your holiday.
Gearing up – what to pack for a Base Camp trek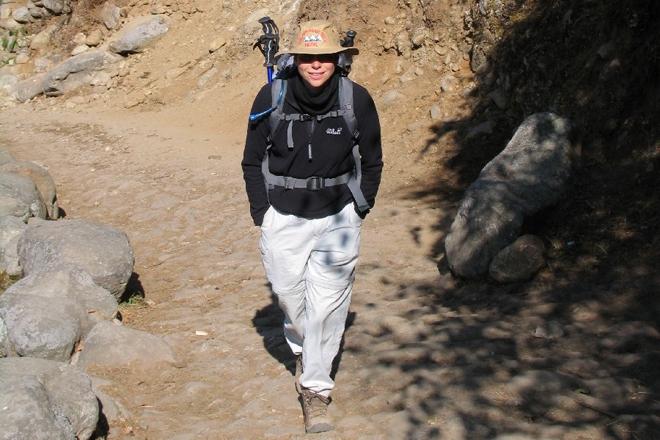 Kitted out for the trail
Your walking boots are your most important piece of clothing for your trek to Everest Base Camp. It doesn't matter whether they are leather or fabric but they should be waterproof and, most importantly, well broken in. If you are buying new boots for your trek do so well in advance and wear them for plenty of long walks with lots of ascent and descent.
After your boots, your outer layers are your next most important consideration. You need a good windproof/waterproof jacket and trousers and they should preferably be made from a breathable fabric such as Gore-Tex or equivalent.
For cold evenings at high altitude a down jacket will be an invaluable addition – we provide a good quality down jacket free of charge for all our treks in Nepal as well as a four-season sleeping bag. You will also need a warm hat and gloves as well as a sunhat and a scarf or 'Buff' to cover your nose and mouth on dusty paths – this will help protect from coughs and sore throats. You should plan the rest of your clothing on a layering basis and take lightweight and quick-drying fabrics whenever possible. Don't pack your shorts though as these are not culturally appropriate – particularly for women. Just make sure that everything fits into your kit bag and that you are within your weight allowance. The luggage allowance on the domestic flight from Kathmandu to Lukla is only 15kg - including hand luggage. This limit is pretty rigorously applied so you'll need to pack carefully.
Don't load yourself down with too much equipment on trek. During the day you will carry a day pack (around 30-40 litres is a good size) in which we recommend you have your camera, waterproofs, extra layers, small first aid kit, water bottle, head torch, any snacks, antibacterial hand gel and some tissues. Take trekking poles if you use them and, for the evenings, perhaps a book or two or some travel games to while away the hours at the end of each day's walking.
Most tea houses or lodges on the trail have charging facilities for electrical equipment which you can use for a small fee. As this facility is in big demand try not to take too many gadgets with you, instead think of your trek as a rare opportunity to leave the modern world behind.
A top packing tip is to organise your kit into waterproof stuff sacks, plastic bags or bin liners within your main kit bag, then you know everything will stay dry whatever the weather. Your bag has to be carried by yak or porter so a soft-sided waterproof holdall is a must – Mountain Kingdoms gives a free kit bag to all its trekking clients.
For a comprehensive checklist of what to take see our blog - Kit list for an Everest Base Camp Trek.
So that's your essential information for preparing for a trek to Everest Base Camp. In part 2, we'll tell you about the trail to Everest, what to expect for your food and accommodation, how to stay healthy and how to travel responsibly. In the meantime, find out more about our classic Everest Base Camp Trek and also our Everest Base Camp in Style trekking holiday, or see all our Everest treks.
If you have any queries then just email info@mountainkingdoms.com or call our travel experts on 01453 844400 who'll be very happy to answer your questions.
An interview with John: Walking in the mid hills of Nepal
John enjoying a meal with his guide Wangchuk
In 2015, Mountain Kingdoms General Manager, John, was the lucky member of the team to travel to Nepal to try out a brand new walking holiday in the lesser-visited mid hills region west of Kathmandu. To find out more we asked John to tell us all about his experience on our Mid Hills & Village Heartlands holiday
Can you briefly tell us about your itinerary, and the main focus of this new trip to Nepal?
The trip is 13 days London-London, Gentle/Moderate grade walking holiday, staying in really nice lodges in superb locations with a couple of nights in Kathmandu at the end.
What was your most memorable experience during your time in Nepal?
Walking through untouched villages far removed from any of the regular tourist routes and meeting ever friendly locals going about their daily lives.
Who would Mid Hills & Village Heartlands in Nepal be ideal for?
Anyone who wanted to see a slice of life of the real Nepal, off-the-beaten-path, staying in comfortable lodges, with some easy-paced walks balanced with plenty of down time to relax.
What is the accommodation like on this trip?
I was really impressed with the standard of the lodges and hotels that I stayed in. They all had really comfortable ensuite rooms, tasty food, good facilities (including a swimming pool in one of them) and great views of the surrounding valleys and mountains.
What makes this trip different to other Mountain Kingdoms holidays in Nepal?
Situated between Kathmandu and Pokhara, south of the high Himalayan peaks, the mid hills are not on any of the well-known trekking routes. The relatively low altitude (nothing above 2,300m), means that the walking is pretty easy going and gives a real insight into regular village life and the way that the majority of the Nepali people live. Hiking through the iconic terraces and paddy fields, with the back drop of the higher mountain ranges beyond, only adds to the beauty of the region.
What makes Nepal such a special place?
The big hearts and infectious spirit of the people of Nepal, combined with the most incredible landscapes, make it such an inspiring place to visit. If you're a keen walker, there really is no better place in the world to explore.
How is Nepal recovering from the 2015 earthquake?
It's doing amazingly well and I saw virtually no damage to the buildings or trails in the mid hills. Even in Kathmandu, there's very little evidence of the devastation we all saw on our TV screens last year. After the FCO advice changed last October - removing the restriction of 'all but essential travel' to most of the country - our Operations Manager, Jim Davies, visited several of the main trekking areas. He was also impressed by how quickly Nepal had got back on its feet. You can read the account of his journey here.
One thing I do know, is that you are definitely assured of the warmest of welcomes from the local people who are delighted to see tourists returning to their country. Tourism is a lifeblood to the Nepali economy and visiting is the best way support the people of this remarkable country.
.....Thanks John.
For departure dates, prices and a full itinerary take a look at our Mid Hills & Village Heartlands walking holiday.
Why William and Kate will find Bhutan such a special place - the royal visit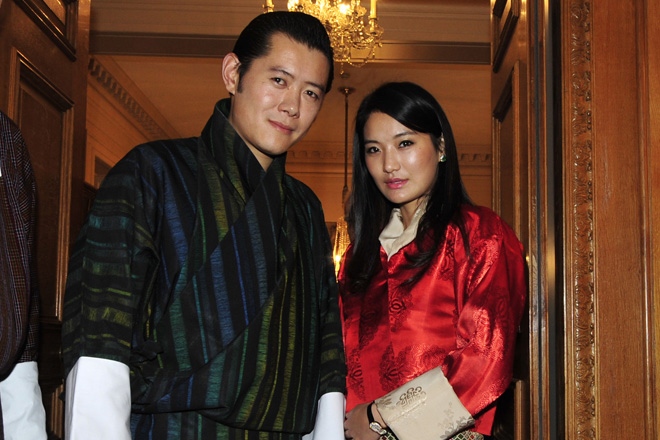 King of Bhutan Jigme Khesar Namgyel and his wife Queen Jetsun Pema Wangchuck
Following the exciting news that the Duke and Duchess of Cambridge will pay a debut visit to Bhutan this spring, we thought we'd offer them an insight into what makes the Thunder Dragon Kingdom such a unique and special place to travel to - whether on a royal visit or simply on holiday.
The Himalayan kingdom of Bhutan is ruled by the Dragon King – the Druk Gyalpo. The current king is Jigme Khesar Namgyel who is the fifth Dragon King. His reign began in December 2006 following his father's abdication from the throne. He married Jetsun Pema Wangchuck in 2011 – coincidentally the same year that William and Kate got married - and they are expecting their first child this spring.
Bhutan remained a largely remote and isolated kingdom until 1974 when the first tourists were permitted to visit. Prior to this, only explorers, climbers and official guests were invited to enter the country. The banning of TV until 1999 also increased the sense of isolation from the rest of the world.
Until the first airport was built in Bhutan in 1983, entry was only possible via road from India. The national airline, Druk Air, was formed at the same time making it considerably easier to take a holiday in Bhutan.
Tourist numbers were initially restricted to just 200 per year. This is no longer the case, although limited air services and relatively high charges for tourism services keep visitor numbers low compared to other Himalayan destinations.
Bhutan is known as one of the most content countries in the world and measures its wealth not in GDP but 'Gross National Happiness' (GNH). The four main pillars of GNH are - good governance, sustainable socio-economic development, cultural preservation, and environmental conservation – all of which contribute to the health and wellbeing of its citizens.
To help maintain the health of the Bhutanese people, the sale of cigarettes is banned. Tobacco products can be imported but smokers must have a valid customs receipt if they want to smoke.
Traditional dress is still widely worn with men wearing a long, patterned robe called a gho and women wearing a kira – a floor length dress. We won't be surprised to see William and Kate adopting this dress at some point on their visit for a royal photocall.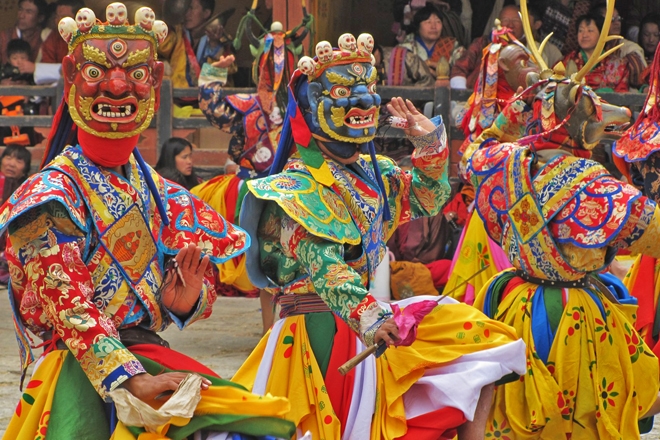 Performer at Paro Tsechu by D Barkshire
Festivals, or tsechus, are one of Bhutan's greatest cultural traditions and no visit to the kingdom is complete without seeing one of these vibrant social and sacred occasions whether large or small. The fabulous costumes, elaborate dances and colourful spectacles make for a truly unforgettable experience. Hopefully William and Kate will have the chance to attend one during their visit. Read our blog to discover more about Bhutan festivals.
Bhutan's national sport is archery and it's the only Olympic sport that Bhutan entered in 2012. Unlike our more sedate version of the sport, Bhutanese archery is a rowdy event with much drinking beforehand and 'sledging' of opposing team members during the competition. Archery tournaments are also great social events with every village having its own archery field.
The practice of traditional crafts is still highly prized in Bhutan. Known as the Thirteen Arts, the most revered include carving, papermaking, painting and weaving. In fact, Bhutan is renowned for the high quality and sophistication of its hand produced textiles with examples of Bhutanese weaving making an excellent holiday souvenir or even a gift for royalty.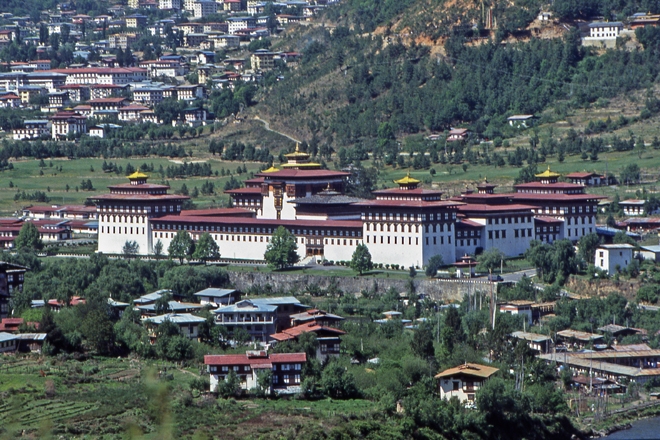 Thimphu Dzong
Visitors to Bhutan cannot but be impressed with the unique architectural style of the Thunder Dragon Kingdom. Huge dzongs (monastery/fortresses) dominate the towns with their imposing white walls, prominent towers and ornate red and gold rooves. Village houses are built in a style not dissimilar to Swiss chalets featuring elaborate wooden cornices, shingled rooves and an open attic space for storing hay or drying chillies.
Bhutanese houses are often decorated with carved wooden phalluses hanging from the four corners of the roof or colourfully painted on to the side of the house. They are believed to ward off evil rather than being related to fertility.
Gangkar Punsum 2014 by Steve Berry
The vast majority of Bhutan is mountainous with the highest Himalayan peaks to the north. The tallest of all is Gangkar Punsum at 7,550m/24,770ft. It is also the world's highest unclimbed mountain due to current restrictions on mountaineering. Mountain Kingdoms' MD, Steve Berry, led one of the last expeditions to Gangkar Punsum in 1974 but was unable to reach the summit due to bad weather. You can watch the original film of his expedition to find out more about his incredible experience.
The national animal of Bhutan is the Takin - this strange looking beast was once likened to a 'bee-stung moose'. Bhutan's rarest and most elusive creature however is the Migoi or Yeti, and Bhutan is the only country in the world that has an official Yeti reserve based in Sakten in the far east.
The national flower of Bhutan is the Blue Poppy. This beautiful and mysterious plant takes two years to grow, flowers just once and then dies.
Next time we'll be giving the royal couple some ideas for what they can do whilst visiting this wonderful Himalayan kingdom. In the meantime take a look at all our holidays to Bhutan or get some inspiration for a Tailor Made trip of a lifetime.


Trekking the Omani Hajar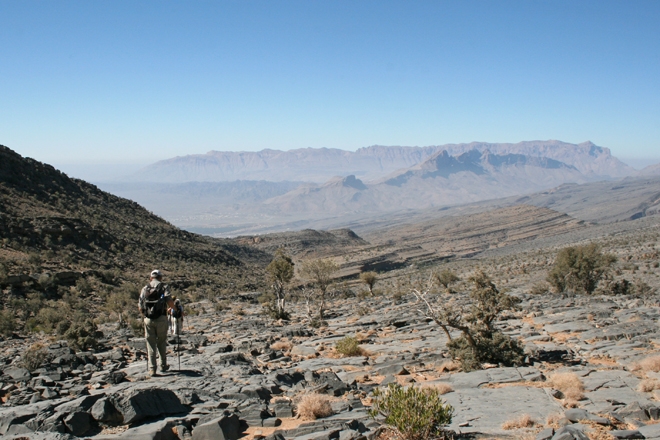 Trekking in the Hajar Mountains. Image by S Piper
Many people think that the Arabian Peninsula is just desert and more desert but, while there is admittedly a lot of desert, there are also dramatic mountains, wadis and coastlines.
Oman, despite being 75% desert, also has 1,700 km of striking coastline and mountains that reach just shy of 3,000m. Jebel Shams, at a peak of 2,996m, is the highest point. Here temperatures are appreciably cooler than the coastal plains and, fleetingly, they get snow every year. Jebel Shams (Sun Mountain) together with the nearby Jebel Akhdar (Green Mountain) make up the Western Hajar range.
The trekking in Oman is not for the faint-hearted; the terrain is rocky and in places unforgiving. It lacks the smooth surfaces of nicely weathered rock that you might find elsewhere and the ascents and descents are steep. This makes it all the more remarkable that the Western Hajar is well populated with villages and towns that were established centuries and sometimes longer ago. The main motivation for living in such rough and steep terrain is the temperatures. Not only is it more tolerable than the 45 degree centigrade summer temperatures of Muscat but it also means that the season for growing crops is longer.
Amongst the villages clinging to the precipitous cliffs (where legend has it that children are traditionally tied to their beds at night to make sure they don't fall), are serene plantations of date trees interspersed with mango, banana and papaya. Grapes are grown and were traditionally used to produce a local wine although I am told this no longer happens, apparently. The wild honey from amongst the wadis is some of the most expensive in the world. Roses are harvested from the tiered fields around May and distilled into rose water.
Further to the East is the aptly name Eastern Hajar mountain range. This extends to the East of Muscat towards Sur and the edge of Arabia. While the mountains here are not so high (around 2,200m) they are more remote and considerably less populated. From the coastal villages of Fins and Tiwi, one can quickly ascend on a very steep gravel track 1,200m to a view point looking back down to the sea with only a kettle of Egyptian vultures for company. The ascent from here is more gradual but no less dramatic as you cross the Selmah Plateau, gradually climbing to around 2,000m. You will start to notice odd shaped domes that initially appear to be out-of-place rocks but, as you get closer, are clearly man-made structures. These are known as the Beehive Tombs for their looks of the Bat Tombs after one of the locations in the West of Oman that is recognised by UNESCO. There are plenty of theories and too little research into their history however, my two favourite and contrasting theories are: according to one of our guides, there was an evil gin (spirit) called Selmah who terrorised the locals to such an extent that, when they finally captured her, they cut her in to 90 pieces and built a tomb for each piece to be buried under to ensure that she could never come back to life. A more western theory is that they are burial tombs for prominent elders of the Azd tribe and date from perhaps 3,000 years ago. The challenge here is that no evidence has been found to suggest that there were people living on the plateau at that time and so the conclusion is that they are the elders from the villages on the coast that were carried all the way up to the plateau. I know which of these theories I prefer…
The Mountains & Deserts of Oman trekking holiday with Mountain Kingdoms visits the Al Hajar and Jebel Shams ranges. The trek takes you through spectacular scenery of mountains, gorges and canyons whilst staying in remote camps that give you a real taste of the wild.
An interview with Harry: Tour of Vietnam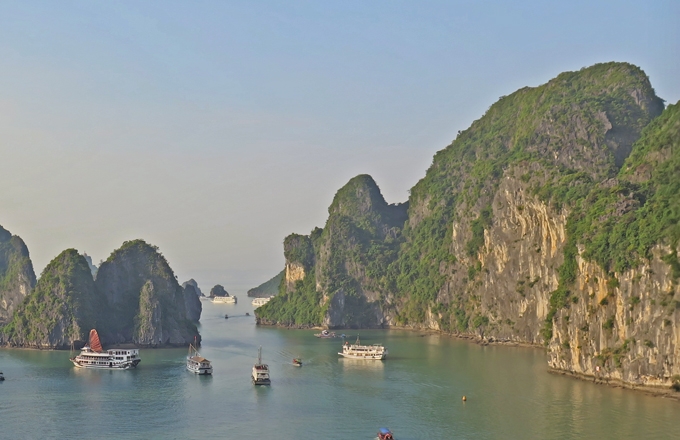 Halong Bay in Vietnam by H Gray
It's that time at Mountain Kingdoms when those in the office get to grab their backpacks and leave their desks behind in search of exciting new trips and destinations for the next brochure. Over the coming months many of us will be on recces to find new treks, walks and tours to offer you.

Back in December 2014, Harry at Mountain Kingdoms was the lucky chosen one to be invited to Vietnam for a tour of the country's top highlights. To a get a glimpse of Harry's trip and this future holiday for Mountain Kingdoms, I asked him to give us an insight into his tour of Vietnam.

Hi Harry, so last year you visited Vietnam on a familiarisation tour, we'd love to hear about it, can you briefly tell us about the main focus of your trip?
The trip was a proposal for a first class tour of northern Vietnam, an insight in to the culture, history and food of the region as well as the traditions of the northern hill tribes.

What was a particular highlight of your visit to Vietnam?
For me there were many highlights so choosing one in particular is tough! Visiting Ha Long Bay was definitely a highlight, the sheer beauty of the area was breathtaking. The staff on the boat were all very knowledgeable and every need we had was catered for.

Asia is known for their quirky foods, did you come across anything weird, and if so, were you brave enough to try it?
Food for me is always a hot topic! I had never tried Vietnamese food before but it is now up there with the best. We had a combination of strawberry sauce and fish as well as passion fruit with chicken for one of our meals, sounds slightly unappetizing... but in fact it was great! There were always spring rolls nearby and Pho (noodle soup with normally a meat) for breakfast was always a treat, along with the odd pastry or two.

Did you learn any of the local language whist there?
Whilst in Vietnam I did try to learn some of the local language. The guide, Mr Kuong, was always helpful and did most of the talking for us but it was nice to be able to show our gratitude to the locals with a simple hello or thank you. These are a few words I managed to learn: 'Xin chao' is hello in Vietnamese, 'cam on' means thank you, and 'tam biet' for goodbye.

What makes this trip different to other holidays currently offered by Mountain Kingdoms?
In many ways it's similar to what we already strive to provide in that it's a cultural experience which has left me with nothing but fond memories. But Vietnam does have its individual quirks, from the water puppet shows to the variety of accommodation, the amazing sense of humour to the old traditions that have not been forgotten, from the hustle and bustle of Hanoi to the peace and serenity of Nimh Binh Provence and Ha Long bay. This trip gives you a taste for it all.

Who would this trip be ideal for?
This trip would be great for anyone who would like to have an insight into the culture and history of a rapidly evolving country. With luxury accommodation, amazing food and short day walks it caters for all of those looking for a holiday where you can just sit back and relax and take in what the country has to offer.

What makes Vietnam a great place to visit?
Vietnam is one of the best places I have visited, this is mainly due to the people and the scenery. The people were warm and welcoming and had a great sense of humour, the food was amazing and the accommodation fabulous. It's somewhere I would highly recommend.

'Cam on', Harry. It sounds like you had a brilliant time with some lifelong memories.
If you'd like to experience the highlights of Vietnam for yourself then take a look at our North to South Vietnam tour.
2014 Photo of the Year - the winner's story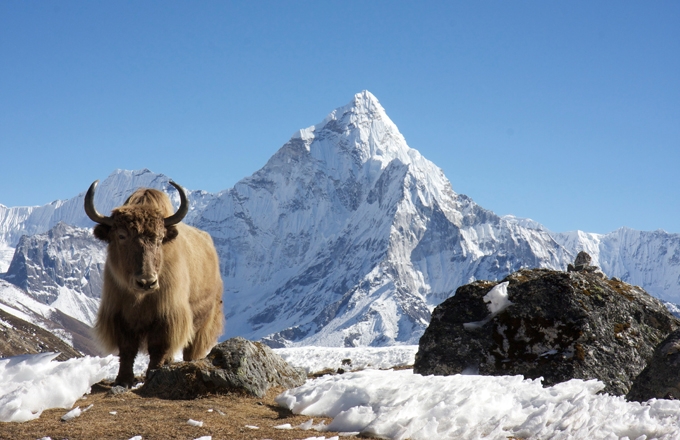 Mr Green's winning 'Yak of the Year' image
We asked Mr Green, the winner of our 2014 Photo of the Year competition, to share with us the story of how he captured the winning image of his Yak of the Year, perfectly positioned in front of Ama Dablam in the Everest region of Nepal.
"It is the 11th day of our Everest Base Camp & Gokyo Lakes trek and our group had earlier arrived at Dzong La, after a relatively easy walk up from Lobuche. Dzong La lies at an altitude of 4850m which is around the same as the summit of Mont Blanc. We ate a hearty alfresco lunch at 4850m in blazing warm sunshine at the inappropriately named Green Valley Hotel - also our accommodation for the night - and spent the remainder of the afternoon relaxing, reading and drinking tea whilst also drinking in the amazing views of Ama Dablam spread out in front of us.
My attention was grabbed by a really massive and handsome looking Yak lumbering in to the view over the brow of the hill and I rushed off to fetch my camera. Instinctively I knew that if I managed to find a position in which I could juxtapose this magnificent Yak in the foreground against the clear late afternoon views of Ama Dablam that I would have a great image. Little did I know that it would take me around 15 minutes from first to last in a series of photographs and a fair amount of running around in the thin air trying to get both myself and the Yak in exactly the right position in order to compose and capture the image that I saw in my mind's eye. Once I was happy with everything, I squeezed the shutter button for the final time and was happy that I had bagged a great image.
For the photographically minded I used an old, somewhat battered Canon EOS 40D mounted with a dusty EFS 17-55 f2.8 lens. The exposure was made as RAW file, using aperture priority set at f16 to ensure that both foreground and background remained in focus."
An interview with Harry: Mountain Kingdoms newest summiteer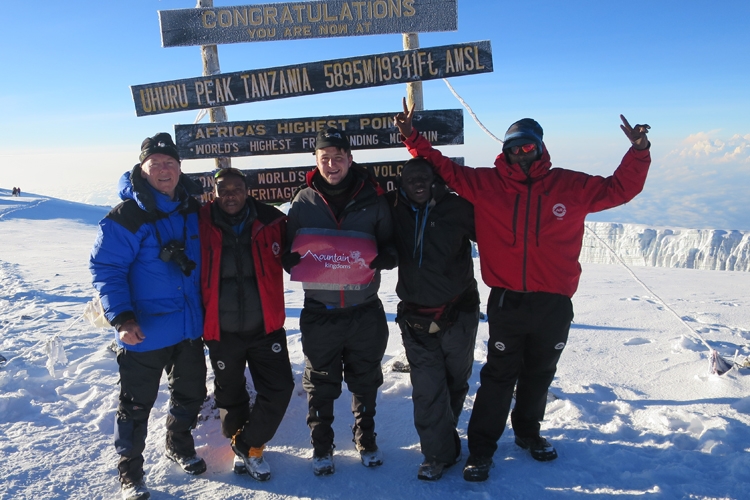 Congratulations Harry, just 8 months with Mountain Kingdoms and you've become a summiteer!
In February 2015, Mountain Kingdoms Administration Assistant, Harry, travelled to Tanzania to join our Summits of Kilimanjaro and Mt Meru trek. We sat down with Harry to ask him about his experience on Africa's greatest trekking peak.
Interview with Summiteer Harry:
So let's start from the very beginning, what initially inspired you to climb Kilimanjaro?
I initially saw Kilimanjaro as a challenge, something that would be able to push me mentally and physically, the more I read about it the more I wanted to go. It also helped that my Grandfather had made the ascent in his youth and I was looking to follow in his footsteps. The scenery as well was something that inspired me to go.

How did you prepare for your Kilimanjaro trek in the months/weeks leading up to your trip?
Ate a lot of bakery goods. No, in all seriousness I did what I would be doing on trek, I walked. I increased my cardio activity, regularly going to the gym and adding in walks as much as I could.

Have you got any first-hand advice you'd like to share for those looking to go on strenuous treks or trekking peaks?
"Pole-pole", taking everything very slowly. I was also told by one of my colleagues at Mountain Kingdoms to drink and eat as much as I could to keep hydrated. I believe this was a key factor in ensuring that I had little, if any, signs of altitude sickness.

How did you feel once you'd made it to the summit?
In the final few steps of reaching the summit, I felt very tired but determined to reach it. The sign began to loom and a huge feeling of emotion came across me, I was happy, relieved and a little cold. I believe the feeling was shared with all my fellow summiteers and we all had a great sense of achievement. All of our efforts in the last few days of trekking had come together and created a huge beam of happiness between us all, something which I will cherish for a long time!

What kept you motivated when you were on a particularly difficult stretch of the trek?
Our guides were excellent at motivating us, the phrase "just around the corner" was used a lot. This sense of humour from the guides was infectious keeping the morale of the group high. I cannot thank Raj, Milton, Winford and the porters enough for their efforts which ultimately helped us reach the top.
What is one luxury travel item/home comfort you always take away with you?
L'Oreal hairspray is a must, because let's be honest people, we are all worth it. I digress, moisturiser to get your face and feet in tip top shape. A camera is something that is essential in capturing memories. Oh and do not forget aloe vera loo roll!

Now that you've accomplished Africa's highest peak, Mount Kilimanjaro 5,895m/19,340ft, have you got the urge to achieve the summits of other mighty mountains or extreme treks?
Definitely, Mount Kilimanjaro and Meru were a challenge but it is onwards and upwards from here on. The hard bit is deciding where to attempt next!
Again well done Harry, we hope to hear more from you on future adventures, perhaps you'll be tempted to break the 20,000ft/6,000m mark on a Mera Peak Summit Trek next?
The Second Best Exotic Marigold Hotel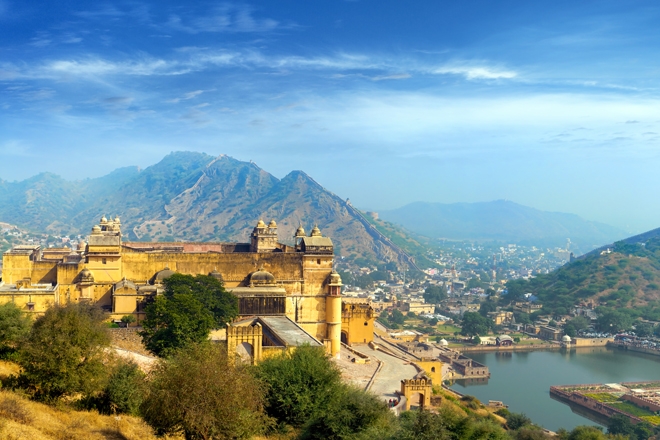 Get a taste of the wonderful Raj and feel like you're in the movie 'The Second Best Exotic Marigold Hotel' on our First Class Tour of Rajasthan holiday.
The Second Best Exotic Marigold Hotel is the story of British retirees venturing into incredible India. India makes a great place to escape to for a couple weeks, it offers a culture that is a world away from UK life, and like the film, our Rajasthan in Style tour captures the romance and colour of India's most culturally rich and scenically splendid region.
A follow up to The Best Exotic Marigold Hotel, this comedy-drama was filmed in and around Jaipur in Rajasthan, India.The hotel in the movie is a beautiful piece of raj architecture that is typical for the region. Travellers on our First Class Tour of Rajasthan get to stay in wonderful heritage properties that provide a similar authentic taste of the Raj as in the film. However, unlike the Marigold Hotel, which is known for not being quite as luxurious as advertised, our guests stay in stylish heritage hotels created from former palaces, and comfortable cottages as guests of the local landowner.
The movie is filmed near Jaipur, which offers some amazing sights to see. On your tour of Jaipur you will get to explore this labyrinth of city with buzzing bazaars, opulent palaces and historic buildings like Amber Fort, City Palace and Place of Winds – all of which are sure to create a glorious experience and make you feel like you're in the movie itself!
This Rajasthan tour visits several other major cultural attractions including the floating palace of Udaipur and the incomparable Taj Mahal. You will also visit villages and nature reserves with opportunities for game viewing, bird-watching and optional gentle walks.
Everest Base Camp Trek by Mrs G.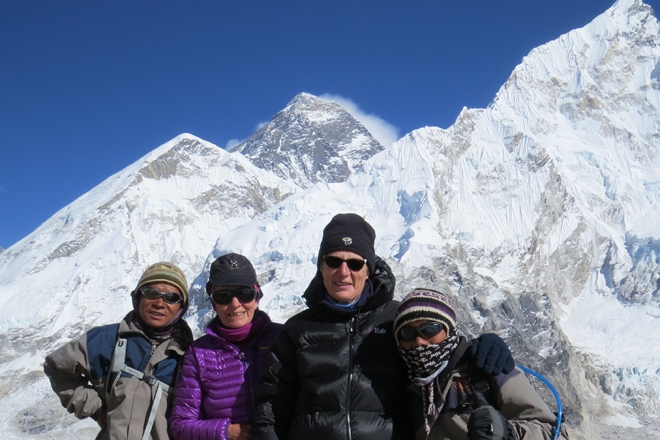 With porters Kamal & Kumar on Kala Pattar with Everest behind. Photo by Mrs G.

The Everest Base Camp trek, October 2014, by Mrs G.
There are not enough superlatives which can adequately describe the experiences that made up this adventure - a trek to Everest Base Camp. The fascinating, colourful, noisy, cheerful chaos of Kathmandu for the couple of days before and after the trek, the thrilling flights to and from Lukla where it began at a height of 2,800 metres, and from there the great trek itself, 14 days of 7 – 9 hours increasingly arduous walking of about 100 miles altogether, reaching an altitude of just over 5,500 metres at Kala Pattar - high above Everest Base Camp - and taking us through some of the world's most spectacular, magnificent and truly awesome scenery.
This Everest trek is billed as 'strenuous' and indeed it is; not particularly because of any technical difficulties on the paths, since for the most part we were using main routes of communication; rough, rocky paths with flights of uneven, irregularly spaced steps at the steepest points, heavily used by trekkers of all nationalities, porters and yak or mule trains. The challenge was having the stamina to keep going for 14 days, often doing the equivalent of a couple of Lakeland Fells per day, but at altitude above 2,500 meters it's common to experience headaches and nausea - symptoms of altitude sickness (AMS) - but luckily we didn't; lack of puff was the main problem!
Gradual acclimatisation is recommended as one of the ways to avoid AMS along with drinking plenty of fluids. We probably drank 3 litres of tea every day, served up in battered, brightly decorated thermos flasks at breakfast, lunch, 4 o'clock and dinner – not forgetting the welcome cup of 'bed tea' brought to us every morning at 6am by our guide. Steady acclimatisation was built into our itinerary which gave us 10 days to reach the top and 4 to return to Lukla. The outward leg included a side trek up the beautiful valley towards Thame (where Sherpa Tenzing lived) and back down the next day. We spent two nights each at Namche Bazaar and Dingboche on the main route where far from having a rest day we were encouraged to 'walk high, sleep low' (the motto for good acclimatisation) so we were more than willing to comply. Our guide would take us on a day's walk to a point of interest some 2-300 metres higher than where we were staying, then we would sit in a sheltered spot in the sunshine and drink in the fabulous panoramas whilst he told us about the villages, features and mountains we could see, before leading us back down to base for a flask of the delicious Nepali black tea – actually quite pale in colour – and biscuits.
Our accommodation was in tea houses sleeping in small, unheated twin rooms, typically panelled and floored with bare plywood, spartan but clean. Mostly there was a shared toilet at the end of the corridor but sometimes it was outside, so that night visits necessitated leaving your cosy bed and braving the minus temperatures to reach the facility! Once or twice we had the luxury of an 'en suite', one of which was very basic; it had no flush, but there was a large drum of icy water in the corner with a large tin can beside it with which we had to do the necessary manually. We slept in warm hooded sleeping bags with a cosy fleece liner and were also given an extra quilt above 4,000m when temperatures overnight would sink to minus 10C. From late afternoon everyone would congregate in the dining room, drawn like magnets to the cast iron stove in the middle of the room. These stoves are fuelled at higher altitudes by yak dung as there are no trees for firewood; it costs nothing, is available everywhere, dries out quickly (we saw them stuck on to wayside walls to dry after being flattened by hand into large 'pancakes' and stacked up in piles outside the buildings under tarpaulins, like turf in Ireland), ignites easily, doesn't smell and provides much welcome warmth. Huge kettles stand on top of the stove boiling up the water used for making tea and filling everyone's Nalgene bottles which double to provide a hot water bottle overnight then water for drinking on trek the next day.
The route from Lukla first took us down a couple of hundred metres to the milky blue fast-flowing Dudh Khosi River and along its narrow high-sided fertile valley where every little available patch of soil is cultivated with strips of vegetables and cereals. We went through a succession of villages, crossing the river several times by means of narrow wobbly metal suspension bridges where you definitely need a good sense of balance and head for heights; if you look down through the swaying strips of the metal walkway you have a clear view of the roaring rocky torrent far below!
The first really long gruelling climb took us up through coniferous forests (where we had our first exciting view of Everest!) to Namche, a bustling town nestling in a steep natural amphitheatre, a focal point for trekkers and locals alike, crammed with tea houses, cafés, shops selling local produce, souvenirs and everything a trekker could need. There's a twice-weekly market where locals come to buy and sell produce plus almost anything else that can be transported by porter or beast of burden, from heaps of freshly picked vegetables, fingers of bananas and pyramids of eggs to superglue, suspect 'genuine' branded goods and San Miguel beer. After Namche the route would often take us down to a valley bottom only for us to have to climb back up to regain that height and more on the other side. Our guide jokingly called these undulations 'Nepali flat'! Eventually though, the rhododendrons and other shrubs became more and more stunted and we rose above the tree line into remote high wide valleys beyond any permanent civilisation with the Himalayan giants towering above us, but never seemed threatening or claustrophobic. Maybe that was because of the weather; we had 14 days of sunshine with brilliant blue skies with a fantastic sharpness of outline and clarity of light. It will be a different story altogether when the clouds and storms close in and the rain or snow is whipped along by an icy wind.
As we gained altitude and entered the world of the highest mountains on our planet, we constantly felt overawed by their jaw-dropping grandeur and magnificence with the dazzling splendour of the enormous glaciers and ice-falls up on the mountain sides lying between the sharply protruding rocky spurs of impossible steepness. It has to be said though that when the glaciers level out they are incredibly dirty, bearing all the muck and rubble that they have taken centuries to erode. We trudged laboriously up the terminal moraines of the Khumbu glacier and slowly made our way along its lateral moraines, through piles and piles of stones and rocks interspersed with randomly abandoned huge erratics or scattered pools of meltwater. The paths through here are much narrower, created originally by the first climbers heading for the original Everest Base Camp which nowadays is Gorak Shep (just over 5,000 metres) below Kala Pattar. When you encounter yaks on any path traversing the mountainside, but particularly here as it is so narrow, you have to make sure that you are on the uphill side; the yak stops for no-one and if you are in the way, it, or its load will nudge you aside. If you made the mistake of being on the downhill side with a vertiginous drop, your trek would come to an abrupt, possibly fatal end!
One of the most beautiful mountains visible for many of the days of the trek is Ama Dablam, meaning 'mother's necklace'. The two ridges at either side of the soaring main mountain look like the protective arms of a mother 'Ama', and 'Dablam', the pendant worn by Sherpa women is the prominent lump of glacier near the highest point. Although considerably lower than Everest, this mountain is technically much more challenging and attracts climbers from all over the world. On one of our acclimatisation walks we saw such climbers in the tea house nearest the Ama Dablam Base Camp organising their equipment with their guides and porters.
We had a fantastic Sherpa team consisting of our guide and two porters, always smiling and eager to help. Porters Kamal and Kumar, diminutive but wiry, carried our kitbags and all that was needed for the trek – up to 30kg each - by means of tying it all together with heavy duty binder twine and carrying the load thus created on their backs taking the weight via a broad canvas strap across their foreheads. Pemba was our excellent guide who looked after us all day long with infinite patience and good humour, from bringing us early morning tea to filling our Nalgene bottles at the end of the day and in between, guiding us along our route, telling us about the area, answering our endless questions and organising meals for us in the tea houses. He had a supply of packets of biscuits which he would produce from his rucksack at appropriate times, most memorably when we reached our goal – 5,540 metres high on Kala Pattar when he opened the Bourbon biscuits, and (being a devout Buddhist) placed the first one on a nearby shrine as an offering to the gods in recognition of having reached our goal. Kamal and Kumar were there too although they could have stayed behind at the tea house as they had done their job for the day of carrying the packs there. But they insisted on coming too to carry our rucksacks for us and to share in the moment; there was much photographing, hand-shaking and back-slapping! We all got on so well and it was a sad moment when we split up at the end of the trek.

How can this Everest trekking experience be followed? It was a totally unique, once in a lifetime event, with daily adventure, stunning scenery, much laughter and great companionship. Further treks in Nepal will certainly take place and one is indeed already being planned to coincide with the rhododendrons in flower, but this particular visit has provided a host of wonderfully vivid memories and will never be forgotten.
If you would like to follow in our client's footsteps you can take the classic Everest Base Camp Trek staying in tea houses like Mrs G, or stay in the best lodges en route on our Everest Base Camp in Style trekking holiday.
Steve Berry Returns from Kashmir
In the footsteps of my father
When I was a young boy I used to hear all my father's stories of his expedition to try and make the first ascent of Mount Nun in Kashmir. How as young army officers of the Raj, he and two friends had travelled from Delhi to Srinagar where local dignitaries had loaned them a lorry to get to the road-head, which in 1946 was at Sonamarg. Of how three Sherpas had been employed to join them from Darjeeling, and how they had trekked all the way in over the Zoji La and the Barmi La to the Suru valley. The story was that they followed the route the Bullock-Workmans had used, and they had set about trying to climb the east ridge of Mount Nun. They climbed the subsidiary peak, White Needle Peak, but the main summit had eluded them. Their high altitude cookers all packed up and they ran out of time.
The story went on of how they practically ran out of food and so my father had gone hunting a bear that had been seen near their base camp to supplement their dwindling rations. In doing so he came across a remote monastery, Ringdom Gompa, where the people in the village and the monks had never seen a white man before. The Head Lama had given him three presents; a prayer wheel, a mani stone, and a large crystal. They had many adventures and our loft at home held many bits of his old expedition gear.
As children, my brother and I had often played with these things and pretended to be great explorers. In fact in 1981 he, I and five friends went and finished the job of climbing Nun by the east ridge. It was the third ascent of Nun as the French had made the first ascent in 1953, followed by the Japanese in 1980. Dad often told us how at the end of the expedition they had exited the region on a new route over two passes; the Lonvilad La Pass and the Guli Gully Pass. So, for many years I harboured deep inside me the desire to follow his trekking route from the Srinagar side. In 1981 my expedition had approached the mountain from Leh and had driven to the Suru valley.

Sadly, the original route he and his friends took is now a road!! And therefore I hatched the plan of reversing the route he had taken out. And so it came to pass. I, my friend Dr. Stuart Martin, and my old friend Akshay Kumar, trekked from Phalgam to Panikar firstly following the Yatra route that leads to the famous Amanarth cave, but then diverging from the pilgrim route over the Guli Gully Pass and on over the Lonvilad Pass. I can only tell you we had a few old sketchy maps, and relied on these and local knowledge picked up along the way. Luckily our head horse man had been that way before, but he could not remember the names of the passes. So it was a real adventure every day not knowing quite whether we were going to find the route of not. I can also tell you that the route is incredibly beautiful. Far more impressive than I ever imagined it would be, and added to that we met very many semi-nomadic people along the way.
Of course the hardest pass came at the end of the trek and was a real challenge, taking us nearly twelve hours camp to camp (having become lost on the glacier for two hours before we found our way again). I was amazed at the scale of my Dad's journey because his trek in and trek out, including his side trip to Ringdom Gompa, was a huge distance. It was simply wonderful to have repeated his journey and to have seen where he had been in his hob nailed boots.
If you would like to trek in this stunningly remote part of the world, then our Wild Zanskar Trek takes you close to Mount Nun and Ringdom Gompa in wild and mystical Zanskar - in the heart of the Indian Himalaya.
Trekking in Nepal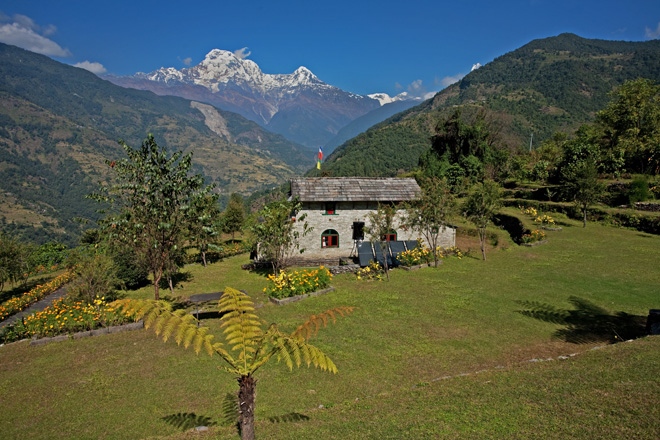 Nepal. Photo courtesy of S Watkinson
Few places can compete with a record-breaking attraction like Mount Everest, but Nepal can. There is actually so much more to trekking here than taking on the world's highest mountain.
Everest may dominate the minds of the uninitiated, but the Himalaya in Nepal actually boasts ten of the planet's highest peaks. It also provides countless opportunities for trekkers of all experience to enjoy some of the finest scenery on the planet and get to know the wonderfully hospitable Nepalese people.
Beyond Everest Base Camp - Nepal's other must-See destinations
If you have already completed a trek in the Everest region and are looking for new trails to explore, there can be few finer trips to Nepal than a visit to the Annapurna Region north of Pokhara. The area plays host to the world's tenth tallest mountain - Annapurna I, which towers a massive 8,091 metres above sea level, not to mention another 13 peaks standing at more than 7,000 metres high and 16 more over 6,000 metres.
Treks in this area offer breathtaking views of the range and feature some of the most talked-about trekking adventures in the world. These include the Annapurna Circuit Trek - a 200 mile circumnavigation of the Annapurna Massif, and the Annapurna Sanctuary - a trek into the heart of the great peaks of the Annapurna range. But you don't have to embark on an epic trekking trip to enjoy the majesty of the Annapurnas. A gentle trekking holiday, staying in luxury lodges rather than tea houses, gives you the best of all worlds - wonderful views, easy-paced walks and home comforts every evening.
Outside of the more popular trekking routes of the Annapurnas or Everest region is ' Wild Nepal'. Lesser-visited places such as the ancient Kingdom of Mustang, the beautiful yet utterly remote area of Upper Dolpo, the base camps of Kangchenjunga and the sublime scenery surrounding Manaslu all offer the chance to enjoy incredible landscapes and to see a side of Nepal that few others glimpse.
One of the most challenging journeys is the 1,700km Great Himalayan Trail connecting the region's major trekking areas. You will need to time this carefully if you want to complete the whole route, however, as snow makes the high passes inaccessible during a large part of the year.
This is just a tiny proportion of the excellent trekking opportunities available. This is a country of almost limitless challenges and some of the most beautiful spectacular vistas and wilderness on the planet.
Can You Cope With a Trekking Holiday?
The beauty of Nepal is that there are so many treks that all levels of reasonable fitness and experience are catered for. There are challenges to be experienced along the routes for those who choose to undertake them, but the unique aura and cultural extravaganza are enough to spur even the most weary traveller on.
It used to be that Himalayan treks were only for avid adventurers and seasoned trekkers, and the more remote and rugged routes certainly still are. But there are now many more opportunities to experience the country and to fulfil the dreams of an average person more used to climbing stairs than mountains. While a Nepal trek may not be for everyone, the opportunities for adventure are bigger than they have ever been before.
When to Visit Nepal
Treks in Nepal are generally most successful and exhilarating during the spring and autumn. Between March and June and September and November the temperatures are warm and clear skies add to the experience - particularly in the spring. Of course, there are hikes that happen outside of these windows as for example to Mustang and Dolpo in the summer months, but be prepared for some closed passes and cold conditions during winter and heavy rain in monsoon season during the summer.
Accommodation
On the more popular trekking routes in the Annapurnas and the Everest region, small tea houses are the traditional form of accommodation. Built by villagers to give refuge and comfort to trekkers, they have lots of character and serve hearty, nourishing food. They will give you close contact with the Nepalese people and an insight into their way of life and cultural traditions. Higher quality lodges are also now becoming established on the trails offering greater comfort still. You can now trek to Everest Base Camp, Ama Dablam and Annapurna Base Camp in relative style. Venture into Wild Nepal and camping is your only option. But with Mountain Kingdoms' superb camping service you'll find you want for very little. And at the start and end of all our walking and trekking holidays in Nepal you'll stay in a top quality hotel in Kathmandu.
Beyond the Landscape
Nepal treks call to people wanting to experience the best that nature has to offer, but the human attraction of Nepal should never be ignored. Few places in the world offer such a unique cultural experience combined with people who are happy to explain it all as well as acting as your guides. There is also much historic, cultural and religious interest in the streets, temples and bazaars of the cities, towns and villages of Nepal.
Trekking will always be a mainstay of tourism in Nepal, but today it does not just mean making it to the top of the highest mountain you can. Cultural experiences are now the focus of many trips.
Responsible Tourism
We take great pride in the initiatives and organisations in Nepal we support as part of our commitment to responsible and sustainable tourism in the countries we visit. Visit our Responsible Tourism pages to find out more.
You can also do your bit to protect the fragile landscapes of the Himalaya. Look after the environment on your Nepal holiday by making sure you do not leave any rubbish behind. Even bottles and cans from restaurants should be taken to the nearest road accessible by trucks. Nepal is already struggling with its waste management, so do not make the problem any worse
Once you have finished your trek, think about donating your clothing to the Sherpa's and porters' clothes bank in Thamel in Kathmandu. This is run by an association called KEEP to provide adequate clothing for porters on treks.
Tread lightly - low volume, low impact holidays are the best way of taking care of the beautiful places we visit.
Please call or contact us to request a brochure or to talk to one of our travel experts about taking a holiday in Nepal. You can also talk to us about arranging a Tailor Made holiday just for you and your friends or family.
Trekking Holidays with Mountain Kingdoms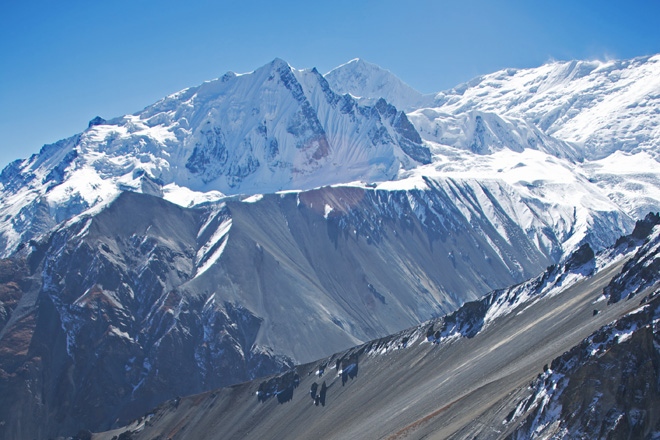 Naar-Phu. Photo courtesy of J Davies.
Walking holidays have become increasingly popular as more people enjoy the health benefits that an active or adventure holiday can bring as well as the opportunity to take in new surroundings and stunning scenery. However the idea that a trekking holiday is only really suitable for experienced hikers is a myth. Anyone of any fitness level can take part in a walking tour, and there are many different styles of holiday that suit varying tastes, preferences, interest ranges and abilities, some being more challenging than others.
Trekking Holidays
Trekking tours are usually graded by level, so that a person can decide beforehand what pace of walk they want to take part in on holiday. This is also important because it helps to match the level of walking ability with the grade of walk so that someone does not find it too strenuous for the level.
Gentle Walking Holidays
Gentle walks, for instance, may only last a few hours and are considered relatively easy. Most of these types of walks are at low altitude so that there are no strenuous hills and mountainous climbs to negotiate. These walks often combine a mixture of sight-seeing and treks and are often suitable for families. A trek of moderate grade will be more active and will usually involve hiking across mountain passes or remote parts of the country. Typically, this involves about a week of walking. A classic, vigorous trek is usually longer, often up to two weeks, and the scenery and terrain more varied. This is particularly suitable for mountain or hill aficionados. A strenuous trek can last even longer and normally involves travelling in regions away from civilisation. Walks may continue solidly for a number of days, with a rest breaks allotted. This type of tour is aimed at experienced mountain walkers.
Adventure Holidays
Walks are not just graded by level of difficulty. They are also defined by the type of scenery or terrain you might expect to encounter, such as woodland walks, mountainous treks, trails that pass along coastal paths or beaches or tours through jungle or the bush. Trekking tours do not also have to be about getting as far away from civilisation as possible. Many walking holidays feature guided group trails that take in cultural sites as well as the sights and sounds of towns and cities.
Hiking Holidays
Most hiking holidays feature a specific country, and particular sites are included during the trek. A trekking holiday in China might, for example, involve walking along part of the Great Wall of China. A trek might follow a famous route such as Peru's Inca Trail or Everest Base Camp.
Hiking holidays do not just have to be centred on visiting famous beauty spots or landmarks. Many walks are designed to get off the beaten track and avoid tourist hubs and to experience trails that allow the walker a chance to get up close to the true identity of a place. This could be following paths through remote villages to gain an insight into how locals live, but it's also a chance to understand and appreciate the natural characteristics of an area. Some walking holidays are based around specific events or interests, so bird watchers and lovers of wildlife might opt to take a guided tour on a trail where animals and bird species have habitats, for instance.
Cycling Holidays
Other trekking tours may combine walks with cycling or skiing or travelling with organised transport from a walk in one area or country to another one.
One other consideration that needs to be made before booking a walking holiday is to decide whether you want to arrange the holiday independently or go as part of an organised group. If you do it alone, then you will need to arrange travel and accommodation, as well as plan the walking routes yourself. If you go as part of an organised group through a specialist walking tour operator, then the travel and accommodation arrangements will be made for you, these walks will also usually be led by an experienced guide.
Organised Walking Holidays
The advantages of going on an organised group walk with a guide are numerous. The guide will have a good knowledge of the local area and the route, which means you are not likely to get lost along the way and also can feel safe in the knowledge that an expert understands the varying terrain and conditions. A guide can also divulge important or interesting facts en-route, such as the local flora and fauna, specific landmarks or even just hidden knowledge about a good place to stop and rest your legs for a while. Going in a group is also generally safer than walking on your own, and it gives you the opportunity to engage with like-minded people of similar abilities. If the walk involves stopping off at campsites or accommodation en-route, then having ready-made friends to share stories with in the evening makes for a more pleasant and sociable experience. Indeed, accompanied trekking is ideal for anyone who has never tried holidays of this nature before, or feels a bit uncomfortable about tackling it independently.
Activity Holidays
Many people who might be considering active holidays such as trekking may worry that they need to buy expensive hiking equipment to take with them. This is not necessarily the case. If you go as part of a tour, then the guide or operator should be able to give you an idea of what you will need to bring with you. This may depend on the terrain and forecasted weather conditions, for instance. The most important item that you will need, no matter what grade of trek, will be a solid pair of comfortable walking boots. Waterproof, breathable clothing is also vital.
As there are so many different things to think about when it comes to holidays that involve trekking, it is usually a good idea to get expert advice before booking your trip. When and where you want to go, what you want to see or achieve from the walk and grade of difficulty all need to considered.
Please call or contact us for availability or for a brochure / more information on our worldwide holidays or check the website for details of all the countries we explore with our exciting holidays.
Tailor Made Holidays with Mountain Kingdoms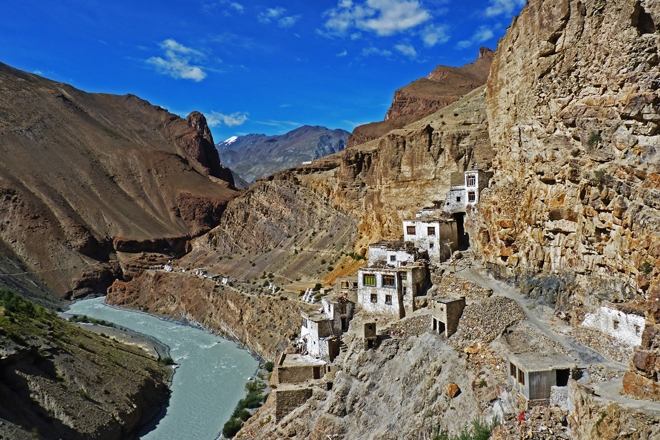 Phuctal Gompa in Zanskar, Ladakh. Photo courtesy of Steve Berry.

Tailor Made Holidays
It goes without saying that since the explosion of online travel agents, companies and budget airlines over the past decade, there has never been such a plethora of choice when it comes to booking a holiday. Whether it's a city break, a two-week beach holiday in the Canary Islands, a Mediterranean cruise, a skiing holiday in the Alps or a tailor-made honeymoon, there are literally thousands of packages and options to choose from. Many people are now choosing to do all the hard work themselves by booking flights and accommodation separately to get the best deals. And with high competition driving down prices, travellers today have never been in a better position to get what they want for the right price.
Luxury Holidays
However, it is no secret that the modern-day tourist has become more discerning over the years. We are demanding more than ever from our precious holiday time, and many travellers are looking for more than the standard sun, sea and sand break in long-established, British-orientated resorts. More than ever, people are looking for ideas for that unique experience, a once in a lifetime perfect luxury trip that will allow them to discover some hidden corner of the world, and perhaps even to discover more about themselves.
This may be one of the reasons 'if not the key reason' for the growing numbers of tailor made trips and walking holidays available. This type of holiday allows the customer to have complete control over their trip. They can choose to go on an existing itinerary with an organized group, or they can plan a private trip for themselves and their friends and family, accompanied by an expert guide. They can choose exactly what they want to see and where they want to go. Bespoke holidays give the customer a vehicle to create a great-value itinerary to fit their budget and build the experience of a lifetime. In short, a tailor made holiday gives travellers the freedom to choose every little detail of their trip.
Walking Holidays
Walking holidays have become particularly popular. Most walking holiday companies will provide a variety of walking programmes to suit all abilities, from those with no previous experience needed to more strenuous treks. You can walk at your own pace and make the most of the places you want to explore. There are now many walking holiday companies offering an inspiring range of walks and treks across the globe.
A great benefit of tailor made holiday specialists is that they will be able to share their expert local knowledge and offer their personal advice on the best places to go, how to get there, where to stay and how to get around. They will be able to offer a knowledgeable and personnel service, with many staff having first-hand knowledge of the area you are interested in visiting. Many offer a bespoke service, meticulously planning every aspect of the trip and making sure it is exactly right for the customer. Many companies will have staff with personal first-hand knowledge of the destinations and a network of local contacts and suppliers, providing the customer with an independent travel experience without the hassle of organising it themselves.
Organised Trekking Group Holidays
Another advantage of this type of trip is that customers will be travelling with like-minded people, sharing their experiences and exploring the environment in-depth. And tailor made holidays can be surprisingly reasonable in cost. As well as enjoying the cost-saving advantages that group travel brings, as the cost of transport, guides and accommodation can be spread between a number of people, thus reducing the price, considerable savings can be made over the price of comparable brochure trips.
Responsible Tourism
Many tailor made holiday companies will be committed to supporting responsible tourism, as they invest so much in the local areas they visit and the people who live there. By going on a bespoke holiday, tourists are helping to support the local economy and people, as many companies will employ local people as guides and use local accommodation and restaurants wherever possible. These 'Responsible Travel' tailor made holidays are a great way to give something back to the local communities that are visited, and every effort is made to minimise pollution and take care not to offend local traditions. They also have a deeper understanding of the importance of sustainable tourism. Emphasis is put on sustaining the fragile and beautiful places they visit so that future generations can enjoy the same journeys and tours in many years to come.
Mountain Kingdoms is a UK trekking holiday specialist and has been creating memorable holidays for 26 years. It offers a wide range of walking tours and treks to some of the world's most renowned destinations, including several Everest Treks in Nepal, the Inca Trail in Peru, the Annapurna Circuit, the increasingly popular Kilimanjaro Trek, not to mention breaks in America, Argentina, Cambodia, Chile, China, India, Bhutan, the Polar regions and many more worldwide destinations.
Association of Independent Tour Operators Award Winner
We also provide numerous walking tours, wildlife holidays and cultural journeys that take the traveller away from well-travelled routes to experience an authentic and bespoke adventure holiday, including colourful cultural festivals. Mountain Kingdoms has been awarded the prestigious Association of Independent Tour Operators' (AITO) Responsible Tourism Award.
So where will you next holiday be? A walking holiday in the American Wild West perhaps? A trip to see the magical Northern Lights in the Arctic? A cultural tour of Ladakh? The possibilities really are endless. Maybe give that beach holiday a miss this year and do something amazing instead. Authentic adventures and enriching journeys are right around the corner.
Please call or contact us for availability or for a brochure / more information on our worldwide holidays or check the website for details of all the countries we cover with our exciting holidays.
The Trek of a Lifetime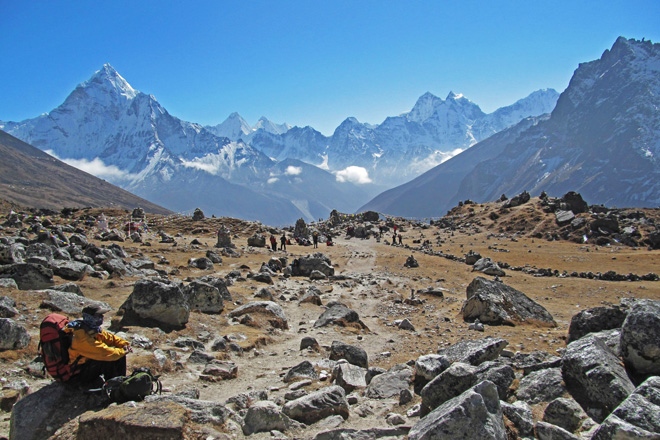 Everest Base Camp Trek. Photo courtesy of P Wright.
Few people will ever make it to the summit of the world's highest mountain, but the sheer scale of Everest makes a trek to base camp an adventure in itself.
There is something enthralling about Mount Everest that cannot be explained by size alone. Its surroundings and the colourful cultural experiences on offer in Nepal and the Himalaya make it appealing to more than just the hardened climber.
Since the 1920s, the mountain has undoubtedly captivated the world's most intrepid explorers, including Sir Edmund Hillary, Tenzing Norgay, and George Mallory. Many have dreamt of reaching its peak, but the dangers cannot be ignored. Many people have died on Everest's treacherous slopes, and thousands more have seen their dreams extinguished in an environment full of glaciers, ice boulders and crevasses where Mother Nature is undoubtedly in charge.
A base camp trek through Nepal is a challenging experience for some and an exhilarating experience for many, but it is one where overt danger does not accompany you with every step. Instead, this trip is likely to be life-changing for those who reach their destination, not least because of the awe-inspiring scenery that dominates the landscape in every direction you turn.
Most people have seen photographs of one of the planet's greatest creations, but relatively few have seen the real thing. Why be satisfied with a snap on a computer screen or a page in a magazine when you can experience the reality?
Is an Everest Base Camp Trek for You?
In 2012 alone, around 37,000 people from all walks of life took up the challenge and went trekking in the Everest region, and it is unlikely that even one of them will ever forget the experience or the people. A trek to base camp will be marked as much by the unrivalled hospitality of the Nepali people, their remote villages and the fascinating insight into the Sherpa culture, as it will by the unforgettable landscape and the sense of personal achievement in realising your dream.
Just imagine spending days hiking across swing bridges, the like of which you have only ever seen in an Indiana Jones film, seeing the unique wildlife, walking past the coloured prayer wheels and the mani stones with their Buddhist prayer engravings and also visiting fascinating museums and monasteries. Think about evenings enjoying hot food and camaraderie with people who share the same dream as you, staying in tea houses and comfortable lodges and having all the support you need from local experienced guides and tour leaders. How can you resist?
When is the best time to visit Everest?
A trek to Everest Base Camp or other trek in the region, should be made either between March and May or sometime between September and December. May is just before the monsoon season, so it can be wet but it can also be extremely hot. December days are perfect for base camp treks and there are fewer trekkers than at other times of the year. Nights can get cold, however, as sub-zero temperatures are normal.
A Guide to Guides
Organised Everest Base Camp treks offer the added security and expertise of knowledgeable guides. This not only adds to your experience, provides limitless information and improves your safety, but also ensures valuable employment within Nepal.
The country's government is actually considering making it compulsory to have an Everest trek guide after recent disappearances of unaccompanied trekkers, not to mention the death of one Belgian in Langtang in the summer of 2012. At the moment these rules are on hold, but many people believe it will only be a matter of time before the regulations are introduced.
Another advantage of choosing an arranged trek is that all of the details are organised for you, from flights and transfers to hotels, meals, tours, accommodation and insurance.
Where will I stay?
The most commonly used accommodation on the trails of the Everest region are tea houses. These small guest houses are built by the local Sherpa people and have been providing simple shelter and hearty food to trekkers for many years. Full of character, they generally have twin-bedded rooms with a central communal room, warmed by a traditional fire, for dining and relaxing at the end of the trekking day. By staying in tea houses you will have close contact with the Nepalese people and contribute directly to the local economy.
Increasingly though, better quality lodges are springing up in the Everest region. Larger in size they offer comfortable en-suite bedrooms, hot running water and excellent food and service. You can now choose to take a shorter luxury lodge trek to Thyangboche Monastery, or go further along the trail to Ama Dablam Base Camp or even trek to Everest Base Camp itself whilst staying in these luxury lodges.

How to prepare for Everest Trekking
Extreme hills and the effects of altitude up to 5,545 metres mean that an Everest Base Camp trek is anything but a walk in park, but that just adds to the sense of achievement when you reach your destination. In fact, with a slow and steady approach only average fitness is needed to complete the trek.
It is wise to do some simple preparations before you set off, however, to ensure that you can really enjoy this unforgettable trip. Try to do some form of cardiovascular activity several times each week in the run-up to the trek. Try swimming, cycling, and climbing and make sure you walk everywhere and complete a minimum five-hour walking expedition at least once a week. Make stairs your friends and climb as many as possible as often as possible.
Packing for Trekking
Do not make your porter carry more than they need to by only taking the essentials. A 10kg to 15kg load should be plenty. Do not forget thermal underwear, a down jacket and a fleece, a waterproof coat, sunhat, sunglasses and gloves, along with several synthetic-fabric long-sleeved t-shirts, two pairs of trousers, a light scarf and a warm jumper or a light fleece.The key to being dressed for Everest is to have plenty of layers to add or take away.
Pack travel-sized toiletries and remember tissues, a travel towel, lip balm, baby wipes and sun cream. A small first-aid kit must include blister bandaging and diarrhoea medicine. Some trekkers also carry antibiotics in case of a sinus or chest infection, and everyone must ensure that they have had the correct immunisations.
Staying Safe in Nepal
Even extremely fit trekkers can be affected by altitude sickness, which is why acclimatisation is so important. Signs of the illness include breathlessness, headaches, loss of appetite, dizziness and sleeplessness. Gradual ascent and hydration are key but medication such as Diamox can be used to treat the condition although it may be necessary to descend if symptoms persist.
Protect yourself from harsh sunlight by reapplying a quality sunscreen regularly and covering up as much as possible by wearing long-sleeved tops and trousers and a light scarf and hat.
If you are interested in an Everest trek, please do contact us for further details or for a brochure. We also offer worldwide treks, tours, walking holidays and cycling tours in places as diverse as America, Argentina, Asia, China, India and Tanzania
A Knife Edged Ridge Hike up Mt Snowdon
Beautiful views of Snowdonia. Story and images courtesy of T Udomritkul
It's a weekend escape from London Life. A three hour train journey takes me away from a sea of granite buildings to a rugged expanse of mountains, spring water tarns and charming villages. I am staying at Jesse & James bunkhouse for the evening, an independent lodge just a stone throw away from the way-marked mountain trails of Pen-Y-Pass. It's the longest day of the year today and the sun dwindles incessantly, resembling the ball of apprehension and excitement I have for my planned hike up to Mt Snowdon via a knife edged arête. My pre-trip preparation consisted only of an OS map, online route notes and the willingness to give it a go. We retire to bed early for the night, with the intent of an early morning start to avoid the crowds of the summer solstice.
The sun casts a honeycomb-like glow across the trail as we begin our ascent. I feel a little clumsy as I tread heavily over the rocky trail; I've grown far too accustom to the paved streets that is characteristic of urban living. Nevertheless I press on, soaking in the view of the craggy mountains rising high above us. We begin to abandon the crowds as we ascend further away from the car park and diverge off the popular Pyg's Track towards Crib Goch – a knife edged mountain ridge that will eventually lead us to the summit of Mt Snowdon.
There is no longer a coherent track, I scramble upwards as I use my hands to steady myself. Shreds of misty cloud encircle the scrambling route and I feel my heart beat quicken with both fear and exertion.
We soon reach the beginning of Crib Goch. The clouds hang like a veil of concealment, distinguishing the danger of the sheer drops on both sides of the ridge. I feel a knot of fear tighten in my stomach and my hands reflectively reach out towards a rock in a meagre attempt to feel a sense of safety.
Fear had me temporarily rooted to the spot as I began to soak in the mountainous surroundings. Llyn Llydaw, a glacial lake, glistens beneath us like precious stones strewn across the water. The ridge despite being terrifying, also feels magnificent. I realise that we are in the topmost peaks of Snowdonia National Park and I feel a burst of renewed excitement. I clamber onwards, using my hands to steady my legs that shook like jelly throughout.
I breathe a sigh of utmost relief as we descend off the ridge and re-connect with the Pyg Track. Every step draws us ever closer to the summit of Mt Snowdon. There is a crowd of walkers on the trail which contrasts the bleak solitude of our ridge ascent. With a final push, we ascend rapidly and clamber towards the summit marker, a golden sun-dial atop a raised platform of rocks.
I'm here! 1,085m at the highest point of England/Wales! We linger together on the summit before making our way to Hafod Eryri, the summit café of Snowdon. At the café, I treat myself to a celebratory golden Welsh pastry. Overall, it was just a short weekend away that turned into an unforgettable days hike. It was a reminder that a weekend need not be characterised as just 2 days off work, but as a window of time where an idea or a spark of inspiration can evolve into an adventure.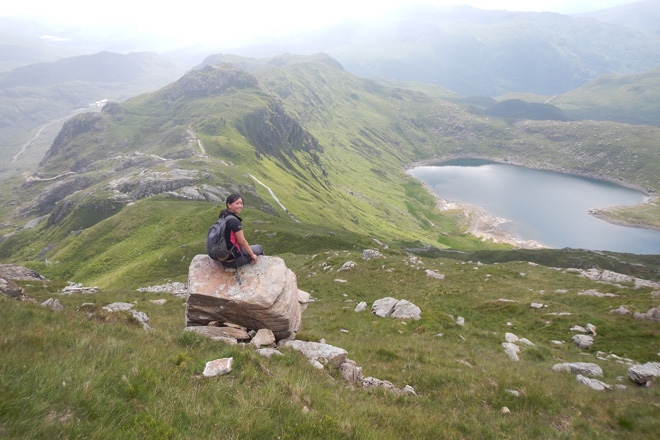 Taking a rest on the away to the summit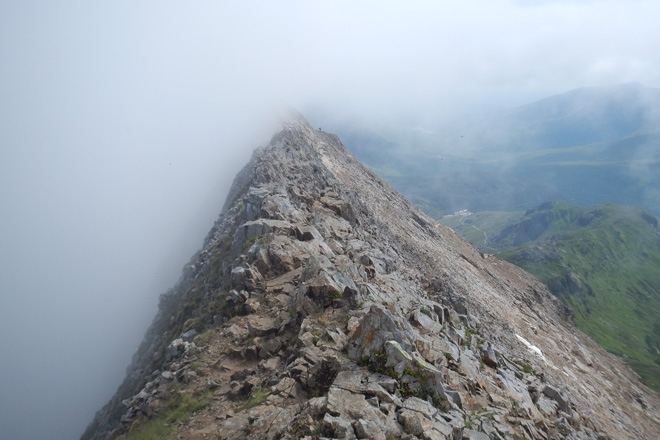 Mt Snowdon's knife edge
Tense Experience at the Transnistrian Border
Mila, Keith & Aleksai at Tiraspol train station. Travellers' Tale and image courtesy of K Ruffles.
The atmosphere on the minibus is tense. Quiet and unsmiling the guard slowly moves from person to person, scrutinising with unflinching eye each and every document, peering from passport to face to passport again. First the babushka with her husband, floral shawl wrapped tight around head; now the young mother, hushing the little bundle cradled in her arms.
It's stuffy – someone behind me tries to stifle a cough - but we all await our turn patiently. A pungent mixture of stale sweat and alcohol hangs heavy in the air whilst condensation drips down the windows, the heated proximity of so many human bodies crushed together in stark contrast to the frost that covers the ground outside. A tense silence reigns supreme, for we all know that this is the guard's game and we must play by his rules.
Soon the uniform, green and immaculate, looms large next to me. I manage a weak smile as I compliantly hand over my passport and migration card but the glare I receive in return ends my insincerity. An unkind eye scrutinises the documents, searching for any infringement. An eternity passes, another cough; then a decision is made. "Off", he growls in deep Russian, signalling towards the door. There is no room for debate, no opportunity for dissent.
I'm frogmarched in a poky little office a short distance away. There's paperwork strewn everywhere; a couple of retro computers flicker brightly. In broken English the guard points to my migration card, and it's now I realise my big mistake. I should have left the country by 11 in the morning; the grubby clock on the wall says 1. My welcome officially expired two hours ago.
The guard sits himself down in front of one of the monitors and begins to stab at the keyboard with podgy fingers. He then turns it to me, grim faced. The numbers read 318. "You pay. Euro." €318. Just to leave.
I try not to panic. I plead. I beg. I pat down my pockets, feigning helplessness. But he just sits there, a hint of a smile playing on his lips. This is his court, his kingdom.
I dig deep, my fingers touching a small wad of roubles and I place it in front of him, like an offering to some angry god. He picks it up and examines it closely between finger and thumb. A small shake of the head. Niet. Not good enough. I find some more money, this time Moldovan Lei. Again he picks it up, this time smiling broadly. Yes, yes, this will do.
The melodrama suddenly comes to an abrupt end. He springs up, hands me back a 50 Lei note, shakes my hand, and motions me out of the door. I quickly leave before he changes his mind and rush back to the waiting mini bus, relieved that the cost of freedom couldn't have been more than £10. It is, after all, just another day at the Transnistrian border.
Transnistria is without doubt one of the most obscure corners of Europe. A thin strip of land wedged between Moldova and Ukraine, Transnistria usually makes the news for all the wrong reasons – weapons smuggling, people trafficking, drugs, you name it. It's also famous for being stuck in a communist time warp, a place where the glory of the Soviet Union continues to shine. Here statues of Lenin still stand proud and hammer and sickles adorn walls and buildings, harking back to an era that elsewhere has long since been consigned to the history books.
It's ironic then that it was the very collapse of the USSR some two decades ago that led to Transnistria's creation. As the Union faulted and crumbled along ethnic lines the mainly Romanian-speaking region of Moldova seized its opportunity to declare independence, taking slavic Transnistria with it. With the threat of unification with Romania looming the Transnistrian authorities – with the help of the locally-based Russian 14th army - waged a short and bloody war with their Latin neighbours. The result? De facto independence, albeit unrecognised by any other nation in the world. To this day Transnistria – despite having its own parliament, military, police, postal system, currency, flag, national anthem, and coat
of arms – continues to be considered by almost all international observers as Moldovan soil.
And independence has not proved easy for the Pridnestrovian Moldavian Republic, as it's officially known; politically and economically isolated from the rest of Europe and with its continued existence almost entirely dependent on the continued presence of the Russian armed forces, daily life is precarious for the 500,000 or so inhabitants. Unemployment and inflation is high and the average wage is well behind levels enjoyed in the West. And the population is slowly ageing, with young people looking for opportunities elsewhere. Transnistria enjoys a claustrophobic existence.
The minibus grinds to halt and the driver jumps out to open the door. He shakes my hand warmly – foreigners in these parts are something of a novelty – before getting back in and speeding off. I take in my surroundings: grey streets, some ramshackle houses, some apartment blocks in the distance. A chill dampness fills the January air.
I wander towards what I think must be the centre of town, trying to look like I know where I'm going. Soon I stumble across an open-air market, with everything from hats to typewriters and engine parts to books spread across blankets on the hard concrete floor. Behind each sits an unsmiling seller, wrapped up tight against the cold.
Beyond the market a large statue of a man astride a horse beckons me closer. "Suvarov", it says in Cyrillic on the side. The founder of Tiraspol. From here I can see all the way down 25 October Street, named after the revolution that propelled the Bolsheviks to power in 1917; nearby Lenin stands proud outside the Presidential Palace, whilst across the road a Soviet-era tank points its turret towards the war memorial. It's here that I'll be meeting my contact, local journalist Mila Selezneva.
I do not have to wait long. She appears, young and smiling, and asks in faltering English how I am. "Yes, good", I say, "It's good to be here". "Well, you are very welcome!" comes the reply, and we set off together down October street at steady, slow pace. Mila had read about my trip online a few weeks before my arrival and got in touch suggesting we meet and talk about the media and journalism back in the UK. For my part I was looking forward to find out about everyday life in Transnistria.
As we walk we take in some of the sights and Mila becomes an impromptu tour guide; "Here is the Kvint shop, very good brandy", she says, and it's not an exaggeration – Kvint has a world class reputation and is one of the region's major exports. "And here is the bank". This is a necessary stop; I need get some Transnistrian Roubles, the local currency which is
impossible to exchange anywhere else, even in Moldova proper. Across the road from the bank is a shiny casino, which seems oddly out of touch with the communist iconography littering the streets.
It's a point I put to Mila. "Oh, just because we have these monuments doesn't mean we're still communists. It's to remind us of our past and just because things change doesn't mean that we forget that." I ask her if she thinks it's odd that the monuments remain here whilst most of them have been removed in other parts of Eastern Europe. She shrugs. "Perhaps we remember here more".
And Mila is keen to tell me that things are changing in Transnistria. Igor Smirnov, President for twenty years from the War of Independence, has recently been deposed in democratic elections barely a fortnight before. The new leader, Yevgeny Shevchuk, has promised to ditch the country's pariah status and achieve some sort of international recognition. I decide to leave questions about weapons and people trafficking for later.
Outside the grand House of Soviets – replete with angry Lenin - we meet one of Mila's friends, twenty-something Aleksei Bychkov. He also happens to be president of the "Student Community of Transnistria" and we jump in his car. "Where are we off to?" I ask Mila. "Bendery", comes the reply. "This is where my editor is based".
And in Bendery I do indeed meet Mila's editor and the rest of the team at Dnestr television. And it turns out that having a foreigner in Transnistria is so unusual that they decide to film and broadcast an interview with me, Mila translating throughout. They ask about journalism in the UK and how it works. I talk about its many strengths and problems, and in turn ask them about their work in a country where media freedoms are considered to be restrictive. "It can be frustrating", says one in Russian, "because we cannot always speak to who we want as they are not allowed. The government stops us".
Soon it's all over. We take pictures and shake hands and then it's back to Tiraspol. Aleksei suggests we go to a local bar and I readily agree, and so I find myself in the Komlnek eating pirogi and sipping a locally produced vodka. Here I feel I can ask some more probing questions.
"We are Russians, not Moldovans", says Aleksei when I ask him about Transnistria's unrecognised status, "and we cannot live together, we are too different". I ask him how this was managed in the Soviet era. "Because there weren't the divisions there are now".
"It's true", agrees Mila, "everyone today has nostalgia for Soviet times, because everyone was so much happier then. If you fell in the street people would help you, today that wouldn't happen". I point out that she was born in 1992, after the collapse of the USSR. Does she also have this sense of nostalgia? "Yes, we all do".
Then there are the practicalities of life. I ask how easy it is for them to travel, and it turns out that being ethnic Russians they hold Russian passports. For those less fortunate in the cultural stakes – and despite the sole use of Russian in almost all walks of life – Transnistria has a large Moldovan ethnic minority whose movements are far more restricted.
There's only so much we can discuss in one meal, and soon it's time for me to go back to the apartment I've rented for the night. We agree to meet again in the morning before I get my bus back to Chişinău.
Outside the bus station we exchange a few gifts and ambush a passer-by into taking some pictures. And as I wave goodbye from the minibus I decide that I will return. There is still so much to learn about life in this unpredictable corner of Europe, and it's clear from even a short visit that the whilst the near-hysterical coverage of Transnistrian affairs back home has some groundings in fact the reality is far more nuanced. And as I stare out across fields covered with snow as the border post appears on the horizon I can't help think that it may be time for Transnistria – or at least the people who live their everyday lives here – to finally come in from the cold.
Steve Berry in Kashmir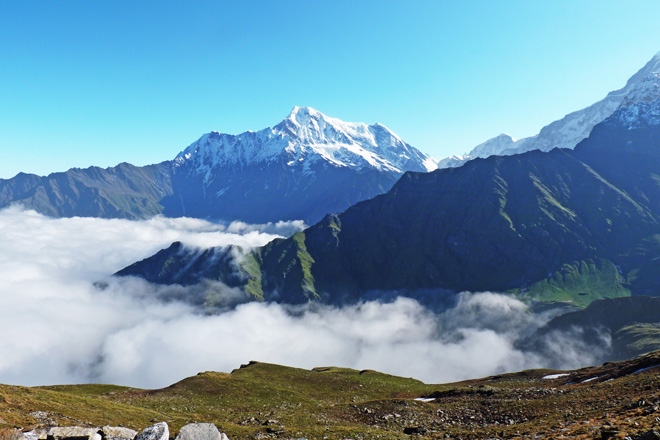 Stunning scenery of India. Photo courtesy of N Morgan.
Last week Mountain Kingdoms' Managing Director, Steve Berry, took off for India where he will spend three weeks on a recce following in his father's footsteps in Kashmir. During his time he will be trekking in his father's original trek when he attempted Kashmir's highest peak, Mount Nun, standing tall at 7,135m/23,410ft.
Kashmir is a place that receives few tourists due to intense military action 30 years ago, but it is gradually opening up to visitors again, and it is Steve's ultimate goal to influence the British Foreign Office that the mountains east of Srinagar are equally safe for trekking. We hope to offer our clients this trekking holiday in the near future.
Kashmir is located in the north west of India, and is a country of magnificent natural beauty. Some refer to Kashmir Valley as 'Heaven on Earth' due to the friendly people, beautiful gardens, vast lakes, pristine streams and stunning landscapes. It has a combined population with Jammu of over 12,000,000 people, most of which are Muslim. There is one particular dish you may know of which is a popular traditional dish originating from Kashmir, known as Rogan Josh (lamb cooked in heavy spices).
Safe travels Steve!
Find out how Steve got on by reading his most recent blog - Steve Berry returns from Kashmir
The White Continent - Antarctica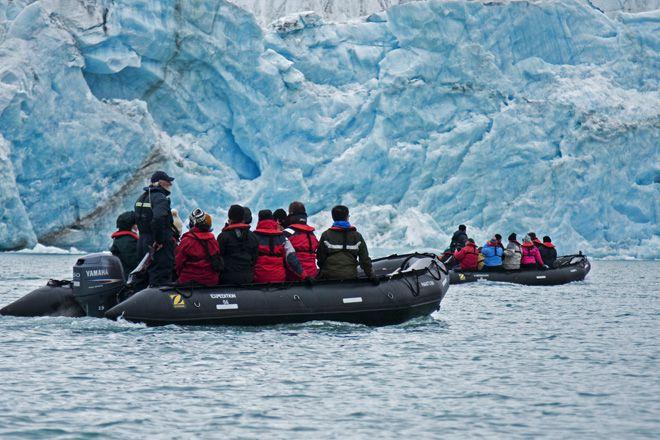 Known as the White Continent, Antarctica is a world away from the familiar scenery of rolling green hills and concrete jungles, and is quite literally at the ends of the earth.
Antarctica is a place of spectacular icy-white scenery and is home to some magnificent wildlife including penguins, whales & leopard seals. Antarctica is a place where few bold travellers have ventured, with most favouring the typical sunny beach holidays. The cruises that Mountain Kingdoms offer in the Polar Regions really are a trip of a lifetime, with travellers returning home forever changed following their awe-inspiring experience to the White Continent.
A trip to Antarctica is quite a surreal experience because there is a contrast of epic proportions to the scenery at home. Just imagine waking up in the morning to views of large icebergs carved by wind and sea, icy cliffs and snowy mountains passing your cabin window. The wildlife you can encounter is an unforgettable experience too. You may have seen penguins at the zoo, but those experiences really do not compare to seeing them in the wild in their natural habitat - in vast rookeries on the ice. Other amazing wildlife include minke whales, humpbacks, and sea lions.
Mountain Kingdoms are very proud to be offering several amazing adventures to the Polar Regions - Quest for the Antarctic Circle, Antarctica Classic, and Spirit of Shackleton visit Antarctica whilst, for those who love a polar holiday, we also offer three trips to the Arctic - Arctic Highlights, Realm of the Polar Bear and Realm of the Polar Bear in Depth.
On all these trips, travellers are accommodated on the M/S Expedition which is a well-equipped cruise ship for up to 140 guests that provides an intimate and more relaxed experience. The ship benefits from cabins with en suites & outside views, a 360 degree observation desk, a sauna, gym, a fine dining restaurant and much more!
"Antarctica is beyond words, a calming, incomparable continent which claimed my silence", Kerry Robins, Marketing Manager for Mountain Kingdoms.
An unforgettable way to experience the Ancient City of Petra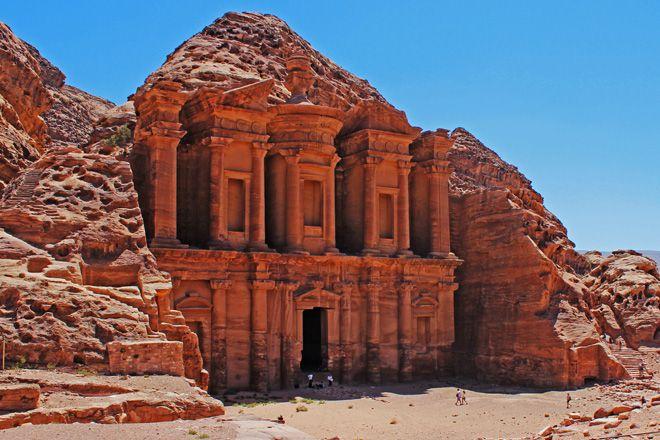 The Monastery, Petra. Photo by K Robins
Here at Mountain Kingdoms, we love an adventure! We have a passion for exploring fascinating destinations that are a world away from modern civilisation, and we know just the way to do it! From experience, we feel that you don't quite get to fully appreciate the stunning sights before your eyes when you arrive amongst dozens of other coaches and masses of tourists, as your experience is polluted with noise and crowds.
This is why we've carefully devised our outstanding Dana Trek to Petra. The ancient City of Petra, the Rose-Red City is well-known for its fascinating temples, dwellings and tombs skilfully carved into the sandstone of twisting narrow rock gorges. The city was only discovered by Westerners just over 200 years ago, and today is Jordan's most valuable treasure and greatest tourist attraction.
This desert and mountain trekking holiday has been designed to avoid the overcrowded tourist trails and excessively long treks typically used by other companies. Instead, unlike usual routes, we descend on Petra City from above to follow the valley floor to arrive early at another entrance, avoiding the crowds to allow you to experience Petra to its fullest potential in peace and quiet.
This 11 day trip is a moderate trek, walking through deserts and rugged mountains. We first reach the ancient trading stop at Little Petra and then, finally, the ancient city of Petra itself. There are two days to explore Petra's famous highlights, including The Monastery and a walk through the twisting narrow siq (gorge) to reveal The Treasury, a stunning 43m high façade carved in the early 1st century. Whilst the sandstone carvings of temples and tombs are an amazing sight, trekking through the siq with 80m high cliffs towering above you is an experience itself.
Throughout the trip, travellers are accommodated in first rate camping set ups and good quality hotels/lodges.
If you're feeling inspired and wish to know more about our trips to the Rose-Red city of Petra, check out more information online which gives a more detailed day-by-day itinerary as this trip consists of so many more cultural experiences than just Petra itself.
Spend Christmas in Princess Elsa and Anna's World from the Disney Movie Frozen
Accommodation on our Northern Lights & Husky Sledding trip in Norway. Photo by D Campbell
Experience the wonderful sights that encompassed the heart-warming Disney characters of Princess Anna and Princess Elsa, in the much loved family film Frozen.
Mountain Kingdoms is delighted to be offering the perfect Christmas family holiday to Norway this winter to experience the winter wonderlands of Norway on our Northern Lights & Husky Sledding trip.
This truly magical holiday is packed with fun and exciting adventures to experience some of Norway's must see sights! To start, there will be time to relax on-board a train for a famous 10 hour journey through Norway's frozen wonderland to Bodø, passing snow covered mountains, fir trees and frozen rivers. From Bodø you will be transferred to a cruise where you'll spend 3 days exploring several ports and villages, and enjoy views of Norway's coasts and fjords.
You will then get to experience 3 days of husky sledding around the atmospheric Wilderness Lodge, a very remote log cabin with the benefits of a mini spa and private chef. Whilst on the husky rides you'll have the chance to drive the sleds yourself, look after the huskies and fall in love with them! From here you'll then have the chance to live like Elsa in her ice palace, by spending 1 night at the amazing Snow Hotel, a building made entirely out of ice! The hotel offers a restaurant, bar and distinctly designed guest rooms.
Whilst on the trip, there will be several opportunities to witness the stunning and surreal sights of the Northern Lights.
If you've been enchanted by the wintry delights of Frozen and want an experience that immerses you and your family into the magical world of Princess Anna and Princess Elsa, then check out the details of our Northern Lights & Husky Sledding trip departing this Christmas!
Alternatively, we offer a similar five-day Husky Sledding Arctic Adventure in Finland.
IT Schools Africa- recycling unwanted computers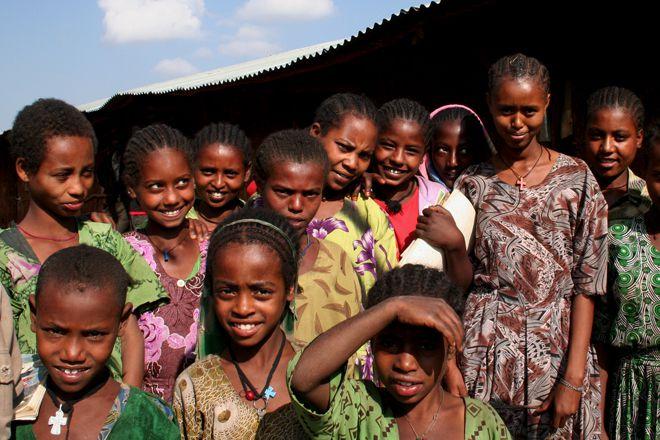 Local African Children. Photo courtesy of C Gardiner
Earlier this year at Mountain Kingdoms we updated all of our office equipment and recycled our old computer monitors. We donated our equipment to a charity called IT Schools Africa who have been collecting unwanted computer equipment and distributing it to schools in Africa for over 7 years. IT Schools Africa give old computers a new life, and as well helping disadvantaged children in Africa, the project also provides local people in Gloucestershire with work and valuable computer skills through computer refurbishment programmes.
We are very pleased to have recently heard that our donated computers are on their way to Malawi and Kenya. Our donation has helped to contribute towards two containers with a total of 920 computers that are due to arrive at their destinations later this month.
The aim of this project is to reduce the digital divide between developed and developing nations, transforming IT education and providing more children with the essential IT skills they need to go on to further education and access better paid jobs.
If you have any unused and unwanted computer equipment that you wish to donate to a worthy cause like IT Schools Africa, then please take a look at this page.
Great British Beach clean up
Ashley during the beach clean in Brighton
So it's finally summer and Britain has recently been enjoying some rare sunshine. The glorious weather has brought people in their thousands to Britain's beaches for some sun, sea and sand! We all jump at the chance to get outdoors and onto the beach for a swim, BBQ and a tan top up, but unfortunately with this comes a lot of litter which is left behind, spoiling it for other beach goers and more importantly, the environment!
Yesterday Mountain Kingdoms' Marketing Manager Kerry and I spent a day away from our desks to dedicate our time to help clean up Britain's beaches. We visited Hove beach in Brighton where we teamed up with other tour operators, The Travel Foundation, AITO and the Marine Conservation Society for a beach clean-up event. In the space of 45 minutes we helped to collect a staggering amount of over 1,000 pieces of litter on just a 100m stretch of Hove beach! Upon first sight it wasn't obvious that the beach was littered with rubbish, but on closer look it is mostly full of very small pieces, most of which was plastic. Interestingly, plastic makes up for 60% of rubbish found on the beach, and it is a material that will never fully degrade. In many years to come we could be sunbathing on beaches of fine plastic!
Marine Conservation Society regularly organise major beach clean-up events, and are excited for their Great British Beach Clean event this September. If you want to make a difference and help protect Britain's beautiful beaches, then check out this page on MCS for details of your closest Great British Beach Clean event.
More information about our successful day in Brighton can be read on The Travel Foundation's website.
When you're off to the beach this summer for a swim and a BBQ, please remember to take your rubbish with you so that we can enjoy them for many years to com.
Have a great summer everyone.
Festival season has begun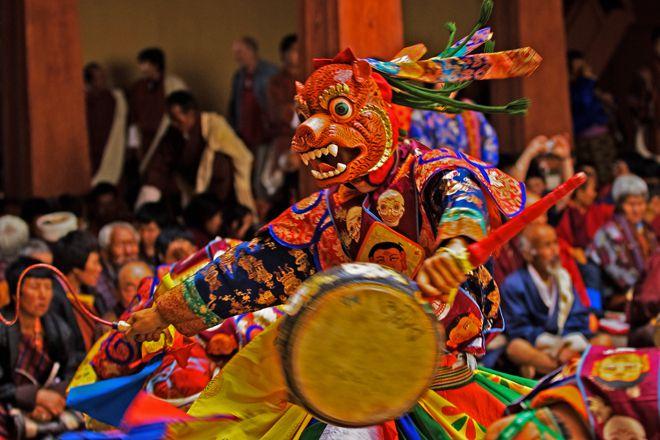 Bhutanese Festival
With Worthy Farm opening its gates next week for the highly anticipated Glastonbury Festival, I thought it would be a great time to look into less well-known festivals around the world. Nowadays there are few ways you can truly experience society's ancient traditions and culture, but festivals remain to be one of the best ways to really immerse yourself into culture and appreciate traditions. At Mountain Kingdoms, we want to protect society and for our clients to experience other ways of life. We therefore go off-the-beaten-track and have several trips that coincide with festivals.
Each week on Mountain Kingdoms Facebook & twitter we choose a theme for an 'Inspirational Photo of the Day', and last week's theme was festivals. Each day features a post dedicated to a particular festival which can be experienced by our clients on our trips. I chose five festivals to focus on, including Naadam, Initi Raymi, Paro Tsechu, Saga Dawa and Theyyam. Each of these festivals are primarily religious celebrations - a contrast to Glastonbury which is more widely popular for its high profile musical artists over its hippie roots. However, there is one element that I believe every single festival has in common, and this is unity. Festivals, no matter what the celebration, is a place where people can belong and enjoy a shared interest amongst other like-minded people.
At Naadam Festival in Mongolia, also known as the Three Games of Men, locals perform wrestling, horse racing, and archery contests.This fun, vibrant, and colourful festival takes place in July and can be attended during our Genghis Khan Trails trip.
Initi Raymi Festival is celebrated in Peru, and is also known as the Festival of the Sun. June 24th is a day in which the locals of Cuzco celebrate the importance of the sun in Inca culture. It is also the date of winter solstice, when the days begin to get longer. On this day, locals perform parades and re-enact the Inca ceremonials in the spectacular ruins at Sachsayhuaman.
Paro Tsechu is one of the most popular Bhutanese religious festivals. It is a celebration bursting with colour and culture. They celebrate through dance performing in extravagant masks and costumes in which tourists are able to enjoy from the courtyard in Paro. Several of our trips to Bhutan have the advantage of visiting this festival. You can discover more about Bhutanese festivals here.
Saga Dawa takes place every May/June in Tibet. Each year thousands of Tibetans descend on Mount Kailash to commemorate the three most important anniversaries in Buddhism - the birth, enlightenment and death.
Theyyam is a religious festival that takes place in over 1000 temples across Northern Kerala, and can be visited on our Spice Trails of Kerala & Southern India trip. Theyyam performances are based on the myths and stories of the many gods and celestial spirits in Kerala mythology, with wild drum beats, indigenous dancers and enchanting narratives.
To all the festival goers this year, I wish you an amazing and enchanting time!
Happy New Year Nepal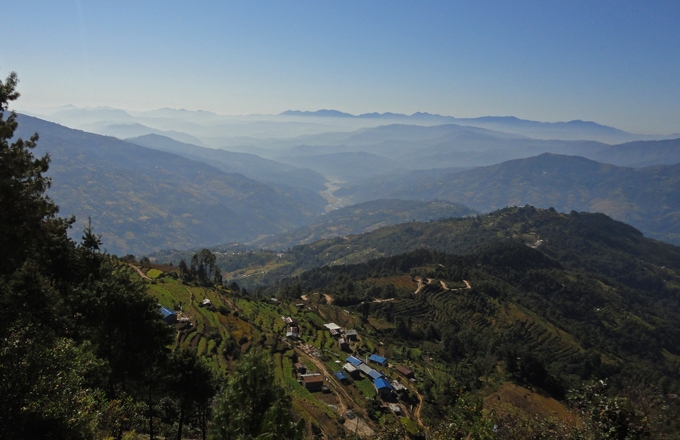 14th April 2014 saw the start of Baishakh 1st, which is New Year's Day in Nepal. The country celebrated the start of the year 2071 in the Nepali calendar which is approximately 56 years and 8 months ahead of the AD calendar.
The New Year is a significant religious holiday for Nepal, during which the nation rejoices in joyful activities, including street dances, parades and reunions. Similar to many other nations, the start of the year is commemorated with a resolution, as well as hopes for lots of blessings and prosperity.
Next year, in 2072, will mark the start of Nepal's new commitment to the environment. From Baishakh 1st, the Kathmandu valley will be declared a polythene-free zone with the ban of plastic bags. The aim of the new commitment is to reduce the adverse effects plastic bags have had on the environment and public health which has been recognised by the government and local campaigners as a major issue.
Mike's Zanskar Dream Trek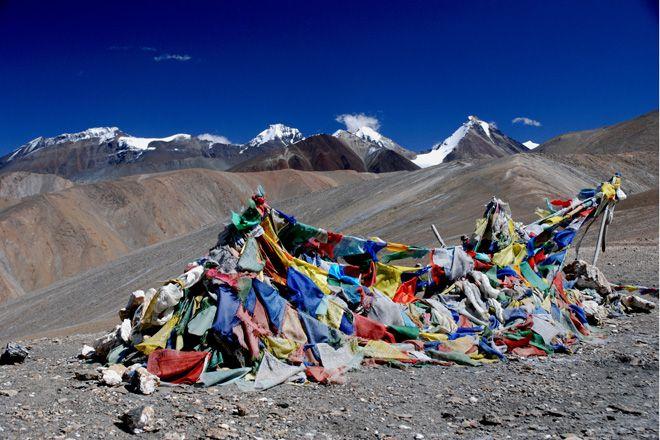 Zalung Karpo. Photo courtesy of M Ford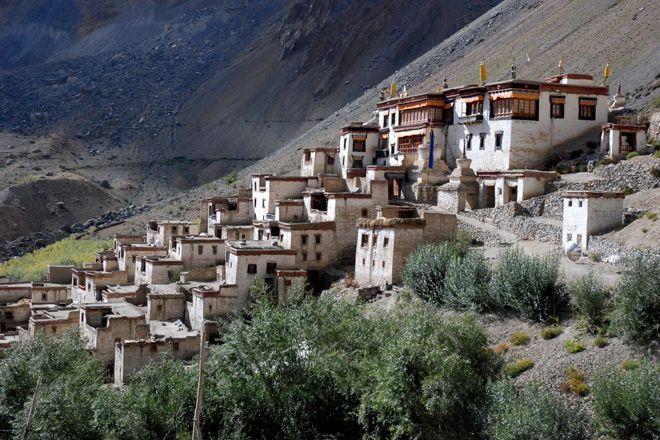 Lingshed Gompa. Photo courtesy of M Ford
Last summer trek leader Mike Ford led our Zanskar Dream Trek in Ladakh, India. He described it as an "absolutely amazing high-altitude trekking experience" and "a wilderness experience par excellence with amazing geological features, crisp clean air, photogenic views at every turn and just the sound of the wind and rivers to meditate upon".
Trek leader, Mike Ford
Should you wish to know more about Mike's trip, read the full trek report on our website. You can also read more about trek leader Mike Ford.
We have many trips to Ladakh, please see our website to learn more about trekking in Ladakh.
The Conquest of Everest film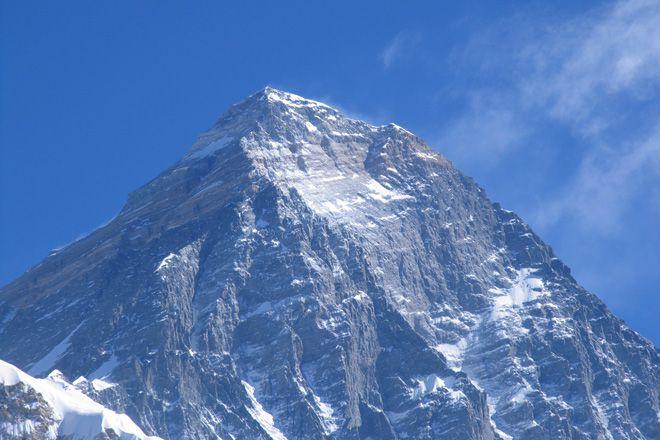 Everest Peak. Photo courtesy of K Parsons
We'd just like to share a recommendation that was sent to us by one of our clients who travelled with us to the Everest region last year. Mr S described 'The Conquest of Everest' as a "remarkable film that anyone with a love of the region would enjoy". And this documentary from 1953 is now available to watch on YouTube.Documenting various Everest expeditions, the film stars Tenzing Norgay, Edmund Hillary, George Band, John Hunt, Meredith Edwards and Tom Bourdillon and is directed by George Lowe. It makes fascinating viewing for those interested in the history of Everest.
Zanskar twig bridge finished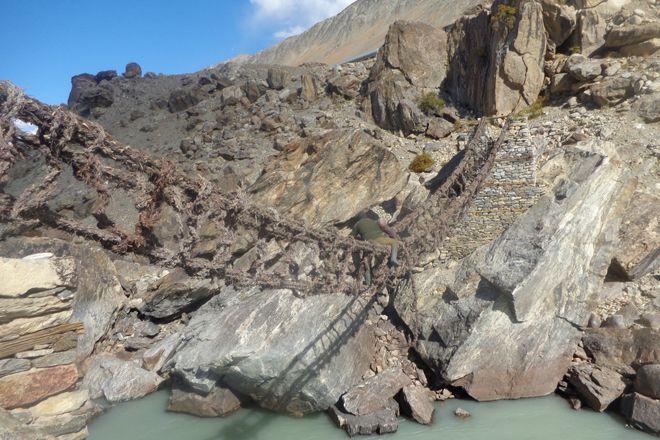 Finished Zanskar Twig Bridge in December 2013. Photo courtesy of S Berry
The Zanskar Bridge Project is complete
2014 has got off to a great start at Mountain Kingdoms - our twig bridge project in Zanskar is complete!
Over the past five years Mountain Kingdoms MD Steve Berry has raised £3,000 to restore a traditional twig bridge in Padum and preserve an ancient culture. The project was overseen by the local King Punchok Dawa.
Zanskar is a small Tibetan Buddhist kingdom located in Ladakh, north west Indian Himalaya, and locked away from the outside world by snowed-up passes for all but a few months in the summer. The cables for the bridge are made from birch twigs woven together, these are then used to span across the river. Work has taken place on the bridge in winter when the river below is frozen and conditions can reach -30°C.
Now completed, it is an extraordinary structure which can be used by locals and trekkers alike.
Steve made the journey to Zanskar last year to check on the progress of the bridge. He is thrilled to hear that his labour of love, linking Wotton-under-Edge with remote northern India, has now been completed. It is hoped that this bridge will encourage the construction and restoration of other similar bridges in the kingdom.
Long term the aim is also to build a small visitor centre next to the bridge with pictures and narrative showing how the bridges are made, and giving historical background regarding the kingdom and the ancestry of Punchok Dawa, who is a direct descendent from the early kings of Tibet.
You can read more about the Zanskar Bridge Project on our news pages.
Read more about this region, including the best time to travel to Ladakh on our website.
Marathon fundraiser for SHIVA charity, Nepal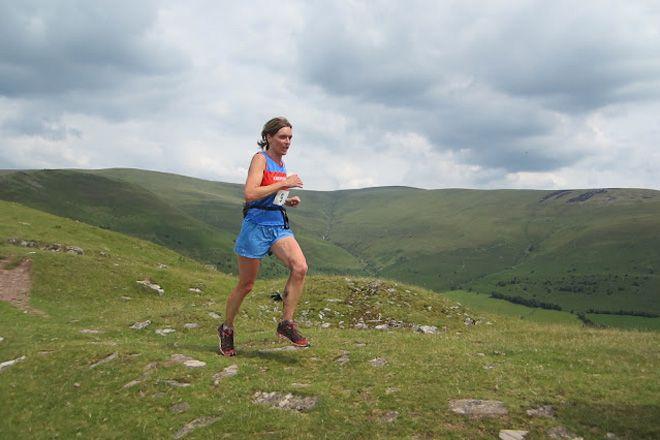 Niki running in Waun Fach. Photo courtesy of N Morgan
As well as being passionate about Responsible Tourism as a company, our staff are also dedicated to raising awareness and funds for a range of different charities. We even have our own Responsible Tourism Manager, Niki Morgan.
Niki has travelled to Nepal many times for business and pleasure, including leading the Manaslu Circuit trek. She's seen first hand how education facilities in Nepal are limited, and this has encouraged Niki to raise much needed funds for our chosen charity in Nepal, SHIVA. Niki will be fundraising by participating in the Severn Bridge Half Marathon this August and by organising a sponsored litter pick.
Donations will be allocated to the Ginette Harrison School near Kathmandu. The school was named after one of the world's most famous 20th century female climbers. The original school building had to be vacated, and the school was moved to old temporary buildings, while a new school was constructed. Now the work is completed, the children have much more space and equipment, and a good place to learn. To date Mountain Kingdoms has raised over £15,500 for SHIVA, through a host of fundraising activities and client donations. The next task is to improve the quality of resources in the school and to give the teachers extra teacher training.
Contact our Responsible Tourism Manager Niki Morgan for further information.
01453 844400 niki@mountainkingdoms.com
You can make a donation on Niki's Justgiving page
Read about Mountain Kingdoms' other Responsible Tourism projects
Mountain Kingdoms funds English lessons for Nepalese Sherpas
Refreshers Guide Course
Mountain Kingdoms donates £1,250 in 2014
The Fifth Guide's Refresher Training Course took place in Nepal at the start of this year. From January 26 to 08 February, twenty-five Sherpa guides were given English lessons as well as classes in first aid, altitude scenarios, trek, camp, food and equipment management, map reading, local flora and fauna, national history and geography, Nepali customs and religions and responsible trekking.
Mountain Kingdoms donates over £1,000 a year to provide these classes which are run and organised by our Nepali agents. It's our way of giving something extra back to the Sherpas for the wonderful service they provide to our clients. Being able to speak English means they can make the career progression from Sherpa to fully fledged mountain guide – a job with better pay and brighter prospects.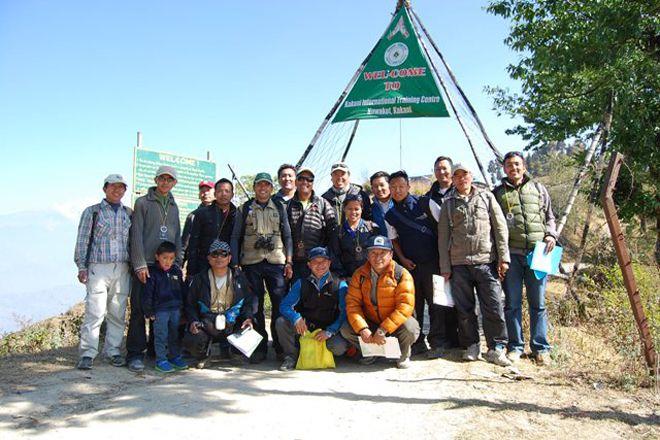 Bhutan: the greenest country on the planet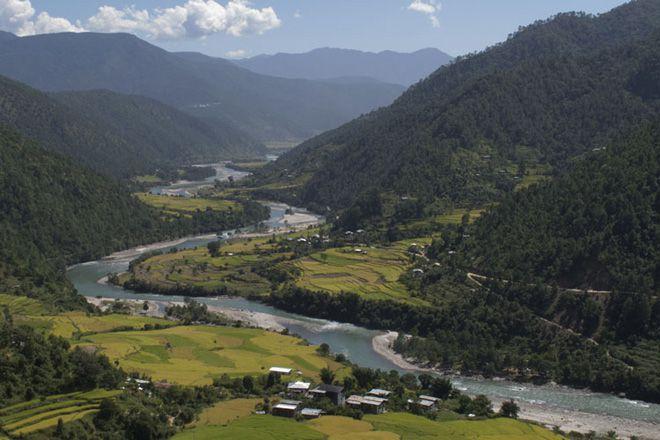 Punakha Valley. S Hobson
Boasting timeless traditions, unique architecture and stunning Himalayan scenery, it's not as if you needed another good reason to visit Bhutan, but there is one Bhutan: the greenest country?
The tiny Kingdom of the Thunder Dragon has announced it's to become the first country in the world to fully adopt electric cars. The Bhutanese government wants to replace all gas guzzling motors with electric ones.
As the UK's leading tour operator in Bhutan, Mountain Kingdoms is well aware green issues are taken very seriously in the Kingdom. Mountain Kingdoms range of holidays in Bhutan include treks, walking holidays and cultural tours. MD Steve Berry can't wait to add electric cars to the already long list of Bhutan's unique attractions:
"I think it makes absolute sense! Distances are not huge in Bhutan and therefore the capacity problem is not such an issue. The Bhutanese are really serious about clean living and conservation, for example foreigners must have a permit if they want to smoke in Bhutan. I do hope this gets going in a big way."
The Buddhist nation is world famous for measuring its economic success by the amount of Gross National Happiness generated and for taking environmental issues very seriously. In keeping with ancient Buddhist traditions the government of Bhutan is determined to have the lightest of carbon footprints.
The announcement on electric cars is the latest in a long line of major commitments to environmentally sustainable living. Last year Bhutan took steps to become the first country in the world to turn its agriculture completely organic, banning the sales of pesticides and herbicides and relying on its own animals and farm waste for fertilisers. Pema Gyamtsho, Bhutan's minister of agriculture and forests says:
"We are Buddhists, and we believe in living in harmony with nature. Animals have the right to live, we like to see plants happy and insects happy."
Bhutan is already the world's only carbon-negative country. According to recent figures, Bhutan emits around 1.5 million tonnes of carbon annually, while its forests absorb over 6 million tonnes.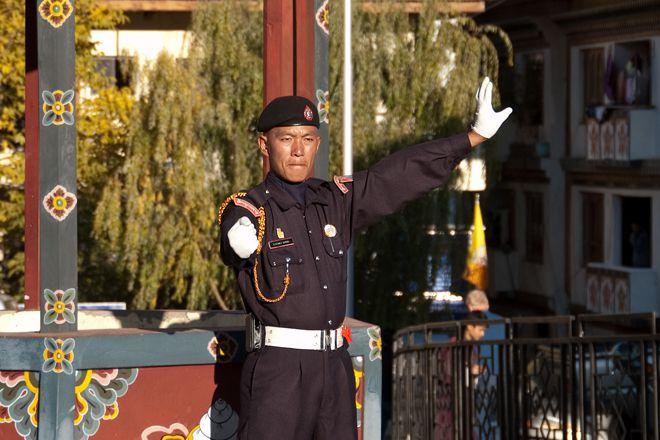 Thimpu traffic controller. Photo courtesy of A Harrison
Bhutan seems uniquely blessed when it comes to green issues. It is naturally a bio-diversity hotspot and the mountainous landscape is perfect for producing cheap, carbon-free power from hydroelectric plants.
With a strong commitment to ethical tourism, Mountain Kingdoms fully supports Bhutan's efforts to lead the way on global green issues.
Read more about Bhutan's Organic Plan Read more about Bhutan's electric cars
Everest Climbers clean up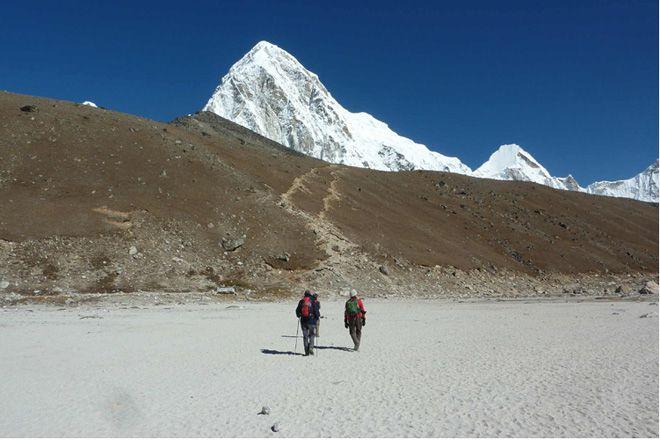 Trekking to Everest Base Camp. Photo courtesy of A Cutts
The BBC have announced news that for the 2014 climbing season, starting in April, climbers will have to bring back 8kg of rubbish per person as they descend from the summit. The rubbish collection will be controlled by the Sagarmatha Pollution Control Committee.
Traditionally climbers have put all their energy into reaching the summit and so waste has been left behind but the government are introducing this initiative in order to reduce the amount of rubbish. Climbers who do not abide by this new rule will not have their deposits returned.
We are pleased to hear this news as we think that the world's highest mountain should remain a great mountain wilderness, and be available for people to enjoy for many years to come. This new initiative will only affect climbers aiming for the summit of Everest, so our clients trekking to Everest Base Camp will not be affected.
We encourage our clients to drink boiled water whilst on trek rather than buy water in plastic bottles, in order to reduce waste.
A guide to trekking in the Himalaya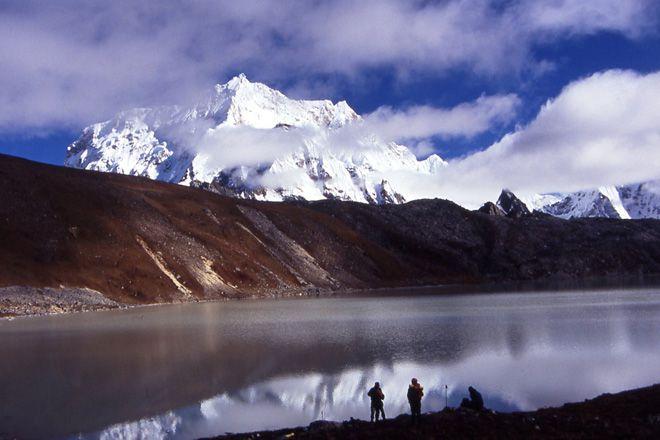 Gangkar Punsum Base Camp Trek, Bhutan. Photo courtesy of S Berry
Cicerone has recently published a new guide – 'Trekking in the Himalaya'. The inspirational guide book describes twenty of the best treks in Nepal, Bhutan, India, Tibet and Pakistan. Eight authors, each an expert on trekking in the Himalaya, have shared vivid accounts of their treks, as well as stunning photos. One of the authors is our Managing Director, Steve Berry. In this book, Steve writes about three of his most exciting adventures: Wild Zanskar Trek and the Nanda Devi Approach, both in India and Gangkar Punsum in Bhutan.
To coincide with the publication, we have launched a brand new holiday – Gangkar Punsum Approach. This special trek, unique to Mountain Kingdoms, has been designed by Steve Berry. In 1986, Steve led an attempt to reach the summit of Bhutan's highest mountain, Gangkar Punsum. Unfortunately the team were unable to reach the summit – and it still remains unclimbed to this day. This new trek, led by Steve, will follow the route of the 1986 expedition to base camp, and time will be spent exploring the remote valleys to the north, before returning to civilisation in Jakar in the Bumthang region. You can read more about this trek on our website.
The guidebook is now available to buy from Cicerone. And you can watch an interview on YouTube with the editor, Kev Reynolds, as he talks about what makes the Himalaya so special.
Steve to lead new Zanskar trekking expedition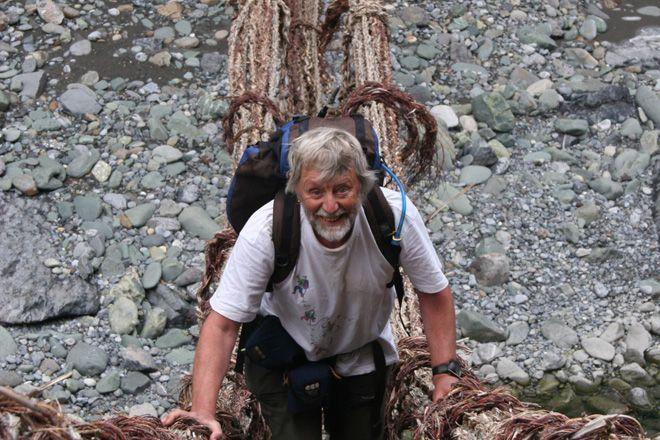 Steve crossing Niri Bridge, twig bridge in Zanskar. S Berry
This August, Mountain Kingdoms MD, Steve Berry, will be leading a Zanskar trekking expedition, in Ladakh, a remote and spectacular region of India, with the aim of crossing a traditional 'twig bridge'.
Zanskar is a small Tibetan Buddhist kingdom, lying just north of the main Himalayan range, in Ladakh, India. Steve has been fascinated by this region and has trekked in the area many times since his father, Major Roy Berry, attempted to make the first ascent of the highest peak in Ladakh, Mount Nun (7,135m / 23,410ft) in 1946.
Traditionally the Ladakhi people depended on incredible woven twig bridges in order to cross the icy rivers which cut through their harsh mountain kingdom. Increasingly ancient Zanskari traditions are being abandoned, and with the introduction of steel cable suspension and metal girder bridges there are now only a couple of traditional bridges still in existence, both old and in poor condition. Typically, a twig bridge lasts 12 to 15 years and therefore it will not be long before these, too, disappear.
After crossing one of these bridges on his Zanskar trek, Steve had the idea of raising money to fund the building of a new twig bridge, with the aim of keeping the Zanskari traditions and culture alive. It is hoped that by building this bridge in the main township of Padum that other similar bridges will be built in other parts of the small kingdom. If enough money is raised, Steve plans to build a small visitor centre next to the bridge. The bridge at Padum will provide important access to the village, attract tourists who have been on a Zanskar trek and help keep an ancient skill alive.
In 2010 work started on the Zanskar Bridge Project, with money raised being sent to the King of Zanskar, Gyalpo (precious ruler) Punchok Dawa. Progress has been slow, as the bridge can only be worked on during the winter when the river below is frozen solid. This summer (2013), Steve is leading eight of our clients on a special Zanskar trekking expedition. This challenging exploratory trek passes awesome scenery, deep gorges and crosses high mountain passes. They also aim to cross the finished bridge, and meet the king of Padum.
Check back later in the year when Steve will have returned from his Zanskar trekking adventure and will be able to share his photos of the finished bridge.
Love is in the (thin) air!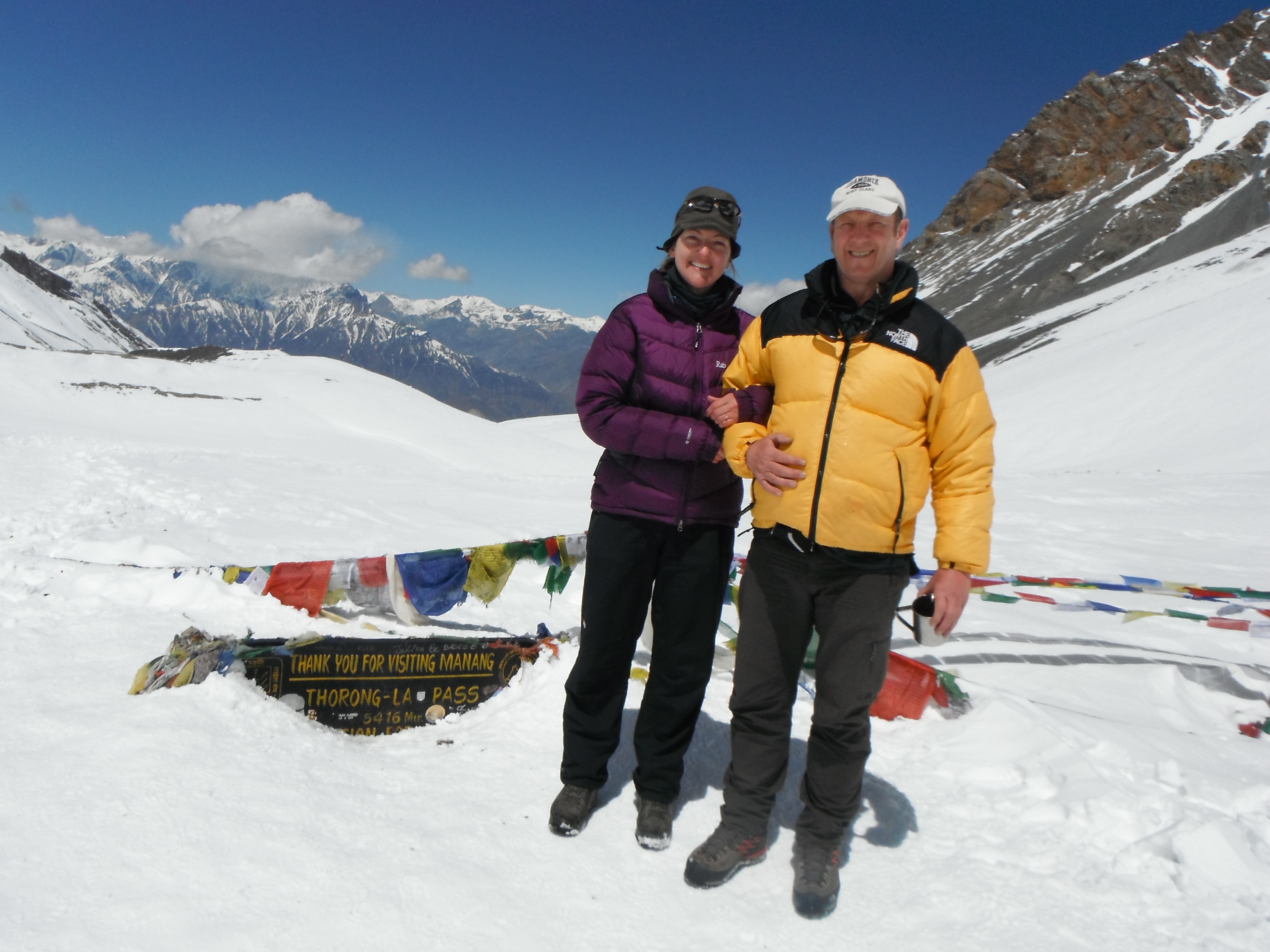 Andy & Kelly's engagement at the Thorong La
Proposals and Weddings
This spring has seen one marriage and two proposals for Mountain Kingdoms staff and clients.Starting in April, our Operations Assistant, April, married her fiancé, Barry, in a small chapel near our office in the Cotswolds. The romantic ceremony was followed by their honeymoon to exotic Kerala in India.The same day that April's wedding took place, we found out that MK client, Andy Evans, proposed to his partner, Kelly Price, at the top of the Thorong La, on our Annapurna Circuit trek. After a tough climb to the summit of the Thorong La and a puff of oxygen to recover, Andy managed to catch enough breath, to pop the question. A very surprised Kelly said yes. She thought the altitude had gone to Andy's head when he started fumbling around with his bag. When she realised he was proposing she welled up, even though at 17,764ft the tears ran a real risk of sticking her glasses to her face!
Not long after finding out about this engagement on the Annapurna Circuit, we found out that there had been another proposal – this time on the summit of Kala Pattar, in time to watch the sunrise over Mount Everest! James Dominey chose this location to propose to his fiancée Sarah Hopkins as he didn't want to pop the question in a 'standard' place. James says, "It just seemed like the perfect time and place to do it. I must admit that I spent a few moments with my fingers crossed that we would both make it..."Mountain Kingdoms is no stranger to romance on trek – our MD Steve Berry met his wife Seraphina whilst trekking in Bhutan and India. Steve says, "Trekking in the Himalaya resulted in my own marriage. But these guys have gone one better as I waited till I got home to propose."We'd like to offer our congratulations to the three happy couples! Did you get engaged on one of our trekking holidays? If you did, then please let us know.
Life At Base Camp: What's It Like?
"Everest Base Camp" © 2008 ilkerender, used under a Creative Commons Attribution license
For those who set out on an Everest Base Camp trekking adventure with Mountain Kingdoms, Base Camp is a fascinating destination at which to spend a day, or even, on some of our treks, stay the night. But how is it built? Base Camp is among the most unique settlements in the world - a temporary city that springs up every year in some of the planet's harshest conditions, and a testament to human innovation and tenacity. Here we take a look at how it's constructed, and offer a glimpse as to what life is like for its residents.
Despite the fact that it is located on a flowing glacier and must be rebuilt every year, the history of the camp stretches back to long before the days in which Everest treks began bringing thousands to the Khumbu region every year. Early Everest climbers had to establish their own base camps, but in doing so set the precedent for today's lively tent community.
Now, instead of a mountaineering team battling the elements to establish a camp, there are plenty of hands to help - although setting up is still a considerable task. Sherpas will often arrive at the site at the very beginning of the trekking season in order to create a 'foundation' of rocks and boulders, upon which the tents and other structures can be built. Today's expedition teams camping at Base Camp also have facilities such as electricity, showers and the internet.
Once the trekking season is underway, Base Camp really comes to life. Its 'citizens' are a diverse group, including not just Sherpa and international mountaineers, but also scientists, who can take advantage of the camp's conditions to conduct research that would be hard to do elsewhere, and religious leaders offering blessings to climbing teams. The community spirit that exists even at this altitude is part of what makes the camp so special.
Sherpa Customs and Etiquette
"Namche Bazaar" © 2008 kkcondon, used under a Creative Commons Attribution license
As regular readers of our blog will know, we've featured a number of different aspects of the fascinating cultures of the Himalaya, from Himalayan festivals to legends of the Himalaya, and everything in between. In doing so, we hope that anyone, no matter where they are in the world, can learn something about the peoples of this incredible mountain range - and that trekkers arrive primed with cultural understanding of the land that they are exploring. For those making an Everest Base Camp trek, it is useful to know a little of the Sherpa customs - simple to learn, but a great mark of respect that travellers can display in return for the famous Sherpa hospitality. Read on for two key pieces of etiquette.
On the Everest Base Camp trek route, you will see walls or piles of stones with symbols carved into them - these are Mani stones, which carry special religious significance, and should only be passed with your right side facing them. When visiting temples or monasteries, remember that stupas should only be circumambulated in a clockwise direction.
There are some important things to know for anyone who is invited into a Sherpa home during their trek to Base Camp or beyond. General deference to your host will go a long way, but one key thing to remember is that the household hearth is not just functional: it is the heart of the home, and has long been held sacred, so nothing should be thrown into it.
Additionally, as there are many places in the mountains - both natural and constructed, including the mountains themselves - that are considered sacred, knowing how to display due respect is useful. The great peaks of the regions are believed to be the homes of gods, so treating the landscape conscientiously is not only an environmental consideration but a cultural one, too.
Everest Base Camp Goes Hi-Tech
"Porter with solar panel" © 2009 Rick McCharles, used under a Creative Commons attribution license.
One question that sometimes comes up, for those planning to embark on an Everest Base Camp trekking adventure with Mountain Kingdoms, is: what level of technology is available at the 5,300 metre Base Camp? For some, part of the appeal of venturing into the Himalayas is the sense of being out in the wilderness, while others prefer to be connected to the rest of the world. With the installation of mobile phone coverage and other pieces of modern technology in recent years, it is easier than ever to keep connected. Here are just some of the ways that the region has become more hi-tech.
Technology has always been an important factor in Everest Base Camp trekking, even in the earliest days of Everest exploration, in the form of climbing equipment and bottled oxygen. Today, modern technology plays several roles in ensuring safe and enjoyable treks for all. The advent of 3G mobile and internet coverage in 2010 may be considered convenient, but increased communications also helps trekkers, Sherpa guides, and emergency services to meet their aims all the more efficiently.
An interesting element of the developing relationship between Everest and technology is the increased potential for scientific research at Everest Base Camp. Trekking may be the activity that people associate the most with the camp, but it is also used by medical researchers, as the effects of altitude on the body are similar to the effects of certain medical conditions.
The Khumbu region is one of pristine natural beauty, and striking the balance between beneficial technological advancements and protecting the environment is one that concerns many researchers. The good news is that in many cases, the technology installed is a prime example of how eco-friendly and efficient such developments can be - especially given that almost all energy in the region comes from solar power.
The Monastery: Heart of the Sherpa Community
"Sherpas" © 2009 doc_c, used under a Creative Commons Attribution license
It's often said that travel is more about the journey than the destination, and the rewards of Everest Base Camp trekking certainly include much more than reaching Base Camp itself – although that is of course a wonderful feeling. As well as the physical challenge offered by this famous route, the opportunity to get a glimpse into the culture of the region is one of the most meaningful and memorable aspects of the experience – which is why a Mountain Kingdoms trek gives participants the chance to explore cultural highlights along the way, including one of the most important aspects of Sherpa culture, the monastery.
Having originated in Eastern Tibet, the Sherpa people practice a strand of Tibetan Buddhism, and the stupas and colourful monasteries that can be seen along the Everest Base Camp trekking route play a central role as both the spiritual and cultural heart of their society. Religious matters in the community are overseen by spiritual teachers known as lamas, many of whom reside in the monasteries that can be found dotted throughout the region – although not all lamas are monks, and some live in villages with their own families. Those who do reside in monasteries, under the leadership of a head abbot, spend much of their time in meditation and ritual practices, offering blessings and guidance to the public during festivals.
Many of the monasteries in the region are relatively isolated, and rarely visited by outsiders, but there are some that can be visited on the Everest Base Camp trekking route, including the peaceful Thame Monastery, and the famous Thyangboche Monastery, where the Everest pioneer Tenzing Norgay spent time as a monk. Visiting one of these monasteries on our treks lets visitors to the Sherpa lands gain a sense of the spiritual tranquillity that resides at the heart of their society. In November 2013, we have three holiday departures attending the Mani Rimdu Festival at Thyangboche Monastery, the most important cultural event of the year. These are Everest Base Camp & Gokyo Lakes and Luxury Lodges of Everest.
The Burmese Himalaya: Some Facts
"Sunset over the Irrawaddy" © 2009 edbrambley, used under a Creative Commons Attribution license
If you travel to Burma with Mountain Kingdoms, you will see that the country's northern most mountains offer a wondrous landscape to explore; with scenery and culture that is different to the rest of the country.
Part of the Himalaya mountain range, these mountains are significant to the country as a whole, through their effect on weather and climate, and their influence on myths and folklore.
Perhaps the most significant connection between the stunning mountains of the far north and the rest of the country is the famous Ayeyarwady River, which has captivated people who travel to Burma through the ages with its broad, meandering serenity. Himalayan springs are the source of many important Asian rivers, and the Ayeyarwady is fed by several eastern Himalayan rivers, becoming the mighty waterway that irrigates the country, bringing many their livelihoods.
The most popular time to travel to Burma is the late autumn to early spring, as the weather is dry and slightly cooler, making it more comfortable to travel. In Rangoon, in the south of the country, the average temperature is about 30 °c, but due to the elevation of the Himalaya, in the far north of the country, mountains remain snow capped all year round.
Another key way in which the Burmese relate to this great mountain range is through their legends and folklore. As in many countries with Hindu or Buddhist traditions, the Himalaya are associated with certain gods and mythical places. Many of the heroes of Burmese folklore – such as the alchemist Zawgyi, a popular character in folk dances – are said to have resided in the lush forests of the Himalayan foothills.
Our Tips For Everest Base Camp Trek First-Timers
"Nepal - Sagamartha Trek" © 2007 mckaysavage, used under a Creative Commons
Taking part in an Everest Base Camp trek is a dream cherished by many an adventurous soul, and one that we at Mountain Kingdoms firmly believe is achievable with the right attitude and preparation. If you're a first time trekker, or new to the Himalayan region, there might be a lot of questions in your mind about what to expect, how to prepare, and what you need to know. Exploring our ask an expert category will provide useful information, but if you're looking for a starting point, here are our top three pieces of advice for those making this classic journey.
1. Take time to soak it all in. An Everest Base Camp trek may be the reason you're here, but it's not just the destination that's important. From your first steps in the bustling streets of Kathmandu, to the grand sweep of the mountains, to the little moments you share with other travellers, this is an adventure where the smallest detail can be savoured as much as the triumph of reaching your goal.
2. Pay attention to your physical comfort. The trek is meant to test your endurance, but not to wear you out. Acclimatisation is as vital as everyone says it is, and every Everest Base Camp trek that we offer is carefully paced. The rests that we take are essential to ensuring everyone's well-being and comfort, but altitude sickness can affect even the healthiest and most careful of trekkers, so it's important to let your group know if you feel unwell.
3. Treat everyone, and everything, with respect. Your fellow travellers, guides and porters, and the Sherpa communities that offer their hospitality along the way, are all deserving of a friendly and positive attitude. But it isn't only people who deserve good treatment; remember to be conscientious about the environment around you – it is, after all, what makes this trek so special.
The Sherpa Culture Museum, Namche Bazaar
"Namche Bazaar" © 2008 kkcondon, used under a Creative Commons Attribution license: https://creativecommons.org/licenses/by/2.0/deed.en
Here on the Mountain Kingdoms blog, we like to share knowledge about the cultures of the Himalayan region so that those who set off on one of our treks – whether to Everest Base Camp or any of our other destinations – will know something about the peoples and traditions they encounter as they go. Hopefully, in doing so, we inspire readers to keep learning, both by reading further and by keeping an open mind when they travel. There are plenty of great resources out there, but for anyone who is curious about Sherpa culture, we particularly recommend the museum at Namche Bazaar.
With its friendly atmosphere and lively market, Namche Bazaar is a popular point on the route to Everest Base Camp, and features on many of our treks. As well as being a good place to acclimatise and watch the daily comings and goings of village life, it is home to the informative Sherpa Culture Museum. With its reconstruction of a traditional Sherpa household, and its displays of old artefacts and everyday objects, it is the perfect place to get a sense of Sherpa life through the ages. The building incorporates a family room, prayer room, stable and yard, presenting a holistic view of different aspects of traditional Sherpa life, from the domestic to the religious.
As well as an interesting place for travellers to spend time when they pass through on the way to Everest Base Camp, the museum and the resource centre connected to it – which incorporates a library, a conference hall, and a collection of documents relating to the exploration of Everest – form a valuable research facility for those hoping to study and preserve this unique and beautiful culture, as well as helping to collect and share knowledge about the Himalayan region in general.
Culture On Your Tailor Made Holiday, Bhutan: Tigers Nest Monastery
Tigers Nest Monastery. Image by N Sloman
A land as beautiful as it is mysterious, Bhutan holds some of the world's finest and most unspoilt trekking country, making it perfect for adventure lovers. If you've got a yearning to visit, whether on one of our group holidays or a tailor made holiday, Bhutan is certain not to disappoint. Even the most seasoned of travellers will readily admit that it is a special place. The country's deep-held Buddhist beliefs may have a lot to do with it, and on a Mountain Kingdoms trip there are plenty of opportunities to explore these beliefs in some of Bhutan's most breathtaking locations – including the captivating town of Paro and the nearby Taksang monastery known as the 'Tiger's Nest'.
Paro is located in the mountains of the southwest, which with their gorgeous terrain and well-maintained passes are perfect for trekkers and non-trekkers alike – you can pick your own pace, one of the real advantages of a tailor made holiday. Bhutan's lush natural beauty surrounds the town, which has a traditional main street lined with picturesque wooden buildings.
As will become apparent to anyone on a tailor made holiday, Bhutan's culture is utterly distinctive, a result of its long isolation from the world. An important feature of this culture is the monastery, which forms the heart of the community, and the most iconic monastery in the country is Taksang. Perching above the Paro valley on the side of a cliff, it is a sight to behold. Built on the site where legendary Indian saint, Guru Padmasambhava, flew into Bhutan on the back of a tiger, bringing Buddhism to Bhutan. It is the perfect place for visitors to learn more about the history and practise of Buddhism in this fascinating country.
A Different Way To Everest Base Camp: Three High Passes
"Renjo La" © 2009 linznix, used under a Creative Commons Attribution license
A trek to Everest Base Camp is an experience with no equal, whichever approach you take to the legendary campsite. The most popular route, followed by thousands every year, goes from Lukla to the colourful Sherpa village of Namche Bazaar, with a pause to acclimatise before continuing to Dingboche, Lobuche, and then to Base Camp itself. This classic route, with its sublime views and ambient tea houses, is a favourite with our trekkers for good reason; but for those who want something a little different, Mountain Kingdoms also offers a variety of other approaches, and those in search of a challenge might be interested in our 'Three High Passes' route.

Who is the 'Three High Passes' trek for? It is likely to appeal to those interested in trekking to view Everest Base Camp via a more 'off the beaten track' approach than usual, or for those who might have made the classic trek before and are now seeking to tackle a tougher challenge. It's also a fantastic opportunity to see the mountains around Everest as few other visitors to the region do, thanks to the spectacular vistas high passes that can be viewed from the trek's high passes.
The three high passes in question are Kongma La, Cho La, and Renjo La, which reach breathtaking heights, really making trekkers feel on top of the world. In addition, our route includes the summits of Gokyo Ri and Kala Pattar – where there are fantastic views of Everest and Everest Base Camp. It is a strenuous trek, even by the region's standards, but the rewards are immediately apparent – without the bustle of fellow travellers that accompanies the classic trek, the scenery is all the more enchanting.
Himalayan Photography: Everest Base Camp In Stunning Detail
© 2008 ilkerender, used under a Creative Commons Attribution license
As anyone who has joined Mountain Kingdoms on an Everest Base Camp adventure will know, there's nothing that can compare to standing on the slopes of the world's mightiest mountain. It's never been easier to get a sense of Everest's awe-inspiring presence, thanks to a new photograph that's currently making headlines for its stunning four billion pixel representation of the mountain. We're amazed by the detail in American photographer and filmmaker David Breashears' amazing image, which you can see here.
Breashears, who is also an avid climber, the first American to summit Everest, and the founder of GlacierWorks, an organisation that campaigns to raise awareness of environmental issues in the Himalaya, spent months taking hundreds of photos to create the composite image.
Taken from a vantage point above Everest Base Camp, it looks at first like a particularly striking photograph; it takes in Base Camp, Khumbu Icefall, and the summit itself, alongside the peaks of Changtse and Lohtse. It's when you zoom in that it becomes truly astonishing - with perfectly rendered details including every tent and rock of Base Camp, the cascade of the icefall, and climbers ascending alongside it. As if this wasn't incredible enough, Breashears plans to take it further with more highly detailed images of the region, as well as the potential to compare it with images from the past.
If you've been on an Everest Base Camp trek with Mountain Kingdoms, zooming in on the colourful tent city with its fluttering prayer flags, and panning across to the sweep of the icefall is a sure-fire way to bring the memories flooding back. And for those who are looking forward to going, this photograph makes daydreaming about the journey easier than ever.