Free down jacket and sleeping bag hire on Bhutan camping treks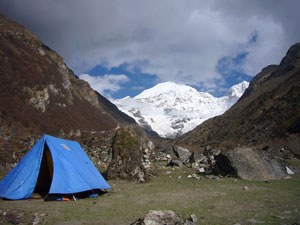 Book a place on one of our camping treks* in Bhutan and you will receive free hire of a good quality down jacket and sleeping bag to keep you warm and cosy in camp. Jackets and sleeping bags are supplied in Kathmandu.
Camping treks in Bhutan include the Druk Path Trek from Paro to Thimphu, the longer Chorten Path Trek that continues to Punakha, a trek in the Haa Valley - one of Bhutan's least visited regions, a high mountain trek to Mount Chomolhari and across the Bonte La, a trek into the remote villages of Lingshi and Laya, the epic traverse along the full length of the Bhutanese Himalaya - the Complete Lunana Snowman Trek and the Gangkar Punsum Aproach - an exploration of the beautiful area around Bhutan's highest peak.
This offer also applies to our tea house and camping treks in Nepal and Tibet.
*Excludes Yeti Trek, Eastern Bhutan. Offer only applies to clients travelling to Bhutan via Kathmandu.